A Spring Escape to Maui
And Hotel Wailea
Story and photos by Greg Aragon

s we sailed across the Auau Channel we could see Maui's rugged landscape reflected in the crystal blue water. We could also see humpback whales, dolphins and the outlines of Molokai, Kahoolawe and the Big Island. We had just left the secluded Lanai and we were now ready for a couple nights in another true Hawaiian Paradise.
When the Expeditions ferry docked in Lahaina Harbor, we disembarked and walked beneath a forest of banyan trees to our rental car. We then drove down the southwest Maui Coast to Hotel Wailea, where we checked into a beautiful suite overlooking the ocean and hills of lush vegetation.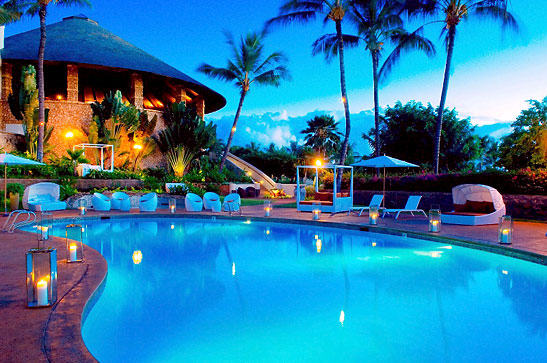 Hotel Wailea is a tropical paradise, surrounded lush vegetation and Hawaiian charm
Nestled on 15 acres, Hotel Wailea is an authentic tropical paradise, surrounded by palm and avocado trees, rolling hills, thick gardens, waterfalls and streams, and lots of Hawaiian charm. Because the property is a few blocks above the beach, it offers an intimate, romantic atmosphere not found at larger, busier resorts. This is a place to enjoy the island and forget about life for awhile.
The hotel also boasts a full service spa and fitness center, a sparkling pool, an award-winning restaurant, complimentary breakfast, and an efficient shuttle service to and from the beaches and shopping areas a couple minutes drive away.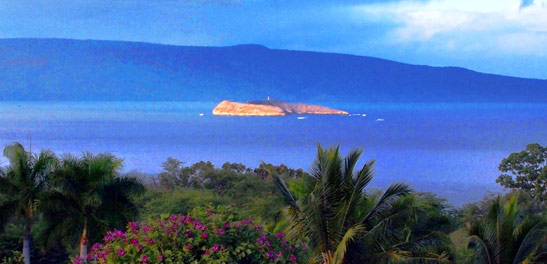 The suites at Hotel Wailea offer great views of Hawaii's other islands
All 72 suites at Hotel Wailea feature 900 sq-ft, separate bedrooms and living areas, deep soaking tubs, kitchens, free wireless internet, TVs, plush bathrobes, and private lanais with chaise lounges and chairs. Ours overlooked the water, white sandy beaches and the island of Molokai a few miles offshore. And if all this isn't enough, the grounds around the rooms are patrolled by friendly wild chickens, who are happy to come inside and share some bread crumbs if invited.
When we weren't lounging poolside at the hotel, we were exploring the rest of the island. One of my favorite spots was Iao Valley State Park, located in the center of Maui. This magical, 4,000-acre reserve is carpeted with thick, tropical vegetation and guarded by towering mountain peaks. It is home to one of Maui's most popular landmarks, the 1,200-ft Iao Needle, a giant jagged rock shooting above the Iao stream.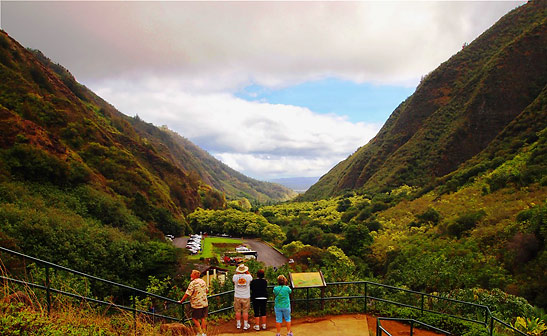 Iao Valley is a magical reserve, carpeted with tropical foilage
and guarded by towering peaks
A sacred, historical place in Hawaiian history, the Iao Valley is a great place for a nature hike, as there are well-maintained trails leading to the needle above and to an old village below.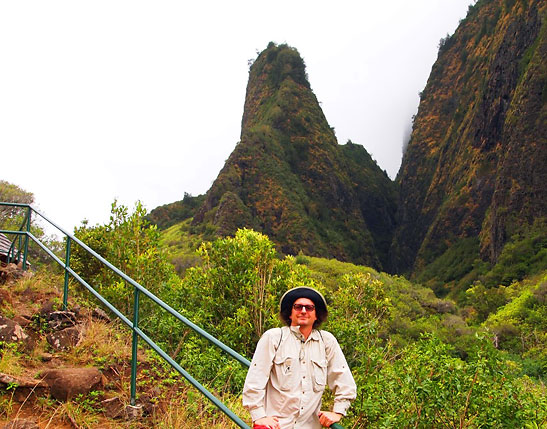 One of Maui's most popular landmarks is the 1,200-ft Iao Needle
From the valley we drove to gorgeous Makena Beach. Also known as Big Beach, this beach is Maui's largest and also one of its best, which to me means it's one of the best in the world. With white sand stretching nearly a mile-long and 100 yards wide, this ocean-front playground offers great swimming, snorkeling, picnicking and sunbathing. There is also a tasty taco truck in the parking area, where we experienced some pretty awesome fish tacos.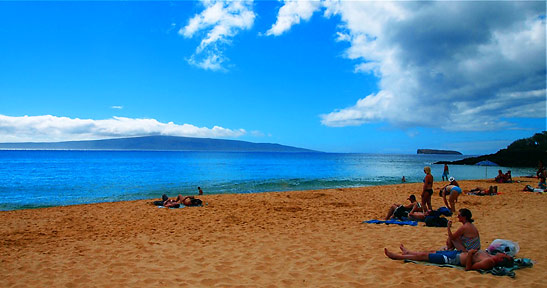 Makena Beach is Maui's largest and also one of its best
After a day at the beach we drove back to Hotel Wailea, where I napped in a big hammock outside our room, while my friend relaxed in the Jacuzzi. For dinner, we strolled into the hotel's signature Capische? restaurant and bar. Serving creative Southern Italian cuisine, the restaurant is delicately woven into the hotel garden setting, so guests can dine in various romantic outdoor nooks, with memorable views of the ocean and rolling grounds.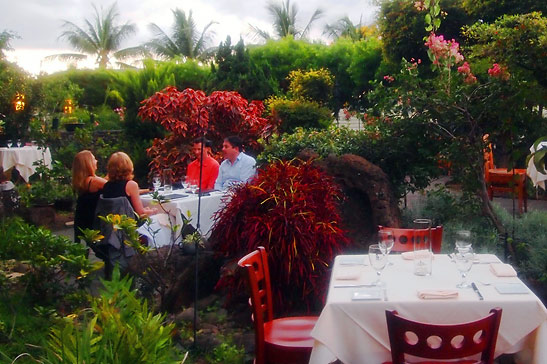 Capische? restaurant serves fine Italian food and offers romantic
indoor and outdoor seating
Our meal began with mushroom truffle risotto; and a Kona Maine lobster, with garden vegetable, preserved lemon and herb crème. We followed scrumptious appetizers with Caesar and arugula salads and white wine.
For the main course I devoured a tasty Capische Cioppino, with Kona Maine lobster tail, Kauai shrimp, clams, local fish and house-made saffron orrecchiette. My friend went with a divine Porcini Crusted Ahi, with mushrooms, roasted root veggies, polenta and pumpkin seed vanilla vinaigrette.
After dinner we relaxed on our suite's private lanai and watched the sun fall into the ocean behind Molokai, while sipping mai tais, breathing in the warm fragrance of plumeria, and feeding breadcrumbs to wild chickens.
In the morning, we drove the legendary Road to Hana. This incredible 56-mile journey along the seaside cliffs of Hana is filled with lush forests, waterfalls, secret pools, trials, black lave beaches, historic farms and everything that makes Maui standout among tropical islands.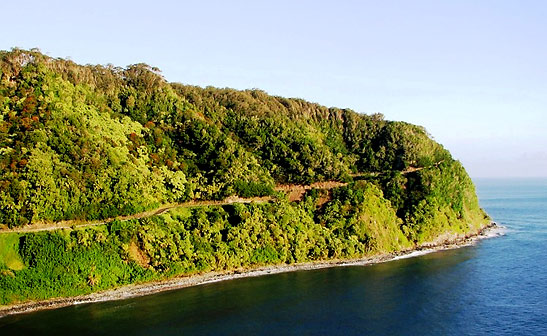 The Road to Hana is a 56-mile journey along the seaside cliffs of Maui
For more information on staying at Hotel Wailea and current specials, visit: www.hotelwailea.com. For more information on visiting Maui, taking the Maui/Lanai ferry and other activities, visit www.gohawaii.com/lanai.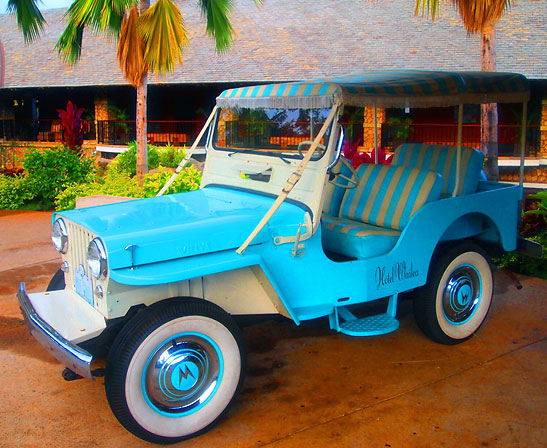 Related Articles:
Escape to the Island of Lanai; Maui's Upcountry; Lahaina, Maui; The Garden Island of Kaua'i; Oahu's North Shore; Kaunakakai, Molokai; Big Island Hawaii; Hana Highway; Hawaii Surfing