Climb into the Mountains Aboard Palm Springs Aerial Tram
Story and photos by Greg Aragon

here are some Southern California attractions that I have to visit once a year and the Palm Springs Aerial Tram is one of them. Like Griffith Observatory or the LA Zoo, this thing is a true must-do for any cool tourist or fun-seeking native.
A friend and I recently snuck away to the tram after a night at nearby Morongo Casino Resort and Spa. It was a beautiful spring morning and we were ready for adventure.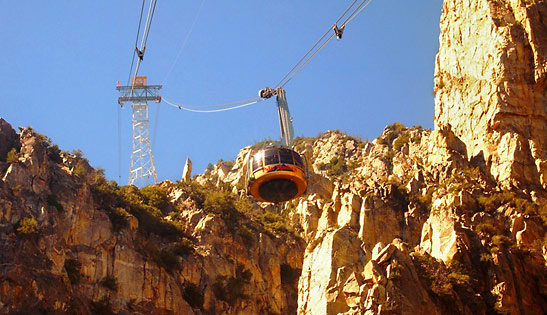 The Palm Springs Aerial Tram has been called the "eighth wonder of the world"
Our getaway began at the base of Mt. Jacinto, where we boarded the pumpkin-shaped tram, which has been dubbed the "eighth wonder of the world." Once inside, the conductor closed the doors and the tram car began to climb straight up the rocky face of the mountain. The car begins its journey at Valley Station at an elevation of 2,643' and ends at Mountain Station at 8,516 ft above sea level.
As the 80-passenger tram scales the mountain, visitors are transported through five unique ecosystems – a change in landscape and life, equivalent to a drive from Sonora, Mexico to the Arctic Circle in Alaska. It makes this trip in about 11 minutes!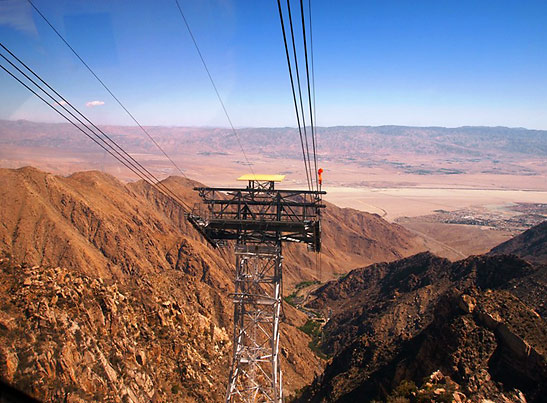 The 80-passenger tram car is pulled up 12,000 ft of cable as it travels through five unique ecosystems
During the journey, the car is pulled up 12,000 ft of cable and passes through five huge, support towers. At each tower, the tram shimmies and shakes, giving riders a roller coaster thrill. And while inside the tram, passengers need not fight for viewing spots because the car rotates 360 degrees and everyone gets a memorable view of Coachella Valley and Mt. San Jacinto. According to officials, these are the world's largest rotating tram cars!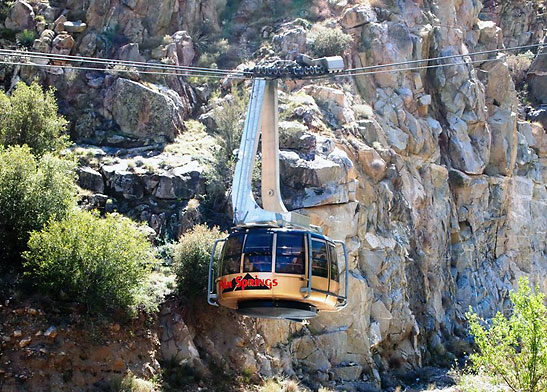 The tram car rotates 360 degrees so everyone gets a memorable view
At the top, there is a lodge-like visitor's center and two restaurants. There is also Mt. San Jacinto State Park, which offers 54 miles of hiking trails and a few primitive campsites within a 13,000-acre pristine wilderness. When we got to the top, we set out on a hike of Long Valley, following a three-quarter-mile-long loop trail through a large beautiful meadow.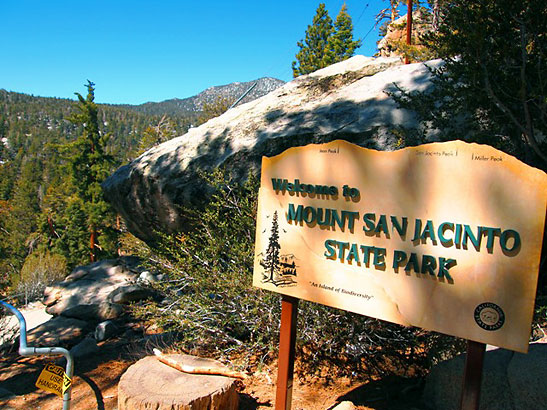 Mt. San Jacinto State Park offers miles of hiking, campsites and pristine wilderness
The weather was a perfect 65 degrees and the meadow was lined with tall pine trees, trickling streams, lots of native plants and grasses, and a few patches of left-over snow. Along the trail we scratched the dark brown bark of a Jeffrey pine tree (the most common tree in the valley) and breathed its natural vanilla and butterscotch scent.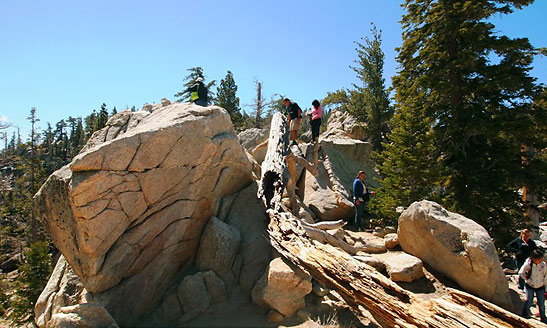 The views of the valley are incredible atop Mt. Jacinto
After hiking we got a couple cups of hot tea at Mountain Station and then had lunch outside on a picnic table, beneath a towering pine tree. After lunch we relaxed on the Mountain Station terrace, looking down over the entire Palm Springs desert valley.
The tram is currently offering its popular Summer Pass special for $50 for adults and seniors and $25 for children ages 3-12. Valid through August 9th, 2013, the pass entitles holders to unlimited Tram rides, a 10% discount on additional Tram admissions and 10% discount at both mountaintop restaurants. Passes can be purchased at the Valley Station or online at www.coolsummerpass.com.
Another great deal is the Ride n Dine Pass, which includes round trip tram fare and dining in Pines Cafe (available after 4pm). Prices for Ride n Dine are: adults and seniors – $36 and kids – $23.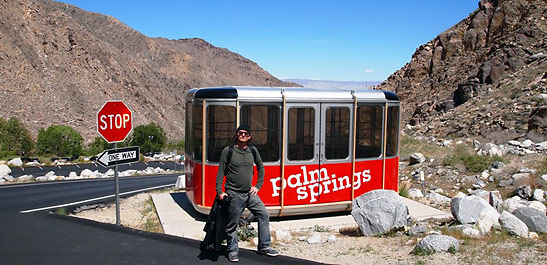 The Palm Springs Aerial Tram is a must-see Southern California attraction
The Palm Springs Aerial Tram is located just before the city of Palm Springs, at One Tram Way, Palm Springs, CA 92262. The first Tram up Monday – Friday is at 10am, first Tram up Saturday and Sunday 8am, last Tram up 8pm and last Tram down 9:45pm. For more information call 888.515.TRAM or visit: www.pstramway.com.
Related Articles:
Agua Dulce & Sierra Pelona Valley; Fall Fun in Santa Monica; 4 Seasons Hotel, Westlake Village; Laguna Beach; The Grand del Mar; Ojai, California; Orange County Oceanfront, San Luis Obispo