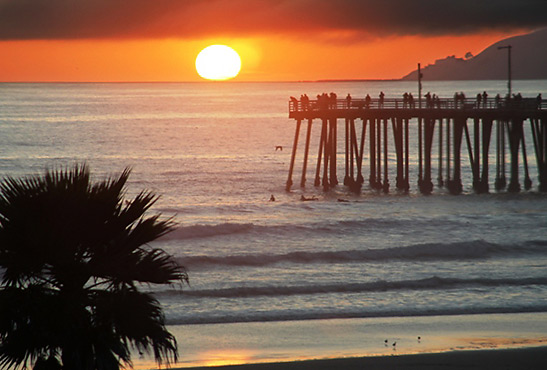 Pismo Beach is a place for great wine, surfing and small town charm


Wine, Waves and Whimsy
In Pismo Beach
Story and photos by Greg Aragon

ismo Beach is a gem on California's rich central coast. With small, beach town charm, legendary surfing waves, and a burgeoning local wine industry, the city has grown into an exciting, eclectic destination for the discerning traveler.
A friend and I began a recent getaway to Pismo Beach at the ocean-front Cliffs Resort, where we checked into a modern and comfortable 4th floor suite. Overlooking the ocean, the spacious room came with a balcony pointed at the water, a soft king bed, large flat screen TV, tub and shower, small fridge, couch and lounge chair, MP3 player, and an office area with desk, chair and free wireless internet.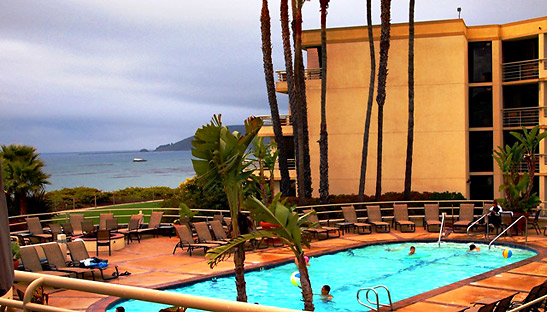 The Cliffs Resort sits on rocky cliffs, overlooking the Pacific Ocean
and pristine Shell Beach.
Beyond its 160 rooms and suites, the Cliffs Resort also boasts a state-of-the art fitness center, big heated pool, gift shop, business center, huge fake shark in lobby, more than 10,000 sq-ft of meeting space, a full-service spa, and the delicious Marisol Restaurant and Bar. The latter is where we enjoyed a scrumptious buffet breakfast each morning during our stay.
But the hotel's best feature is its picturesque location on the rocky cliffs of Pismo Beach, overlooking the Pacific Ocean and pristine Shell Beach. To help take advantage of this, the hotel created a nature trail leading down to the beach and surrounding caves and tide pools.
When not relaxing at the Cliffs Resort, we explored the city. Renowned for its surfing, Pismo has now also become a hot spot for wine-lovers and connoisseurs. With a unique Mediterranean climate, helped by ocean-front hills that channel the right amount of wind and sunlight into its vineyards, the region is perfect for year-round wine tasting and wine making tours.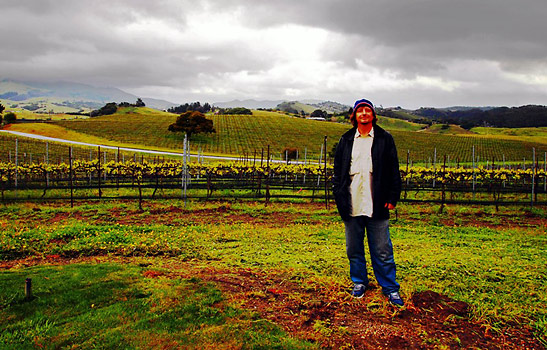 With a unique Mediterranean climate, Pismo's vineyards are perfect
for wine growing.
Pismo Beach's lush backyard includes the historic wine regions of Edna Valley, Arroyo Grande, and Avila Valley, where varietals such as Pinot Noirs, rich Chardonnays, Zinfandels, Cabernets, and velvety-smooth Merlots are produced by some of the most respected winemakers in California.
What we found engaging about the region is the intimate setting in which many of the wineries are set. Many of the facilities are family-run, with owners waiting to great guests at the front door. This is in contrast to Napa Valley, where giant wineries and crowded tours are common.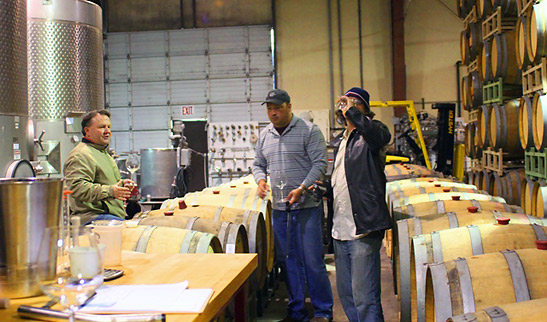 Center of Effort winery in western Edna Valley is known for its distinguished Chardonnay.
One such intimate vineyard that we visited was Center of Effort, a beautiful estate pitched along south-facing slopes in the western Edna Valley, just 4.5 miles from the Pacific. The vineyard unfolds along an uplifted ancient dune, with rocky and sandy soil, allowing the vines to achieve natural balance in the ground.
The winemaking at this operation is led by Mike Sinor and Nathan Carlson, both veteran Edna Valley winemakers and long-time friends. Over the past 15 years, Mike has dedicated himself to the mastery of Burgundian varietals, and Nathan's winemaking experience in the Edna Valley spans more than 12 years, during which time he has made Pinot Noirs among other varietals.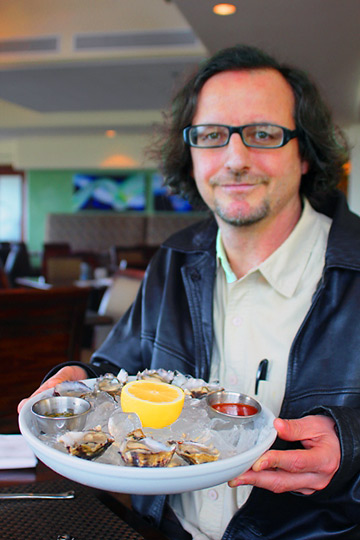 The Lido Restaurant and Lounge at exclusive Dolphin Bay Resort offers mesmerizing ocean views and great California Coastal Cuisine.
While touring Center of Effort, Mike and Nathan told us about their handcrafted process of premium French oak barrels for aging and native fermentations. We also learned about their latest Chardonnay creation.
From Center of Effort, we drove back to Shell Beach for lunch at the Lido Restaurant and Lounge, located at the exclusive Dolphin Bay Resort. Here, against a mesmerizing ocean-front backdrop, we dined on Morro Bay oysters, shrimp cocktails, and curried shrimp with rice and veggies. While eating we met Chef, Brian Collins, who spoke of the inspiration behind his California Coastal Cuisine.
After lunch we lounged by the pool at The Cliffs Resort and then walked down the nature path to the ocean, where we studied vibrant tide pools and strolled along the sandy beach. From here we drove to downtown Pismo Beach and walked along the city's historic 1200-ft-long wooden pier and then enjoyed a wine tasting at Tastes of the Valleys, a quaint shop with more than 600 wines by the glass. The tasting was led by owner Ash Mehta.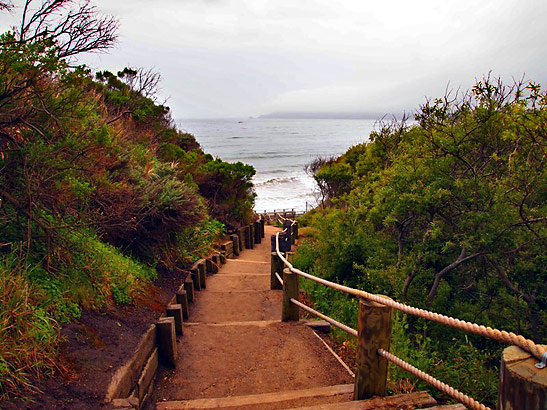 The Cliffs Resort boasts a nature path leading to the ocean, vibrant tide pools and a sandy beach.
For dinner we discovered Sea Venture Restaurant, located on the 3rd floor inside the Sea Venture Resort, on the beach. With a memorable sunset view, we devoured Oysters Rockefeller with melted spinach and bacon on half shell, Cesar salad, baked salmon, and a Sea Venture signature trio of shrimp, scallops, crab cake and tossed with pancetta and a roasted red pepper sauce. The meal was complimented by local Edna Valley wine, cheese cake, and a live Jazz band.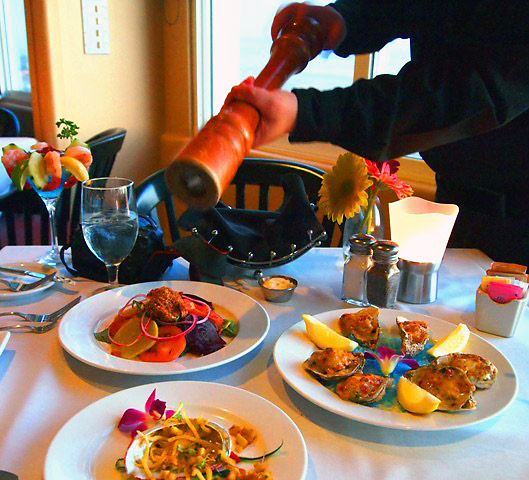 The Sea Venture Restaurant at the Sea Venture Resort, features memorable ocean views, along with creative seafood dishes and local wine.
Besides all of its great attractions, Pismo Beach also hosts numerous festivals throughout the year. One of these is the upcoming Wine, Waves & Beyond held May 31 - June 3. This classic 4-day surf and wine event features a Movie Premiere, a "Barrel to Barrel" food and wine tasting event at The Cliffs Resort, a "Brew Masters Dinner," and a Surf Contest. For more information, visit www.winewavesandbeyond.com.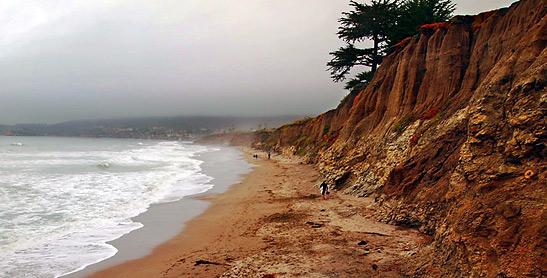 Shell Beach is Pismo's rocky, sandy paradise
The Cliffs Resort is located at 2757 Shell Beach Road, Pismo Beach, CA 93449. For reservations, call (805)773-5000 or visit www.cliffsresort.com. For more information on visiting Pismo Beach, and about upcoming festivals and activities, visit: www.classiccalifornia.com.
Related Articles:
Laguna Beach, Orange County Oceanfront, San Luis Obispo, Central California Coast, Catalina Island, Hotel del Coronado, San Diego