A Taste of Savory,
Sumptuous Solvang
Story & photographs by Greg Aragon

aybe it was the handmade sweets at Ingeborg's Chocolate Factory, or the boutique luxury at Hotel Corque. Or was it the wine and friendly atmosphere at Wandering Dog, the comforting, cuisine at Chomp, or the town's Danish-inspired architecture? Whatever the reason, Solvang has a special way of putting me in instant vacation mode.
My recent trip to Solvang began last week when a friend and I took the 101 Freeway north along the coast to Santa Barbara, then transferred to State Route 154. From here we drove through the Santa Ynez Mountains, past Lake Cachuma, to our destination, where we checked into Hotel Corque for a couple nights.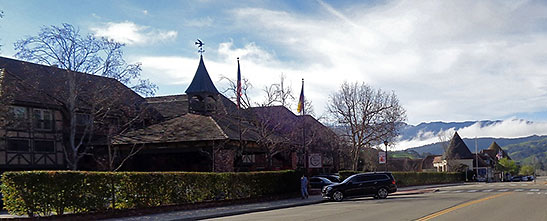 Hotel Corque is inspired by nearby vineyards, horse ranches and
Santa Ynez Mountains
Featuring 122 guest rooms, including 17 specialty suites and the Presidential Suite, Hotel Corque is inspired by nearby vineyards, horse ranches and Santa Ynez Mountains. The hotel, owned by the Santa Ynez Band of Chumash Indians, is covered in beautiful wood designs, with exposed beams, rich doors and floors and art pieces scattered about. The architect has captured the relaxed appeal of a home created as a wine country retreat.
Our room at the hotel overlooked the pool and Jacuzzi, a giant lush meadow and nearby rolling hills. It was perfectly located a block from Downtown, which meant we didn't need a car during our stay.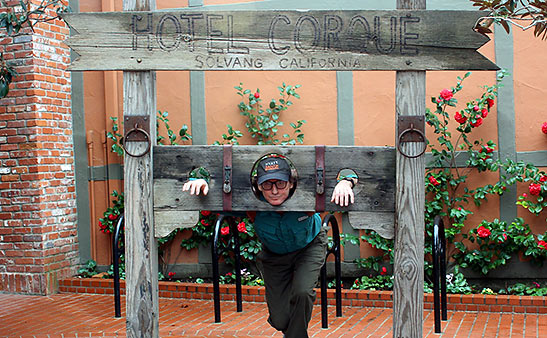 Hotel Corque is covered in beautiful wood and wooden art pieces, like an
old stockade
Once settled into our home base we went exploring. Our first stop was lunch at Chomp, a local favorite, with an All-American menu of locally sourced meats, produce and bread, yielding some great burgers, fries, seafood, shakes and more. My lunch was a delicious lobster wrap with avocado, chipotle salsa, lettuce and tomato in a flour tortilla and a side of onion rings. My friend had fresh fish and chips, with Pacific cod, cole slaw, tartar sauce and crispy fries.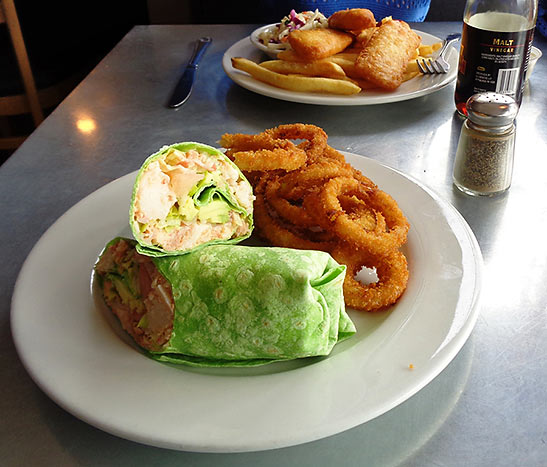 Chomp serves an All-American menu of locally sourced meats, produce and bread
After lunch we walked down Mission Dr., the town's main drag, to Wandering Dog Wine Bar. Here we met owners Jody Williams and her husband Charles, who took us on an eclectic journey of wine, beer and shrubs. The latter, made from vinegar and other natural flavors, was popular in the days before refrigeration and is now making a comeback in the craft cocktail scene.
The shrub market has been so good that Jody and her husband Charles now make and bottle their own line called Broken Clock Vinegar Works. During our tasting session, Jody made us a few tasty shrub cocktails with strawberry and ginger; blueberry and vanilla; and peach and jalapeno.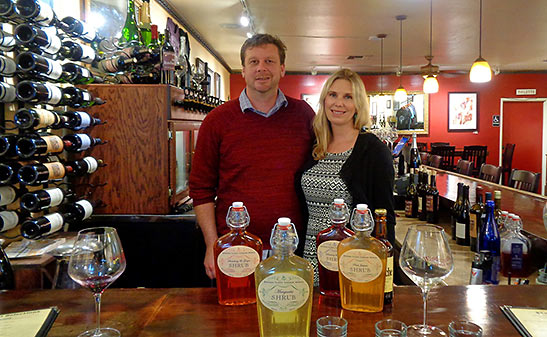 Wandering Dog Wine Bar offers tasty shrubs as well as wines from the Central Coast and all over the world
From Wandering Dog, we investigated the city's Farmer's Market, which was full of fresh, local produce, honey, snacks, and flowers. We then explored more of town. Named by Sunset magazine as one of the "10 Most Beautiful Small Towns in the Western United States," Solvang's rich history dates back to 1911 when adventurous Danish-Americans traveled across the plains from Iowa to establish a colony and escape harsh Midwestern winters. Since then the city has retained its heritage with numerous Danish-styled structures with windmills and pitched roofs.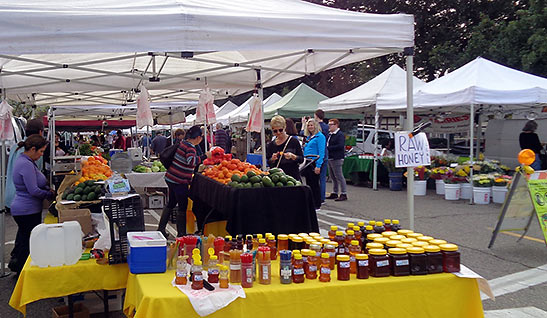 Solvang was named one of the "10 Most Beautiful Small Towns in the Western United States" by Sunset Magazine
The village is home to a copy of the famous Little Mermaid statue from Copenhagen, as well as a large bust of Danish fable writer Hans Christian Andersen. There is also the Elverhoj Museum of History and Art, one of the few museums outside of Denmark devoted to the Danish culture and the Danish-American experience, as well as a few Danish bakeries, restaurants, and stores offering comfort food and trinkets to remind one of Denmark.
One of my new favorite spots is Ingeborg's Danish Chocolate Factory, which first opened in 1961 by Ingeborg Larsen, who prior to moving to Solvang, ran her own chocolate shop in Copenhagen, Denmark. When she came to America, she brought with her many original recipes, some of which are now over 70 years old and still popular today.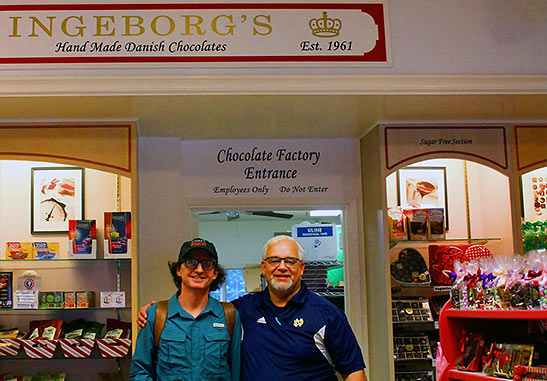 Ingeborg's Danish Chocolate Factory makes handmade chocolates using
old-world recipes
During our visit, we met owner Kim Jensen, who took us behind-the-scenes to see how they make their world famous chocolate. We watched fresh chocolate roll along a conveyer belt getting cut and dipped and covered with various tasty nuts other ingredients. One of my favorites samples was a dark chocolate piece, dusted with syrah infused sea salt.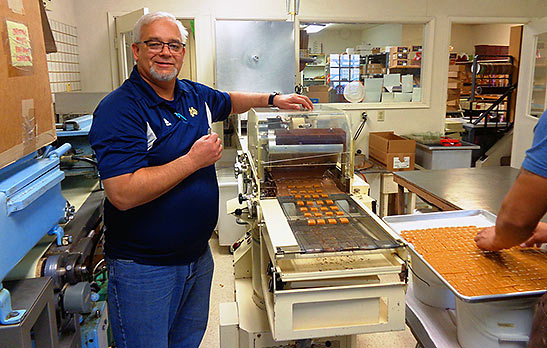 Owner Kim Jensen shows off his fresh chocolate-making machines
Back at the hotel we caught a free shuttle to the nearby Chumash Casino Resort, where we gambled, had a smoked rib dinner and probably the best cheese cake I've ever had at The Sweet Shop.
In the morning, we had a traditional Danish breakfast of Aebleskiver at Solvang Restaurant. Similar to a waffle or pancake, these delicious breakfast treats are formed like a tennis ball. The most common way to serve them is with sprinkled powdered sugar and then topped with raspberry jam.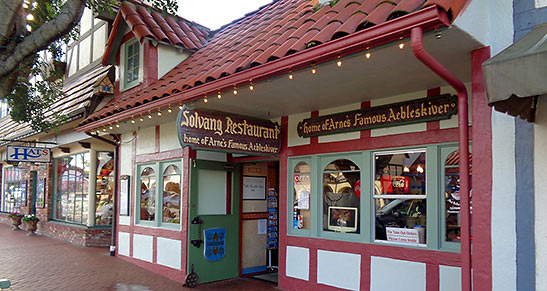 Solvang Restaurant serves traditional Danish dishes such as tasty Aebleskiver
The 25th Annual Taste of Solvang is coming March 15 - 19, 2017. This unique experiential culinary weekend will feature Solvang farmers, chefs, bakers, winemakers, brewers, distillers and artisans showcasing the bounty of Santa Barbara wine country set amidst our quaint Danish town. This is a great opportunity to taste your way through dozens of restaurants, cafes, bakeries, and wine and beer tasting rooms while wondering beneath Danish architecture, thatched roof cottages, old-world craftsmanship, traditional windmills and rich Danish heritage. Go here for more info on Taste of Solvang.
For more information on visiting Solvang, check out: www.solvangusa.com
Related Articles:
Boutique Luxury at The Landsby in Solvang; California's Central Coast: A Tale of Three Cities; Santa Barbara Scrumptious; Coasting Through California's San Luis Obispo County; Ventura – "The Real California" On the Central Coast