Lexington Beyond the Horses
By Patti Nickell
Meet Our Guest Writer
Patti Nickell is a freelance travel writer whose assignments have taken her to 101 countries and six continents, where she has gotten plenty of fodder for her bi-monthly travel features in the Lexington Herald-Leader. Her articles have also appeared in numerous newspapers including the Washington Post, Miami Herald, Chicago Tribune, Seattle Times, Los Angeles Times, San Diego Union Tribune, Charlotte Observer, USA Today, and in magazines such as Keeneland Magazine, Elite Traveler, Woman's Day, European Homes and Gardens, Atlanta Homes & Lifestyles, Las Vegas Magazine, Forbes and Forbes Asia. She has also contributed to Fodor's Travel Guide and television's The Travel Channel, and has done consulting work for both the Kentucky Department of Tourism and the Lexington Convention & Visitors Bureau.
Prior to moving to Lexington, Patti lived in New Orleans where she was a staff writer for CityBusiness Newspaper, covering politics and healthcare, and contributed freelance pieces to New Orleans Magazine, Southern Woman, Gambit, the Times-Picayune, and served as travel editor of New Orleans City Life Magazine. She was the recipient of the New Orleans Press Club's highest award for print journalism, the Alex Waller Award, for a piece that appeared in New Orleans Magazine. Horse Lover's Guide to Kentucky is her first book.

exington, Kentucky may be the "horse capital of the world," but its appeal as a travel destination goes far beyond that. The crown jewel of the Bluegrass offers (in addition to horses) history and heritage, not to mention bourbon distilleries, wineries, indigenous music, quirky museums, and an antique store that would put those in New York or New Orleans to shame. Join me for a look at Lexington beyond the horses.
It's Monday night at Lexington's historic Kentucky Theater, and the regular crowd shuffles in. No one is making love to his tonic and gin, but the audience is working itself into a frenzy in anticipation of Michael Jonathan, folk singer/songwriter/concert performer and self-proclaimed "tree hugger." Jonathan, whose unusual career arc has taken him from upstate New York to Laredo, Texas to the tiny Appalachian hamlet of Mousie, Kentucky, commands a world-wide radio audience which tunes in every Monday night to his live broadcast of Woodsongs Old Time Radio Hour. They're listening in Chenega Bay, Alaska and Hawkes Bay, New Zealand; in Boise and Boston, Serbia and Slovenia; Queanbeyan, New South Wales, Australia and Bergen Op Zoom, Holland.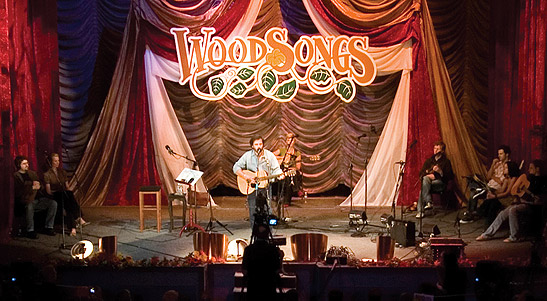 Michael Jonathan onstage at Woodsongs Old Time Radio Hour.
Courtesy: WoodSongs
Just What Are They Listening To?
Bluegrass and blues, folk and country, rhythm & blues and rockabilly, and chances are they have never heard of many of the artists. Woodsongs is radio's only syndicated live-audience program dedicated to artists who are talented and innovative, but not exactly rocking the Grammys or showing up regularly on MTV.
Still, Woodsongs does attract its share of star performers, from the late folk legend Odetta to Dust Bowl troubadour and poet Ramblin' Jack Elliott, friend of Woody Guthrie, mentor to Bob Dylan and inspiration to Mick Jagger. On other Monday nights, audience members applaud the likes of bluegrass diva Rhonda Vincent, country favorites Lee Roy Parnell and Rodney Crowell, gospel group Blind Boys of Alabama and the Celtic band, Gaelic Storm.
Anchoring it all is creator and host Jonathan – "Woody Guthrie in a cyber world," as he's been described. A hipper version of Garrison Keillor, decked out in jeans and black leather jacket, Jonathan presides over Lake Woebegon's just-as-quirky Southern cousin. In a setting reminiscent of the early days of Nashville's Grand Ole Opry, when a heart-rending ballad of love gone wrong was followed by a commercial for Martha White's self-rising flour, Jonathan interacts with the audience. While his marketing savvy has taken Woodsongs to podcasts, webcasts, and PBS stations across the country (not to mention the place to be in Lexington on Monday nights), it is the cozy feel of sittin' on the front porch strummin' the banjo that gives the program its appeal.
A Gem of a Museum
George Headley may have been an accomplished artist, but he was also a crackerjack marketer. During the 1930s and 40s, when he operated an exclusive jewelry boutique at the Bel-Air Hotel in Los Angeles, he would entice potential customers sunning poolside by sending his dachshund Ernie out with a diamond or emerald necklace draped around his neck. A bejeweled Ernie proved an effective marketing tool as Headley, during his tenure in Tinsel town, numbered among his clients Mae West, Judy Garland, Joan Crawford and a bevy of socialites, jet setters and international royalty.
Thus, it was only natural when Headley moved back to Lexington in the early 1950s to take over the family farm, La Belle; he would seek an outlet for his artistic nature. He found it in designing one-of-a-kind bibelots, created from precious and semi-precious stones. Visitors to the Headley Whitney Museum, picturesquely situated among Thoroughbred horse farms in the rolling hills outside of Lexington, can marvel at the fruits of his labor. The museum complex, a Smithsonian affiliate, has four areas – the jewel room, library, shell grotto (currently under renovation and not open to the public) and decorative arts museum.
Inside the tiny jewel room – designed to look like a jewelry box with its dark interior and low ambient lighting – are some of his most beautiful pieces. A terra cotta pigeon has ruby eyes and feet of pink gold, and sports a gold pendant with rubies and diamonds. A mask of Bacchus, Roman god of wine, is fashioned of delicate coral and backed with a tangle of gold grapevines. The Bird Cage features the figure of a Chinese woman intricately carved of Persian turquoise and sitting on a cushion of lapis lazuli inside a gold cage accented with diamonds and sapphires.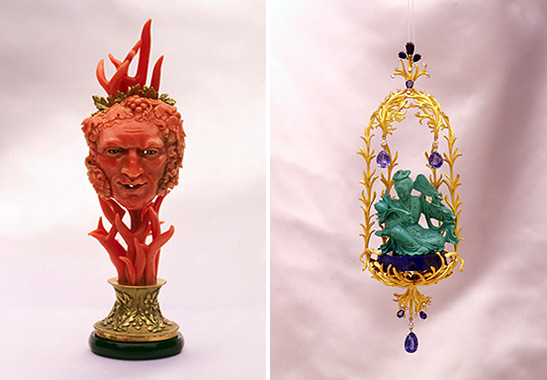 Courtesy: Headley-Whitney Museum
The library reflects Headley's favorite architectural motifs, including a sloped Thai roof and Greek columns. The room's eclectic collection of objects features a pair of candlesticks made in London from ostrich eggs and ivory, and an Indian elephant tusk carved in a lacy pattern.
The decorative arts museum occupies the complex's main building. Housing a permanent collection of porcelain and silver as well as the dollhouse collection of local horse farm owner Mary Lou Whitney (the houses are exact replicas of her Lexington mansion), it also hosts a variety of traveling exhibitions. The Mary Lou Whitney formal garden behind the museum is also worth a look.

The Mary Lou Whitney Garden
Courtesy Paul Atkinson
An Antique Lover's Paradise
Imagine a place where staid Victorian drawing room meets 1930s Hollywood glamour; where New England blueblood Brahmin rubs elbows with Appalachian mountain folk; where elegant French provincial co-exists with cozy English cottage chic. Where would you find such a place – London, Paris, New York, New Orleans? How about Nonesuch?
Just 20 minutes from Lexington, in the heart of Thoroughbred country, Nonesuch is little more than a gas station, a country store and a few scattered residences. Certainly it's the last place you would expect to find a world-class antique store and restaurant. But that's just what you find at Irish Acres Antiques, a red brick building with white columns, which despite its antebellum appearance, dates back to the Depression era. Built in 1936, it once functioned as the Nonesuch elementary school. In rooms, where children once learned their ABCs, shoppers now learn the ABCs of antiques buying – how to tell the difference between a French Empire and a Prudent Mallard four poster bed, how to distinguish Wedgewood china from Spode, how to tell if that exquisite cut glass cocktail shaker is Art Deco or Art Nouveau.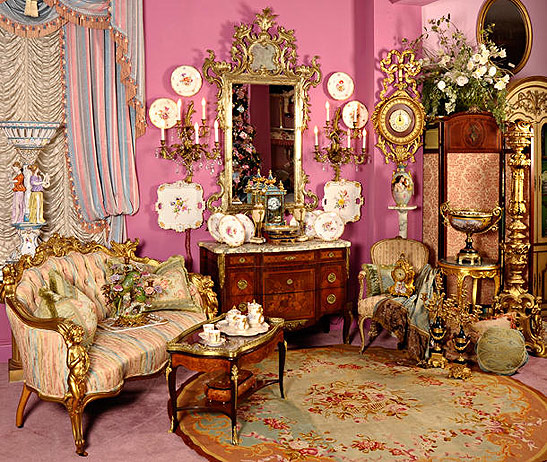 Irish Acres has an array of furniture, art, silver, crystal, glassware, jewelry, clothing and other collectibles artfully arranged in some 60 small showrooms or vignettes – a French sitting room next to an English bedroom adjoining an Early American dining room. The merchandise is museum quality, with items from four continents, and there is something for every taste and pocketbook. You can pick up a pair of vintage earrings or a handcrafted Christmas ornament for $20, or you can walk out with a 200-year-old mahogany cupboard with shell carvings for $38,500.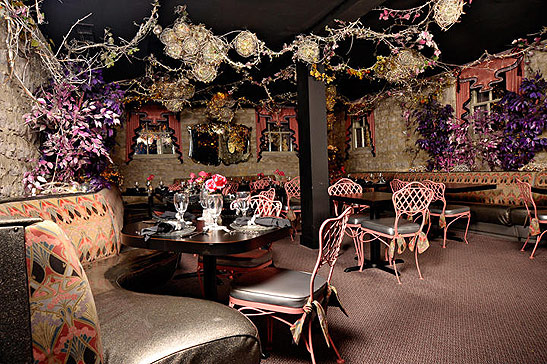 If the antiques display elicits "ooohhhs" and "aaahhhs," The Glitz Restaurant is nothing short of breathtaking. A color scheme of silver, black, mauve and pink, and a décor featuring black and silver butterflies, smoky mirrors, gauzy drapery and hundreds of twinkling lights, gives it such a retro feeling that you expect Fred and Ginger to waltz through at any moment. It so resembles a Hollywood movie set that it's hard to believe that it was once the school cafeteria.
On any given day, the movie set scenario is enhanced by tables filled with ladies (and more than a few gents) who lunch. Most come dressed for the part, decked out in hats and gloves, and engaging in witty repartee that would have been worthy of Dorothy Parker in her Round Table days. The Glitz's three-course menu changes every two weeks, but you can't leave without trying their signature dessert, the Nonesuch Kiss, a meringue shell filled with a scoop of coffee ice cream and topped with hot fudge, sliced almonds and whipped cream.
... And Because We Can't Ignore Horses Altogether
The small, nondescript building is tucked away near the stables area at Keeneland Race Course, a Lexington icon and National Historic Landmark, which will celebrate its 75th anniversary in 2011.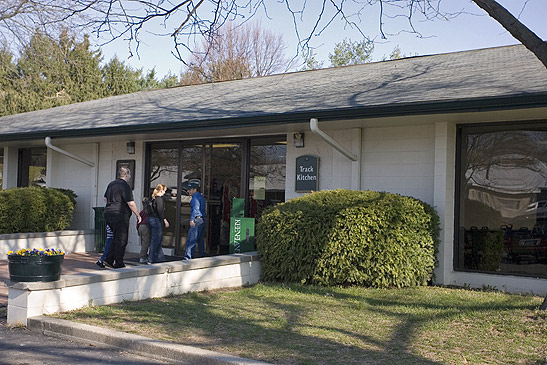 A Lexington landmark since 1936, the Keeneland Track Kitchen is the place where millionaire owners rub elbows with trainers, exercise riders and stable hands over early morning coffee before heading off to the barn or the track or the executive boardroom (the Track Kitchen is nothing if not egalitarian.) It's a place where the general public can feel part of the rarefied world of Thoroughbred racing for five bucks – the cost of a bountiful breakfast of eggs, bacon, sausage, biscuits and gravy, baked apples and grits.
Wizened exercise riders, weighing no more than supermodels, tackle breakfasts that would do justice to a lumberjack. Walls are lined with photos of such equine stars as Strike the Gold, Swale, Alydar, Risen Star and Gato del Sol. Over by a window, a group of people sit in jovial companionship, debating the odds on the filly in the fourth, while at a corner table; a solitary man pores over the Daily Racing Form. One might think he had stumbled into a scene straight out of a Damon Runyon short story. Short of owning your own Thoroughbred, this is the best place in the Bluegrass to get up close and personal with the horse crowd.