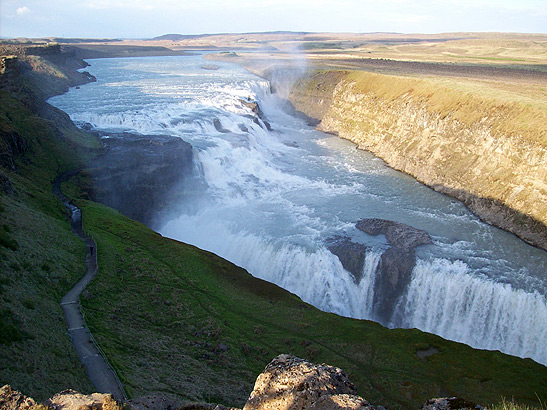 Iceland Looks Better in Spring
Story & photos by James Boitano

t's a bit of an understatement to say that I was excited when Icelandair recently began service out of my home city of Seattle directly to the magical jewel of the North which we know as Iceland. Iceland has a je ne sais quoi that some almost intangible reasons makes it my favorite travel destination in Europe and I'd already delighted in the marvels of the island on four previous occasions. But each of these involved painful, overnight connections via Minneapolis and Boston. I barely minded this nonetheless: Iceland was worth the hassle.
Icelandair positions itself well as a gateway to Europe for North American travelers. Using a small number of jets they manage to link seven North American cities to some twenty destinations across Northern and Western Europe via a very easy flight change at their one-terminal Hub in Keflavik. If you have ever had to change planes in London or Paris you'll appreciate the value of a 45 minute flight turn around vs. the nearly three hours it last took me last time I had to fly via London Heathrow. The real bonus however flying with Icelandair (and make no mistake: it's a no thrills budget airline) is that you can stop over in Iceland for a few days at no extra charge.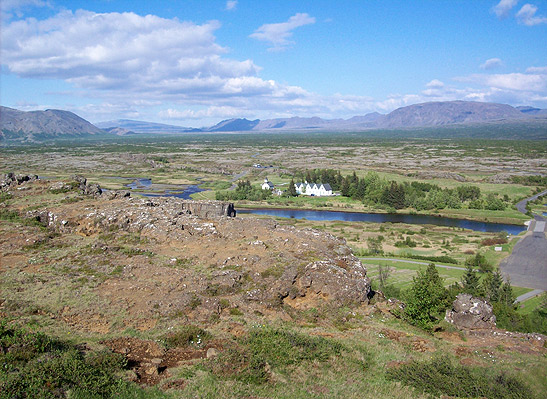 So when friends in Manchester, England invited me over for a visit this spring I was delighted to do so on Icelandair: not only was it the cheapest and fastest way to get from Seattle to Manchester, it had that very large advantage of allowing me to spend a few days on the island on my way back. My previous Icelandic trips had all been expressedly with Iceland as a final destination so it was fun to finally experience it as an add on.
My previous trip all had differed in one other significant way: they had all been in wintery months. Hanging just below the Arctic Circle, Iceland is not really quite as cold and bleak in November or February as you might imagine: the Gulf Stream keeps it much warmer than anywhere in North Dakota and though windy and snow covered, it could also be brilliantly bright and lovely. But the real disadvantage were the really short days. Even in early November the island was locked in the pitch black of an 19 hour night and it wasn't until you got close to late morning that the dawn finally arrived. Any explorations outside of the street-lit urban areas of Reykjavik had to be done in a real rush.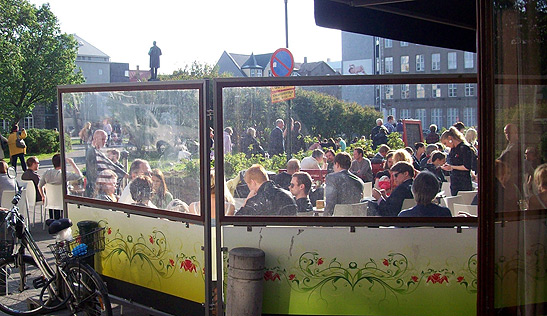 So why in the heck did I go to Iceland then in November or February? Well Iceland used to be one of the most expensive countries to visit in the world: with a tiny population (about 300,00) a relatively isolated location and a high standard of living, everything costs more there and there was simply no way I could afford an Icelandic holiday except during the darkest and least tourist friendly times of the year. But with the crash of the Icelandic economy in the fall of 2008, the value of the local currency (the Krona) had fallen substantially and the island is currently open to the tourist at a relative bargain. Even I could afford a few days there on my return. I couldn't wait to see what Iceland would like like in the spring.
It was a different world when I landed at their international airport this June. My past arrivals had conditioned me to expect icy blasts of wind as I jumped onto the airport bus for the 45 minute ride into Reykjavik and perhaps much later in the day the sun might rise and I could start to see the gray forms of the city emerging. Today it was bright, sunny and most shockingly of all, nearly warm. I felt like I'd landed, well not quite in Los Angeles, but at least in San Francisco on a pretty day. And the sun was out. In fact, the sun never really seemed to go down all night.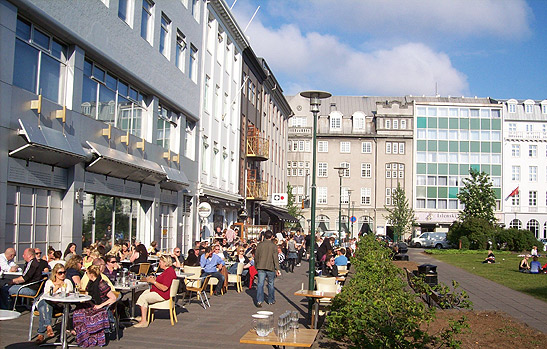 I remembered a Reykjavik where people were huddled away in cozy cafes and bookstores, much like my native Seattle does much of the year. But not this time: when I got into town I was astonished to see the whole city out and about, in short sleeve shirts, even shirtless, soaking up the rarest of Icelandic commodities: warm sunshine. I was flabbergasted to see that the postcard and travel bureau images of sidewalk cafes I'd smirked at from earlier visits really did exist: people were actually eating dinner and having drinks al fresco! And the cafes were packed. Was this really the same place?
Not only was the city alive in a way I'd never imagined, but so was the countryside. I took a tour to the countryside outside town on my second evening. Now the countryside had awaken as well and it was an awesome new world. I remembered from past trips the scenic snow covered lava fields extending off to the glacier capped hills and volcanoes and extending down to the icy fjords with little villages slumbering in the darkness. The same vistas were now ones of the newborn lambs and Icelandic colts munching on the fresh green grass and the Icelandic tundra cloaked in endless fields of blue lupines. We got out to the most famous waterfall of Iceland, the enormous Gullfoss which flows dramatically across the wide tectonic plate splitting the island in two. I'd been there when it was icebound and now I was here in its full glory of sunshine melted glacial water power As it was getting past 9:00 pm at night and the sun still shining warm and bright upon me, I realized how much better Iceland looked in the spring.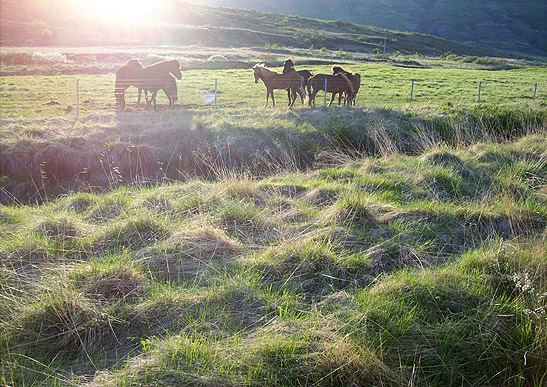 Iceland is not for everyone: although more affordable it's still not a budget destination, and even on the sunniest of days it's not for those dreaming of a beach holiday. And to state an oxymoron, islanders tend to be insular and it's hard to break into this millennium-old culture of modern day Vikings where everyone seems to know everyone else, and where it seems sometimes tourists are nothing more than the Golden Goose to help them through these current bad times. Despite my love of the island and its people I continue to be astonished at some glaring deficiencies in their flexibility and customer service. Having made the mistake of making an Internet booking which I cancelled the next day and months in advance, nothing in the world could persuade the popular Centar Hotel chain in Iceland not to charge me for the entire course of stay. And Icelandair once insisted on charging a $400 change fee to fix a clerical error just so a friend travelling with me could stay in the same Icelandair owned hotel as I was booked from another hotel they owned. In all my travels I've never experienced that kind of inflexibility; so if you travel to Iceland, then buyer beware. Once you book it, you have bought it.
Despite these drawbacks, once I'm there I can forgive Iceland almost anything. I only spent two nights in Iceland this time and I wished it could have been longer. Seeing this benevolent side of the island made me think I could actually rent a car and drive all around this island where it never got dark or icy and where it's fjord-clad colorful villages and busy farmsteads beckoned even in the midnight sun of June. I will most certainly be back.