Conquering Nebraska's
Panorama Point:
My First State Highpoint
By James Boitano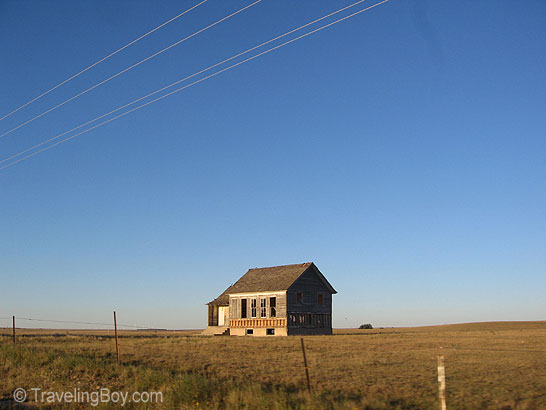 Photo by: Jonathan Tetsill

remember from my 4th grade school geography book how we were presented with a long and often dull list of facts for each state which, for our general benefit and good citizenship, we were somehow supposed to memorize and assimilate. Later, most of us are lucky to remember that Dover is the capital of Delaware, but at the time I still had more trouble understanding how learning the state flower and nickname of Connecticut (the Mountain Laurel and The Nutmeg State, just so you know) would in any way later serve me in my adult life.
Yet years later, I was reminded of one of those minutiae of state trivia gleaned from my school texts when I stumbled across a strange little travel guide in my local bookstore. It was a guide to state high points. Of course, now I remembered: every state was always presented with the statistic of its highest and lowest elevations. I always remembered this because I felt pretty sore at the time that my own state's Mount Rainier (14,410') was humbled by a mere dozen boulders into a lower rank due to California's Mount Whitney (14,505') and Colorado's Mount Elbert (14,440').
So I was intrigued and picked the guide up. Now, if you assume that this is a mountaineering guide with instructions on how to scale the glaciers of Alaska's Denali (20,320') or the other high peaks mentioned above, then you would be correct. At least partially: these glacial peaks are only one side of the spectrum. And as I'm no mountain climber such instructions on how to climb a glacier or rocky moraine weren't the really interesting part or my cup of tea (I'd never hiked more than 10 feet above the visitors' center and gift shop at Mount Rainier National Park). No, what was fascinating was just how 'low' and completely unimpressive so many of these 'high' points actually were, and yet were presented with separate chapters and equally serious detailed instructions as the higher peaks. Even more intriguing: instead of requiring rope gear and oxygen tanks, many of these were accessible by your very own car. Florida's Britton Hill (345' was at the edge of a parking lot in a little park, Louisiana's Driskill Mountain (534') on the grounds of a local church, and Delaware's highpoint (448') was either along the side of the highway or in the middle of the next door trailer park (but this didn't really count as the park had been raised a few feet due to flooding). So, why on earth issue a travel guide to such places? As it turns out, 'Highpointing' has it's following, with clubs, websites and even annual conventions dedicated to those whose goal in life is to reach all fifty summits, or at least as many as the road can take them to.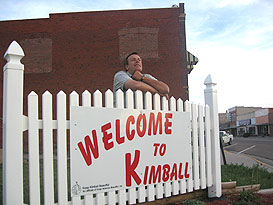 Photo by: Jonathan Tetsill
That's how I ended up at Nebraska's 5,429' Panorama Point last September. I was already going to Denver with my friend Jonathan from Cornwall, UK to do a Rocky Mountain road trip and I noticed Panorama Point was just a few hours to the east, just a mile from the Colorado state line. The Great Plaines start at mile high Denver and then gradually slope downward, losing a few feet per mile until you reach the Mississippi. It's no coincidence then that the high points for both the Dakotas, Nebraska, Kansas and Oklahoma are all located within a few miles of their western borders: if you moved these states' borders a few miles to the west they'd all end up with new highpoints.
Jonathan was a good sport and up for this eccentric little detour to the southwest corner of the Nebraska Panhandle. We headed across the plains to the little town of Kimball whose chamber of commerce had done an excellent job promoting their county's greatest claim to fame.

They provided us with maps, detailed directions and even offering t-shirts and post cards of their mighty mountain. And a few words on little Kimball Nebraska. If you have ever looked at a map at the empty expanses of rural western Nebraska and shrugged it off with a 'yeah, right', think again. After our 10-state drive across the rest, both Jonathan and I decided that Kimball was just about our favorite place: it was vibrant, cozy, and just so memorably friendly. The Chamber of Commerce welcomed us with open arms, and then sent us off to visit to the town gift shop (Specialties Unlimited) to get local jam with our 10% off coupon, to get fresh rolls at the little bakery, an excellent latte at the café. And for dinner that night: the best steak dinner I ever had (and for only $10.00). It was refreshing to be in a small town whose main street didn't have any chain stores or boarded up building, where the hospitality was effusive but not suffocating, where all while being an outsider in a small rural town, you never once felt like one. Everyone greeted you. It's a cliché (and perhaps condescending) to say it was like stepping back in time: no, it was a modern place where only the hospitality was old fashioned.

Early the next morning we took off at sunrise and headed to the 'mountain'. It was a good hour's drive to the southwest corner of the county, right where Nebraska, Colorado and Wyoming met at a tri-point. It was a good thing we had a map, as the directions involved at least a dozen often unmarked turns, leading from the state highway to smaller and smaller dirt country roads, and finally up a rutted narrow cattle path. If you have ever imagined the Great Plains to be dull and lifeless then you've never driven on a country road in Western Nebraska on a sunny September morning: the roads were lined with thousands of sunflowers, the sky and vistas were endless, and the landscape was rugged and exotic and beckoned you to just drive on and see how far such empty splendor could go on for. It was the kind of place that made you feel alive, vibrant and completely cut off from the stresses of life. For me that can be the greatest reward of any vacation.


The sun ducked behind a cloud as we approached the peak, adding a somber, otherworldly feel to the utterly empty place. That we hadn't seen another human soul the entire trip reminded us that our destination was, well, a rather quirky one: a far cry from such heavily trotted tourist paths of say a Venice or a Cancun. The presence of bison added to the Wild West feel: the peak is located in the midst of a vast private bison preserve whose owners request a small honor system donation to leave at the unguarded entrance.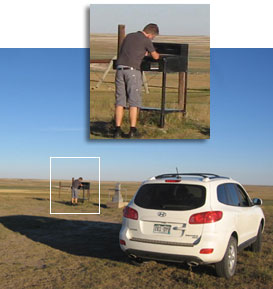 Photo by: James Boitano
There's not much more left to say about Panorama Point: you drive up to the official high point marker and the registration box next to it to record your presence onto their log, and that's it. It's even hard to tell you are anywhere much higher than the surrounding terrain: it was global positioning, not any real visual gradient that determined that this spot was the place. With nothing around but the wind, the grasses, the sky and the bison, you are utterly alone and at peace with the world. It's the journey, not the destination which is so often the case.

But we'd done it: our very first high point. There was absolutely no need to rush and we were in no mood to. Our personalized certificates attesting to the fact we had conquered Panorama Peak would be waiting for us back at the chamber of commerce in Kimball when we returned. We accepted them proudly and I couldn't even resist buying a t-shirt I felt so proud. And now I was only 49 states away from my goal of attaining all 50 and be a true highpointer.

So perhaps it was no coincidence that the very next day we found ourselves at a hitherto unscheduled visit to Mount Sunflower down in Kansas (elevation 4,039'). But that's another story.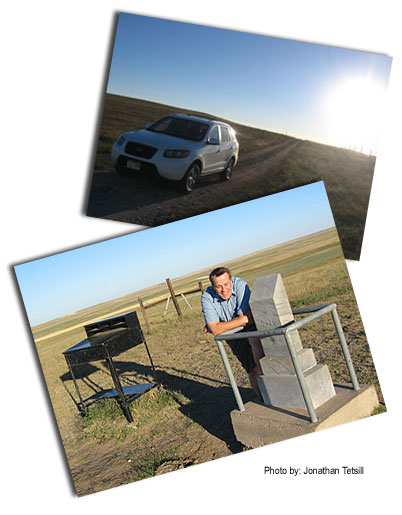 For more information on Highpointing check out:
www.highpointers.org
www.americasroof.com