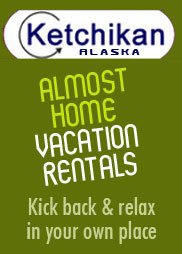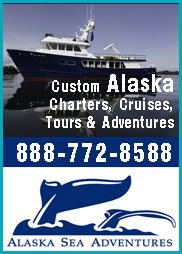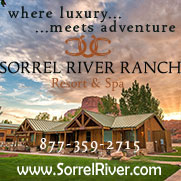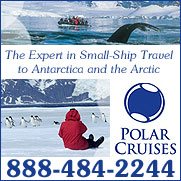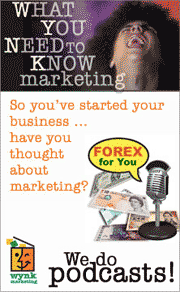 Suitcase Therapy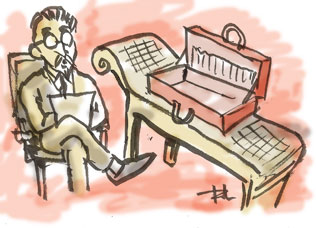 ecently a client came to session holding a brown paper bag. He opened the bag and removed a frame. In the frame was an exquisite pencil drawing of an empty suitcase. His brother had drawn the picture and it was called 'Empty Baggage'. The client told me that the picture was a symbol of what we were trying to attain and focus on in therapy. So, like the picture, his frame of mind would parallel the suitcase. He said that he identified with the suitcase which once held many things, and was now empty. He too felt his mind held many unnecessary items crammed full with old memories that needed to be cleared. The client said it felt like he had been carrying around a "fully stuffed" suitcase for a long time. He observed that he had been lugging around unresolved issues in his life, keeping them inside, internalizing them. These neglected issues had obstructed his clarity of thought and greatly misguided his behaviors. He commented that the empty suitcase represented what he hoped to accomplish in our work together. The process we were engaged in for him to get rid of his "baggage" and be content.

As the client assessed his thoughts and actions, he realized that he "over intellectualized" and spent too much time involved in obsessive thoughts. He was "in his head" so much that it blocked his ability to feel, clouded his decision making, and led to self deceptions. He found himself increasingly anxious. Bogged down by much from his past, he could not be present in the here and now. He needed to "empty his suitcase"- his mind.
When a person does commit to emptying his or her baggage, whether it is with therapy or another self-help discipline, it's not easy. But like the empty suitcase, they begin to act and feel lighter. This happens when we give attention to burdensome and unresolved events that weigh us down. It is when we can be honest, self reflective, and mindful that we begin the therapeutic process. It is then that we truly begin to create a space to go forward.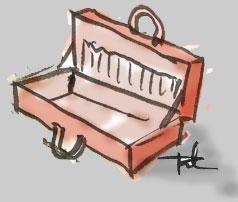 The client felt the problem was not that he was thinking, but that he needed to understand his thoughts. This would allow him to clarify and reduce the cumbersome memories, for him to feel safe in dealing with his feelings. Simply put, he had not been able to "feel" in the past, and now he was ready to bridge mind and feeling states and begin to experience feelings in a deeper way. As he gave attention to the things that weighed him down, and processed them they began to wane. This led to more insight. Increased insight and the ability to feel emotions led him to heightened clarity in his actions and behaviors.
Like the suitcase, the client needed to become "empty baggage" so he could continue on his journey less encumbered. With this transition the client discovered his life was less complex and confusing and he could begin to experience an open and loving heart with a sense of wonder and joy. When this happens every experience becomes a special journey and we are a happier fellow traveler.

Joel Polinsky MA, LMFT
License # MFC 38417



Send us your comments.


Journey to the Bottom of the Globe: Exploring the White Continent of Antarctica

As a travel journalist I am constantly asked what are some of my favorite travel experiences. The list is endless. But there is one destination that seems to raise the most eyebrows. That destination is a cruise to Antarctica. Sadly, that cruise line I was on is no more, but today there is a plethora of cruise lines that offer similar packages. Here's a look back at my Antarctica cruise.


Treasures of Ireland: Food, Fun and Falconry at Ashford Castle (Dispatch #18)

The Palladian Traveler soars above the crowd with a gal named Lima, cruises across a lake dotted with hundreds of islands, and feasts like a king in a regal dining room.


Would You Believe She Can Carry 800 (Yes, 800!) People!

As she came around the corner we could not believe how big she was. Massive, and yet incredibly beautiful – almost elegant in fact. Her lines were so symmetrical she seemed to blend into a classic example of astonishing good looks. The other fact that amazed all of us was how quiet she was. We felt sure that with the obvious overwhelming power she evidenced, she'd be extra loud. It's a cliché, but she was as quiet as a church mouse – or "as quiet as dreaming trees."


Highway 49 Revisited: Exploring California's Gold Country

In the 1840s, the population of California was only 14,000, but by 1850 more than 100,000 settlers and adventurers had arrived from all over the world – and they came for one reason: gold. James Marshall had discovered the first gold nugget at Sutter's Mill in El Dorado County, creating the largest gold rush in history.


Lake Charles' Family-Size Low-Key Mardi Gras

The Southwest Louisiana Mardi Gras in Lake Charles, the second largest in Louisiana, does not need parents there to avert their children's eyes. This is family entertainment and children are very much part of it. The main office of the Lake Charles CVB has costumes from last year's Mardi Gras but it also has figures to fascinate little ones from country boys fishing for their dinner to alligators who have already fed and are rubbing their stomachs.


Cedar Hill: Frederick Douglass' Home is as Imposing as the Man who Lived There

Having recently received a misguided shout-out from the president during Black History Month – Frederick Douglass has done an amazing job... – it seems a good time to revisit the cultural icon's legitimate place in history. And a visit to his home in Washington, DC – surely a place the current president might want to consider visiting himself – would be a good place to start.


Hanging Out in Huntington Beach, California

Huntington Beach is legendary around the world as one of the best surfing spots. Its waves and beaches are so great, it is also officially known as "Surf City." But as I learned on a recent getaway, the town is more than just tasty swells and beautiful white sand; it also boasts gourmet restaurants, luxury, ocean-front hotels, great shopping, and tons of California coastal charm.


Richard Gere and Joseph Cedar Discuss "The Moderate Rise and Tragic Fall of a New York Fixer"

Richard Gere is one of America's acting treasures. He has an uncanny knack for selecting scripts with the most interesting characters. Included in some of his vast body of films are "American Gigolo, "An Officer and a Gentleman," "The Cotton Club," "Internal Affairs," "Pretty Woman," "Primal Fear," "Unfaithful," and "Chicago." Joseph Cedar, writer and director of the critically acclaimed "The Moderate Rise and Tragic Fall of a New York Fixer," was born in New York City but when he was five, his family moved to Israel where he was raised.


Tahiti and Her Islands

Just their names (pronounce each vowel!) conjure up romantic images: Tahiti Nui, Moorea, Bora Bora, Huahine, Ra'iatea, Taha'a. Her people are gentle; the air, tiare-perfumed. Warm lagoons, majestic peaks, tropical fruits from the land and bounty from the sea all tantalize the senses. Paradise! As near as can be found on planet earth. And, in my experience, the finest way to explore her is on a ship designed for that single purpose.


Leviticus 20:13
Sent by Tom of Pasadena, CA



It all makes sense now. Gay marriage and marijuana was legalized in the last election. Leviticus 20:13 states
"If a man lays with another man, he should be stoned..." We've been interpreting it wrong all these years!


John Nemeth Doubles Down

John Nemeth is a busy guy. He and his band, the Blue Dreamers, tour constantly and rarely leave the road. But when they do it's just long enough to feed the heads of their rabid and enthusiastic fan base. Personally, I've witnessed multiple Nemeth shows in both intimate and festival settings and not once have I ever seen a patron stagger away without a face full of grin. So when word came down that a new recording was in the works, my grin got wider.


NOLA: New Orleans, Louisiana

Mardi Gras, the French Quarter, the Garden District, the streetcar (now a bus) to Desire, the jazz clubs, the beignets at the Café du Monde and breakfast at Brennan's come to mind when you think of New Orleans. But that's not all there is to this unique American city, filled with treasures both culinary and cultural.
---
© TravelingBoy.com. All Rights Reserved. 2015.
This site is designed and maintained by WYNK Marketing. Send all technical issues to: support@wynkmarketing.com