---
3 Priests
sent by Mike of New York, NY

A priest, a Southern Baptist preacher, and a rabbi all served as chaplains to the students of Northern Michigan University in Marquette .
They would get together two or three times a week for coffee and to talk shop.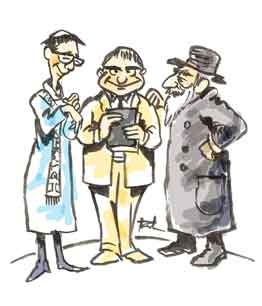 One day, someone made the comment that preaching to people isn't really all that hard. A real challenge would be to preach to a bear. One thing led to another, and they decided to do an experiment. They would all go out into the woods, find a bear, preach to it, and attempt to convert it.
Seven days later, they all came together to discuss their experiences.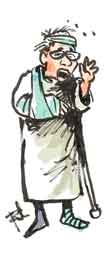 Father Flannery, who had his arm in a sling, was on crutches, and had various bandages on his body and limbs, went first. "Well," he said, "I went into the woods to find me a bear. And when I found him, I began to read to him from the Catechism. Well, that bear wanted nothing to do with me and began to slap me around. So I quickly grabbed my holy water, sprinkled him and, Holy Mary, Mother of God, he became as gentle as lamb. The bishop is coming out next week to give him first communion and confirmation."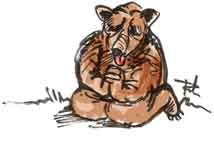 Reverend Billy Bob spoke next. He was in a wheelchair, had one arm and both legs in casts, and had an IV drip. In his best fire-and-brimstone oratory, he claimed, "WELL, brothers, you KNOW that we don't sprinkle! I went out and I FOUND me a bear.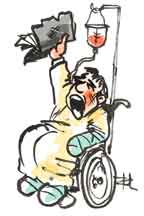 And then I began to read to my bear from God's HOLY WORD! But that bear wanted nothing to do with me. So I took HOLD of him and we began to wrestle. We wrestled down one hill, UP another and DOWN another until we came to a creek. So I quickly DUNKED him and BAPTIZED his hairy soul. And just like you said, he became as gentle as a lamb. We spent the rest of the day praising Jesus."
The priest and the reverend both looked down at the rabbi, who was lying in a hospital bed. He was in a body cast and traction with IVs and monitors running in and out of him. He was in really bad shape.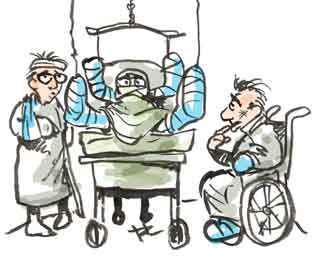 The Rabbi looked up and said, "Looking back on it, circumcision may not have been the best way to start."
---
Empire State Building
sent by Don of Pasadena, CA

Two men are sitting at the bar at the top of the Empire State Building drinking, when the first man turns to the other one and says: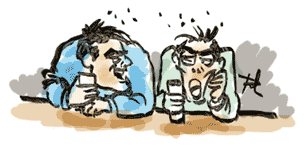 "You know, last week I discovered that if you jump from the top of this building, by the time you fall to the 10th floor, the wind around the building is so intense that it carries you around the building and back into the window."
| | |
| --- | --- |
| The bartender just shakes his head in disapproval while wiping the bar, but says nothing. | |
The second guy says, "What? Are you insane? There's no way in heck that could happen!"
"No, it's true," said the first man, "let me prove it to you."



He gets up from the bar, jumps over the balcony and plummets toward the street below. When he passes the 10th floor, the high wind whips him around the building and back into the 10th floor window and he takes the elevator back up to the bar. He meets the second man, who is astonished.
"You know, I saw that with my own eyes, but that must've been a one-time fluke. That was scientifically impossible!"
"No, I'll prove it again," says the first man as he jumps. Again, just as his body hurtles towards the street, the 10th floor wind gently carries him around the building and into the window. He takes the elevator back to the bar. Once upstairs, he successfully urges his dubious fellow drinker to try it.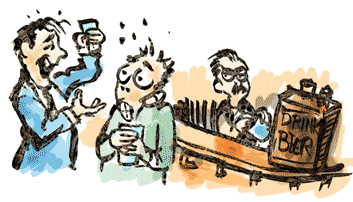 "Well, what the heck," the second guy says, "I've seen that it works, so I'll try it!" He immediately jumps over the balcony - plunges downward - rapidly passes the 11th, 10th, 9th, 8th floors ...his body hits the sidewalk with a loud "splat."
Back upstairs, the bartender who had been silent the whole time turns to the first drinker, and shakes his head. He says,
| | |
| --- | --- |
| | "You know, Superman, you're a real jerk when you're drunk." |
Raoulisms
Raoul's mini-blog
LAKE TAHOE

We had never been to Lake Tahoe. The first time the name registered in my memory was when it was mentioned in the movie "City of Angels." A group of friends planned to go the weekend before the start of school and invited us to go with them. It was only a few days before our departure that we were told it would be snowing. I thought it was going to be bright and sunny.
The last time I faced snow in all its glory was way back in college when the snow reached a depth of 4 feet in Washington, D.C. My wife and daughters had never seen fresh snow. So we were looking forward to the experience.
Wednesday, the day before departure, there were news that a blizzard was expected at Lake Tahoe the whole weekend. We thought that was the end of our trip but one of our groupmates said a blizzard was the perfect time to see fresh snow. "Let's pray for a blizzard!" my friends Danny and Edwin shouted.
(Maria, a good friend of mine, told me later that "only nuts and daredevils went to Lake Tahoe last weekend." She was right. Talk about self awareness!) The trip from the Los Angeles area to Lake Tahoe took us an uneventful 8 hours. There was no blizzard in sight.
Friday afternoon, we decided to walk around the malls, When we stepped out of our 15-seater van, snow suddenly started to fall. We wished there was more. We took pictures beside the dirty snow mounds to prove we had at least seen snow. Suddenly, the wind changed direction and snow flurries began to fall like cotton balls. In minutes, everything was blanketed in a white carpet. It was as if we were inside one of those decorative Christmas balls that you shake to produce a winter wonderland. The kids were throwing snowballs at each other. Families were taking turns posing for next year's Christmas cards. It was beautiful. Christmas was over but I found myself singing "Winter Wonderland".
Saturday we headed back. Equipped with snow tire chains, we headed down the mountain amidst the blanket of snow that fell the night before. We must have gone less than a mile when the tire chains began to flap alarmingly. Apparently, the chains were a size too big and the resulting slack caused the them to pound against the underside of the van. I braved the cold winds and the slush on the road and tightened the chains with a shoestring. It worked well enough until we found a hardwate store where we bought industrial-strength wire. We were about to purchase a $4 wire cutter but the cashier nodded his head and said "This cutter is too small to really cut anything ... what you need is this $9 one." Edwin, our designated driver, looked at me and I knew his thoughts: "this salesman is trying to sell us something we don't really need." But we decided to play safe and bought that expensive piece of equipment. That was the first miracle.
THE ROAD DOWN THE MOUNTAIN
Our tire chains were only on our rear tires. Every few miles I had to get out of the van to tighten them. Sometimes it would be the left rear tire, sometimes the right. It was an exercise in creativity, skill and patience. My bare hands tightened those wires so often the smell of cold steel lingered in my hands after a while.
Only vehicles equipped with snow tires and chains were allowed to drive down the mountain. It was a slow procession through the slush. By now the windows of the van had become thoroughly covered in mist. It seemed like we were inside a submarine. Every now and then I would jump out to adjust the chains. It was a real test of patience. Despite everything, we were still able to admire the incredible beauty of the postcard- perfect pine forest.
Midway down the mountain, snow slowly turned into rain. Vehicles pulled over as drivers started removing tire chains. We decided to follow suit. I heaved a sigh of relief because that meant the end of my ordeal as the tire chain mechanic. However, what was supposed to be an easy task turned into a nightmare as I realized that the tire chains had gotten entangled around one of the tires. I was forced to lie down under the van, right on a muddy slush of snow, in order to get a good view of the problem. Edwin and I realized that the only way we could remove the chain was to cut it with the industrial-strength wire cutter that we almost didn't buy. If not for that wonderful invention, we would have been dinner for the abominable snowman.
Feeling very much relieved, we began whistling as we continued down the mountain for a few more miles. And then it happend. The wind changed its mind and the rain turned to snow once again. Ice collected on the road and vehicles started to wobble uncontrollably ... including ours. I could see terror etched in Edwin's face as prayers to the Almighty began to echo inside the vehicle. After a few more slips on the icy road it was becoming too dangerous. Edwin pulled over. I got up to greet my old friends once more -- the tire chains. I knew one set was already damaged so I knew my real test was just about to begin. I prayed that God would let this cup pass.
Suddenly, the cavalry appeared. A government-issued, tax-paid snow plow came galloping down the hill ... and melting all that sleet of ice that had formed on the surface. I jumped back inside the van and we trailed behind that merciful angel until we reached freedom. Freedom!
It took us another 8 hours to get home but that was okay because we had just passed the most dangerous part of our trip. Later on we found out that the icy road we had traversed was shut down a few hours after we left.
It was a woonderful feeling to be back home, warm and dry. In my quiet moments I asked myself if I regreted driving up and going through the blizzard. Are you kidding? Paraphrasing Maria's remark I came up with this poem:
We laugh at blizzard monsters,
'cuz rarely they we see.
We're blind to wintry dangers,
'cuz Nuts and Daredevils ... we be.