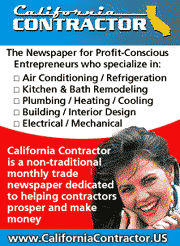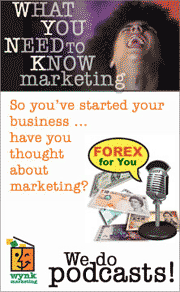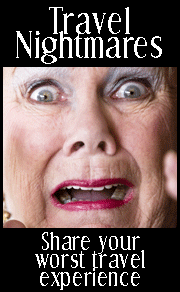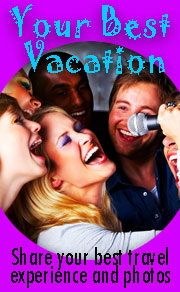 Be part of the fun! Send me your best joke(s) and interesting information. If I like it and if it's new (at least to me), I will publish it, give you credit and add my original drawings to give it that personal touch. Sounds like a deal?
---
(I normally start off my articles with a joke but since this article is pretty long, I decided to dispense with it. --- Raoul)
Big Bear Summer Family Vacation
Whenever I hear the name Big Bear, I think of snow-covered mountains, winter sports and the brave young souls who love to get their butts frozen. Growing up in the tropics and being as warm-blooded as a chef during peak dinner time, I crossed out Big Bear as a potential vacation spot. This summer I had to correct my prejudice.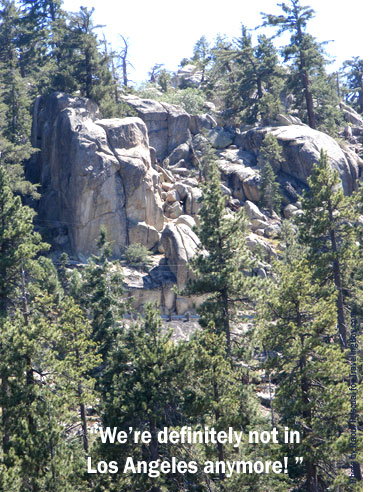 Ed, my Boitano brother, told me that there were so many things to enjoy in Big Bear Lake in the summertime and so, on the 2nd week of August, my wife, our three kids and I decided to see things for ourselves. Booking was easy over the phone and the Internet. I calculated that it would take me a mere 2 hours to get from our home in the San Gabriel Valley to the mountains surrounding the lake. Leaving the main freeway and heading north towards the mountains, the terrain started to change. Pine trees started to replace the palm fronds and featureless flatlands turned into boulder formations. Our car engine seemed to gasp for air as the elevation began to pass the 7,000 feet mark. Clean, fresh air took over from the smog we have been so accustomed to in the city. "Raoul," I said to myself, "I don't think this is Los Angeles anymore."

The SUVs rule the roadside on the mountains. The sun was blazing but surprisingly chilly air shielded us from the heat making it a perfect day. "I've got my family, the weather's perfect … this is gonna be a great vacation."

I met Dan McKernan at the Big Bear Lake Resort office who gave us a packet of tourist materials. Dan's a fun guy who cracks a joke easily. I knew I was gonna like him.

Our first stop was lunch at an Italian restaurant. From the brochures we thought it would be this huge restaurant seating hundreds of people but when we got there, we saw this dinky little room that would max out at 30 people. I saw the cook whizzing about in the kitchen and a lone waitress was our only personal contact with the restaurant. Like many families, we each ordered different dishes so we could sample from each other. The mushroom burger was my choice. When I took my first bite I was pleasantly surprised at the distinct mushroom taste that was perfectly burned at the edges. I liked that cook's taste buds. Mmmm … Looking around I noticed business was brisk and I understood why. All of the choices were fabulous but I liked the Italian mushroom burger the best.

BRIEF HISTORY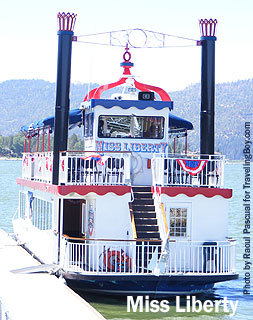 A few blocks away, we boarded Miss Liberty, Big Bear Lake's largest tour boat manned … or should I say, "womanned" by Captain Ginny Murphy. According to the narrator, Arnold Baldwin, the area's first known inhabitants were the Serrano Indians who regarded the grizzly bears as ancestors. This allowed the bear population to flourish. The prospect of a plentiful supply of bear fur then attracted many immigrants to the region. Snow blanketed the area in winter but it would melt in spring forming seasonal marshes. Immigrants then named the place Big Bear Lake. A prospector from Indiana named William Holcomb sparked Big Bear Lake's modern growth after he discovered gold in 1859. Legend has it that Holcomb wounded a bear one day. In his search for the elusive creature he stumbled upon a vein of quartz flecked gold. He quickly switched profession from hunter to gold miner. As soon as word leaked out, the Southern Califonria gold rush was on and the number of prospectors blossomed to 15,000, turning San Bernardino County into the most populated area of its time. This gold rush lasted only 4 years. Some experts estimate that despite the thousands of tons of gold that have already been excavated, 80% of the mineral has yet to be discovered. There were attempts to make San Bernardino the capital of California but it lost out to Sacramento by a mere two votes.

In 1884, a business tycoon came up with an idea to build a commercial dam on the site of the valley where the seasonal marshes were to be found. The first year was a financial disaster. But being a typical businessman, he continued his campaign and by the second year the valley had become a large lake. Today, the lake is managed by the Big Bear Municipal Water District.

Fawnskin is the stretch of land north of the lake. It is where Shirley Jones, the singer and actress lives. She is one of the few celebrities that actually call Big Bear home. This is also where all the gold prospectors staked their claim. In the 60's the hippies built their colonies in gold country but, thanks to overly zealous government officials who were scared of liability claims, they were bulldozed out of existence.


Accommodations

Our lodge was huge! It boasted a large living room with a fireplace, a pool table and satellite TV, had three bedrooms and a tall ceiling. The huge kitchen shared a bar and dining room. Underneath was a garage with a washer and dryer. Hanging on the garage ceiling were 2 BMX bikes ready for action. Bear and moose fixtures permeated the rustic surroundings and there was a Jacuzzi at the patio. Our lodge was located about a block away from the lake. Dan (who made the arrangements) later apologized because he wanted to give us an even better cottage but this was the unit that had an internet connection. No apologies needed. My family loved it.
Steak Dinner

Dan invited us to dinner at the Cowboy Express. Bearskin, Indian artifacts and goldmining memorabilia provided the restaurant's ambiance. The rib-eye steak was tempting but I decided to be a good boy and ordered halibut steak instead. The fish was good but when I saw the others eating their juicier finger-lickin' steaks I almost kicked myself. It's definitely the place for hearty meat eaters. Take my advice: eat what's good for your palette when you're on vacation!

First-Time Fisherman

Early Saturday the next morning, my son and I headed for the docks where we met Mike and Trish Marzell of Lucky Bear Charters. Dan wasn't planning to come but we managed to convince him to join us … after all, it was my first fishing expedition ever. Yup! Believe It or not, I had never fished before. I cook 'em and I eat 'em but I never catch 'em. I never understood people's fascination for fishing. That morning I was going to find out.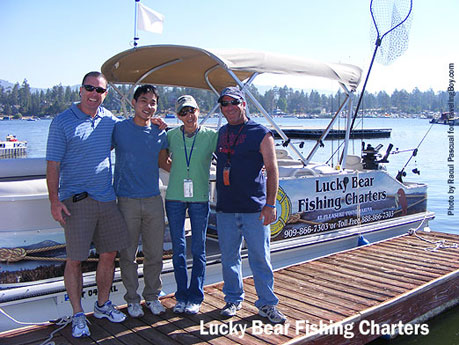 I discovered that when they say fishing is a sport, it really is a sport --- just like poker is a sport. It's not about flexing your muscles but about strategy. It's a battle of wits between you and someone a little lower in the food chain. Your playground is the whole 7 mile long lake. The objective is to lure that little critter to come to you in that vast body of water, get it to nibble on a worm that you dangle at various depths --- either stationary or moving. Depending on what kind of fish license you have you are allowed to dispatch 2 fishing lines per license. Using nets (the obviously time efficient way of catching fish) is considered cheating and thus prohibited --- after all, we need to give those guys a fighting chance.

It's fascinating that every fisherman (or fisherwoman) has his own secret strategy for the game. But the variables are the bait, the line, boat speed, the specific spot in the lake and the time of day. They have live worms (called night crawlers) or fake ones made of plastic, metal or feathers. The lines can be regular nylon or reinforced with steel (they feel like soft bass guitar strings) and come in different colors. They are tied end to end with a different color so you can tell the depth of those lines by the number of colors you release. You can dangle the bait from a moving boat or you can drop it down at your favorite spot and just wait. Choosing your spot is essential. Trish's boat is equipped with some fancy radar that tells her where the fishes are. Unfortunately, just because they're there, doesn't mean they're gonna bite --- kinda insulting actually when you think of them swimming about and paying no attention to your well prepared gastronomic earthworm. I imagined them laughing at that pitiful bait. Mike said that they like oxygen so there were several boatmen near the dam where a pump was shooting water into the air. The last variable is the time of day. Our experts said that twilight and mid-morning were good times to "play."

I have to admit, I thought their theories were hogwash until my son's line caught something at exactly the time they said fish would bite. A few minutes later, in the exact location they said they would bite, my line caught our second rainbow trout.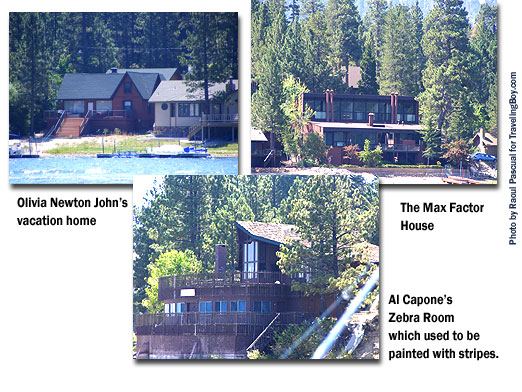 There are many other tips I'd like to share but I would be giving away some trade secrets. It's best you come and learn about them yourself from the masters at Lucky Bear Fishing Charters. And if you go, ask the Marzells about the legends of the lake. They have some interesting ones about some Hollywood celebrities and UFOs (Unidentified Floating Objects). They can point the houses owned by Cecil B. DeMille, Shirley Temple, Ginger Rogers, Mike Judge, the Max Factor home, Olivia Newton John, Roy Rogers, etc. There is even a legend about Al Capone's house of ill-repute where prostitution and gambling parties were the best known secret. Once someone tipped the managers of a raid and so they dumped the slot machines into the lake to hide the evidence.

Even if we had gone home empty handed, it would have been perfectly fine because soaking in all that natural landscape with your son and new friends was already winning the sport in my book.

Biking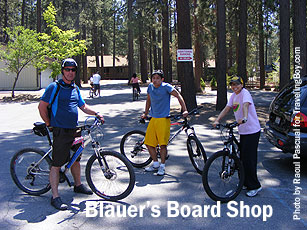 I have to confess that this was one activity I was a little worried about because I had developed a phobia for bikes since I was a kid. I had rammed my bike into my girl cousins because I couldn't find the brakes. We chose Blauer's Board Shop to rid me of my phobia. The Blauer team was so patient fitting us to just the right gear. But then they started showing us how to brake and then shift gears, I realized what a predicament I was in. Shift gears!?!? Suddenly, what I thought was going to be a scientific experiment of balance and inertia turned out to be a trip to the moon. I was petrified but my wife, my son and eldest daughter nodded in agreement signaling they could handle it. Thoughts of broken clavicles and arguments with my insurance agent raced through my mind. How was a robust 6 foot male supposed to wiiggle out of this? And then it happened. I saw my youngest daughter straining to keep her balance with my wife in tow from behind. "Don't worry. I'll help her out," I said. "You guys go ahead and I'll help her get used to it."

It was a comedic scene---me teaching my daughter to bike --- the blind leading the blind. When she would lose her balance, I would lose mine too. I was getting desperate again. Thoughts of that insurance agent flashed in my mind again. And then the second miracle happened. Dan, in all his wisdom said "why don't we put biking aside for now and take the Scenic Sky Chair? We can do this when we come down." Thank you Lord! Who says there isn't a God?

Snow Summit

It was a bit incongruous that I was dangling about 50 feet above the ground heading to the top of the mountain in an engineering marvel called Snow Summit when there was no trace of snow in sight. But there I was in the car with Dan. The rest of the family was a car ahead of ours. Shortly I realized how a little shift forward would send me falling 3 stories below. Visions of my favorite insurance agent appeared again so I didn't dare look straight down for fear I would jeopardize the car's equilibrium. My wife motioned to bring the safety bar down in front of me. I noticed their car didn't do it so why would a macho man like me do it? "Nah! That's for sissies!" I shouted back even as I leaned back for safety even more. I did notice that Dan had his arm around the backrest. Hmmm … smart guy … he must be scared too and actually holding on for dear life with that suave move. Naturally, I followed suit. These little tricks of manliness are crucial to one's dignity. They don't teach that in the manuals.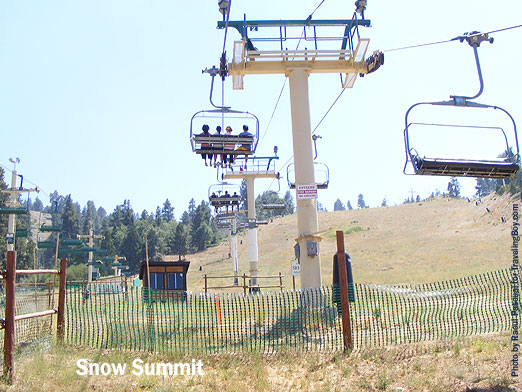 The death-defying trip up the mountain took 15 minutes. Atop the mountain, the view was spectacular. A slight wind blew through the pine trees. Neighboring mountain tops alternated between shades of blue and green. Down below a city was visible as cars moved about like ants. A few feet away a tranquil blue lake thrived with boats of all sizes. It was a postcard moment.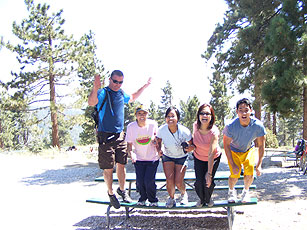 As if to reward our courageous spirit, we had a perfectly grilled hamburger lunch at The View Haus. We stayed there a long time --- again just taking in the clean mountain air. I could have sworn I saw Julie Andrews twirling in circles singing "The Hills are Alive." Around us I noticed some hard core BMX bikers padded up in black tights circling about us unleashing dust with every turn. I bet these show-offs were in cahoots with my insurance agent … beckoning me to join them to their death.

Dan was "dressed to kill" in his BMX outfit. Remember, he wanted us to go biking earlier? He was geared for a fun day biking down the hill. But now he had to babysit this pathetic family. "Would you care for a hike?" he asked. My wife said she was willing to try it. We walked down a few feet towards a huge boulder. Our digital cameras clicked like crazy. (That's what people who aren't the energetic type do --- they take pictures to tell people they conquered something.) We walked up a dirt road and then headed back --- i.e. we simply circled the summit building and that was it … our exercise for the day! Dan must have been miserable.

The ride down the slopes was pleasant because this time I insisted on having that safety bar down.

Dan scheduled us to go kayaking but we just wanted to relax and enjoy the cabin. We decided to have rainbow trout for dinner. Dan suggested we put a dash of salt and pepper, a little butter, salsa, wrap that all in aluminum foil and bake. He was right. That fish was fresh, soft and delicious.

We capped the evening with a family Jacuzzi. The warm flowing water was a perfect blanket to the chilly evening air. Funny, I think God added a million more stars since the last time I looked up.

Off-Road Adventure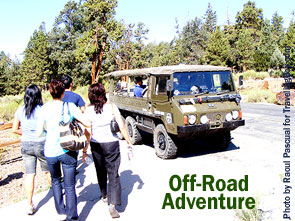 It was hard to drag ourselves out of our warm beds so we were late for our appointment with Eric Minnick, driver and tour guide of a 3 hour trip they call "Off-Road Adventures Tour at Big Bear Discovery Center (try saying that ten times). We packed ourselves into this Austrian mini-Hummer called a Pinzgauer. This pint-sized truck rattled so loud, it scared away all wildlife for miles around. Seriously, it was a scene from Indiana Jones and we were part of the Nazi army. He pointed us to Shirley Jones's house. For you young folk, she's the lead actress in the musical Oklahoma and Music Man. Shirley is also known for her role as the mother in The Partridge Family. Eric said he saw her shopping in town just the other day. A mile later Eric drove off the cemented road into a dirt alley. Then he stopped. Eric explained that we were going to find out why they called this an "off-road adventure." As he was speaking I noticed the terrain on the side of the road. It was hilly and dusty. Reminded me of the maze that BMX bikers like to play in. "I pity the guy who would have to go through that dirt and grime," I thought to myself.

Then Eric revved up the engine and turned towards "BMX heaven." "Are you crazy?!" I shouted inside. The female passengers started to scream. Eric, the evil chauffeur, careened his toy up hills that had 60 degree inclines.
"Don't worry," he said, "I haven't fallen over … yet!"

My life flashed before me. When I was a boy I played with GI Joe action figures and played in dirt and imaginary water streams. Fast forward --- I was living that moment! My insurance agent was laughing in my mind.

After Eric had his fill of screams, he started our dirt road journey. He taught us survival techniques like finding water sources near willow trees. He also pointed out the willow tree leaves are the main ingredient in aspirin. Pregnant native Indians used this. Indian braves must have gathered these often every month. Eric explained that the decorative mistletoe is actually a parasite that attaches itself to pine trees. He also mentioned that the bark beetles were still a major pest to the trees.

He led us to a wide meadow known as Hitchcock Ranch which was the location of the 60's TV show "Bonanza". Right in front of it was where they filmed a stagecoach scene from the last western musical "Paint Your Wagon" starring Clint Eastwood and Lee Marvin. The owners of that property recently donated that land to The Boy Scouts of America. Eric boasted he personally taught one of the stars to drive stick in the pilot of a current MTV show called Parental Control.

Our next stop was at a limestone cliff overlooking a wide valley. At one point in my life I used to be a limestone miner so the terrain was strangely familiar. There were two limestone factories way below us that produced cement and other lime products like baking soda which is used in toothpaste, chicken feed and glass. Eric said the top of a distant white mountain was composed of the purest type of limestone in the world. I believe him.

Our final lesson was about gold mining. Believe it or not, prospecting for gold is still a viable activity. Most prospectors do it only during major holidays. People own mining rights to stretches of land for a fee of $200 a year. Recently, one of the miners turned in a payload of some forty thousand dollars. People are allowed to walk through their property as long as they do not pick up any of the minerals; otherwise, an unchanged 1859 law gives the property owner the right to shoot robbers dead for "Claim Jumping." Back in those times, justice was swift and deadly. Claim jumpers were hung on a branch of the Hangman's Tree. After they were executed, local townsfolk would bury them along with the rope and the branch of the tree as evidence of their crime. There were so many violators that Hangman's Tree died when all its limbs were torn off. All that remains of it today is a stump.

We visited Wilbur's Grave. Wilbur is a famous goldminer whose last request was to be given a "proper burial" which (in gold miner lingo) meant his body would lay above ground covered with stones and pieces of wood to prevent wild animals from eating the body up. There his grave stood all these years. Once in a while visitors would leave flowers, letters, soda bottles and other worldly possessions but those are all considered trash by the Lithuanian Church in Pasadena who currently own the property and come out regularly to clean up the debris. Some people leave half-finished beer bottles so they can brag that they had a drink with ol' Wilbur.

Heading Back Home

We were scheduled to visit the Moonridge Animal Park but we were physically exhausted after the dusty trip so we decided to skip the animals to start heading down home to the South Land before the weekend traffic built up. But the Missus said she hadn't had time to buy any souvenirs. If you're a married man, you know the women need to do their obligatory shopping at The Village. The shops were nice and quaint. My wife and daughters were in their element. I needed to preserve my energy for the drive down so after the first hour I was sound asleep in the car. I dreamt about what Big Bear would look like in the winter.


My son's favorite adventure was the fishing and the off-road adventure. I share his views. My wife and my eldest daughter enjoyed the Sky Chair and the view from the top. My youngest daughter said staying in the cabin was her favorite pastime. What I love about our trip was it was indeed a family adventure --- something for everyone.
We dropped by a Fast Food Chain before we headed down where we bumped into a bunch of actors from the Renaissance Festival. This reminded me that there were many other non-winter activities that we should have gone to like the annual Fishing Contest (where you can win $50,000 if you catch a tagged trout) the Art Festival, the Oktoberfest, and lots more.
Big Bear Lake isn't just a winter wonderland. It also means a great summer escape which is a hop skip and a jump away from L.A.



For Austin Deep in the Heart of Austin Texas-
From JRP, Iligan City, Philippines - Hi Raoul! When I was in Austin in 1957 it was a small town. I was even interviewed by a local newspaper & remember telling him our family is in the fishpond business. A Mexican brick layer in the lime plant I observed for a week took me to his houseboat in a lake near Austin & we had steak & beer while we fish. I thought the guy's lifestyle is better than the millionaire I stayed with in Salt Lake city.

For Italian Profiling -
From Pia Hugo, La Crescenta, CA - Hi Raoul! I came here to make reservations for our Sta. Barbara trip and decided to read the Italian jokes because. I have a few from my church. Very funny! Give Mike my thanks! And the illustrations are, as always, very creative! Thanks for the laughs :)

From Dette of Iligan City, Philippines - Always a treat and lift of the spirits whenever I see your cartoons. More power!

From Dette of Iligan City, Philippines - First of all, that cartoon of the lady reindeer and Sta Claus had me laughing loud. You really have imagination, lots. Original too. Congrats. But I really have to thank you for that X'mas story. It touches the heart. May I use the story for my own column in "Mindanao Scoop"? With your name and the "Traveling Boy" properly acknowledged of course. It says below "All Rights Reserved". Does this mean I can't reprint your article even if I acknowledge authorship? Merry Christmas!

From Nina of Quezon City, Philippines - Your Big Bear adventure sure looks cool. Most of my friends in San Diego only go there during winter probably because that's the best place to experience snow in Southern California but I didn't know that summer in Big Bear is a good treat as well.

From Hannah of Monrovia, CA - We've been to Big Bear for several anniversary week-ends and enjoyed kayaking on the lake. But we didn't know the history of the place and we didn't know the owners of the fabulous homes on the lake. Sounds like you had a lot of fun. You make us want to jump in the car and go this weekend.

From J.B. of Virginia - Nice [Big Bear Lake article] ... isn't [the pleasure of taking a vacation] why we are fighting wars, sacrificing, staying up long hours, suffering?.Isn't it for our freedom of self determination ... for our right to live our lives the way we want to and for the ones we care about?

From Tom of Pasadena, CA - Great Big Bear story Raoul. You definitely caught the essence of the place and remind me when my Mom and Dad and 5 brothers and sisters went there to camp in a 14 foot trailer and fish from a 10 foot boat with a 5 horse power Johnson Motor on it.One Summer I caught a 6 pound trout and got my picture in the paper. I was stoked as an 11 year old kid.Many happy memories came flooding back into my cranium regarding the great times enjoyed at Big Bear Lake.Thanks for your sharing them with me.
* * *
So glad you enjoyed the article Tom. Your childhood must have been fun. A 6 pound trout? Wow!! That must have been delicious. --- Raoul
* * *
It was delicious but the fame of catching it was tough to take with all the paparazzi hanging around. Ha! You have a real gift for writing, I thought I was right there with you in that article. --- Tom

From Mike & Trish Marzell of Lucky Bear Fishing Charters, Big Bear Lake, CA - Hi Raoul, You wrote such a wonderful article on summer in Big Bear! Nice website. Thank you for coming out fishing with us - we had so much fun with Josh, you and Dan. We're thinking up good legends and "UFO" is priceless! Please tell us whenever you come up the mountain; we would love to take you and your family out again. You are a great writer (kept us interested). We are going to read your other articles. Thank you again.

Some responses from my Lake Tahoe Adventure
From RV of Covina, CA - I enjoyed reading your Lake Tahoe blog. It brings back memories when I brought my mom & dad to Tahoe in 1999. My dad loved the place so much that when my brother arrived two weeks later, we drove up to Tahoe again. I'm sure you had a wonderful time with Danny, Edwin and their families. Those are golden moments, including the snow chain malfunction, which you won't get tired of re-telling over and over again.

From Hannah of Monrovia, CA - Thanks for your story about the blizzard. It made our day to see how God protected you guys. Otto remembered your bear story--same result; exciting adventure and no one got hurt; but now you have another marvelous God adventure to share!

From Kathleen of Massachusetts- Just read your mini-blog and let me tell you, you guys are very blessed. I won't say, lucky, I'll say blessed. Those slippery ice/snow scenarios are really dangerous. Glad God sent you the snow plow!
We don't get that much snow where we live, but in blizzards, we don't go out. It's too scary. One time we were retrieving our daughter Mercy from Providence, a 25 minute trip in regular weather. It took us 3 hours to get home, driving on the highway in blinding snow. Blinding. We couldn't see a foot in front of us, and if we pulled over there was a chance of getting plowed in to. Never again.
That stuff is pretty, but it's deadly on the highway and for hikers.

From Cindi of Connecticut - A great story and your family has an everlasting memory. There is nothing like home, especially when home is in So CA!

From Terry os Santa Monica, CA - Wow, what a compelling story about snowy Lake Tahoe and the tire chains!
I remember driving my van up to Mammoth to go skiing in my much younger days and having similar episodes with chains. One time a rear chain came loose and wrapped itself completely around the axle. It took two of us, on our backs in the icy slush, in the dark, without wire cutters, hours to untangle that dang chain. It still seems like yesterday. So I empathize with your plight, and glory in your release.
Welcome home.

From Ding of Vancouver, BC- Wow, brave souls, glad you got home safely ;-) Thanks for the TGIF, as always!

From Maria of San Antonio, CA (the email that my article was based on) - Only nuts and daredevils went to Lake Tahoe last weekend. The lat time we went up to the mountains in spite of the blizzard warning, we got snowed in. We just stayed home and watched our own leaks.


Three Musical Pilgrimages: Mozart, Grieg and Hendrix

Johann Chrysostom Wolfgang Amadeus Mozart (1756 - 1791) could read and compose music, plus play the violin and piano, when he was five years old. Born into a musical family in Salzburg, Austria (then the Holy Roman Empire), he had a unique ability for imitating music, which first became evident when he recited a musical piece by simply observing his father conducting a lesson to his older sister. This led to a childhood on the road, where the young prodigy performed before many of the royal courts of Europe.


Treasures of Ireland: The Irish Goodbye (Dispatch #20)

The Palladian Traveler brings to a close his 20-part series on the Emerald Isle from an upscale restaurant in downtown Dublin where he files his final dispatch and then quietly slips away.


Two "MUST SEE" Truly Spectacular Places in Europe. Here's Why.

The Han Grotto and Culzean Castle. As the name of my Traveling Boy feature is "Travel With a Difference," it's important to me to always bring you offbeat and unusual tourist places around the world you may not know about. These two fit that category to a T, and they're absolutely worth a visit. One's in Scotland and one's in Belgium. Culzean (pronounced CULLANE) Castle is located near Maybole, Carrick, on the Ayrshire coast of Scotland.


Highway 49 Revisited: Exploring California's Gold Country

In the 1840s, the population of California was only 14,000, but by 1850 more than 100,000 settlers and adventurers had arrived from all over the world – and they came for one reason: gold. James Marshall had discovered the first gold nugget at Sutter's Mill in El Dorado County, creating the largest gold rush in history.
---
© TravelingBoy.com. All Rights Reserved. 2015.
This site is designed and maintained by WYNK Marketing. Send all technical issues to: support@wynkmarketing.com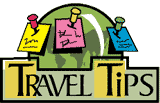 Bring a GPS. This is especially helpful as you zig and zag your way up and down the mountain.

Bring warm clothes even during summer because it gets chilly at night

Be sure to have a CD of your favorite music for the many hours you will be on the road

Be sure to bring dark glasses, a hat, sunscreen and mask or bandana to protect yourself from the dust if you decide to take the off-road adventure

Bring a windbreaker if you go out boating. And don't worry about sea-sickness. The water is so tranquil.

The first thing you might want to do is get a hold of local brochures at the Big Bear Visitor's Center. They can help set up your itinerary. And there are discount coupons to restaurants and current attractions.

For those on a tight budget


The cheaper grocery chains like Vons and Stater Brothers are located at the south west end of the lake and their prices are the same as down in the Southland.
o Don't want to cook? No problem. All the top Fast Food Chains are well represented.
o RV parking and camping are available but they are a bit of a drive from the main road.
o There are different religious organizations like the Boy Scouts, YMCA and the Lithuanian Church of Pasadena that run retreats in the summer. You might just want to join them.

If you hate traffic congestion like me, the best time to head down the mountain is before 4:00 pm. We left around 4:30 pm but we were still ahead of the pack and we were able to drive relatively fast.

Talk to your tourist guides. They can fill you in on more local tips like best shopping areas and best restaurants.

The best time to fish is in the Spring (when the Municipal Water District stocks the lake with fishes) and Fall when the oxygen level is high. When the sky is red, this also means it is a good time to fish.
Resources:




Big Bear Lake Resort Association
630 Bartlett Road
800-4-BIG BEAR (800-424-4232)
Website: www.bigbear.com
Big Bear Vacations
41693 Big Bear Blvd.
Big Bear Lake, CA 92315
800-924-1987
www.bigbearvacations.com
Miss Liberty Paddlewheel Tour Boat - Boat Tour
Pine Knot Marina
400 Pine Knot Ave
Contact: Leo McCarthy
www.pineknotmarina.com
909 866-8129

Cowboy Express - Great Steak Dinner
40433 Lakeview Drive
Contact: Mike Amelsberg
909 866-1486

Lucky Bear Fishing Charters - Fishing Charter
Pleasure Point Marina
603 Landlock Landing Road
Contact: Mike and Tish Marzell
www.luckybearfishing.com
909 866-7303

Blauer Board Shop - Bike Rentals
41177 Big Bear Blvd.
Contact: Steve Blauer
www.blauersnowboards.com
909 866-5689

Scenic Sky Chair at Snow Summit plus a meal at The View Haus
880 Summit Road
Contact: Shannon or Liz
www.snowsummit.com
909 866-5766 ext. 101

Kayaking at Pine Knot Landing
400 Pine Knot Ave.
Contact: Leo McCarthy
909 866-8129

Off-Road Adventures Tour at Big Bear Discovery Center
40971 North Shore Drive
Fawnskin
Contact: Eric Minnick
www.offroad-aventure.com
714 394-4160
Moonridge Animal Park
43285 Goldmine Drive
Contact: Debbie Richardson
www.moonridgezoo.com
909 584-1299
Big Bear Information Center
A live call center is also available for inquiries and reservations
by Dan McKernan

Big Bear Lake skiers and boarders can now get the most up-to-date information about Big Bear Valley 24 hours a day, seven days a week by logging onto www.bigbear.com. The website is designed to answer most questions related to Big Bear Valley. In addition to the informative website, vacation specialists are available at 800.4.BIG.BEAR (800-424-4232) to answer inquiries and take reservations from 8 a.m. to 6 p.m. weekdays, and 9 a.m. to 5 p.m. weekends.

Big Bear Lake is close to Southern California cities and Las Vegas, making it an easy daytrip or getaway weekend destination, and it is the only four season alpine resort in Southern California. In fact, visitors drive to Big Bear Lake because of its high altitude and cool alpine climate, which makes it one of the few places in Southern California where folks can enjoy outdoor recreation all year long.
Big Bear is a great place to stick around after a day of playing on the slopes, too. Whether it's participating in another outdoor sport, or enjoying an entertaining special event, or going out for a bite to eat, or having a ball at one of Big Bear's nightspots, or resting in the comfort of a lodge. Guests who wish to enjoy the entire spectrum that Big Bear has to offer can get detailed information at www.bigbear.com or 800.4.BIG.BEAR (800.424.4232).
The website and call center are great for up-to-the minute weather reports and road conditions. Big Bear's information headquarters is also convenient for travel planning, such as pet friendly accommodations, or great travel deals like the mid-week ski packages, or easy-to-follow directions and maps to Big Bear.
To learn about everything there is to see and do in Big Bear, to book accommodations, or to request a Visitors Guide, log on to www.bigbear.com or call 1.800.4.BIG.BEAR (1.800.424.4232).