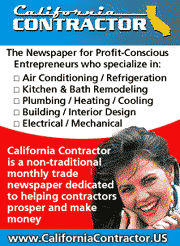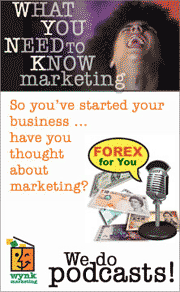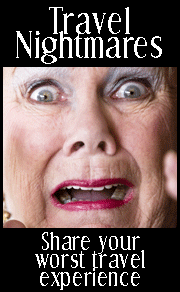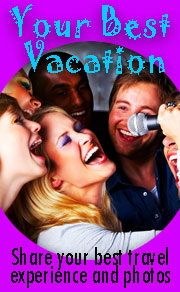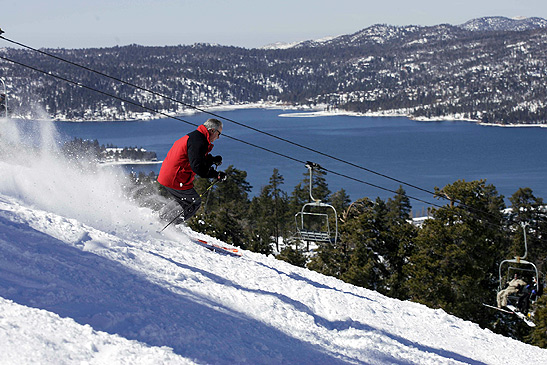 Hitting the Slopes at
Big Bear Lake
Story by Ringo Boitano
Photos courtesy of Big Bear Mountain Resorts


've said it before and I'll say it again: We are blessed to be living in Southern California. Sure, we get our share of natural disasters, but living in a paradise does have its cost. In the Southland there is such a plethora of daily attractions that it is mind-boggling. Where else can you go swimming at a wide, sandy beach and then go skiing on a world-class mountain the very same day - and that's in the month of January. That world-class ski destination is Big Bear Mountain Resorts, which includes both Snow Summit Mountain and Bear Mountain ski areas. For less than a tank of gas from most areas in Southern California, you can be on the slopes, surrounded by the spectacular alpine beauty of the San Bernardino National Forest.
A Rugged History
For over a thousand years Big Bear Lake was the home of the Serrano Indians, who coined the area "Yuhaviat," meaning "Pine Place." In 1845, Benjamin Davis Wilson rode into Yuhaviat Valley with a posse to chase away the Serranos, who had been raiding ranches in Riverside. They discovered a flourishing grizzly bear population; an area ripe for the profitable hunting of grizzly bear fur - thus the name change to Big Bear Lake. William Holcomb sparked Big Bear Lake's modern growth after he discovered gold in 1859. Legend has it that Holcomb wounded a bear, and in his search for the elusive creature, stumbled upon a vein of quartz flecked gold. He quickly switched profession from hunter to miner. Prospectors poured into the area, turning San Bernardino County into one of the most populated areas in Southern California. The gold rush only lasted 4 years, but Big Bear was now on the map. In 1885, the newly created lake at Big Bear drowned more than 9,000 trees, whose rotting stumps created a breeding ground for insects, providing an abundant food supply for the newly stocked trout. Big Bear Lake became a magnet for fisherman, and with the addition of a new ski resort in 1953, Big Bear Lake became a complete sportsperson's paradise.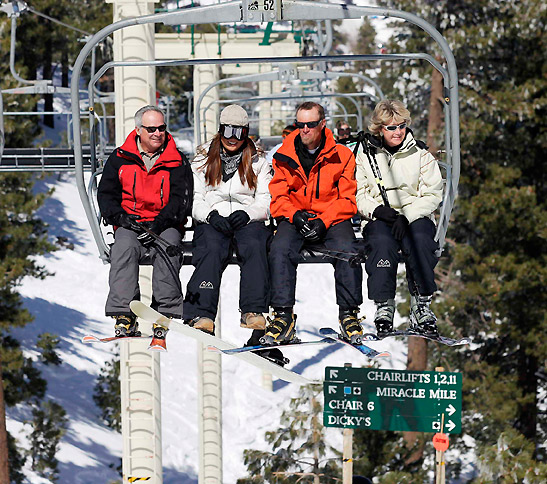 Snow Summit Ski School
"Well, it's never too late to learn," smiled the 60-something woman on my left. Yes, fully-geared in proper ski attire at the beginners' school, I was ready to take instruction. To be honest, I probably could have been happy just standing there in the pristine powder, surrounded by my own winter wonderland of alpine forest splendor (no grizzly bears, though) with the jewel of the lake below at the east end of the valley. But I was more than ready to take my turn at the school. Snow Summit allow students to learn at their own pace, with an emphasis on keeping the learning experience enjoyable. That spoke to me in a personal way. With a strong emphasis on safety, the instructors made us understand that we were always in control of our actions. So much care was dedicated to the lessons that even the thought of injury was forgotten. An hour later I was taking baby runs down the slope. Soon I was basking in even better views from the beginners' chairlift. At the end of the day it was obvious why the ski school is constantly rated one of the finest in North America. I was informed that there are no disappointments when you book your ski vacation only to hear a forecast of a lack of snow - for there's always a consistent quality of snow due to two of the largest and most snowmaking systems in the world. It doesn't hurt that Big Bear has virtually an unlimited natural resource for snowmaking with the lake below.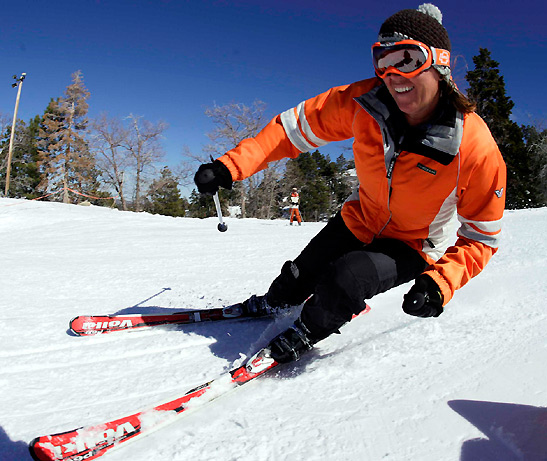 Bear Mountain Ski Resort, located two miles from Snow Summit, is connected via a free inter-mountain express shuttle service. One interchangeable lift ticket provides skiers and boarders a combined 438 skiable acres, 26 lifts (including 4 high-speed detachable quads) and more than 55 runs. Snow Summit is also home to the Family Park, the resort's slow skiing and riding zone with low-intermediate terrain. Night skiing is open most Fridays, Saturdays and holiday periods beginning at 3 p.m.
I couldn't wait to hit the slopes the next morning. But first it was important that I get an objective overview of Big Bear Lakes après-ski pleasures, for me an important component to the complete ski experience. Plus, I had burned off some serous calories and was ready for my reward.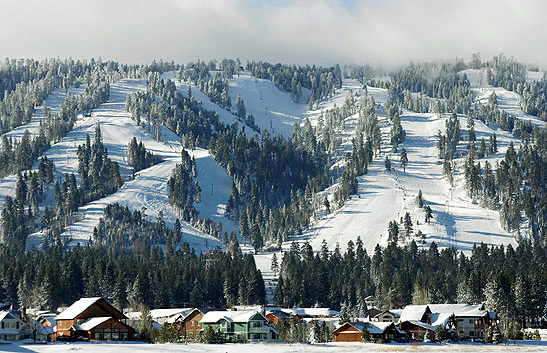 The Village
The Big Bear Lake Village is an inviting and pedestrian friendly collection of shops, restaurants and nightspots - most in alpine-style architecture or adorned in grizzly bear motifs - that works for all ages and budgets. After a mandatory pilgrimage to the iconic lake, a short stroll led me to Nottinghams Restaurant, located in the heart of the village. A local institution, I threw caution to the wind and ordered caramelized brie, crab stuffed Portobello and blackened salmon. I had earned it. Remember, I deserved it. Later, kicking back upstairs by a roaring fire at Friar Tucks Tavern , with a micro-brew in hand—fed, relaxed and only slightly sore—I wondered why I never became a regular skier. After all, Southern California's premier ski resort was less than a tank full of gas away.
800-4-BIG-BEAR (800-424-4232) or BigBear.com


I love Ringo's piece on historic hotels. I once stayed at the Laurentian in Montreal - is it still around, is it historic? And then there was the Heups in Bismark.
It is interesting that two of your entries are in CANADA.
Brent, Seattle, WA

It's no mystery that you are great at what you do.
Sandee, Seattle, WA
* * * *
The Mystery on the Oasis pics are very funny!
Ramon, Kansas City, MO
* * * *
Ha ha ha ha ha...love your "schtick" Ringo!!
Dolly, Las Vegas, NV

Hello the travelling Boitano's hope you enjoy. Best wishes.
Elsa Magdalena Berno-Boitano, Laussane, Switzerland

My Irish roots understand terrible beauty. So do my human roots. The concept has such a ring of truth to it, doesn't it? Great article, Ringo. I hope to get to Ireland eventually, and thanks for blazing the trail!
Sandeee Bleu, Seattle, WA
* * * *
No wonder I've been hearing all these wonderful stories about Ireland. I used to think that it was just for Irish Americans seeking their ancestral roots but your article seems to call out to the non-Irish like me. Fascinating and intriguing.
Peter Paul, Pasadena, CA

Thanks for this great post wow... it's very wonderful.
Key Logger, New York
* * * *
Lets not forget that the Marriot Harbor Beach is within walking distance to the world famous Elbo Room - Fort Lauderdale's oldest bar.
Jeff, Fort Lauderdale, FL
* * * *
Jeff–
Thanks for taking the time for the message and reminder. Indeed, I had a quick drink at the Elbo Room. My trip to Ft. Lauderdale would not have been complete without a visit to this historic institution.I have been reading about it for years, and was not disappointed. It felt like a real local's hangout.
- Ringo

Ringo,
I thoroughly enjoyed your article about Dick and Liz. I remember seeing that article back in the heyday of Life Magazine.
To remember the "behind-the-scenes" stories like that makes you genuine fan of the 60's. The famous couple's turbulent relationship was just a precursor of today's headline-grabbing media stars like Britney Spears and her colleagues. Life was simpler then. The paparazzis still had some sense of decency. You "coulda" been a good paparazzi. I say "coulda" because you kept this to yourself all these many years.
Looking forward to other media trivia you can remember.
Peter Paul, South Pasadena, CA

Hey, Ringo –
Enjoyed your article on Antarctica --- cool photos, too. One thing, you mentioned that Ushuaia in Argentina is considered the most southern city in the world. I read that Chile lays claim to that distinction, with Punta Arenas, the southernmost city in the world.
Mick, Greenbay, WI
* * * *
Mick –
Now that football season is over --- I've often wondered what you Packer fans did in the off season ---- it's great that you took the time to visit TravelingBoy. Great question, unlike my older brother, I adore all lamb products, and Patagonian Lamb --- cooked in a restricted area at the restaurant in an opened wood-fueled fire pit --- is amazing. The chef actually uses an ax to carve it. Frankly, I found it superior to Norwegian fjord lamb, Irish Burren lamb and even those much esteemed creatures down in New Zealand. The crab in Ushuaia is the other thing to eat. Wait a sec, you asked about Punta Arenas vs. Ushuaia as the furthermost city in the world. Well, they both have little disclaimers re populations --- you know, what's a city, which one is a town, ect – so better let Chile and Argentina brass it out. They seem to be able to argue about any subject.
- Ringo

---
© TravelingBoy.com. All Rights Reserved. 2015.
This site is designed and maintained by WYNK Marketing. Send all technical issues to: support@wynkmarketing.com
Ringo's Ski Tips

Before you hit the slopes, always observe the following safety rules:

Wear layered clothing: To keep comfortably warm, wear a shirt, sweater and jacket, adding or removing articles as needed.
Wear sunglasses and use sunscreen: Whether skiing or playing, you need protection from damaging rays reflecting off the glaring white snow.
Wear a ski helmet: Yes, they look ridiculous, but wearing one might be the difference between life and death.
Know the ski conditions: Ice and deep powder are more dangerous than manicured terrain, so adjust your skiing style accordingly.
Start slow and easy: Let your body adjust to the altitude, and protect unconditioned muscles by taking easier runs for the first few days.
Beware of altitude sickness: Know the symptoms - headache, weakness, anorexia, nausea, vertigo, confusion, shortness of breath, and coughing. See a doctor immediately if any symptoms persist.
Be careful in the afternoon: Most injuries occur late in the day when youíre tired and slow to react, and the sinking sun sends confusing shadows across the snow.
Use ice, not heat: For minor muscle pull or strain use ice to reduce swelling and ease pain.
Do not use drugs: Donít ski with pain or use drugs to mask the pain. See a doctor.
Wait for a ski patrol: If youíre hurt you can make an injury worse by trying to get down the mountain yourself.
Do not drink alcohol: Alcohol slows reaction time and leads to accidents and injuries. Wait until the day is over to enjoy a drink.