ichard Burton was in the doghouse. He had just had another apocalyptic argument with his wife, Elizabeth Taylor, and now was banished to his own casita, which meant marching over a miniature version of the Bridge of Sighs, which connected their two casitas. The bridge, modeled after the original in Venice, is where the couple reportedly fell in love while filming "Cleopatra" in 1962. Later the lover's arch would become the El Puente de Reconciliation, where one of them would unlock the door on their side of bridge, then wait on the middle of arch for the other to meet them, offering a declaration of love and forgiveness. Dick liked to drink and read --- apparently up to three bottles of vodka and three books a day --- and Liz liked to throw tiny porcelain objects. It was a system that seemed to work for they were married twice, 1964-1974 and 1975-1976, which wasn't bad for what was easily Hollywood's most famous couple.
BACKSTORY
In 1962 Richard Burton followed director John Huston and stars Ava Gardner and Deborah Kerr to a remote Mexican fishing village on the Pacific called Puerto Vallarta to do a film version of Tennessee Williams' "Night of the Iguana." Elizabeth Taylor followed Burton. They were married, but not to each other. Burton loved the beauty and privacy of this jungle paradise, and purchased his multi-level rental home in the hills over the little village, which featured stunning views of the mountains and Banderas Bay. Later, he gave it to Liz, now his wife, as a 32nd birthday present. Burton soon bought the smaller casita across the cobblestone street, this one with a swimming pool, and connected them with the bridge. He filled the house with furniture from his native Wales and mementos from their careers. To avoid the 30 or so paparazzi (then international press) that would camp outside of the property, Burton had a secret escape route built. Due to their presence and the famous friends that they would invite --- Peter O'Toole, who later purchased his own nearby casita, Roddy McDowall and John Wayne --- Puerto Vallarta became popular with the Hollywood crowd. It was soon coined the City of Love, while the hillside area by their home was dubbed Gringo Gulch.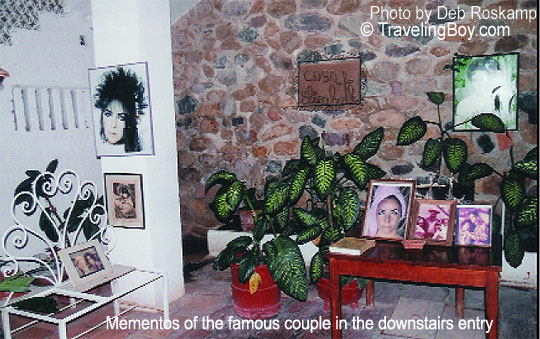 TODAY
After Richard Burton's death, Elizabeth Taylor reportedly was emotionally unable to return to the home and sold the property in 1991. Now called Casa Kimberley, it is open for tours and also serves as a bed and breakfast. What's amazing is that virtually everything inside is just how Burton and Taylor left it: photos, furniture, personal effects and mementos fill each area. It's like taking a time capsule back to the 1970s.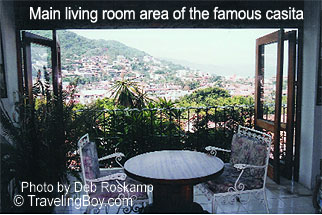 The game room features a former church altar, complete with paintings of Catholic Saints, which Burton turned into a bar. Ornate chairs from his native Wales line the counter. A day bed, still sits prominently in the middle of the lounge, where Burton would sleep if he was too inebriated to climb the stairs to their master penthouse suite. Each of the sleeping rooms is now named after one of the ten films that Burton and Taylor made together. The master suite, with its sweeping views and sunken bathtub --- which was suppose to be shaped like a valentine, but amusingly looks more like a human heart or kidney, due to translation errors - is the main prize. It's name? "The Cleopatra Suite," of course.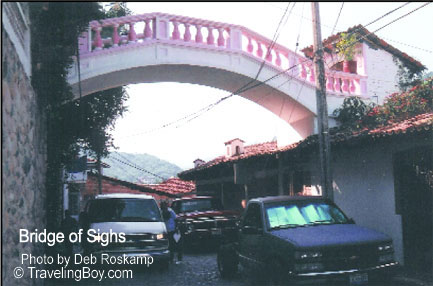 Tours of Casa Kimberley are offered Mon-Sat from 9am - 4pm. For further information about Casa Kimberly, contact 011-52-322-222-1336 or CasaKimberley.com.
For further information about travel to Puerto Vallarta, contact the Puerto Vallarta Tourism Board at 888-384-6822 or Visit PuertoVallarta.com