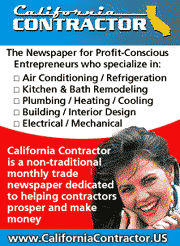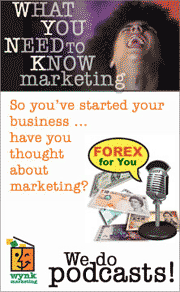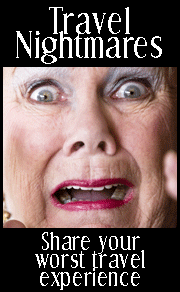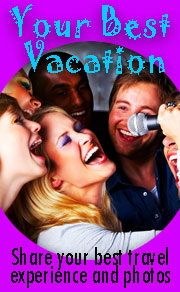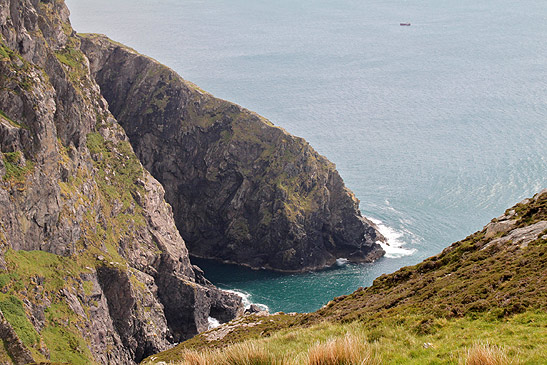 Photo: Elyssa Davalos
My Irish Dream Vacation
Story by Ringo Boitano

e woke up to the smell of rich morning coffee. It was to be part of our breakfast on this first trip to Ireland, a dream in itself. It has been said that all Irish homes become a bed and breakfast during the summer, and this cottage with one spare room was no exception. The owners fussed over us at the table as we enjoyed eggs, bacon, sausages, black pudding, fried potatoes and home made rolls with marmalade. They told us of the area's attractions and educated us on famine history. We followed their instructions and found a genuine famine pot in the middle of a forest, where locals placed food for the displaced victims.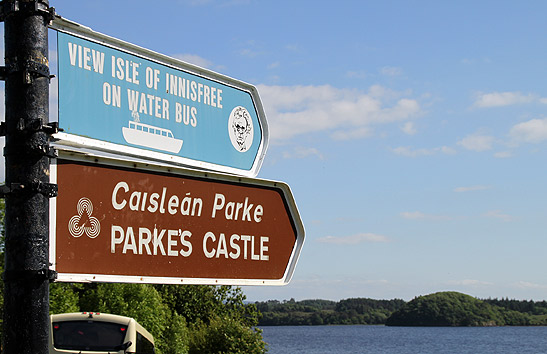 Photo: Elyssa Davalos
We headed down the road to County Sligo for a pilgrimage to the gravesite of WB Yeats, and soon found ourselves stuck in the car, avoiding a heavy downpour. We didn't mind---we read Yeats and gazed in awe at the green green surroundings. We stumbled upon a Neolithic burial site, complete with massive stone markers. To this day no one knows who these people were and how they were able to move such mammoth rocks. We both could feel the power of the setting and something came over us---before we knew it we were renewing our wedding vows. After a Sunday pub meal of lamb, potatoes and Guinness we found another B&B – where (once again) we were the only guests. We wanted to take the owner home with us, and to this day remain in contact.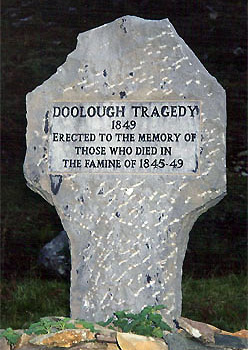 The next day, it was a drive through the sweeping Connemara – a place that Dickens described as a place of 'terrible beauty.' We pulled off the road to study a famine trail – a site where 80 or so famine victims trekked to a manor's house in the hopes of food, only to be turned away. As we departed down the road, we both commented that we had not seen a single car for over half an hour. A second later there was a rumbling on the road. We had a flat – not unusual on these rock-strewn Irish roads. Faced with having to unpack our little rental just to find the spare tire and equipment was a daunting thought. Before we knew it, two cars, each arriving from the opposite direction, appeared out of nowhere. The drivers both hopped out and quickly changed our tire. They barely stuck around for a handshake. It was dark when we arrived at our next B&B. We awoke the next morning to find ourselves in the middle of a fjord. It was the town of Liane , where the film The Field was made.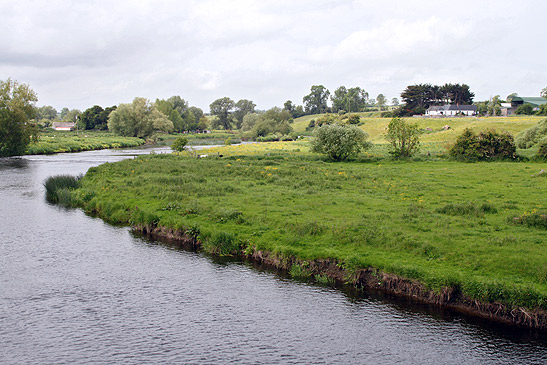 Photo: Elyssa Davalos
Eventually we made it down to the musical town of Doolin. This for us was an adult Disneyland. Three pubs specialized in Irish session music each night. We hung with locals and like-minded tourists, had big pub meals of lamb and potatoes or bacon and cabbage, then nursed glorious pint after pint of Guinness as we listened to reels, jigs and haunting ballads. Our daytimes were spent on trips to the Aran Islands, the Cliffs of Moher, a Dolomite burial site and local castles. We carry the memories with us wherever we go. Erin Go Bragh!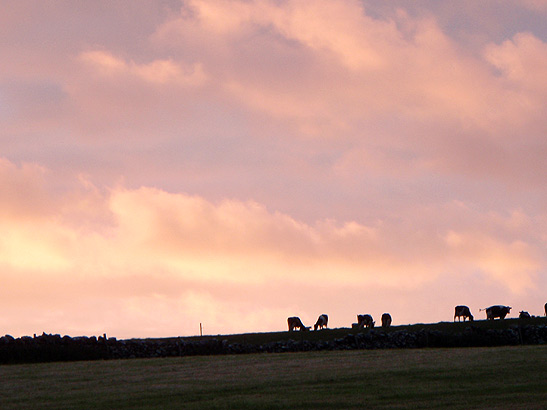 Photo: Elyssa Davalos
For further information about the Republic of Ireland and Northern Ireland, log-on to TourismIreland.com.
Related Articles:
Magical, Mystical, Delightful, Enchanting Part 1/Part 2, Return to the Emerald Isle, Faces of Ireland, Aran Islands, Land of Smiling Irish Eyes



I love Ringo's piece on historic hotels. I once stayed at the Laurentian in Montreal - is it still around, is it historic? And then there was the Heups in Bismark.
It is interesting that two of your entries are in CANADA.
Brent, Seattle, WA

It's no mystery that you are great at what you do.
Sandee, Seattle, WA
* * * *
The Mystery on the Oasis pics are very funny!
Ramon, Kansas City, MO
* * * *
Ha ha ha ha ha...love your "schtick" Ringo!!
Dolly, Las Vegas, NV

Hello the travelling Boitano's hope you enjoy. Best wishes.
Elsa Magdalena Berno-Boitano, Laussane, Switzerland

My Irish roots understand terrible beauty. So do my human roots. The concept has such a ring of truth to it, doesn't it? Great article, Ringo. I hope to get to Ireland eventually, and thanks for blazing the trail!
Sandeee Bleu, Seattle, WA
* * * *
No wonder I've been hearing all these wonderful stories about Ireland. I used to think that it was just for Irish Americans seeking their ancestral roots but your article seems to call out to the non-Irish like me. Fascinating and intriguing.
Peter Paul, Pasadena, CA

Thanks for this great post wow... it's very wonderful.
Key Logger, New York
* * * *
Lets not forget that the Marriot Harbor Beach is within walking distance to the world famous Elbo Room - Fort Lauderdale's oldest bar.
Jeff, Fort Lauderdale, FL
* * * *
Jeff–
Thanks for taking the time for the message and reminder. Indeed, I had a quick drink at the Elbo Room. My trip to Ft. Lauderdale would not have been complete without a visit to this historic institution.I have been reading about it for years, and was not disappointed. It felt like a real local's hangout.
- Ringo

Ringo,
I thoroughly enjoyed your article about Dick and Liz. I remember seeing that article back in the heyday of Life Magazine.
To remember the "behind-the-scenes" stories like that makes you genuine fan of the 60's. The famous couple's turbulent relationship was just a precursor of today's headline-grabbing media stars like Britney Spears and her colleagues. Life was simpler then. The paparazzis still had some sense of decency. You "coulda" been a good paparazzi. I say "coulda" because you kept this to yourself all these many years.
Looking forward to other media trivia you can remember.
Peter Paul, South Pasadena, CA

Hey, Ringo –
Enjoyed your article on Antarctica --- cool photos, too. One thing, you mentioned that Ushuaia in Argentina is considered the most southern city in the world. I read that Chile lays claim to that distinction, with Punta Arenas, the southernmost city in the world.
Mick, Greenbay, WI
* * * *
Mick –
Now that football season is over --- I've often wondered what you Packer fans did in the off season ---- it's great that you took the time to visit TravelingBoy. Great question, unlike my older brother, I adore all lamb products, and Patagonian Lamb --- cooked in a restricted area at the restaurant in an opened wood-fueled fire pit --- is amazing. The chef actually uses an ax to carve it. Frankly, I found it superior to Norwegian fjord lamb, Irish Burren lamb and even those much esteemed creatures down in New Zealand. The crab in Ushuaia is the other thing to eat. Wait a sec, you asked about Punta Arenas vs. Ushuaia as the furthermost city in the world. Well, they both have little disclaimers re populations --- you know, what's a city, which one is a town, ect – so better let Chile and Argentina brass it out. They seem to be able to argue about any subject.
- Ringo


Three Musical Pilgrimages: Mozart, Grieg and Hendrix

Johann Chrysostom Wolfgang Amadeus Mozart (1756 - 1791) could read and compose music, plus play the violin and piano, when he was five years old. Born into a musical family in Salzburg, Austria (then the Holy Roman Empire), he had a unique ability for imitating music, which first became evident when he recited a musical piece by simply observing his father conducting a lesson to his older sister. This led to a childhood on the road, where the young prodigy performed before many of the royal courts of Europe.


Treasures of Ireland: The Irish Goodbye (Dispatch #20)

The Palladian Traveler brings to a close his 20-part series on the Emerald Isle from an upscale restaurant in downtown Dublin where he files his final dispatch and then quietly slips away.


Two "MUST SEE" Truly Spectacular Places in Europe. Here's Why.

The Han Grotto and Culzean Castle. As the name of my Traveling Boy feature is "Travel With a Difference," it's important to me to always bring you offbeat and unusual tourist places around the world you may not know about. These two fit that category to a T, and they're absolutely worth a visit. One's in Scotland and one's in Belgium. Culzean (pronounced CULLANE) Castle is located near Maybole, Carrick, on the Ayrshire coast of Scotland.


Highway 49 Revisited: Exploring California's Gold Country

In the 1840s, the population of California was only 14,000, but by 1850 more than 100,000 settlers and adventurers had arrived from all over the world – and they came for one reason: gold. James Marshall had discovered the first gold nugget at Sutter's Mill in El Dorado County, creating the largest gold rush in history.


Lake Charles' Family-Size Low-Key Mardi Gras

The Southwest Louisiana Mardi Gras in Lake Charles, the second largest in Louisiana, does not need parents there to avert their children's eyes. This is family entertainment and children are very much part of it. The main office of the Lake Charles CVB has costumes from last year's Mardi Gras but it also has figures to fascinate little ones from country boys fishing for their dinner to alligators who have already fed and are rubbing their stomachs.


Puerto Vallarta: Magic and Mayhem on the Malecon

So I heard that you could spend from dawn to dusk on the Malecon in Puerto Vallarta, Mexico and never get bored and I thought, "Okay, I'm up for that challenge." Well, maybe not the dawn part – I'm not a morning person – so I had no problem leaving those early hours to the joggers and those seeking an early start to catch their red snapper for dinner.


Relaxing at The Inn at Laguna Beach

There is nothing like sleeping in an ocean-front room and awakening to the sounds of waves crashing against the sand. It is one of the finer things in life. And it is exactly what I experienced recently on a memorable getaway to The Inn at Laguna Beach. The adventure began when a friend I pulled off the 5 Freeway in Orange County and took SR 133 south nine miles through winding lush hills and wilderness areas to the ocean.


Tim Robbins On His Road To Stardom

Award-winning Tim Robbins began his career on episodic television. Robbins' film work, however, is what catapulted him into becoming a major movie star including "Bull Durham" and "Mystic River" for which he won multiple awards. Equally at home behind the camera, he directed the riveting "Dead Man Walking." He is Founder and Artistic Director of The Actors' Gang, which he formed thirty-five years ago and has directed multiple provocative productions.


Tahiti and Her Islands

Just their names (pronounce each vowel!) conjure up romantic images: Tahiti Nui, Moorea, Bora Bora, Huahine, Ra'iatea, Taha'a. Her people are gentle; the air, tiare-perfumed. Warm lagoons, majestic peaks, tropical fruits from the land and bounty from the sea all tantalize the senses. Paradise! As near as can be found on planet earth. And, in my experience, the finest way to explore her is on a ship designed for that single purpose.


Leviticus 20:13
Sent by Tom of Pasadena, CA



It all makes sense now. Gay marriage and marijuana was legalized in the last election. Leviticus 20:13 states
"If a man lays with another man, he should be stoned..." We've been interpreting it wrong all these years!
---
© TravelingBoy.com. All Rights Reserved. 2015.
This site is designed and maintained by WYNK Marketing. Send all technical issues to: support@wynkmarketing.com