John Gochnaur never lived long enough to see the completion of the Rock and Roll Hall of Fame and Museum in Cleveland.
Photo courtesy of Rock and Roll Hall of Fame and Museum
Traveling to Cleveland to Meet the Ghost of John Gochnaur:
The Worst Baseball Player Ever
by Roger Fallihee



t was my boyhood fantasy to grow up to one day play first base for the New York Yankees. Mantle, Maris, Ford... Fallihee.
Small problem though; I couldn't hit, run, or throw. Even with that I still might have been better than Major League Baseball's worst player in history: Cleveland Indians' shortstop John Gochnaur.
I love baseball.
I love everything about it. Poring over the box scores at MLB.com, suicide squeeze plays, the bases loaded double (the M's Jack Wilson had one of those last night), the fact that managers wear the same uniform as the players, the leisurely (some would incorrectly say languid) pace of the game, and the unflinching optimism one possesses in April that's crushed by the reality of being twenty games out of first place by the end of July.
Wait 'til next year.
I also love the debates. The endless, sometimes mindless, and always futile arguments that begin whenever two or more baseball junkies take their seats at one of America's ballparks, pound down a few eight dollar beers, and munch on dry, odd looking hot dogs.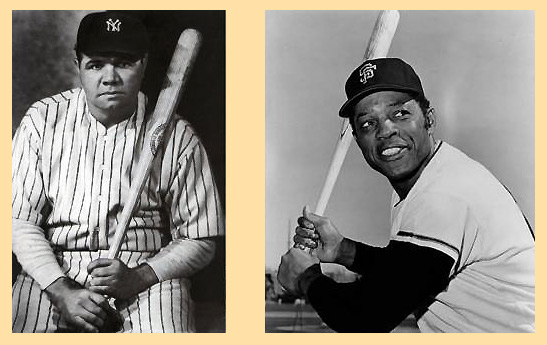 Ruth or Mays? Mays or Ruth? Cobb or Williams? The debate goes on.
Courtesy: Babe Ruth, NYSportsCrunch.com; Willie Mays, MySportsRumors.com
"You still think that Willie Mays was better than Babe Ruth?"
"Hell yeah. Ruth couldn't run."
"What do you mean Ruth couldn't run? He had 136 career triples. Only four less than your beloved Mays, and Ruth had two-thousand less at-bats."
"Ruth never faced Sandy Koufax."
"Mays never faced Randy Johnson."
"Mickey Mantle would have smoked them all if his knees had held up."
"What about Albert Pujols? Or Vladimir Guerrero? How good would they have been on the '51 Giants or the '27 Yankees?"
"Say what you want about Babe Ruth, but Randy Johnson would have made mincemeat out of him."
"What the hell is mincemeat anyway?"
"Babe Ruth trying to hit a Randy Johnson fastball… that's mincemeat."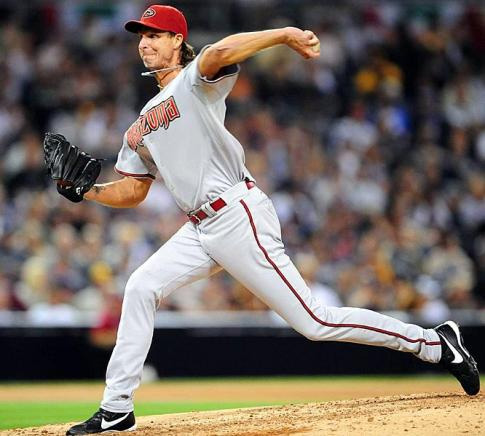 Did Babe Ruth ever face a pitcher of Randy Johnson's caliber? No, he didn't.
Photo courtesy of Sports Illustrated.
I laugh, take a few swigs of Diet Pepsi and crack open some peanut shells when my friend asks, "Do you ever wonder who the worst ballplayer was?"
"No, but I'm sure he played for Seattle."
"Seriously, who was the worst player to ever put on a big league uniform?"
"Dunno. Good question."
Among true baseball fans these kinds of debates rage on, never resolved, always subject to the last obscure statistic that someone can pull out of thin air to prove their point.
More than any other sport, baseball is a game of statistics. Every at-bat, every pitch, every run, every out is documented. There are stats for night game vs. day game batting averages, batting averages with runners in scoring position, batting averages with less than two outs, and according to Mrs. Fallihee, batting averages against a pitcher who has at least one relative from Parsippany, N.J.
Since baseball history is so well documented, and numbers don't lie, I decided to do a little "Google Research" to find out who was (or is) the "Worst Baseball Player in History."
Over the years thousands of young men have been called up to the "majors," only to find that they are woefully unable to hit major league pitching.
Once that fact is discovered they are unceremoniously sent back to their hometowns, factory jobs, girlfriends, and wives. These guys don't have enough time in the majors to qualify for "worst ever."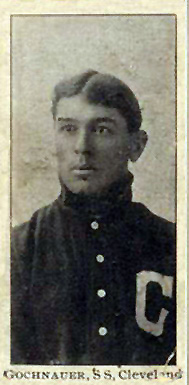 Gochnaur was such a lousy ballplayer; nobody noticed that his name was misspelled on the team photo. Credit: Unknown
I decided that the "winner" would have to have had a minimum of 500 big league at bats, which is the rough equivalent of one full season of everyday play.
Baseball historian Mike Attiyeh has written an outstanding article on this subject, and after reading his piece and looking at the lifetime stats, it seems that he has accurately bestowed the title of "Worst Baseball Player in History" on Cleveland Indian's shortstop, John Gochnaur.
You've never heard of John Gochnaur? Neither had I and according to Mr. Attiyeh, neither has most baseball historians. But, as I said earlier, numbers don't lie, and Mr. Gochnaur's numbers are mind numbingly dismal.
John Peter Gochnaur was born on September 12, 1875 in Altoona, Pennsylvania. His big league career began auspiciously enough for the Brooklyn Superbas, which would later become the Brooklyn Dodgers.
In 1901 he saw action in three games, going 4 for 11, for a .364 batting average. He made no errors at shortstop. Sadly, his 1901 audition for the big leagues did not turn out to be a harbinger of things to come.
After the season Brooklyn traded Gochnaur to the Cleveland Indians. Any anxiety that the Brooklyn owner may have had about trading away his promising young ballplayer would soon vanish. Gochnaur played the next two seasons as the Indians starting shortstop.
The 1903 season would be his legacy year, the year that would plunge him to the bottom of the heap, past other notable underachievers such as Fred Buelow, Frank Emmer, and Detroit Tiger pitcher Aloysius Travers, who still holds the modern day record for most hits (26) and most runs (24) given up in a nine inning game.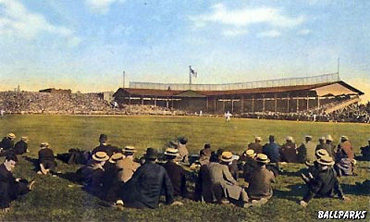 Gochnaur's Brooklyn workplace, circa 1901.
Courtesy: Ballparks.com
In a year when President Teddy Roosevelt "spoke softly but carried a big stick," Gochnaur batted .185, with no home runs, and 48 RBI's (not terrible), in 134 games.
That was not the worst batting average ever. Cincinnati Reds and Brooklyn Dodger catcher Bill Bergen, playing in the same era, had a career batting average of .170, with over 3,000 at bats. But unlike Gochnaur, Bergen could catch and throw a baseball. Somehow that talent eluded Gochnaur.
In 1903 Gochnaur redefined the word porous, committing 98 errors in the field, which remains the American League record for errors in a single season by a shortstop. He averaged one error every 1.3 games. By comparison, in 2008 Hanley Ramirez of the Florida Marlins led both leagues in errors with 22, less than one fourth of Gochnaur's total. In a typical season Yankee shortstop Derek Jeter commits 15 miscues.
Attiyeh writes, "Few have been worse than Gochnaur with the bat, and fewer still might have been worse than Gochnaur in the field, but none combined the two-way futility quite the way Gochnaur did."
To nobody's surprise 1903 was John Gochnaur's last season in major league baseball. His career stats: 264 games played, .187 batting average, 0 homeruns, 146 errors.
He played four more seasons in the old Pacific Coast league, ending his minor league career with a batting average of .192. According to Mike Attiyeh, Gochner was "a popular man and a friend to many ball players. 'Goch' was also helpful, assisting hundreds of Altoona players secure contracts with minor league teams."
Attiyeh further reported, "According to the Altoona Mirror, Gochnaur also held jobs as a bartender, city police officer and a Penn railroad policeman. At the age of 53, Gochnaur died of pneumonia on September 27, 1929 in Altoona Hospital. A life-long bachelor who spent 35 years around the game of baseball, Gochnaur left behind six siblings, a score of nephews and nieces, plenty of appreciative ball players and citizens, and a woeful major league ledger."
John Gochnaur couldn't hit, field, or throw and neither could I but his obituary referred to him as a "former Major League Baseball player."
I'd kill for an obituary like that.