An Urban Paradise:
Anantara's Riverside Bangkok
PART 2
Story by Ruth J. Katz

f you want to leave the cooking to the pros and skip cooking class, then Anantara Riverside has 11 (count 'em, 11!) restaurant choices. There are outposts of the renowned Trader Vic's (I rue that New York City lost its Trader Vic's probably 20 years ago) and Benihana.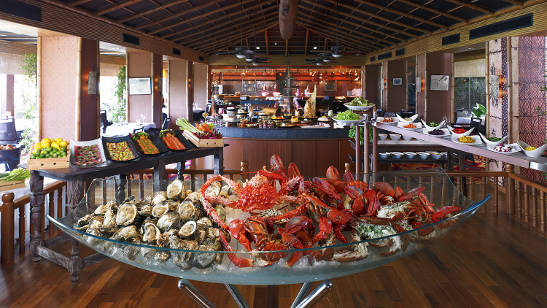 Photo Courtesy Anantara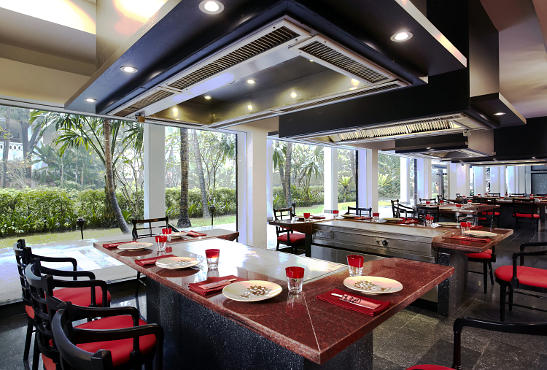 Photo Courtesy Anantara
Both produce fare that is as dependably satisfying and toothsome as any of their counterparts around the globe and will, respectively, deliver top-notch Pacific Rim cuisine and traditional Japanese Teppanyaki steakhouse fare, including sushi and sashimi. The Market Café offers wonderfully diverse breakfasts with tastes of both Western and Eastern buffets. My favorite cozy dining spot, or perhaps "nibbling" spot, on the campus is the indulgent Numero Uno Café, on the lower level.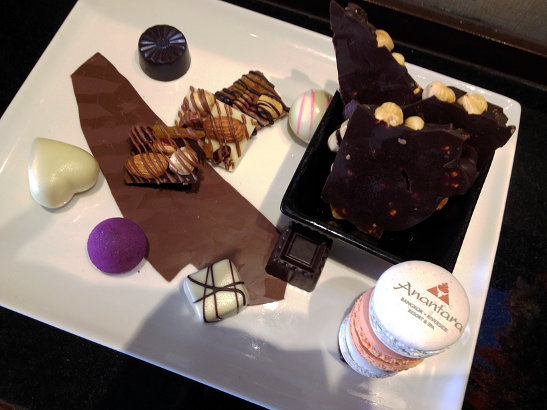 Photo Courtesy Ruth J. Katz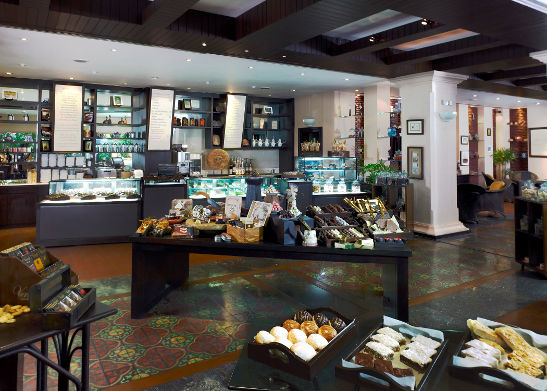 Photo Courtesy Anantara
It is a kind of snack and sweet shop, with over 100 types of chocolate, gateaux to slaver for, sumptuous pastries, and a casual menu, including things like shrimp tempura. But it is assuredly, the display of the goodies that will seduce you. Things are so tantalizingly "exhibited" that you'll crave it all and want to fill up a market basket and take it all home. I certainly wished I could have.
Instead, I opted to take home less perishable goods and souvenirs from the lively Asiatique Riverfront nighttime market, across the river from the hotel, and accessible by a short boat ride (free) to the Saphan Taksin Pier. There is a constantly operating boat to this stop, which is also the egress point for the elevated sky train that can whisk you to a shopping mall or other sightseeing destinations. The nighttime market wakes up at dusk and will keep you busy for hours. There are more than 1,500 stalls and they sell everything from home décor items to trinkets, hair ornaments, jewelry, key chains, local handicrafts, baskets, and on and on. I ended up buying most of my souvenirs here. But, I hasten to add that I also went home with several gorgeous Jim Thompson silk items.
It is worth a paragraph's aside to mention Jim Thompson, an American architect born in the early 20th century. In 1945, after a work stint in New York and WWII military service abroad, Thompson settled in Thailand, and became fascinated by indigenous fabrics and handicrafts. He had worked, also – a man of many talents – as a director of the Ballet Ruse de Monte Carlo, and he was equally as captivated by costumes as by fine textiles. He ultimately started what is now Jim Thompson Fabrics and while the company sells luscious textiles for home furnishings as well as wallcoverings and trimmings, many of the decorative, small-print, stock fabrics have been cleverly transformed into accessories for both men and women, from ties to scarves to purse accessories. The gift shop at the hotel has a wonderful selection. Alas, I never made it to the company's flagship, nor to Thompson's former home, Jim Thompson House, now a museum. But, again, more reasons to return to exotic Bangkok.
You cannot leave Anantara Riverside without taking advantage of the hotel's signature Streetwise Guru program. This extraordinarily well designed sightseeing excursion is exclusive to the hotel, and is led by the native gurus.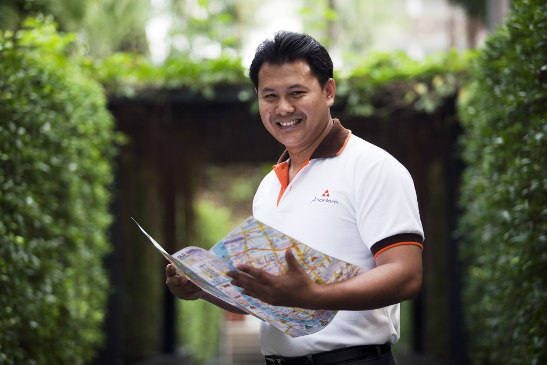 Photo Courtesy Anantara
You might want to even consider doing a Streetwise Guru tour your first day there, rather than, as I did, on my second. It will give you a valuable sense of the layout of the city and then you can reprogram your individual sightseeing time to include things you want to see on your own, or revisit. (For example, had I known there existed the Bangkok Seashell Museum, I'd have put that on my list. It's small, but it will be a must-see for my return trip!) While you are out and about, keep your eyes peeled for one of the colorful traffic roundabouts – hallmarked by a mini-herd of decorative pink elephants!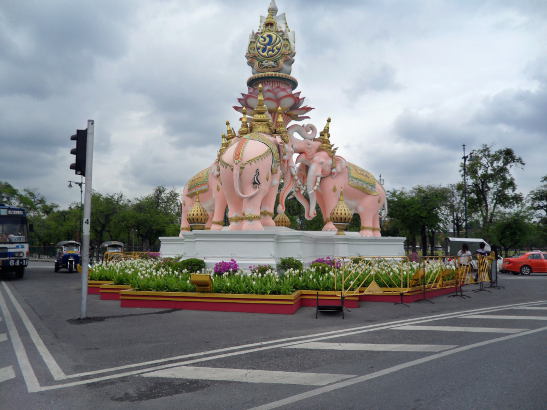 Photo Courtesy Ruth J. Katz
The hotel has several tourism experts and I got to enjoy my half-day with Waiyawit Thongserm, better known as "Diamond." All the gurus are extremely knowledgeable, charming, helpful, and caring. His program is more or less set, but certainly guests can inquire as to making a minor adjustment in the program, if possible; the concierge can fill you in as to the itinerary and details. In general: The cost per person is about $70, or 2,500 baht, with a minimum of two participants – there may be other guests besides those in your immediate party. The fee includes streetwise kits, transportation, all meals and non-alcoholic beverages, and the admission charges at designated sights. The sightseeing program is about four hours long and is truly an immersion into Bangkok's treasures, both cultural and culinary.
You will take in visits to two of the most famous temples, Wat Pho and Wat Phra Kaew, as well as the nearby Grand Palace. One could easily spend a day at each, but you'll have to hit the highlights at both, as there is much else to see. Diamond and I started our day on the cross-river boat shuttle to the sky train. Once there, we stopped to feed catfish at a local dock. We also covered some of the city's most colorful markets, including Talard Plu, one of the oldest (spices and produce) markets, where you will be heady from the scents of unusual herbs and spices... not to mention the sight of extraordinarily mysterious-looking fruits.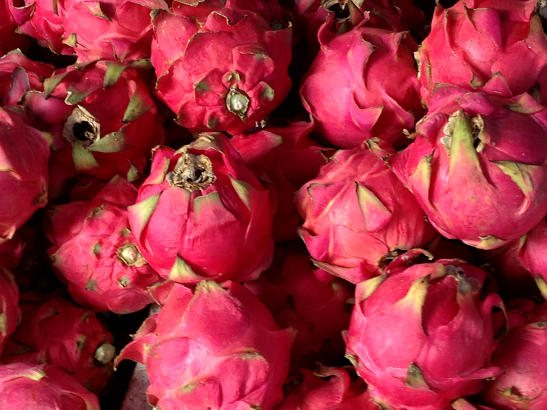 Photo Courtesy Ruth J. Katz
Talard Bangrak might also be on your docket, for more culinary fare. Pahurat, a textile market, is a must if you love fabrics, and particularly, if you want to bring some home to have a suit or dress made, and if you have the time, you can have something made here, very quickly. (Leave the price-haggling to your guru.) Along the way, lining every road or "soi" there is a constant barrage of street food vendors and your guru will help sort out the best with the most interesting things to sample – roasted duck noodles, BBQ pork, chicken satay, spicy ton yum soups, among the mélange of tangy offerings.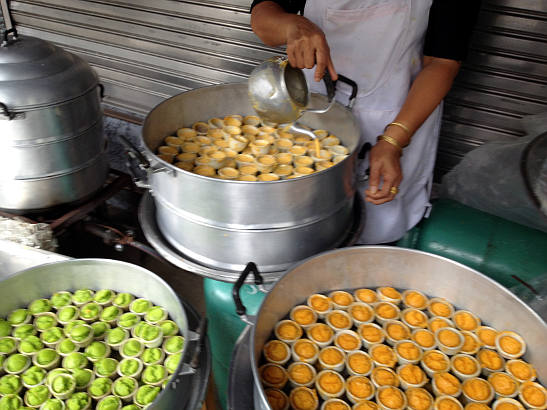 Photo Courtesy Ruth J. Katz
My favorite market was the flower market, where I saw thousands and thousands of flamboyantly hued, uncommon orchids heaped in piles... if only I could have brought them all home, too.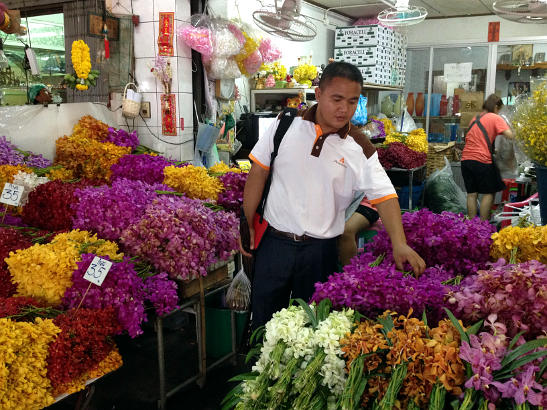 Photo Courtesy Ruth J. Katz
We also took a tiny side trip to the top of the Lebua at State Tower, a lofty pinnacle from which the fantastic views seen in The Hangover II were shot. If you have questions about more sightseeing that you want to do on your own, ask your guru, as he is likely to have a plethora of suggestions and recommendations for everything from a lively karaoke bar to where to buy the most interestingly woven baskets.
After a few days at Anantara Riverside, my need for a codetta to my "other" vacation had been satisfied, and I was ready to face the long haul home... although I was still keeping a list of the things I would do and the foods I would savor on my return trip to exotic Bangkok... which I hope will be soon.
(To read Part One of this Bangkok adventure, click here……...)
Related Articles:
Anantara's Riverside Bangkok, Part 1; Eight-Circuit Thailand; I Followed My Heart to the Land of Smiles; A Taste of Adventure in Vietnam; A Survivor's Paradise: Caramoan, Philippines