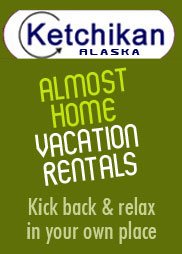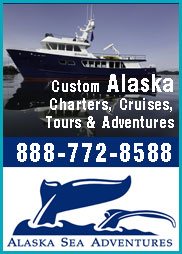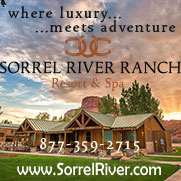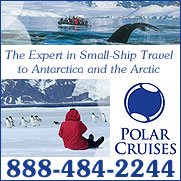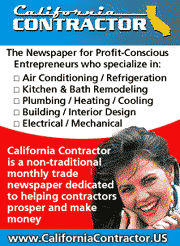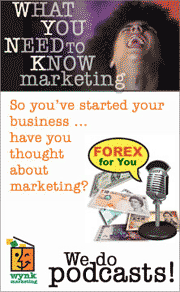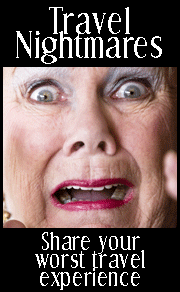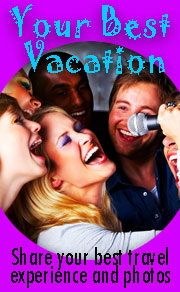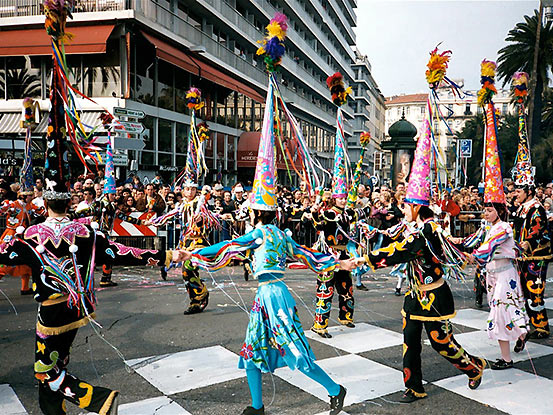 Nice, France: Before the Massacre
A Time for Celebration
Story & Slideshow by Skip Kaltenheuser

he recent shock and awe from a broken mind had me recalling when I joined celebrants watching fireworks from Nice's Promenade des Anglais. It's a sadness now to envision the tragedy of Bastille Day, the vulnerability of those looking skyward. But those who know the city, and who have felt the joy of crowds on the promenade – La Prom – can also recall the city's irrepressible spirit.
Starting in the 1700's, much of the English aristocracy wintered in Nice, drawn to the splendid coastal panorama. Egalitarian roots were planted in 1820, when a rough winter brought beggars from the north. The English dreamed up a project for them, constructing a walkway, paid for by the English barrister and reverend, Lewis Way. Christian charity at its best.
The beautiful Mediterranean backdrop is a good fit for one of the most artful and whimsical cities in Europe. Art museums are an embarrassment of riches, from the Museum of Modern and Contemporary Art to museums specific to individual artists including Matisse and Chagall, with loads more up and down the Cote d'Azur. Contemporary galleries that stretch the imagination testify to the quality of artists still drawn to the magnetic region.
Overlooking the beach It is hard to imagine a more innocent seven kilometers than when La Prom is filled with families. Baby carriages, skaters, bicyclists, skateboarders, walkers and joggers – it stays in happy motion beneath the palm trees. It is also hard to imagine a more artful place than when I was there in February of 2003, for Carnaval de Nice.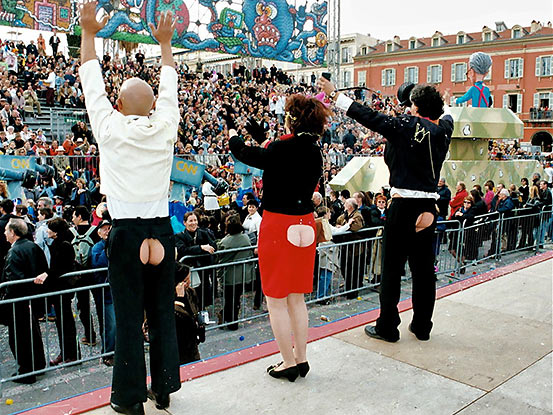 One of Carnaval's treats, the Batailles des Fleurs – Battles of Flowers – comprises five parades on La Prom, interspersed with other parades over a couple weeks. Twenty or so painstakingly decorated flower floats, each with thousands of stems refreshed on the design in a single day, carry costumed models throwing one and a half million or more locally grown flowers at the crowd. Floats are accompanied by artful dancers, bands, jugglers, acrobats and stilt walkers. It's a jolting contrast, the recent tragedy and flowers flung at delighted crowds.
Satire reigns in other carnaval parades scattered over the celebration, including the parades of "big heads" and parades of a couple dozen or more elaborate two-ton floats built by volunteer artists over six months, based on winning themes submitted by cartoonists from around the world. The biggest worry was string in a can.
The satirical theme when I was there was the King of .comMedi, with plenty of hard jabs at media's oppressive and intrusive aspects. I remember a float of a papier-mâché Larry King driving a giant tank, firing confetti from the turret with a CNN microphone at the end. Easy to reflect now on the pundits of major bellwether media that cheer-leaded for the invasion of Iraq. Shortly after that parade, the neo-diss and dats, Nut'nyahoo and the other geniuses got their way. Afghanistan was back-burnered and Iraq was invaded, unleashing waves of hell that destabilized the region, displaced desperate millions and lost the childhood of generations. It incubated Daesh and gave broken minds wherever they might surface the illusion of higher purpose, even for massacre by lorry. As prescient was a float of a giant grim reaper with a video cam.
The port city is strengthened by its international melting pot. The sadness Nice suffers won't disappear as easily as a Carnaval's King burned in effigy, taking away a year of woes. But this city's artistic sensibilities and playful humor will survive any assault from madness.
The 2017 Carnaval theme is the King of Energy. Perhaps global warming, another great displacement in the queue, is on the mind. It's on mine, as the heat dome settles in.
Any part of the year is a good time to uncork a lunch bottle of rose' on the French Riviera, but if you want to join Nice poking fun at society's foibles, check out Nice Carnaval. Nice tourism, French tourism.
Whenever you explore, bet on the triumph of Nice culture over those unable to grasp and embrace it.
Related Articles:
3 Things We Didn't Know About France; Hiking Through History In Southern France; Montagne: Destination Southwestern France; Montpellier, France; Art Ancient and Contemporary in Southwestern France



Let Skip know what you think about his traveling adventure.
* * * * *


Eugene Chaplin Introduces Chaplin's World Museum in Vevey, Switzerland

Lake Geneva/ Matterhorn Region and Switzerland Tourism recently blew into Los Angeles with the most esteemed guest, Eugene Chaplin. A man of remarkable lineage, he is the fifth child of Oona O'Neill and Sir Charles Spencer "Charlie" Chaplin, the grandson of playwright Eugene O'Neill, the brother of Geraldine Chaplin and father of actress/model Kiera Chaplin.


Treasures of Ireland: The Burren (Dispatch #14)

The Palladian Traveler ventures back to the days of fearless Celtic warriors to search for some "stones to take you home" as he files his latest dispatch from the monochromatic moonscape known as The Burren.


Buckingham Palace – It's THE Most Popular Tour in Great Britain (Part 2 of a 2-Part Series)

Is it more momentous for a Brit to do the Buckingham Palace tour than say an American or indeed any other nationality? Yes, I know that's an odd question, but if you grow up – as I did – in London back in the 1950s, getting inside Buckingham Palace was the stuff of dreams. Hence my surprise at touring BP in 2005.


Paradise on Earth: The Romance of Tahiti and Her Islands

The first thing you notice is the fragrance. The intoxicating perfume of the tiare flower announces to your senses that you are in a magical place, overflowing with tropical vegetation and soothing trade winds. It is the same fragrance that the English seamen on the HMS Bounty also first encountered; but they came, not for flowers, but for breadfruit, intended as a new food staple for their slaves in the West Indies.


Provence: As Much a Mood, a Spirit as a Destination

"On a Clear Day You Can See Forever" goes the song. Robert Goulet sang it and Barbra Streisand and Johnny Mathis, too, and it surely comes to mind when you stand on a bluff in the Luberon of Provence and stare across at the little hill village of Gordes. The view is the best part; the village's interior itself is not dramatic and stands as a warning of what contemporary popularity can do to the simple homes of 12th century working people.


Exploring Venice: Lost and Found. And Special Finds. Repeat.

Walking home to our apartment in Venice, we share a wave through the window with the owner of Baba, our local osteria. Leaving for a day of sightseeing, a cup of my favorite pistachio gelato awaits me despite the early hour. At the Bar Dugole, we relax after a day of sightseeing and order the regular: vodka for my husband and Amaretto for me.


Traveling with Beautiful Boots and a Bison Backpack

People often asked about my favorite travel apparel and gear. This happened to me at the airport recently. One question came as I was putting back on my clothes after going through the TSA checkpoint striptease. Before leaving the area, I heard a soft voice say, "hey, I really like your boots. Where did you get them?" Looking up, I found a uniformed employee staring at my feet.


Film Review: "My Hero Brother" – A Tribute to the Human Spirit

I just spent five days attending the Santa Barbara Film Festival and for the most part, the features, animated shorts, and documentaries were quite professional and compelling. That said, "My Hero Brother," a documentary that was particularly outstanding, told the remarkable and inspiring story about a group of Down syndrome young men and women who go on a two-week trek through the Himalayas with their non-Down syndrome siblings.


Vienna: In Search of Mavericks

Thanks to a Eurail Flexipass, allowing random infiltration on whatever days I deem necessary, Vienna presents itself to me as a global epicenter of both traditional creativity and avant-garde lunacy. I can easily follow in the footsteps of tradition, but so much of the maverick spirit emerges instead. This is what Vienna does to me.




Rolling Through the Outback on the Indian Pacific's Christmas Train





It was mid December and a heat wave had embraced the country. Record setting temperatures were searing the land from high 90s in Sydney and Adelaide to blast furnace heat in the great Outback. Fires were raging throughout the country. But we were cool, riding the air-conditioned Indian Pacific railway across the southern expanse of Australia to the west coast city of Perth, a four-day transcontinental tour...


Leviticus 20:13
Sent by Tom of Pasadena, CA



It all makes sense now. Gay marriage and marijuana was legalized in the last election. Leviticus 20:13 states
"If a man lays with another man, he should be stoned..." We've been interpreting it wrong all these years!


Crooked Eye Tommy: 'Butterflies and Snakes'

When you load the CD Butterflies and Snakes into your sound system, you know from the onset Crooked Eye Tommy isn't your run-of-the-mill blues band. The entire recording is based around multiple styles, assorted genres and two lifetimes of influence. From the swamp-like vibe of the opening track through the weeping steel guitar highlighting the finale there's a brand new, old school familiarity that resonates throughout each one of the 11 original songs.


The Impossible Happened: Itís Time to Get to Work

All of us are stunned, across the entire political spectrum, by the results of this election. Many are both sickened and saddened, while others are jubilant. I am guardedly optimistic. I think it's too early to despair, or to celebrate. In my experience nothing is ever as bad as it seems, or as good. But there is great cause for concern.


Dia delos Muertos: The Day of the Dead – All Saints Day

October draws to a close with a melancholy air. Days are colder, dead leaves flutter to the ground after a last burst of color, before finally drifting away to be tossed by the winds in all directions. Something about this image that inspires vintage, romantic songs like "Autumn Leaves"… and brings memories of a Love, once held close.


Boulderís Sunrise

The enormous Sonora Desert, a colossal 120,000 square miles of splendor that spreads like a great tapestry of textures and colors across international boundaries from Arizona into the State of Sonora in northern Mexico is one of North America's grand, untrammeled natural treasures. The complex, sun-blessed region of bright dry heat, brilliant low-hanging stars, and long, ever-changing shadows that shift with the sun as they drape like endless silhouettes across craggy walls, mountain ridges and hidden canyons, is a vibrant land with tales to tell.


Seville – The Most Gay-Friendly City in Spain

I find it nearly impossible to sleep on airplanes. When I couldn't sleep on the overnight Delta flight from New York to Andalusia last September, I scrolled through the movies (blah) and other entertainment (double blah) until I came across the TV show "Game of Thrones". I knew of it, that it was bloody and sexy, but had never seen it. I watched more than heard three episodes before dozing off. As I found out later, it was the perfect introduction to my visit to Seville, Spain.


La Paz, Baja California Sur

Photographer Deb Roskamp focuses her camera on La Paz, Baja California Sur. The resort property is CostaBaja, and the boat tours, which include snorkeling at the UNESCO protected site, Isla Espiritu Santo, were conducted by Fun Baja. The photographs are intended to speak for themselves.


NOLA: New Orleans, Louisiana

Mardi Gras, the French Quarter, the Garden District, the streetcar (now a bus) to Desire, the jazz clubs, the beignets at the Café du Monde and breakfast at Brennan's come to mind when you think of New Orleans. But that's not all there is to this unique American city, filled with treasures both culinary and cultural.


The Nira Caledonia: A Warm Edinburgh Welcome on a Stormy Night


I don't think I was ever so happy to check into a hotel than I was one stormy, blustery night nigh unto a year ago, when I landed – finally, after having left my home in New York nearly 30 hours earlier – at the warm and embracing Nira Caledonia Hotel in Edinburgh.




Travel's Triumph over Terrorism





After a three-month adventure seeking beauty in the world, many thoughts race through your mind, especially when you have quit your job, run out of money, and have no clue what comes next. However, a philosophical discussion on the meaning of life with a perfect stranger is not one of them.
---
© TravelingBoy.com. All Rights Reserved. 2015.
This site is designed and maintained by WYNK Marketing. Send all technical issues to: support@wynkmarketing.com