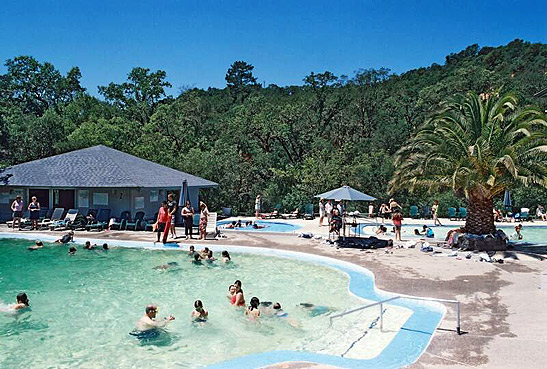 An Affordable & Relaxing Nature Getaway for Families!
Story by Tamara Lelie
Photos courtesy of Morton's Warm Springs Ranch

can't think of a single time in my life when being outside in nature didn't make me feel instantly better. There is something about being outside around water and trees that make me feel like all my problems are gone and that the world has limitless potential. Maybe, it's because when you're outside, you see the symbol of growth all around you, in the earth, roots, trees and plants. And maybe, the water has a way of cleansing all the impurities and fears in your mind and body. Whatever the reason is, I'm drawn to it like a bee to honey.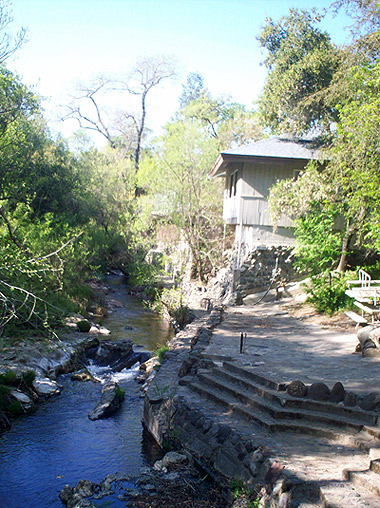 One day when lackadaisically driving through wine country on Highway 12, I found the perfect nature refuge nestled away in the small town of Glen Ellen in Sonoma County. The instant I saw the outside gates to Morton's Warm Springs Resort and peeked in, I felt home! The resort is set on 22 acres complete with a creek, grassy hills, meadows, looming trees…and best of all, three spring fed mineral pools! The property just emits relaxation, rejuvenation and well-being.
Now, for those of you who have read my Warner Springs article, you know how much I'm drawn to spring fed pools due to their healing properties (from the Sulfur). But, I'm not the only one. Actually, the Wappo Indians were the original inhabitants of Morton's Warm Springs Resort and were the first to recognize the sacred and healing properties of the geothermal mineral springs. Now, the Wappo Indians also knew how to party and as a tribe, they were very family oriented. Games, dances and music were a big part of their life.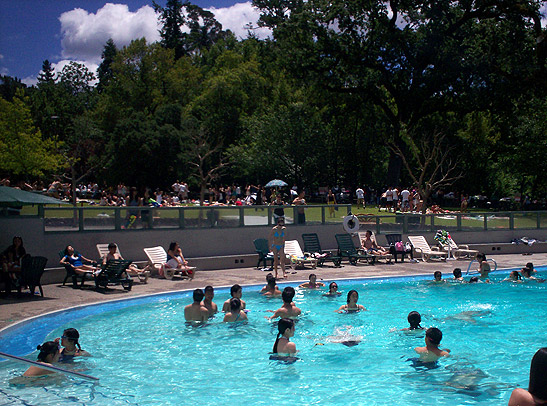 I think that there's something our society today could learn from the Wappo Indians. Morton's Warm Springs seems to me to be the best place that I've yet to find that actually promotes connection to each other as well as connection to nature. While teaching yoga at the Boys and Girls Clubs here in Marin and Southern Sonoma Counties, it became clear to me that kids' stress load nowadays is huge, much more than what I dealt with when I was young. Kids nowadays are plagued by pressure for high performing grades, worries about parents' job losses and so many are ungrounded being that with the rise in divorce rates, they are most often shuffled between parents' houses on a weekly basis. This brings me back to Morton's Warm Springs. Kids need to be outside not in front of video games.
As a yoga teacher, I studied a lot of Hindu Philosophy which states that all of creation is made up by a balance composed of three forces; sattva (calm/balance), rajas (activity/dynamism) and tamas (inertia/lethargy). The same three gunas also apply to a human being who is always being ruled by one particular guna and has the power to harness sattva guna just by meditating. I have a theory that by being outside in nature which is inherently balanced, we become balanced ourselves.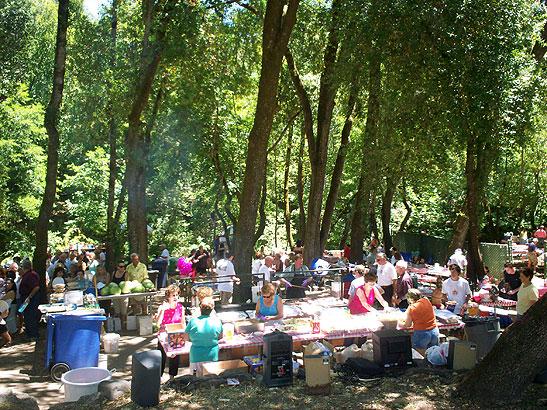 The opposite applies too. When we're in the city or in a noisy environment with a lot of activity, we ourselves turn into rajas mode and can feel restless. Far away from the noise of traffic, Morton's Warm Springs Resort is that peaceful escape that adults and children are yearning for in modern times. Yet, it also offers an added benefit of fun. With barbecue pits, picnic tables, Bocce Ball, mineral pools and a designated basketball/baseball area, Morton's is the ideal and affordable day destination for everyone to bond together as a family and also get back in touch with the inner self because Morton's has decided to keep up with the recent spa trend by expanding on its stress relief offering and providing on-site yoga classes for families.
In fact, General Manager, Dusty Millar, likes to sum up the place by saying, "Summer as it used to be. Summer as it ought to be."
Morton's Warm Springs Resort is open in May on Weekends & Holidays from 10am to 6pm and June July & August on Tuesday through Sunday from 10am-to 6pm. In September, they are open weekends and holidays (including Labor Day) from 10am-6pm.
Rates are $8.00 for adults, $7.00 for children/seniors and kids under 3 are free. You can also purchase seasonal passes and reserve portions or the entire site for retreats. For more info, go to their website.