om Ball is stamping his feet, waving his arms above his head and shouting, "El Monte! El Monte!" It appears to be an ancient ritualistic expression of the Chumash Indians, and as I recall, the Santa Ynez region is ripe with their native American culture. He leans closer and, with a twisted grin, starts poking me in the head and chest with his finger. Okay, definitely not Chumash; they were hunters and gatherers, but not nearly this aggressive or demented. It might be 'Sour Mash' and he's possibly consumed a finger or two over his limit!?
While I ponder this, Tom continues to laugh and flail his arms when his musical partner of now three decades, Kenny Sultan, steps over to us and begins to describe one of their most memorable European concert experiences. "We were playing in the recreation room of a mental institution in the Netherlands," Kenny relates. "It was for the criminally insane and the rec room was the only place where they didn't monitor the patients. They just sort of let them be themselves. So we had twenty people, kind of, sitting on our laps and pulling at our hair and poking us."
Welcome to the world of Ball and Sultan. 'Good Time Blues' journeymen working the 'fringe' elements of the wrapped too tight. "There was one guy," Tom adds, "who could speak only two words of English. The only thing he could say was, 'El Monte! El Monte!' He would come up to us, poking our faces and guitars and chests and yelling, 'El Monte! El Monte!' A pretty interesting guy."
"We were playing," Kenny continues, "and everybody really wasn't getting it. And this one lady was laughing at the right spots, like on 'Bloodshot Eyes' and 'Chicken Ala Blues.' I'm going, ok, she must be staff, you know, cool. Then Tom left the stage and I'm doing my solo, obviously an instrumental ... and she's STILL laughing! That's how it was … AND we had to STAY there. That was our accommodations for the night. On the hospital grounds. They put us up in, I don't know what you'd call it, a bunkhouse. We did our laundry there. That was interesting, a lot of folks watching the dryers go 'round. It was a good gig, a memorable gig."
Memorable in that Steven King - Ken Kesey kind of way.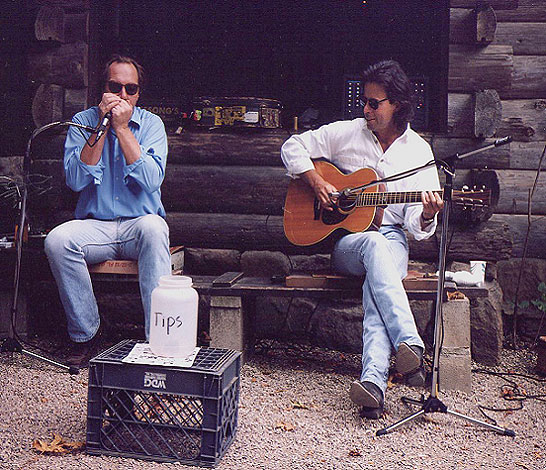 Tom and Kenny on any given Sunday play the Cold Spring Tavern in Southern California
It should be clear to you by now: Tom Ball and Kenny Sultan are not your stereotypical bluesmen. In fact, one is hard pressed to call them bluesmen at all. Sure, they play every type of venue you can imagine (And, as previously mentioned, some you can't.), from open air music festivals in front of 50,000 plus, to their favorite haunt, an original stage coach stop in the mountains above Santa Barbara, California called the Cold Spring Tavern. When off the road, these prolific musicians have recorded thirteen CD's, eight as a duo, and to-date five additional solo projects between them. As writers and historical purists, both are published authors that continue to teach at the college level, produce instructional playbooks on harmonica and guitar and share their many talents in workshops and music seminars.

It's really not too much of a stretch after you learn it was a shared love of Blind Blake, the Rev. Gary Davis and beer that brought them together. And the fact that they both have a tremendous amount of admiration and respect for the originators of the genre doesn't hurt either.
Oh yeah…they're Bluesmen!!!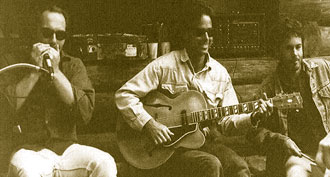 "I used to hang out at the Ash Grove." Kenny says. "My older brother used to take me there, on his dates. I was 11 years old and he'd take his kid brother. I remember going to see Furry Lewis, Mance Lipscomb, Lightnin'. Everybody else was listening to the Monkees and I was listening to Howlin' Wolf. Lightnin' was great! I remember seeing him at the Ash Grove, just sitting up there with his big, black electric guitar. Sitting up there smoking, in a smoke-filled room with sunglasses on....really funky. He was great. You hear him play and you know it's him."

Pairing the harmonica with acoustic guitar, Ball and Sultan are inevitably compared with Sonny Terry and Brownie McGhee and this makes Tom smile. "As a harmonica and guitar duo, it's impossible to escape those comparisons. They were the consummate and most important guitar and harmonica duo. We had the pleasure of working with Brownie, he was real easy to get along with, very sharing with his music and a gracious man. Sonny had passed away, unfortunately, but he's the main man for the non-electric, unamplified style. Nobody comes close to Sonny Terry. He's already done everything anybody could even think about. He's the man."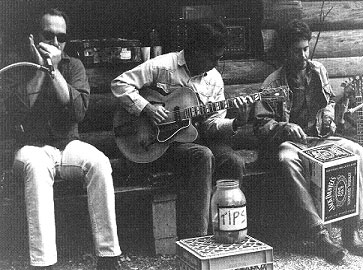 When Tom and Kenny perform, you immediately recognize there is more to their artistry than blues. Much more! Their unique combination of style and musical arrangement give a distinctive signature to the more traditional sound; what Kenny calls 'Good Time Blues'. So if you must make comparisons, you'll have to mention Hank Williams, Sr. and Bocephus, Scott Joplin, Wynonie Harris, Snooky Pryor and John Nicholas. Add a touch of Bill Monroe and Utah Phillips for good measure and you have the basics of Ball and Sultan.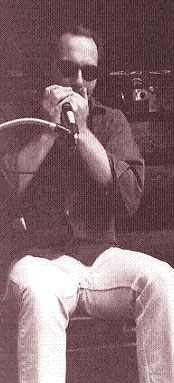 "We don't dwell on the depressing side of life. We keep it up tempo and we deal with light subjects." Kenny says. "Blues can be fun and humorous, they don't have to always be sad and about your troubles in life. I'm not sure we're blues musicians exactly. Obviously we love blues and play blues, but we play a little folk, ragtime, country and bluegrass as well. When I think about blues players, I think about Lightnin' Hopkins, Sonny Terry and Brownie McGhee. They would come out and play Blues. Tom and I play a lot of different styles. In reality, we're musicians who like the blues and incorporate that in our music, but we do a lot of different things. We're not down and out....we live in Santa Barbara."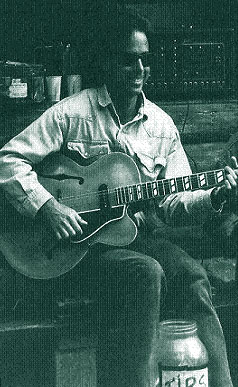 Nodding in agreement, Tom adds. "We never worked in any coal mines. People that have the true claim to the blues are Son House, John Hurt, J.D. Short, Blind Blake, Bukka White. Those people lived the blues. They had troubles, they had pain and suffering. They worked on levee camps and were sharecroppers and had a real reason to sing the blues. Kenny and I enjoy that tradition in so far as it's a soulful tradition, an important American tradition. But we learned the blues mostly from old 78 records. We don't profess to be something we're not," says Kenny, we're ourselves on stage, we don't put on any act up there." Smiling he adds, "That's why our business card says 'Good Time Blues'."

So the next time you find yourself in Southern California, take a break over by the Cold Spring Tavern near Santa Barbara. Most any Sunday you can find something cold to drink, a nice hot meal and I guarantee some of the best music this side of the Delta. And if you see Tom and Kenny, tell them 'El Monte' sent you.
If you would like more information on Tom Ball and Kenny Sultan or, (I've always wanted to say this) 'for a good time' visit their website...