Country Roads:
Under the Renovated Tuscan Sun
Story and photos by Tom Weber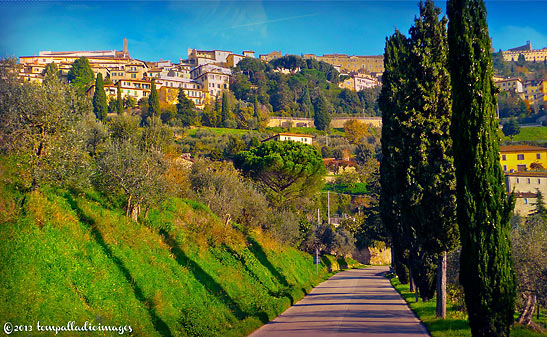 nder the Tuscan Sun, the 2003 romantic-comedy movie (read, chick flick) loosely based on Frances Mayes' 1996 memoir of the same name, stars Diane Lane as a recently divorced San Francisco writer who drops everything, takes off for Tuscany, purchases a dilapidated Italian villa in the town of Cortona and brings it back to life.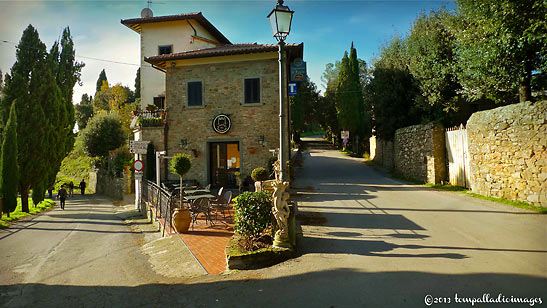 Guess what? My band of merry media, guests of Insight Vacations' Country Roads of Italy itinerary, has just arrived in Cortona and we're going for a stroll to see Ms. Mayes' creative hideaway – the real Villa Bramasole, not the stand-in used for the movie, which, by the way, went on sale last year for a whopping 9.5 million euro.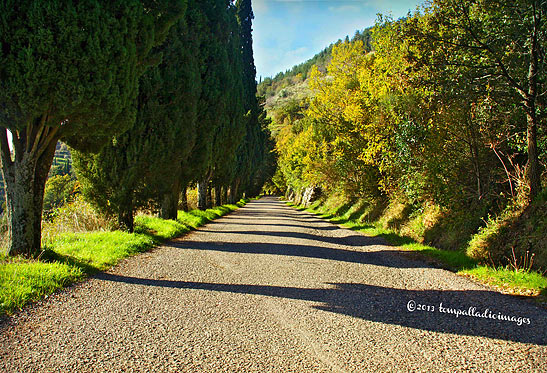 Down the idyllic cypress tree-lined lane we go with Belinda, our Insight tour director-slash-story teller, who waxes poetic about Ms. Mayes, the book, the movie, the beauty of being under that large ball of hot plasma when it crosses over Tuscany, etc., etc.
Rounding a bend, someone shouts, There it is!
We begin to see it peeking through the trees and as we draw closer it comes into full view. Well, sort of.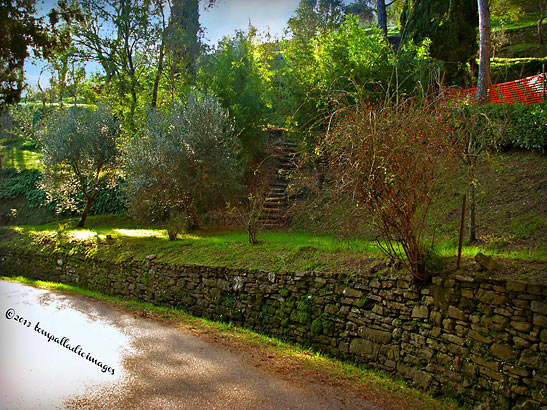 Shockingly, Villa Bramasole is surrounded by bright orange plastic fencing and hidden by lots of scaffolding. Our collective faces drop. It appears that Ms. Mayes, like in her 304-page New York Times bestseller, is renovating the hilltop estate again. Oh well, at least I can say that I stood outside the property and imaged what it's likely to be like when the construction crews leave.
Disappointed, we trudge back up the lane, climb aboard the awaiting motorcoach, then drive to one of the ancient arches that serves as a passageway into the centro storico (historical center) of Cortona.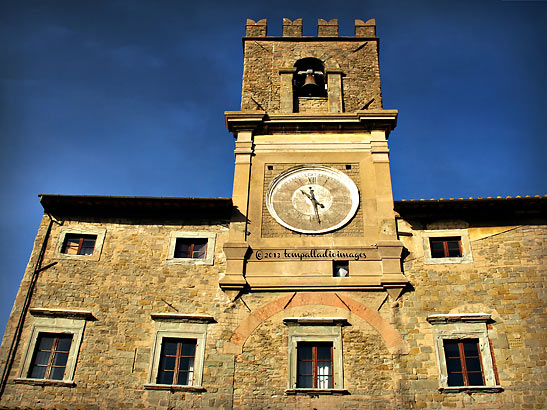 We'll meet back in the main square, right in front of the Palazzo Comune, in 45 minutes, Belinda announces.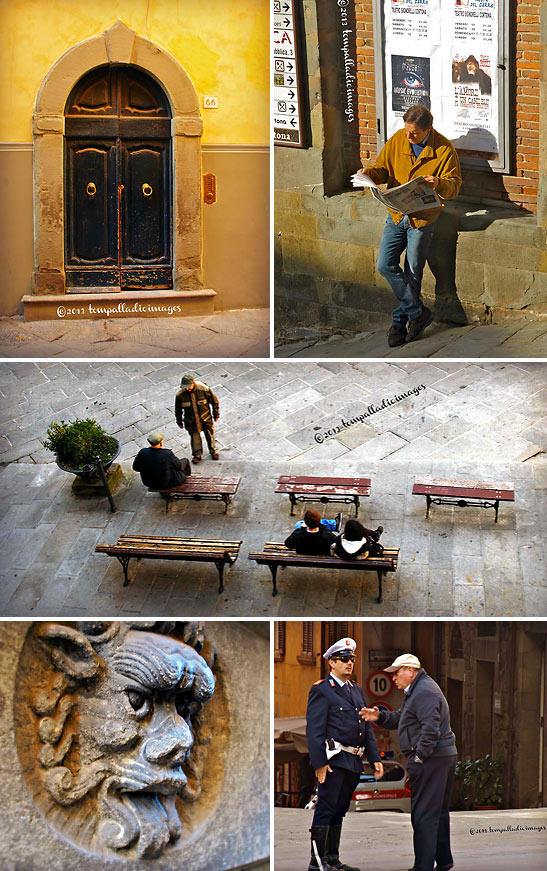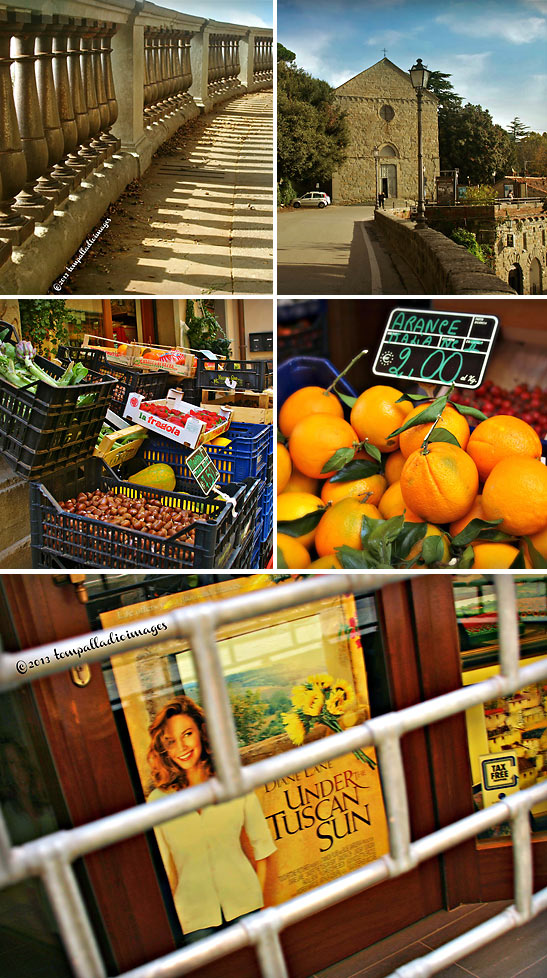 So, off we hustle in a hundred different directions to see what each of us can see of this colorful hilltop town – a cultural center of the Valdichiana (Chiana Valley), where Umbria and Tuscany embrace. Here's what I managed to frame in the very short time that I was out and about under Frances Mayes' beloved Tuscan sun in laid-back, carefree Cortona.

Everyone now on board and accounted for, Belinda, following the villa renovation faux pas, does her best to make things right and gives out our new GPS coordinates by asking us if we'd be up for a visit to a Chianti wine estate followed by a special lunch with Tuscan nobility.
Sure…as long as you issue us hard hats!, someone wisecracks from the back of the motorcoach. Touché!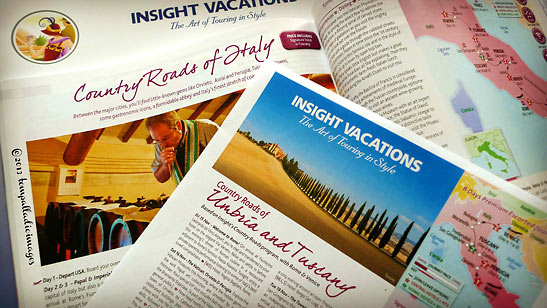 For complete information on Insight Vacations' 12 Italian premium and luxury-escorted, business-class motorcoach itineraries – where you'll stretch your legs and go in search of hidden gems around Umbria and Tuscany – as well as over 100 journeys throughout Europe, just click HERE, or call toll free (888) 680-1241, or contact your travel agent.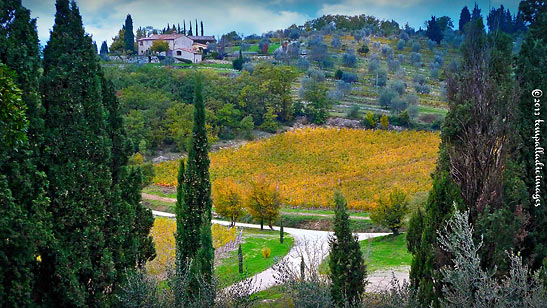 See you soon in the heart of Chianti wine country, and bring along a corkscrew.
Ciao for now.
Related Articles:
Linnertime in Spello; Take Me Home Country Roads; The Olive Groves of Ragani; Saintly Assisi; Underground in Perugia; Sipping Vino and Savoring Vistas in Tuscany