Meet Our New Writer
Tom swapped his St. Louis Cardinals ball cap for a Borsalino and now hangs his cappello in the City of Palladio -- Vicenza -- in the Veneto region of northeast Italy; thus, his nom de plume for Traveling Boy is appropriately The Palladian Traveler.
A military, commercial and U.S. Government print and broadcast journalist for over four decades with well-worn passports that have got him in and out of 42 countries, Tom explains why he's attracted to the Old World charm of the Bel Paese: "I'm inspired by the beauty I find in all things that are very, very old (including myself); and, reliving history, or at least meandering around cobblestone streets that were laid down over a thousand years ago and just looking up and marveling at what occupies the space still today, really gets my Vespa running."
Tom has a great eye behind the camera and a magical touch in post-production, and is a graphic storyteller. We're pleased to welcome Tom, The Palladian Traveler, to the Traveling Boy fold and look forward to him keeping his camera batteries well juiced, his notepads filled, and his submissions flowing from the City of Palladio.
Note: Tom is a credentialed journalist with the International Travel Writers & Photographers Alliance (ITWPA), a contributor to the online publication ItalianNotebook.com based in Rome, and subscribes to MLB.TV so he can follow his beloved Redbirds from afar all season long ("Let's make it 12 in '12.").

Il Soprannome: The Folksy DNA
Story and photographs by Tom Weber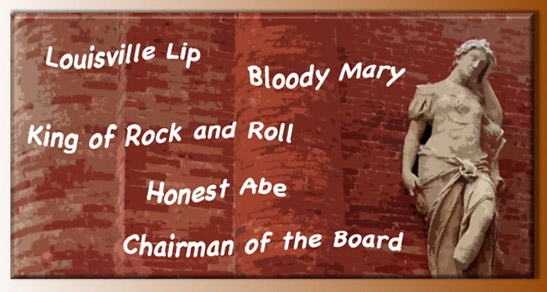 Queen Mary I of England struck fear in the hearts of her countrymen as "Bloody Mary."
United States president Abraham Lincoln was humbly known as "Honest Abe."
Elvis, even after he left the building, was and always will be the "King of Rock-and-Roll."
Muhammad Ali, f.k.a Cassius Clay, was given the hometown moniker of "Louisville Lip" early in his boxing career.
And, during his heyday, Frank Sinatra roamed the Las Vegas strip as the "Chairman of the Board."
Whether you're a boxer, a rocker, a president, a crooner, a queen or a John/Joan Doe, your soprannome (nickname) tells almost as much about you as the genetic instructions found in your DNA.
Piovene Rocchette - Where Everybody knows your (Nick)name


Coat of Arms for the Commune of Piovene Rocchette (L)
and panoramic view of Piovene down to the valley below (R)
Never is this truer than in Piovene Rocchette - a former Roman control post along the road towards Tirol and today a small municipality of just under 8,500 curious onlookers that sits at the foothills of the pre-Alps in the province of Vicenza in Italy's northeastern Veneto region -- where the art of giving most locals, or even entire families, a soprannome that brands them for the rest of their lives is brought to new heights.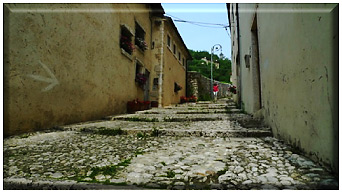 Ancient cobblestone walkway up one of Piovene Rocchette's hilly passageways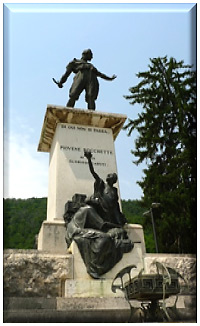 Monument to fallen World War I veterans of Piovene Rocchette
For instance, an unkempt man who lived up in the hilly part of town, and not very good at keeping his house clean, was affectionately referred to as Maiale sciolto in cucina. (Pig loose in the kitchen)
My dearly departed brother-in-law, Attilio, who stood 1.9m, was nicknamed Di qui non si passa (From here no one passes) after the inscription of the same chiseled into the World War I monument in the city center honoring those who served in the "War to end all wars."
Maria, my wife, who, along with her entire family, immigrated to Canada, returned home alone after ten years abroad and was warmly and immediately christened Maria Canadese. (Canadian Maria)
As the lone Yank who lived a spell in postal code 36103, I was simply called l'Americano. (The American) I would've preferred a moniker a bit more creative, graphic, or endearing, but the townsfolk dubbed me l'Americano and I ran with it. Admittedly, George Clooney I'm not, but I managed to fit right in.
From Blackbirds to Gravesites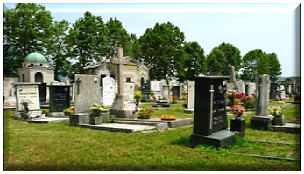 Inside the Cimitero Vecchio (Old Cemetery) of Piovene Rocchette
On frequent strolls through Piovene Rocchette on our way out to the cemetery or just around town - that's what people do for fun on Sundays after lunch in small bergs here in Italy - Maria Canadese would point people out -- those we would pass on the street, their house or apartment where they lived, or during a pause at a gravesite -- always by their nicknames, never their surnames: Merlo (Blackbird, due to the man's pronounced beak and fidgety head), Marco Orto (Mark Vegetable Garden, the green grocer just down the street), Papa Grappa (Father Grappa, the monsignor at the parish church who enjoyed wetting his whistle), and the list goes on and on.
Beppe Testa - In Vin Veritas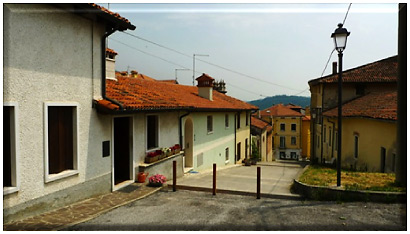 View down one of the many pedestrian-only walkways in Piovene Rocchette
During the week, I would commute back and forth to Vicenza for work and leave the house at 7:30 a.m. right on schedule. Right on schedule, too, was Beppe Testa -- a close friend of my suocero, (father-in-law) Guido -- who always made his way by our house at the same time as I was pulling the car out, meandering up Via Liberta' (Freedom Street) for his daily constitution at the Bar La Torre (Tower Tavern). I'd always roll down the window, wave and say Buongiorno Signor Testa (Good morning Mr. Testa). He'd smile, wave back, but gave me a confused look like he didn't recognize me.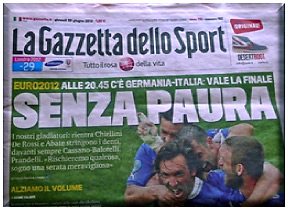 Front page of La Gazzetta dello Sport,
Italy's sports daily
Most evenings when I returned home from work I'd find suocero Guido at the kitchen table engrossed in his daily Bible reading -- the pink pages of La Gazzetta dello Sport (The Sport Gazette). Before heading upstairs to our apartment, I'd pop in, spend a few minutes with him, maybe have an aperitivo (or two) and get the latest lowdown on Inter, his beloved soccer team.
On one particular night, I mentioned to him that I saw his old friend, Signor Testa, that morning walking by the house.
Signor Testa? Guido inquired. Chi e Signor Testa? (Who is Mr. Testa?)
I replied, "Your old friend, Beppe."
"Ah," Guido chuckled, "his real name is Giuseppe Bertoldo. We call him Beppe Testa because he has such a BIG head (testa)."
Quickly realizing my gaff, I chuckled, too, unfortunately, at Beppe Big Head's expense.
So, what's your folksy DNA?
Related Articles:
Northern Italy; Lake Como; Tuscany; Tuscan Farms; Rome; Southern Italy; Mediterranean Cruise; Eastern Mediterranean Odyssey