Relaxing gets personal at the Excellence Riviera Cancun where your room price includes EVERYTHING, the staff to guest ratio is 1:1 and crowds are never a problem. Photo by Wendy Koro.
Recipe For a Perfect Vacation: Excellence Riviera Cancun!
by Wendy Koro


t's my third day at the Hotel Excellence Riviera Cancun and the Do Not Disturb card is in the slot again. I'm feeling lazy and content…mesmerized by the view. A thatch roof tops my balcony vista, framing the brilliant sky, pristine pools, ever-moving azure sea and powdered sugar beaches below. Sunlight glints off the water and tropical breezes feel like a warm caress, which along with the gentle dance of gauzy curtains slowly pull me into a feline stretch.
But it's the sounds that have lulled me to succumb to indolence. A sultry symphony of steady rushing waves lapping the shore, the wind off-tempo, whispering secrets, a host of wildly exotic birds punctuating the quiet rhythm with a mad cadence of whistling, tinkling, lilting, chittering calls...
The overall effect is hypnotic. For a type-A personality, I'm as relaxed as I can get.
For those of you who haven't yet had the pleasure, an Excellence stay is an all-inclusive recipe for a stress-free vacation…combining everything that makes a dream tropical holiday perfect, in one place, for one price…EVERYTHING. All tiers of liquor, super dining variety, real room service, great pools, stunning beaches, beautiful suites, sports, fun in the sun…all "free" for the price of your daily room rate-- no matter how much, how often or how freely you partake.
The Riviera Cancun isn't the newest Excellence Hotel, but it's one of my favorite all-suite, all-inclusive, adult-only resorts where I've booked a luxurious oceanfront junior suite. Facilities are five-star, with guest suites generously sized and well-appointed. Lovely grounds and meandering pools are meticulously maintained and just steps from every room. Even at full occupancy, the resort feels spacious yet intimate. Popular with honeymooners and couples celebrating everything but celibacy, the atmosphere is decidedly sensual and self-indulgent.
Thankfully, the Riviera Cancun achieves this aura of opulence without sacrificing its natural surroundings. Native mission style architecture, open-air restaurants and a friendly inviting ambience capture the essential feel of Mexico, missing from some of the newer I-could-be-anywhere posh designer hotels. Yet, as we spoiled tourists have come to expect, this all-inclusive resort boasts 10 bars and 8 restaurants, 24-hour room service and all manner of sports and activities, most included at no extra cost. A few services only involve reservations and additional charge: spa experiences, deep sea fishing, and private dinners/massages on the beach. Evening entertainment here is okay but not compelling. Most couples choose to migrate to the music or bar setting that fits their mood or the Excellence Club beds beneath the stars or otherwise entertain each other in the privacy of their room. If you are traveling alone or do not truly enjoy your partner's company, nightlife here may fall short of expectations.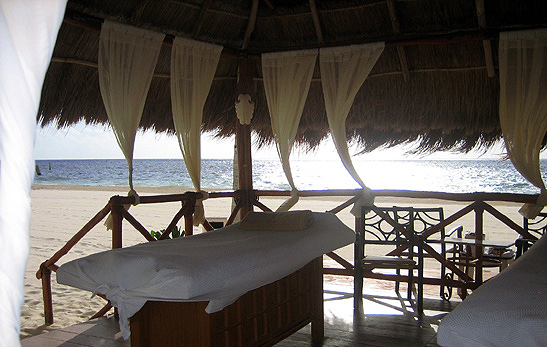 After the rubdown: chocolate covered strawberries and champagne never tasted so good. Photo by Wendy Koro.
An incredibly wide array of cuisine awaits Excellence Riviera Cancun guests: French, Italian, Mediterranean, Pan-Asian and Mexican, as well as restaurants specializing in Brazilian style steak, warm water lobster (Langosta) and pizza. There are several open-air eateries, no reservations required and virtually no waiting for tables, with ambience ranging from laid-back casual to classical low-lit romantic formality.
One of the eight restaurants at every meal becomes a formula buffet, touting fresh, top notch quality offerings to satisfy every taste. My attempt at a healthy start each day is to come to the Barcelona buffet for breakfast. Amid rich temptations after a run on the beach, I find the sweetest, juiciest fruit imaginable, smoked salmon, simple whole grain carbs and egg white options …compensation for all the naughty food and drink sure to come later on. Although most folks will be extremely happy, real foodies will be alternately delighted and disappointed with the Riviera Cancun fare; all restaurants have extensive menus with choices typically high-end (no extra cost to you) and a very lofty reach. Some individually prepared meals are superb; some exceed the grasp of the kitchen, I suspect due to some degree of economizing on the most expensive base ingredients. Admittedly, I am a tough critic who is seldom completely satisfied, anywhere …and considering the talented, industrious staff at the Excellence Riviera, even voicing this observation feels petty and a little unfair. We don't travel to France with the expectation of eating the finest Mexican cuisine…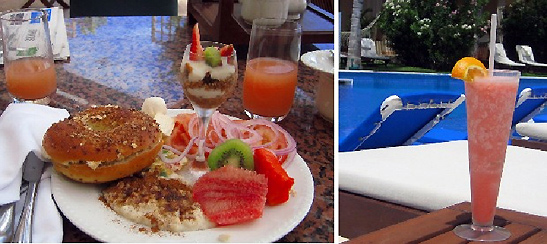 My favorite healthy breakfast followed by a deadly delicious "Ticket to Fly." Photo by Wendy Koro.
It comes as no surprise then that, in my opinion, it is the Mexican fare at Agave that shines, "par Excellence". Traditional Yucatan staples served with timeless style in a beautiful and spacious outdoor courtyard make Agave an authentic dining experience. The menu features many tasty, robust regional specialties, most of which have been around for about 500 years. Two fabulous soups are especially delicious. Sopa de Lima is a delicately balanced broth of lime, chicken and tomato served with shredded chicken and fried tortilla julienne. Sopa Azteca is a simple broth of tomato and tortilla perfected with a wild touch of epazote essence, served in a bowl chock full of everything we know and love-queso fresco, avocado, chicken, sour cream and fried pasilla chili pepper. Entrees run the gamut, from the expected fajitas and enchiladas, chili beef filets and fresh fish Veracruz to a baked duck in pumpkin seeds and some mouthwatering empanadas. The oh-so-good soft corn dough turnovers sport some surprising indigenous ingredients, including pumpkin flowers, black corn, and Chihuahua cheese. Roasted cactus leaves and grapefruit are among the toppings that grace the garden salad. Agave's flavors throughout are bright, lively and satisfying, but true to most Yucatan food, not overly hot.
Without a doubt, another of the Riviera Cancun's best assets is its staff. They are dedicated, well-trained and infectiously good-natured. Ready to please, and with a staff to guest ratio of 1:1, the opportunities for them to do so are frequent. A passing request for directions will likely get you personally escorted to your destination. Declining dessert? Don't be surprised if your solicitous waiter's concern results in a grand tableside production of delectable Mayan coffee made with Kahlua and Xtabentun honey liquor…or perhaps an equally ostentatious Latin version of bananas flambé, both topped with rich vanilla ice cream. (Thank you, Rudy, for offering and insisting on both!)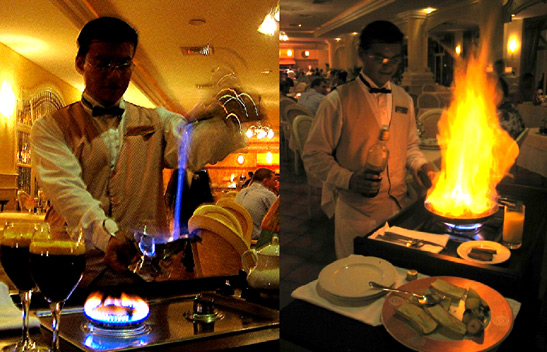 Rudy goes all pyrotechnic for our enjoyment…with Mayan coffee and flaming plantains. Photo by Wendy Koro.
At the Excellence Riviera Cancun, this type of sweet excess is routine, a testament to the attentiveness and commitment of its well-picked employees, who, unlike on a cruise ship, are not guaranteed any gratuities. I actually look forward to my daily contact with bouncy poolside waitress Amable, who enthusiastically describes the special Drink of the Day… She pronounces the latest one "Ta-ket-o-flea"… it's a delicious coconut cream concoction containing rum, vodka, tequila, gin…and a splash of grenadine. It's a good laugh later when I laboriously get the proper spelling and it turns out to be (more appropriately) my "Ticket to Fly." Similarly, the amiable, talkative Ramon is a friendly but unobtrusive presence at breakfast. After asking the first day, a desired newspaper shows up on "my" preferred outdoor table every morning. When asked, Ramon also shares a wealth of information on the surrounding area. Personally, I choose to acknowledge and reward great service. Whether required or not, I recommend you budget a set amount for the exceptional personnel here who will enhance your stay. Even small tips are greatly appreciated.
Now that travel advisories to Mexico have been lifted (for CDC described healthy adults under age 65) it's a great time to take advantage of lower airfares and reduced room prices, with a weather caveat (read on). The Hotel Excellence Riviera Cancun offers even the most careful traveler a safe all-inclusive vacation in a beautiful location just north of Playa Del Carmen, only 20 minutes or so from Cancun Airport. To make your trip hassle and worry-free, you can pre-book your transfer to the hotel through CancunTransfers.com, even paying in U.S. currency on-site if you prefer not to pay ahead by credit card. Very visible as soon as you arrive and enter the main terminal, this transportation service is uniformed, organized and English-speaking.
Lastly, some obvious and not-so-obvious advice: