Islands of Croatia
Sanctuaries of Beauty, Grace & Rejuvenation
Part 2
Abroad With... Beverly Cohn
Editor-at-Large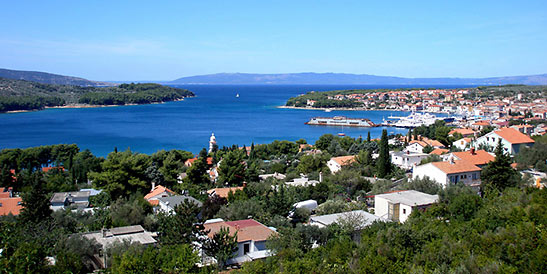 The beautiful island of Losinj, Croatia. Photo: Beverly Cohn

art 1 Recap: The initial installment of my two-part feature on Lošinj, a magical island that's part of Croatia, explored some of the state-of-the-art hotels, including the five-star Bellevue Hotel as well as some of the boutique hotels including Villa Hortensia, Villa Augusta and the gorgeous Hotel Alhambra. We explored Cress, another quaint island with 25 tiny villages including the picturesque town of Osor, as well as Martinšćica, a charming fishing village dating back to the first century B.C. (See Part 1 here)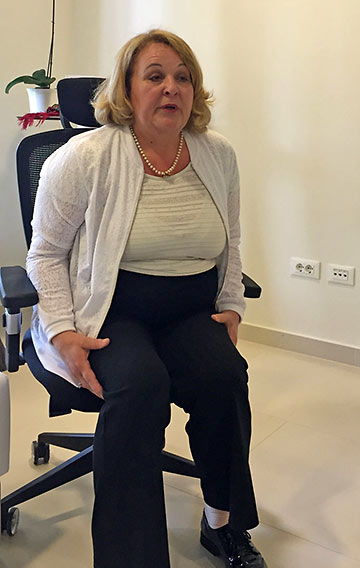 Dr. Anamarija Margan Šulc, renown for her work on pulmonary disorders such as bronchitis and asthma.
Photo: Beverly Cohn
Day 4: Today we would be introduced to Wellness Hotel Aurora, one of the famous Health Zones on the island of Lošinj. As far back as 1884, Professor Ambroz Haracic released his research demonstrating the correlation between the climate and the island's indigenous plants as impacting positively on health issues. Several years later, the Austro-Hungarian government in Vienna acknowledged Mali and Veli Lošinj as healing centers, thus beginning a 130-year tradition of both tourism and medical tourism. Among the aristocrats and royalty who visited the island was Archduke Franz Ferdinand who hoped to improve his failing health.
One of the top professionals overseeing the health programs is Dr. Anamarija Margan Šulc, who is renowned for her work on pulmonary disorders such as bronchitis and asthma. The Re-Spiro treatment program is specifically aimed at improving breathing challenges in adults and children. Following a comprehensive medical examination, a program is tailored to the specific needs of the patient. Programs in the Aurora Wellness Center, as well as the other health centers, including the Bellevue Hotel and Vitality Hotel Punta, are developed and implemented by a team of experts in their respective fields, including physicians, nutritionists, kinesiologists, and therapists. It appears that environmental factors, such as air rich with aerosol and essential oil particles, along with scientific research, and a highly trained team of doctors, aids in the recovery and continuation of good health.
The programs range from seven-ten days to up to three weeks and include fitness, weight loss, and stress reduction, all aimed to improve the patient's overall well being. Special combined health packages are available covering the hotel and treatments.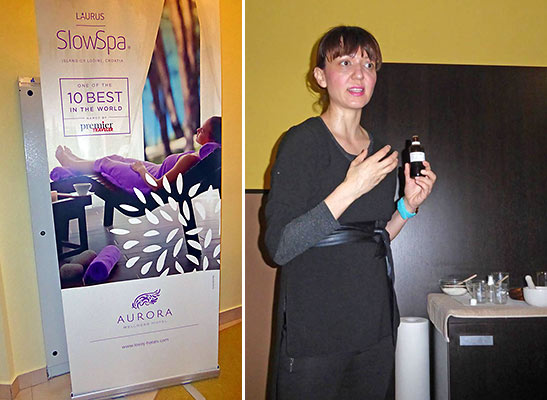 Left: Laurus Slow Spa was picked as one of the ten best in the world by Premier Traveler. Right: Laurus Slow Spa manager Anna Maria introduced us to the broad range of oils and scrubs. Photos: Beverly Cohn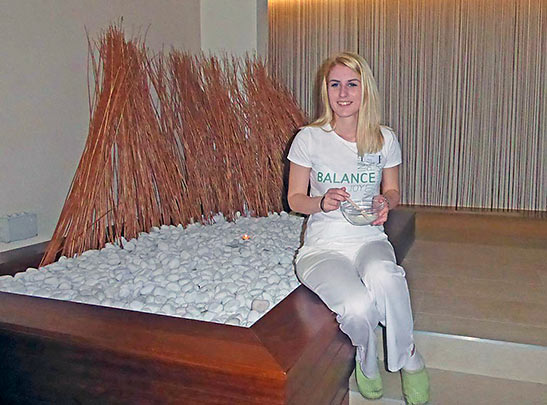 Elvira is one of the massage therapists available at the Lauris Slow Spa.
Photo: Beverly Cohn
Following a most informative meeting with Dr. Šulc, we next explored the hotel's Laurus Slow Spa, picked as one of the ten best in the world by Premier Traveler. Each of the nine treatment rooms has been named after an herb grown on the island. In the herb workshop, run by spa supervisor, Anna Maria, we sampled some of the massage oils blended for specific results. For example, a sea salt body scrub made with olive oil, salt, and laurel is used to as a body exfoliate, while only ten drops of Sweet Orange Peel made with rosemary and eucalyptus, focuses on energy and breathing. A green facial mask comprised of white clay is designed for sensitive skin. There are countless combinations of herbs, all inspired by organically grown indigenous Lošinj plants, and undoubtedly there will be one created specifically for you. Our visit concluded with a glass of water flavored with drops of lemon, laurel, and rosemary.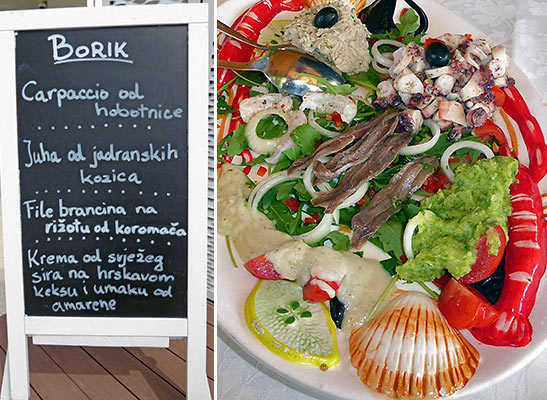 Left: One of the many scenic wonderful restaurants serving excellent food. Right: A mouth-watering seafood platter – one of the many fine dishes enjoyed on this soothing island. Photos: Beverly Cohn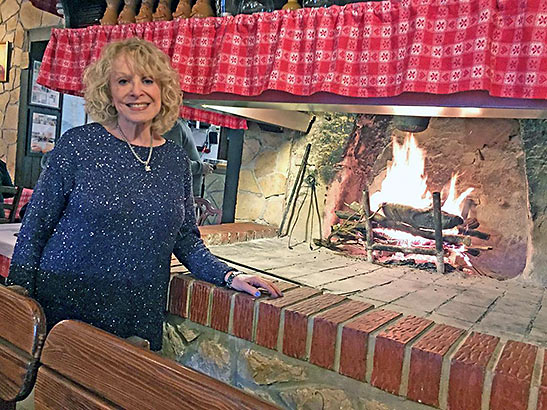 Taking a moment to enjoy the beckoning fireplace. Photo: Elisabetta de Dominis
Following this informative experience, we headed over to the Borik Restaurant where we enjoyed a delightful meal, with the main course consisting of tuna, sea bass, scampi, calamari, and, lobster. We then returned to the Bellevue Hotel for a relaxing afternoon and would meet again in the evening for dinner at the Pin & Oil restaurant in the hotel.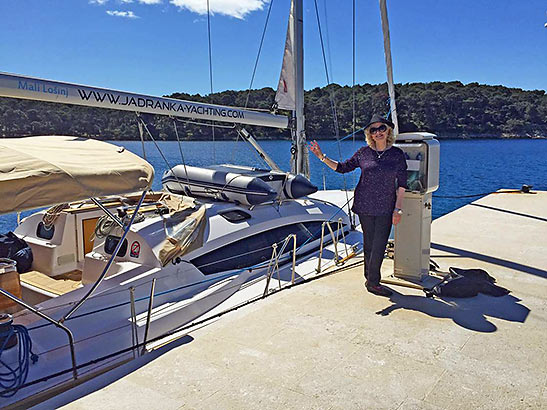 Ready to go sailing. I have Dramamine with me just in case. Photo: Elisabetta de Dominis
| | |
| --- | --- |
| Day 5: Today was going to be especially exciting as we were off for a day of sailing to nearby islands along the beautiful Croatian coast. Aboard one of Jadranka's luxurious yachts, we headed for the island of Ilovik. Gliding along through the pristine, powder blue waters of the bucolic Adriatic Sea, shielded from the sun by an overhead canopy, my thoughts drifted back to the day before. I hoped people with health challenges would take advantage of this healing, almost magical environment. | Bev helping our handsome Captain Daniel steer the yacht. Photo: Elisabetta de Dominis |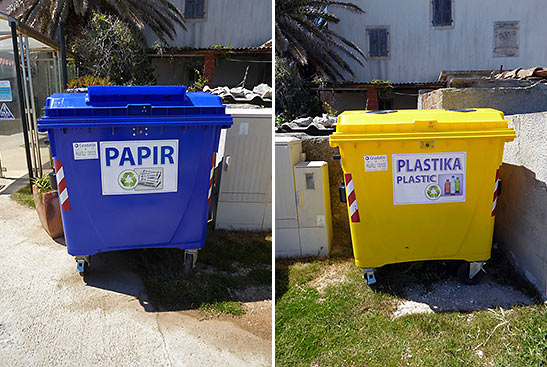 The island of Ilovik may be remote, but it is certainly ecologically friendly.
Photos: Beverly Cohn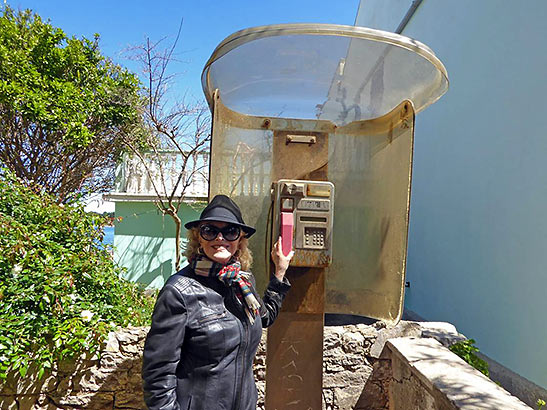 A nostalgic reminder of yesterday's technology. Photo: Elisabetta de Dominis
Disembarking on this rather remote island, with only 80 year-round residents, most of whom are seniors living on pensions, one is immediately met with recycling bins for paper and plastic along, with a nearby old fashion wall phone, a gentle reminder of yesterday's technology.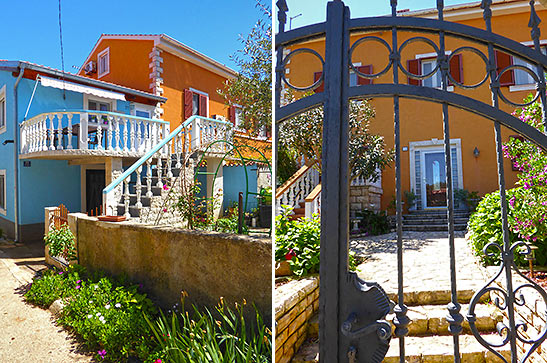 Two of the beautifully restored homes on the island of Ilovik. Photos: Beverly Cohn
There is a movement afoot for people who had abandoned their homes to return to the island and restore them to their former splendor. Walking through the narrow streets, signs of construction was evident. Since there are no hotels on the island, most of the homes are holiday houses and cost between EUR 50-70 a night. Flowers and lush shrubbery dot the landscape and winding paths are there for your morning or evening strolls.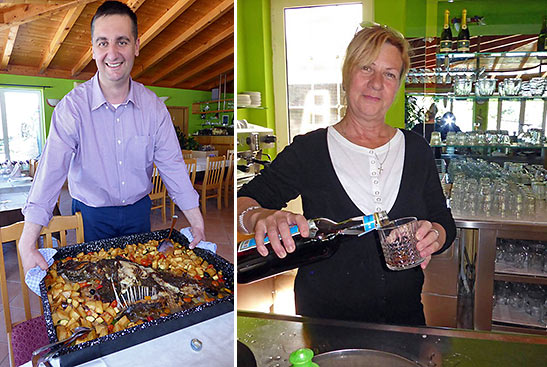 Left: Stojan, owner of the seaside Dalmatinka Restaurant, serves up an exquisite tray of grilled fish, potatoes and an assortment of vegetables. Right: Stojan's charming wife Fides Trkulja mixed up drinks for the journalists to enjoy. Photos: Beverly Cohn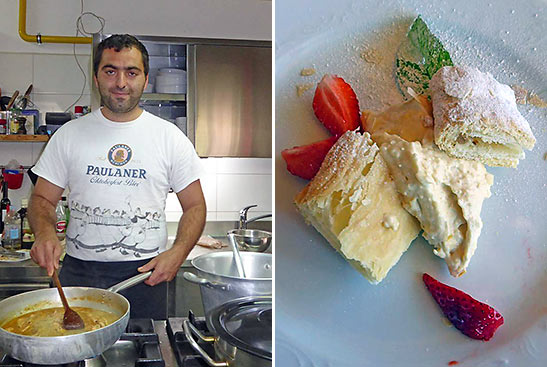 Left: Chef Sime Vinkeja is the skilled hands behind the preparation of this delicious food. Right: The fabulous dessert is a Croatian pastry called Skuta, which is made with a special cheese. Photos: Beverly Cohn
Although every meal was beyond excellent, I have to admit that the experience at the Dalmatinka Restaurant was in a class of its own. I had the opportunity to interview the most gracious owner, Stojan, who shared his family history. He explained that his father was a fisherman so the family decided to build a restaurant and serve the fish they caught from the Adriatic. He explained that with the help of three other fishermen, he fishes every night starting at 6:00 pm for the next day's meals. The usual catch consists of 30 to 40 pounds of fish including, shrimp, calamari, and lobster. Stojan: Our lobster is different from America. It's sweeter and we use nets. At night, little fish get caught in our nets which attracts the lobster who then gets trapped in the net." In low season, this most friendly proprietor sells a portion of his catch to a wholesaler. I asked Stojan how many customers a day the restaurant serves during high season, "100 for lunch and 150-200 for dinner." The family also owns two houses for their 20 summer employees, who are predominately Croatian students. I assure you, this is one dining experience you will not want to miss – both for the deliciously elegant food and the gracious hospitality of Stojan, his wife Fides Trkulja and their very talented chef Sime Vinkeja.
Although we hated to leave this comfortable setting, it was time to return to the yacht for our sail back to the hotel. With our handsome captain David at the wheel, the light, north wind filled the sails and we quietly cut through the waters. After this incredible gastronomic experience, our group was quietly enjoying the journey. There was an occasional conversation in Croatian between the captain and one of our guides who suggested that we be on the lookout for the myriad dolphins living in these pristine waters. Far away were the ugly politics transpiring in the United States and the unending coverage of the Trump circus. At least for a few days, I would be spared the embarrassment of such a ridiculous person running for the most powerful office in the world. I focused my mind back on the sound of the rippling water and thought about Lošinj – its fresh air, marvelous food, and the warm, Croatian hospitality. How could it get any better, I wondered. That said, I peeked at our next day's itinerary and thought, yes it looked like tomorrow was going to be yet another very exciting day.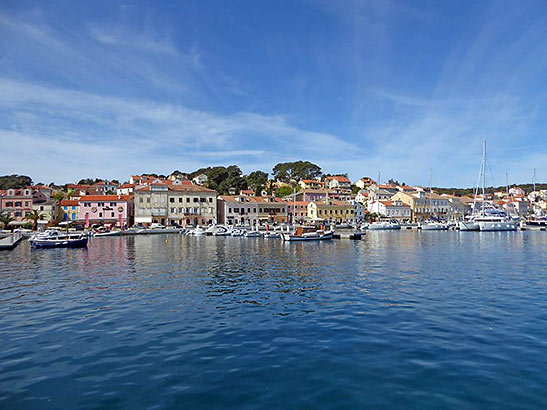 The picturesque city of Veli Lošinj. Photo: Beverly Cohn
Day 6: Once again fortified with a delicious breakfast, we were off to Mali Lošinj, and Veli Lošinj, the latter of which has a small permanent population of around 900 people. Formerly the largest town on the island, it was a major port and fishing region until the latter part of the 19th century. Today, it is the third largest town in the Cres-Lošinj island group and is famous as a center for aromatherapy. That said, lest you think the entire island is strictly for health and healing purposes, there are ample opportunities for sports and recreation enthusiasts to enjoy basketball, volleyball, football, cycling, hiking, water polo, diving, fishing, sailing, and jet-skiing. If leisurely strolling is your thing, there are beautiful gardens and old villas to feast your eyes upon. In short, there's something for everyone.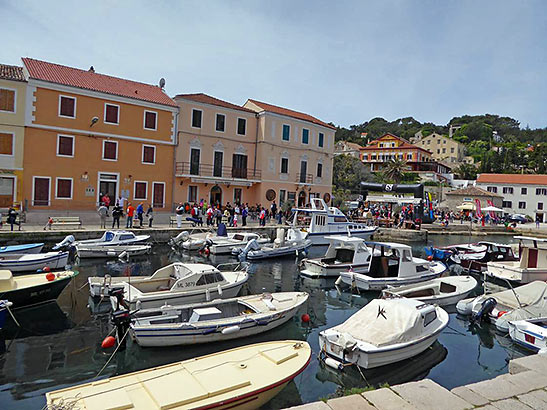 Mali Lošinj, the bustling centerpiece of the island of Lošinj, hosted a marathon on this particular day. Photo: Beverly Cohn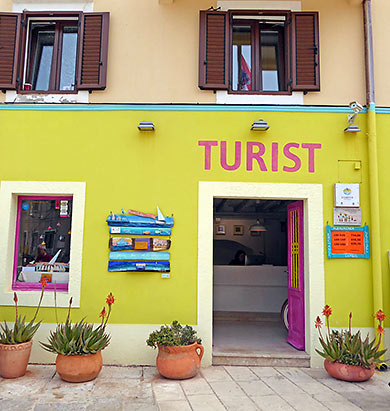 Mali Lošinj is undoubtedly the most commercial town on the island. Photo: Beverly Cohn
Less than two miles from Veli Lošinj, is the bustling port of Mali Lošinj, the largest settlement on the island. Situated on the south side of Lošinj, in the Augusta Bay, it is undoubtedly the most commercial town on the island and a popular tourist destination. There are many hotels and restaurants overlooking the Adriatic Sea as well as plenty of opportunities to purchase souvenirs. Personally, I love magnets so that I have an everyday reminder of where I've been and yes, I purchased a few and have them on my fridge, along with magnets of other lovely places I've visited.
There's something called serendipity and as luck would have it, we wound up at the finishing line of a marathon and had the opportunity to cheer on the arriving runners. Later they gathered in the square to drink water, cool off, and tangle their feet in the soothing water. After congratulating some of the runners, we walked up a hill for lunch at the nearby beautiful seaside Punta restaurant. Following our meal, we had one more stop to make before heading back to the hotel to change for that evening's festivities, which would be the proverbial icing on the cake.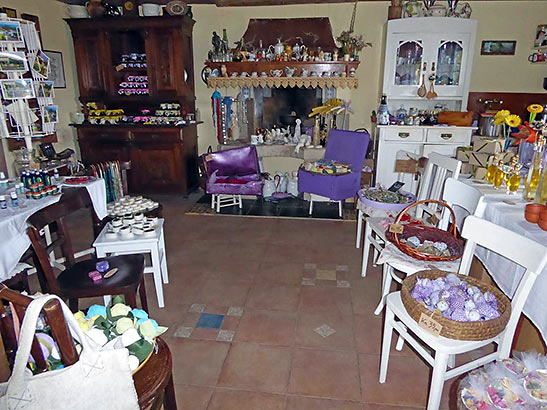 The interior of Mirta, a shop that sells cosmetic products made with herbs and essential oils. Photo: Beverly Cohn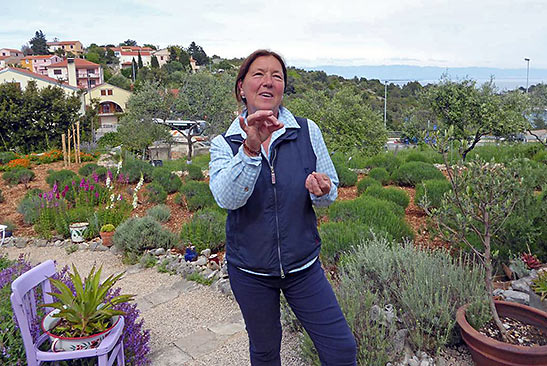 Mirta Lozancic points out some of the herbs grown in her garden used in the manufacture of her products. Photo: Beverly Cohn
With the preponderance of herbs and essential oils proliferating on the archipelago of Cres and Lošinj, a very enterprising Mirta Lozančić started her own business using medicinal herbs grown in her garden to create the Mirta organic line of cosmetics. Combined with essential oils, this successful entrepreneur explained that the composition in her line of products is very similar to the skin, enhancing absorption. The aroma walking through the garden was delightful as it was filled with a large variety of scented herbs. For example, her laurel-orange body scrub is comprised of sea salt, olive oil, orange essential oil, laurel essential oil, dried ground laurel sea salt, olea europea (olive) oil, citrus sinensis (sweet orange) oil, and laurus nobilis oil. It smelled so good we had to restrain ourselves from tasting it. I did restrain myself, however, and left with the soothing aromas still in my nostrils.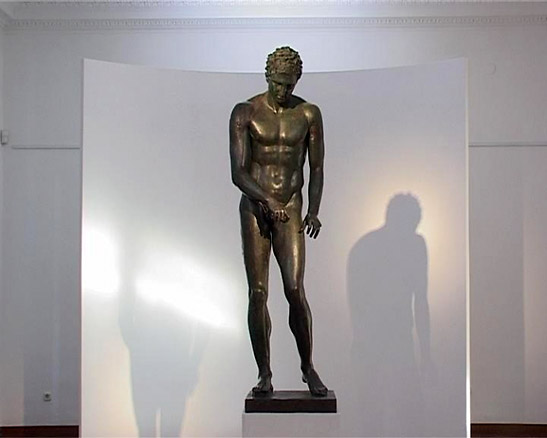 The imposing Apoxyomenos, a Greek statue of an athlete buried in the seabed for over 2,000. The lore is the crew of a ship threw it overboard to save their boat
from sinking. Courtesy Photo
Once in a while you may have the good fortune to witness a historic moment and indeed we were fortunate enough to have on our agenda the grand opening of the new Apoxyomenos Museum on Mali Lošinj. Formerly known as the Kvarner Palace, the rebuilt state-of- the-art museum is the permanent place for an ancient statue of a Greek athlete discovered by Rene Wouters, a Belgium tourist who was diving in the waters of Vele Orjule, southeast of Lošinj. He spotted something imbedded in the sandy seabed, which eventually turned out to be seven parts of a statue estimated to be over 2,000 years old. It took two years to carefully dig it out and seven years to restore it. Of the eight Apoxyomenos statues of young Greek athletes found so far, it is considered to be one of the best-preserved statues. Made of bronze, the imposing figure is approximately 6'3" tall and in his right hand is a sickle-shaped scraper used to clean the dust and sweat off his body. While the museum was being rebuilt, Apoxyomenos, went on a journey around the world, traveling to Florence, London, Paris and New York.
To celebrate the opening of the new Apoxyomenos Museum, ambassadors and dignitaries from around the world gathered to commemorate this historic event. The keynote speech was delivered by the President of Croatia, Kolinda Grabar-Kitarović, who lauded the many people involved in this extraordinary scientific, archeological project.
The excitement grew as we lined up to enter the museum whereupon entering we were given blue paper booties to cover our shoes. The museum has nine rooms with each one offering a different sensory experience. No photos were allowed in the actual exhibit room but as we made our way up the stairs, there were windows through which we could shoot photos. They say a picture is worth a thousand words, but I assure you, the sight of this imposing statue was something that took one's breath away, especially when you consider he was created either in the first or second century BC.
Day 7: With one day remaining on our trip, it was a rest day where we could have a massage, walk on the beautiful circular promenade near the Bellevue Hotel or pack for our next day's journey back to the States.
Our farewell dinner, magnificently prepared by Chef Melkior Bašić was at the spectacularly elegant restaurant in the Alhambra Hotel. The food was amazingly delicious beginning with warm rolls, accompanied by a selection of butters made with truffles, Lošinj herbs, or salt. Next up was a mouth watering warm Adriatic octopus with mozzarella, followed by foie gras on risotto of sheep cheese and aged in the pomace* of masasca cherry juice with black truffle. Just when you thought you couldn't swallow another morsel of food, out came a succulent veal shop resting on a bed of seasonal vegetables, topped off with rosemary sauce. Surely I won't be hungry again for at least a month. (I wish.)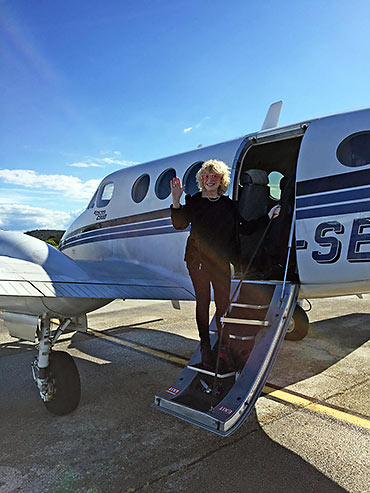 In the words of the great Groucho Marx, "Hello, I must
be going…I'm glad I came, but just the same, I must be going…" Photo: Elisabetta de Dominis
Day 8: It was time to say farewell but I knew the Lošinj experiences will accompany me company on my long journey back to Santa Monica.
*(Pomace – the solid remains after pressing cherries or other fruits)
Wellness Hotel Aurora
Ul. Sunčana uvala 4, 51550,
Mali Lošinj, Croatia
Phone: +385 51 667 200
Bellevue Hotel
Address: Čikat ul. 9, 51550
Mali Lošinj, Croatia
Phone: +385 51 679 000
Vitality Punta Hotel
Sestavine bb
51551, Veli Lošinj, Croatia
Phone: +385 51 661 111
Borik Mediterranean Bar
Ul. Sunčana uvala 9,
51550, Mali Lošinj, Croatia
Jakranka Yachting
Skype: (jadranka-yachting)
Phone: +385 (0) 51 233 086
Fax: +385 (0) 51 231 283
E-mail: booking@jadranka-yachting.com
MIRTA
Owner: Mirta Lozančić
Zagrebačka 53,
51550 Mali Lošinj
Phone: +385 51 231 183
e-mail: lozancicmirta3@gmail.com
Dalmatinka Restaurant
60, Ilovik
51219, Ilovik, Croatia
Phone: +385 98 952 6324
Punta Restaurant
Šestavine 13a
51551 Veli Lošinj
Hrvatska
Apoxyomenos Museum
Riva lošinjskih kapetana 13
5155 Mali Lošinj, Croatia
Phone: +385 51 734 260
Mali Tourist Office
Priko ul. 42,
51550, Mali Lošinj, Croatia
Phone:+385 51 231 547
Mali Lošinj Tourist Office
Priko ul. 42, 51550
Mali Lošinj, Croatia
Phone: +385 51 231 547
Related Articles:
Islands of Croatia, Part 1; Destination: Bosnia and the Dalmatian Riviera; The Czech Republic: A Little Jewel Part 1; The Balkans: Lovely States of Mind and Meanderings; A Moment in Montenegro