Ireland Vacations
For The Super Rich & Famous
Abroad with Beverly Cohn, Editor-at-Large
Part 3
DAY 5

he official press trip had come to an end and the journalists invited on this extraordinary adventure all went their separate ways. Some headed for home, while others chose to do some exploring on their own. As for me, just when I thought I had experienced the height of luxury visiting some of the exclusive castles in Northern Ireland, a "gilding the lily" experience awaited me in my private, escorted visit to the Republic of Ireland.
My guide on the last leg of my trip to Ireland was to be Siobhan Byrne Learat, a whirlwind of a woman who is Founder & CEO of Adams & Butler, a travel agency specializing in high-end luxury tours. A most personable Siobhan drove up from Dublin to fetch me at the Malmaison Hotel in Belfast. Soon I was to experience luxury as only kings, queens, and the super wealthy do.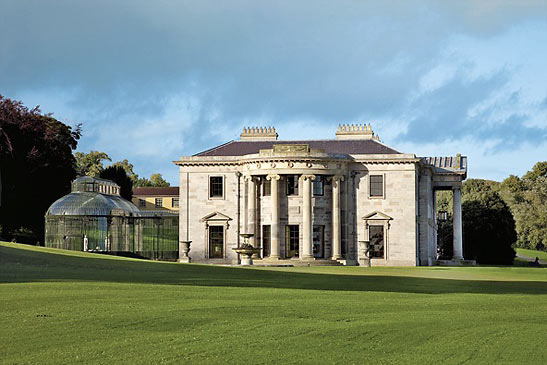 A boutique, luxury hotel, the Ballyfin combines old world service with elegant, modern comforts. Courtesy Photo: Ballyfin Hotel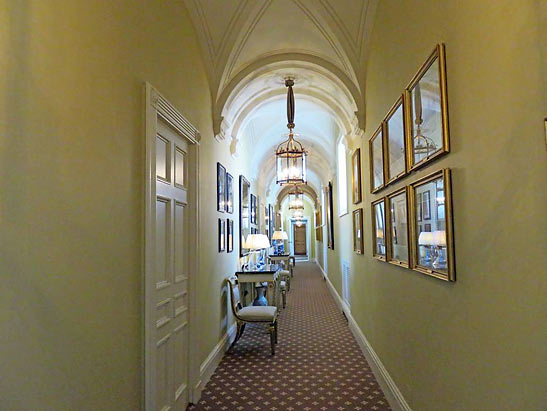 One of the elegant corridors leading to the lavish suites. Photo: Beverly Cohn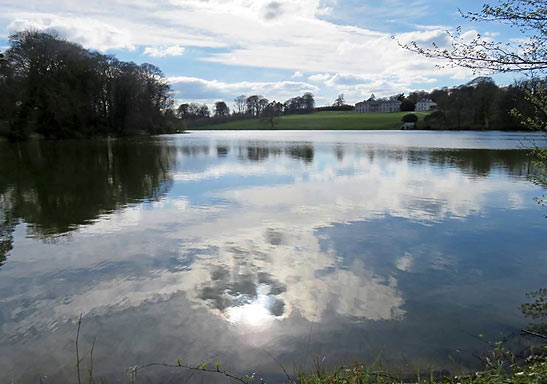 The beautiful lake on the property offers fishing opportunities or a serene setting for meditation. Photo: Beverly Cohn
Following a very pleasant drive from Belfast to Dublin, our first visit was to the Ballyfin Hotel, located in Ballyfin, a small village and parish in County Laois, and one of two high-end venues that I would be exploring. It is a gorgeous, 5-star property, with sprawling gardens and waterways.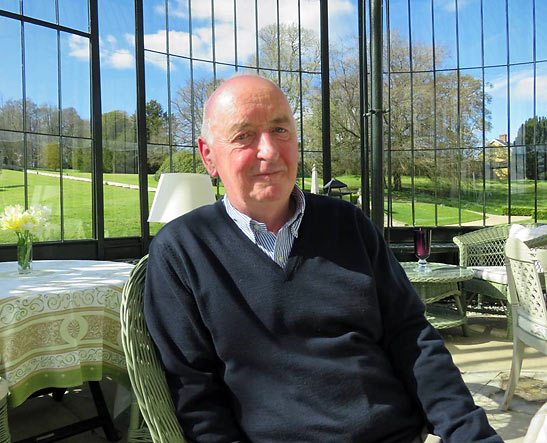 Jim Reynolds, Director of The Ballyfin Hotel and the designer of Prince Charles' garden at Highgrove. Photo: Beverly Cohn
My host was Jim Reynolds, Director of Ballyfin and the designer of Prince Charles' garden at Highgrove. He also wrote a garden column for the Irish Times and is a fountain of information on subjects ranging from gardens to architecture.
While sipping a cup of delicious chamomile tea, I interviewed Mr. Reynolds in the light-drenched enclosed patio, and the following has been edited for content and continuity for print purposes.
Can you give me a short history of this property?
I was involved in the creation of Ballyfin from the beginning. I helped Fred Krehbiel, a Chicago industrialist, in his search for an old house that needed care and could become a small hotel. We looked for two years. I heard about Ballyfin, which was a boys' school since the 1920s. It was now a co-ed day school with over 500 pupils. It was in a pretty poor state in every respect – the house, the gardens, the grounds, the lake, and the woodlands. Everything was suffering from neglect. We eventually met with the chairman of the trustees of the school.
What happened at that meeting?
Well, at first he said Ballyfin was not for sale, but that he prayed that a wealthy Japanese businessman would come along and buy it and turn it into a golf course. I said, 'You mean it's possibly for sale?' He said that the school no longer served its original purpose and that all six trustees would have to agree to the sale.
Obviously, the sale went through. What was the process of restoring the building and grounds and how many people were involved?
It continued to be a school in 2009. During that time, I put the design team together and was on site generally three or four days a week. We had a very clear idea of what we wanted and knew it was going to be costly, which we would finance ourselves. It was a very slow process using English and Irish stonemasons. At any given time, there may have been 50 people on site. Working with craftsmen, we tried to preserve as much of the original materials as possible and that was a long, painstaking process. If we used new materials, it had to conform to the original look and seamlessly blend with the original materials.
Did you have a plan as to the kind of clientele you wished to attract?
Very much so. Before we even found the place, we knew what we wanted, which was to create the feeling and atmosphere of an exclusive country house. Perhaps the family has left for the day and the guests are arriving. The staff is there at the beck and call of the guests. We wanted to create that feeling rather than the feeling of a hotel and wanted our guests to experience what life was like 100 years ago.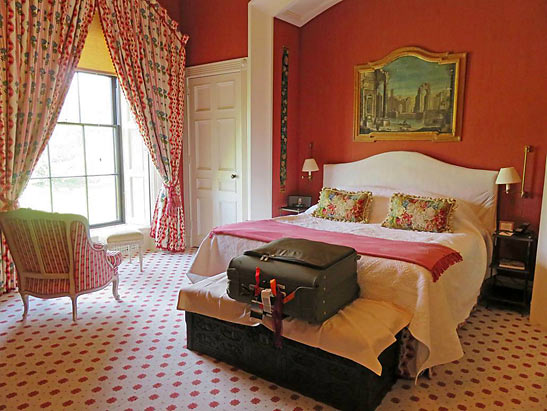 The beautifully appointed bedroom in which I had a wonderful night's rest.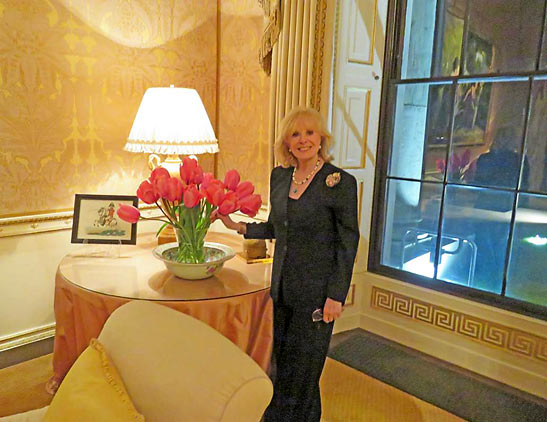 A bouquet of tulips added a personal touch of warmth to this lavish suite. Photo: Siobhan Byrne Learat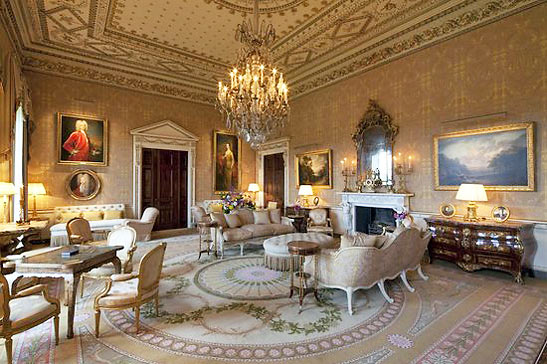 One of the old-world elegant luxury suites at the Ballyfin. Photo: Beverly Cohn
The result of this meticulous restoration is quite impressive, beginning with the outdoor enclosed patio overlooking the property, which sprawls over 614 acres of pristine, manicured gardens - perfect for an early-morning or after-dinner stroll or picnicking in one of the hidden alcoves. Using photos of luxuriously furnished homes, the guest rooms are recreations of days of former splendor.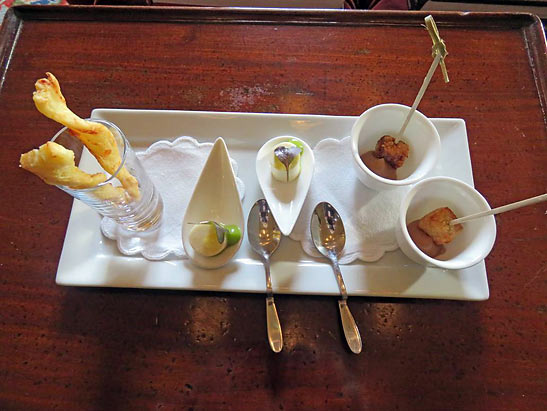 Following a fascinating conversation with Mr. Reynolds, a delicious lunch was served consisting of Ham Hock Terrine with Spiced Apple, Blue Cheese Panna Cotta & Broccoli Puree, and Cheese Straws. Photo: Beverly Cohn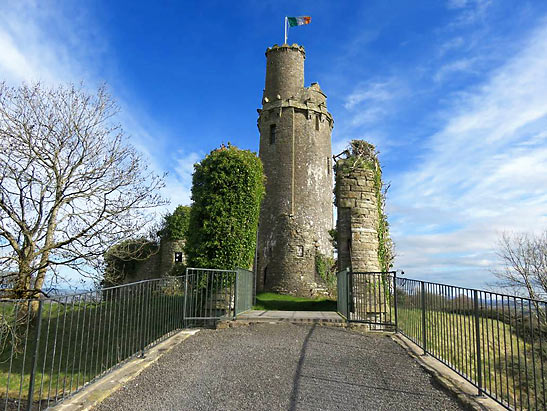 This medieval-style tower, built for fun in the 1860s, had no purpose other than to show off the property owner's wealth. Photo: Beverly Cohn
There are so many outstanding services, one of which is a unique wake-up call. Instead of the phone ringing, someone gently knocks on your door with a cheerful "good morning." In summary, the 5-star Ballyfin, a luxury country house hotel, is one of the most expensive hotels in Ireland. It is located in the center of Ireland at the foot of the Slieve Bloom Mountains. With only twenty bedrooms, you will feel like you have this entire property to yourself.
A stay at the Ballyfin Hotel is to experience old world elegance at its most regal best where the staff, who could be right out of "Downton Abbey," endeavors to accommodate your every vacation need. Oh yes – one more thing. In keeping with the stated elegance, if you need a manicure, $75 U.S. will be added to your bill.


The opulent dining room at Straffan House, a vacation destination fit for kings and queens. Courtesy Photo: The K Club.
The next day, Siobhan and I were off to the fabulous K Club, the other top hotel in Ireland. I was being hosted by Michael Davern, Chief Executive & General Manager of The Kildare Hotel, Spa & Country Club. My orientation kicked off with a tour of the beyond luxurious Straffan House, which is separate from the main building. This exclusive palatial rental property is the private home of Michal Smurfit, the wealthiest Irish businessman and owner of the K Club. It features appointments that will have you ooing and aahing.
The original structure dates back to the year 550 A.D., ownership of which was held by prominent titled families. Owned by Hugh Barton and his wife Ann in 1832, they began construction of a grand house, which mirrored the design of a chateau in Louveciennes, near Paris. The home became a haven of peace and contentment for Mr. Barton and his family. When you stroll through the several floors and explore the design of the ten different bedrooms, beautiful art work by Irish artists, the huge private spa and swimming pool, and screening room, you will instantly feel that this is the place to come to for relaxation and the ultimate in an opulent, pampering experience.


The bedroom in the dramatic President's Suite where I bedded down for the night. Courtesy Photo: The K Club
The K Club, an elegantly restored 19th Century Georgian mansion estate, is set on the former site of Straffan House, and is Ireland's first luxury 5-star hotel. It opened as a resort in the summer of 1991 and is a member of Preferred Hotels & Resorts. It is nestled on 550 acres of lush parkland and offers myriad activities from horse back riding, and clay pigeon shooting, to falconry, tennis, and golf on the Arnold Palmer-designed two golf courses. The facility also houses the 20,000 sq. ft. state-of-the-art K Spa, which has been designated as one of the finest spas in Europe and occupies the Number 1 spot in Ireland. There are 69-beautifully decorated rooms and suites and I spent the night in the elegant, lavishly appointed President's Suite, which consists of a large bedroom, a connecting living room, and a dream bathroom.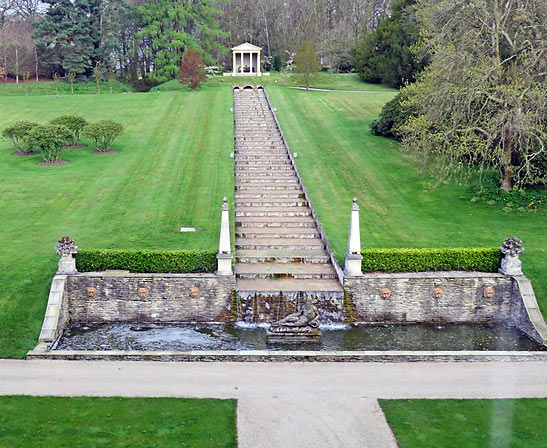 View from my room of the stunning K Club grounds. Photo: Beverly Cohn
As Michael showed me around the facility, he explained that, "The view from your room looks over the formal, original gardens adding, "It also overlooks the River Liffey, which is the river that flows through Dublin. A mile and a half of the river flows through our grounds and is perfect for trout or salmon fishing." He also mentioned, "There is an island in the middle of the river where the Barton family buried their pets."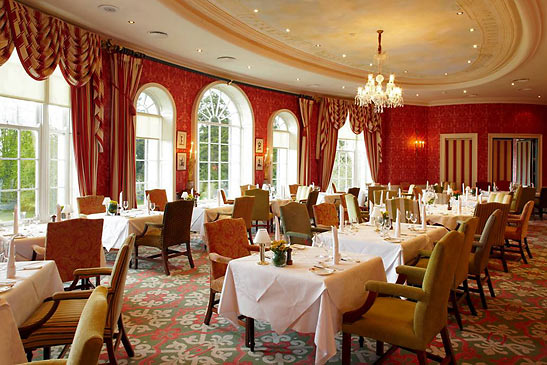 The K Club's River Room - a most lavish dining room overlooking the splendid gardens. Photo: Beverly Cohn
A most charming Davern mused that several American presidents have stayed at the hotel, including George Bush, Sr. who he'd met a number of times, and Bill Clinton. "When I'm doing marketing for a group, I hold up one picture and if it doesn't get a good response, I immediately switch to the other president's photo." (He laughed) Davern shared that he had been invited to the White House on St. Patrick's Day, along with the American ambassador to Ireland. "The celebration was fantastic. It was fun walking around Washington because every single man wearing a suit was wearing a green tie." I told him that I grew up in an Irish neighborhood in New York City and if you didn't wear green, you got pinched. Apparently, the pinching tradition is not practiced in Ireland. Davern found the visit to the White House very exciting. "It was marvelous. I saw all the paintings, including pictures of the Kennedys. Then we went down in the Plate Room and it was all pretty amazing." And, amazing, is you will describe your experience at The K Club.
DAY 6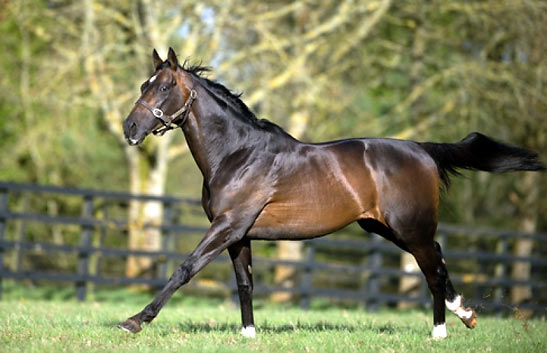 "Famous Name" – Winner of 21 races and €1.5 million from 2-7 years, 38 Lifetime starts, 37 in Stakes races, won or placed 35 times. Courtesy Photo: The Irish National Stud Farm & Gardens
With one more day left on this amazing private tour arranged by Siobhan, we were off for a visit to The Irish National Stud Farm & Gardens, where we were given a tour of the grounds by David Wardell, Tourism Development Manager. He is the great grandson of the Duke of Westminster and cousin to the Earl of Crom. When time permits, David is also one of Adams & Butler's top guides.
David walked us around this exquisite property explaining that the stud farm is nationalized and that Horse Racing Ireland (HRI) oversees the industry. It is responsible for the administration, promotion, and business development. He explained that, "Irish thoroughbred racing and breeding is a big industry, employing over 17,000 people. This small country is the third largest breeder of thoroughbreds in the world, responsible for approximately 40% of the EU output of thoroughbreds, and 11% of the total worldwide." He added, "Irish jockeys, trainers, and owners regularly succeed at the highest international levels."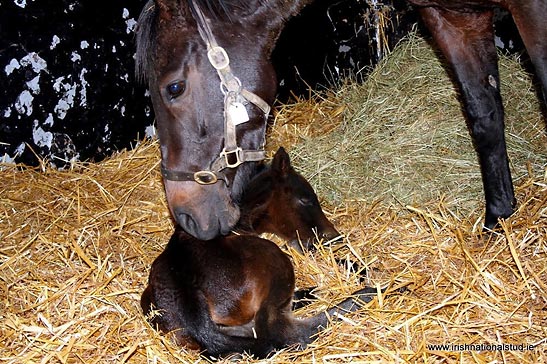 Seven stallions service over 100 mares each per year, and between February and June you can see as many as 300 foals. Courtesy Photo: The Irish National Stud
Farm & Gardens
The stud farm is the center for breeding as well as a very alluring tourist attraction. Over 115,000 people visit annually, including a State visit from Her Majesty Queen Elizabeth II, as she wanted to see the site from which the winners of five Classics for her family were produced. Seven stallions service over 100 mares each per year and between February and June, you can see as many as 300 foals.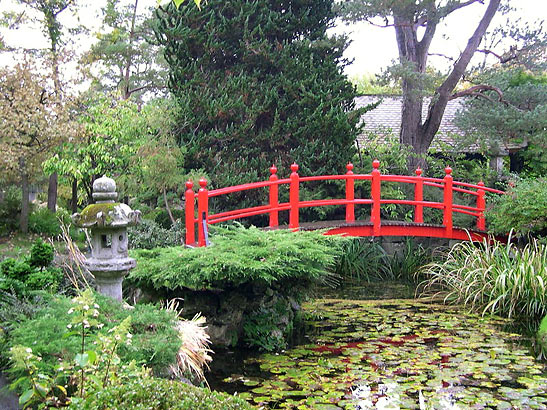 The peaceful Japanese Garden. Photo: Beverly Cohn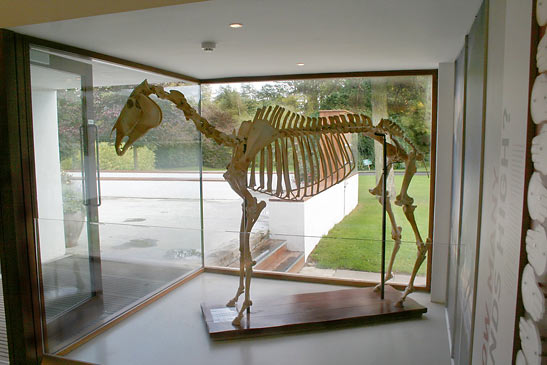 The Horse Museum contains horse racing memorabilia, including the skeleton of "Arkle," the famous Irish racehorse from the 1960s. Courtesy Photo: The Irish National Stud Farm & Gardens
The site includes magnificent Japanese Gardens, with bridges, streams, and tunnels, and St. Fiachra's Garden, named after the Patron Saint of Gardens. It is a bucolic nature trail that takes you to caves and tranquil ponds. We also visited the stables and paddocks where we saw stallions, foals, and mares. The Horse Museum is also on the grounds, which contains horseracing memorabilia, including the skeleton of Arkle, the famous Irish racehorse from the 1960s. As we strolled around the property, we could see Falabella miniature horses, one of the smallest breeds of horse in the world, grazing in the open fields. With a fully equipped children's playground also on the site, the Irish National Stud and Gardens offers education, fun and relaxation for the entire family.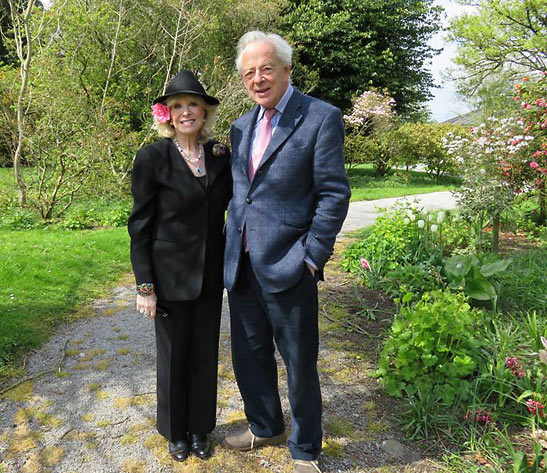 Stay tuned for my exclusive interview with Brendan Parsons, the 7th Earl of Rosse, half brother of Lord Snowdon, who was married to Princess Margaret. Photo: Siobhan Byrne Learat
These last experiences were not quite the end of my Irish adventure, so for those of you who ever wondered what it was like being raised as a royal, stay turned for an exclusive interview with Brendan Parsons, the 7th Earl of Rosse. His half brother was Anthony Armstrong-Jones, who married Princess Margaret, and received the title of 1st Lord Snowdon. I spent almost a full day wandering about his endless gardens, lunched with he and the Countessa in their historic Birr Castle, and interviewed him at length. He reminisced about the challenges of his childhood, what it was like growing up as a royal, and his responsibilities as the current Earl of Rosse.
Related Articles:
Northern Ireland: The Land of Castles, Legends and Myths, PART 1
Northern Ireland: The Land of Castles, Legends and Myths, PART 2
Siobhan Byrne Learat
Founder & CEO
Adams & Butler
Travel Specialists
(Ireland, Scotland, Wales,
England, Africa & Kenya)
US Toll Free: 1-800-894-5712
Ireland: +353 1 288 9355
Email: vacation@adamsandbutler.com
Ballyfin Hotel
Ballyfin
Co. Laois, Ireland
+353 57 875 5866
The K Club Straffan
County Kildare, Ireland
Tel: 011-353-0-1-601-7200
Fax: 011-353-0-1-601-7297
Email: sales@kclub.ie
Irish National Stud
Tully, Kildare
County Kildare, Ireland
Tourism: +353 (045) 521617
Stud Office: +353 (045) 521251
Japanese Gardens Of Tully And Irish National Stud Farm/