Israel – A Magical Journey
Back in Time
Part Three
Beverly Cohn – Editor-at-Large Abroad
Recap of Parts One and Two:
Part One explored the process of traveling to Israel and hopefully demystified the security process.
Part Two covered days one through three of my experience in Israel, which included visits to Yad Vasahem – the National Memorial and Museum of the Holocaust, Old City of Jerusalem, the Western Wall, Mount Zion sites, including King David's Tomb, the Room of the Last Supper, the Muslim Quarter including the Arab market, Capernaum, the ancient Jewish fishing village where Jesus began his ministry, and much more.
DAY 4: Galilee & Mediterranean Coast
After a restful night's sleep, at the Leonardo Plaza Hotel we were up bright and early and walked across the courtyard to the building that housed an incredible breakfast buffet that literally was spread out over several rooms. With our plates filled with an assortment of delights, we seated ourselves on the deck overlooking the Sea of Galilee. One could not help flashing back to biblical times during which this famous sea is mentioned so often and think how lucky we were to be experiencing this amazing country.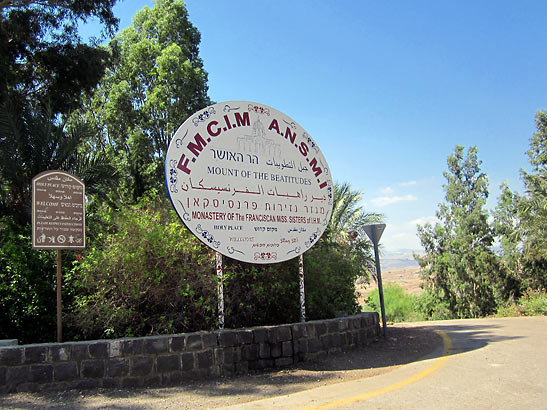 The ancient site of Sermon on the Mount. Photo: Beverly Cohn
Once more in our van, we headed to the northern Sea of Galilee to visit some of the most famous Christian sites, beginning with the Mount of Beatitudes, the historic spot where it is believed Jesus gave his Sermon on the Mount.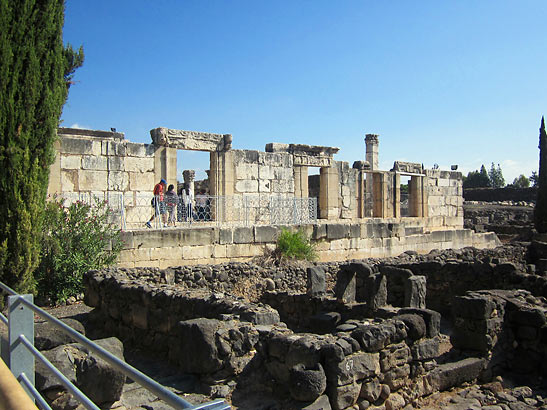 Ruins of the late-Fourth Century "White Synagogue," built on the remains of "the Synagogue of Jesus." Photo: Beverly Cohn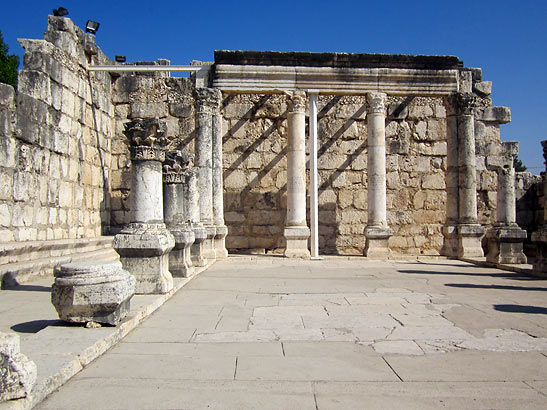 The archeological remains of the original temple. Photo: Beverly Cohn
The next stop on our trip back in time was to Capernaum, the ancient Jewish fishing village in the Galilee where Jesus began his Ministry. He taught in the local synagogue, which was built around the 1st Century AD, the ruins of which are well preserved and offer a flavor of what it must have been like in its former splendor. There was so much history to take in, but luckily the drive from Capernaum across the Galilee to Haifa, our next destination, gave us all time to absorb this riveting experience.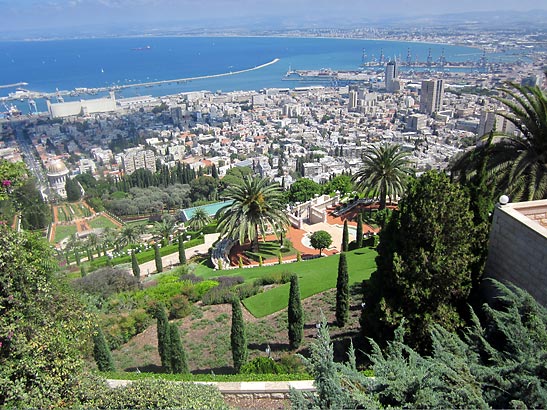 Spectacular view of Haifa and the Bahai Shrine and Gardens – World Center of the Bahai Faith. Photo: Beverly Cohn
We arrived in Haifa, Israel's third largest city with a commercial port and home to the magnificent Baha'i Shrine and Gardens – World Center of the Baha'i Faith.
People from all over the world come to Haifa to visit the second holiest shrine of that faith, whose belief system seeks to break down barriers of race, creed, and nationality, and unite all religions and cultures.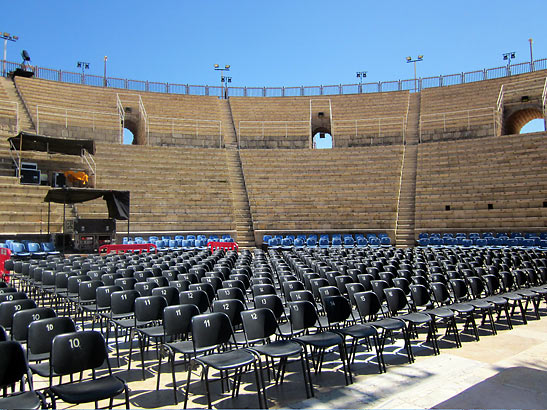 With the original seats still in tact, the theatre in Caesarea has been modernized and is a popular venue for concerts. Photo: Beverly Cohn
We continued driving along the Mediterranean coast to Caesarea National Park, site of the remains of Crusader City, the former Roman capital. Looking at the preserved vestiges of a Roman theatre, bathhouse, and hippodrome, one could almost hear the roar of racing chariots.
Needing a little down time on the way to Tel Aviv, some of us closed our eyes and allowed our imaginations to sift through what we had just experienced. For most of us, we have had only a cinematic, Charlton Heston frame of Biblical references, but to see these historic ruins up close, brings the experience to new, palpable heights.
Once in Tel Aviv, we checked into Carlton Hotel and then we were off to a late lunch at the Wilhelmia restaurant at Sarona, the former German Temper Colony. Originally settled in 1871, the site has been restored as Israel's first "lifestyle center," which includes a recreation area, shops, cafes, and gourmet restaurants.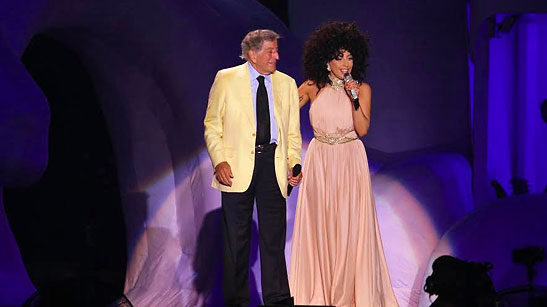 The audience hit the jackpot twice as Tony Bennett makes a surprise appearance and they sing "I Can't Give You Anything But Love," one of the featured tracks on their new "Duets" album. Courtesy photo
An added treat to our journey, were tickets we were given to Lady Gaga's concert. On the heels of a flurry of cancellations by a number of performers, including Neil Young and the Backstreet Boys, she showed up in Tel Aviv and gave a breathtaking performance at HaYarkon Park. Gaga's incredible show was part of her "artRave: The ARTPOP Ball Tour" and she received wild applause from the mostly young men and women. Gilding the lily just a bit more, was an unexpected appearance by Tony Bennett. Much to the delight of the crowd, they sang "I Can't Give You Anything But Love," one of the featured tracks on their duets new album. I couldn't help thinking that this beautiful audience really needed a night like this following the latest skirmishes between Israel and Hamas. It was a long day and an incredibly exciting evening and was now time to head back to the Carlton Hotel.
DAY 5: Exploring Tel Aviv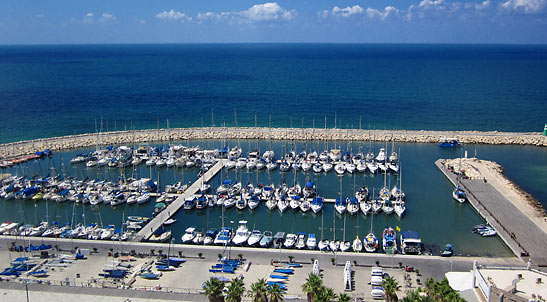 Tel Aviv's bucolic harbor. Photo: Beverly Cohn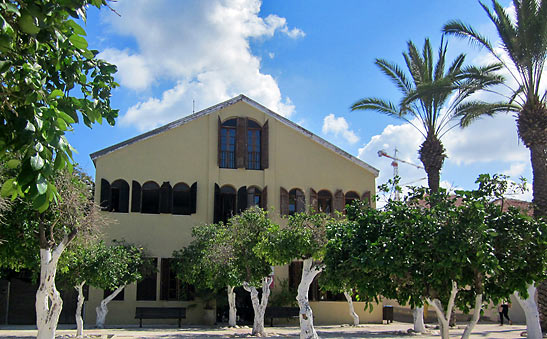 The Susan Delal Centre for Dance & Theater is located in the restored district of Neve Tzedek, the oldest neighborhood in Tel Aviv which is now home to museums, galleries, and coffee houses. Photo: Beverly Cohn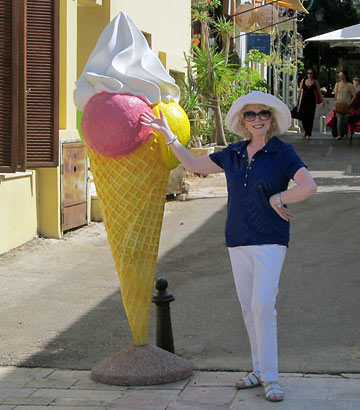 Ice cream is universal and wherever my travels take
me, there's always a "Cone" for a "Cohn."
Photo: Alina Cabral
Bright and early the next morning, we explored Tel Aviv, a secular city that feels very much like New York or San Francisco, with the physical beauty of the latter. However, it is illegal for shops to stay open on Shabbat unless you get a special permit. Wending our way through the narrow lanes of Neve Tzedek, Tel Aviv's oldest neighborhood, (1887) we see areas that have been restored and now are bustling with museums, galleries, and coffee houses. The neighborhood is also home to the Susan Delal Centre for Dance & Theater and the Nahum Gutmann Museum, which houses paintings from one of Israel's most famous artists.
We continued our stroll through the Carmel open-air market and explored sites in the Rothschild Boulevard White City area, which has been designated a UNESCO World Heritage Site for its international style of architecture from the Bauhaus School.
That evening, we were treated to a fabulous dinner at the Messa Restaurant, hosted by the most charming Ross Belfer, a representative of the Israel Ministry of Tourism's public relations agency in North America.
The restaurant is quite stunning with raised candle-lit tables and sparkling chandeliers and the sophisticated menu offered many starters. For the first course, I chose veal baklava with a delicate coconut cream, tahini, and cinnamon. With so many mouth-watering dishes on the menu, I opted for the sea bass, which came with shallot ravioli and porcini foam. The meal was crowned with multiple desserts for us to share and since we'd done so much walking and climbing, they were consumed totally guilt free. Besides tomorrow, our last day, would again be filled with more walking and climbing as we were going to explore Jaffa.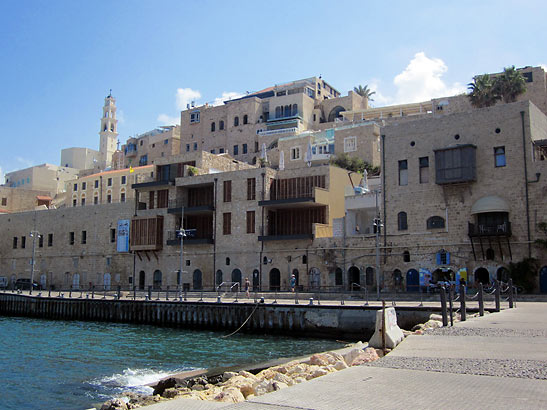 The original Old Jaffa buildings. Photo: Beverly Cohn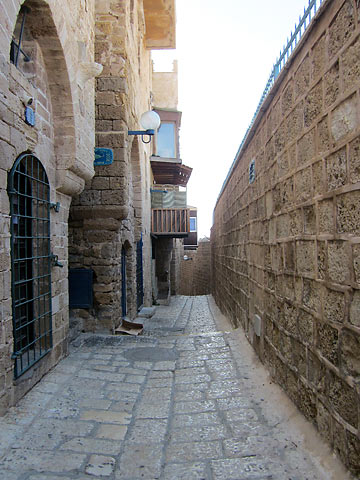 Artists' studios are tucked away in these almost hidden ancient alleyways. Photo: Beverly Cohn
DAY 6: Jaffa
Jaffa, also referred to as Japho, is an ancient port city from which Tel Aviv has sprung. Historically, it played a prominent role in Biblical stories around Solomon, Jonah, and Saint Peter. Its flea market is a popular attraction and a wide assortment of items are for sale.
In the Old City, its winding narrow alleys are dotted with almost hidden artists' studios, in sharp contrast to the contemporary look of Tel Aviv. According to historical accounts, Jaffa was destroyed in the "Great Revolt" in 67 C.E. when in a surprise attack, Roman soldiers laid siege to the city, killing all the families who were caught by surprise and were thus unable to fight.
One of the highlights of our last day was a visit to the Ilana Goor Museum. With Tel Aviv and the Old Jaffa City as its backdrop, the museum is an 18th Century building located on a picturesque narrow street and houses not only owner and curator Goor's work, but other well-known Israeli artists as well. She is most famous for being an unconventional artist whose work transcends traditional forms of art. Her style has been refer red to as individualistic, autodidactic, intuitive and multifaceted, which is clearly evident in her many fascinating pieces of art on display. This should be an absolute must on your itinerary.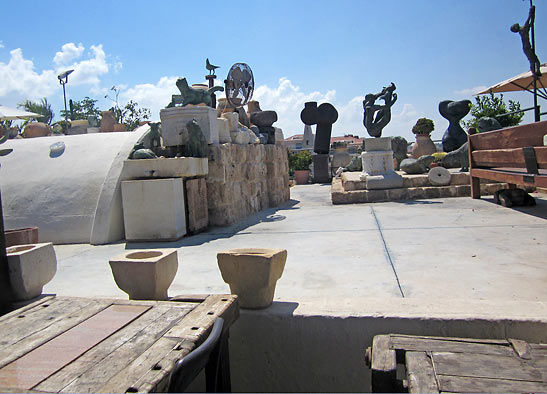 The most fascinating Ilana Goor Museum houses not only the work of this great Israeli artist, but other Israeli artists as well. Photo: Beverly Cohn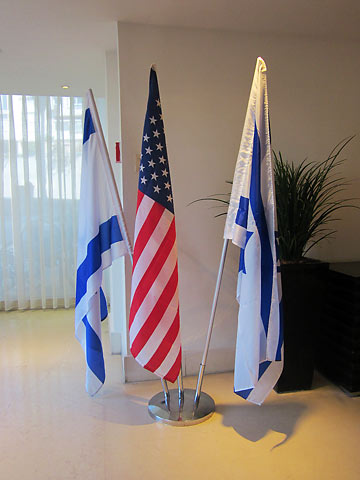 The United States has shared a long-lasting bond with Israel, the only Democracy in the Middle East.
Photo: Beverly Cohn
Alas, this magical trip, crammed with myriad ancient and modern sites to explore, was coming to an end. We had one final meal at the famous Herbert Samuel Restaurant. Everything on the menu looked sensational, with Jerusalem artichoke and chestnut cream soup drizzled with truffle oil, being one of Chef Yonatan Roshfeld's famous creations.
Following our scrumptious dinner, it was time to pile back into the van for the drive to Ben Gurion Airport where representatives of Israeli Tourism helped us through a very brief security interview and in short order, we were on our way back to the United States, which shares a long-lasting bond with Israel.
In closing, it should be noted that my descriptions are the various sites we visited are in a "capsule" format as it would be impossible to cover the many centuries of history that fills every nook and cranny in Israel. It is my hope that after reading Parts One, Two and Three, you will absolutely be compelled to make a trip to Israel your next vacation destination and as the Israelis say: "Shalom and Bon Voyage."
Related articles:
Israel: A Remarkable Paradise Carved Out of the Desert (Part 1); Israel – A Magical Journey Back in Time (Part 2); An Unlikely Adventure: Petra, Jordan; In the Footsteps of Hippocrates; Rome