Rooney Mara Scores A Touchdown In "Ain't Them Bodies Saints"

By Beverly Cohn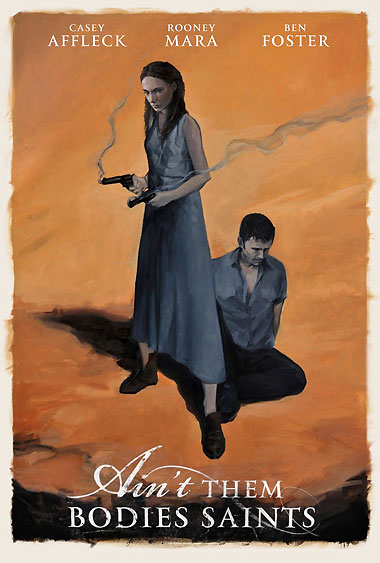 ooney Mara was born into sports "royalty." She is the daughter of Timothy Christopher Mara, executive of the New York Giants football team, and Kathleen McNulty, granddaughter of Art Rooney, Sr., founder of the Pittsburgh Steelers.
Mara got her first lead role in "A Nightmare on Elm Street," followed by playing the girlfriend of Mark Zuckerberg in "The Social Network." However, her major break-out role was playing Lisbeth Salander in the American version of "The Girl with the Dragon Tattoo" which is the first film of a trilogy. Her work in that film brought her a Golden Globe and an Academy Award nomination. She also had the female lead playing opposite Channing Tatum in "Side Effects," which dealt with the dangers of psychotropic drugs. The cast included Jude Law and Catherine Zeta-Jones.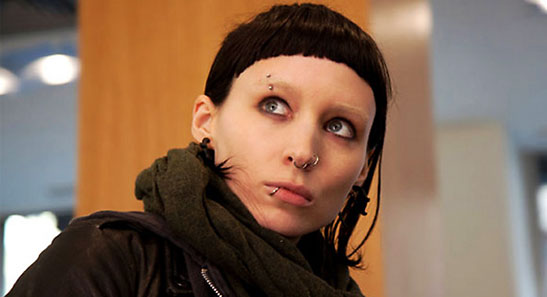 Rooney Mara received accolades for her performance in "The Girl with the Dragon Tattoo." Courtesy Photo.
Mara recently sat down with a group of select journalists to discuss one of her latest films, "Ain't Them Bodies Saints," a story about a young outlaw couple in Texas in the 1970s. Written and directed by David Lowery, the film co-stars Casey Affleck, with a supporting cast including Keith Carradine and Ben Foster who plays a local sheriff who creates a complicated love triangle. The film received the U.S. Dramatic Cinematography Award at the 2013 Sundance Film Festival.
The following has been edited for content and continuity.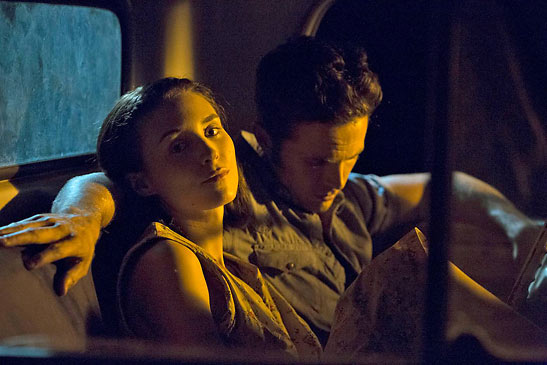 Rooney Mara as Ruth and Casey Affleck as Bob in David Lowery's "Ain't Them Bodies Saints." Photo Courtesy of IFC Films.
What attracted you to the script?
Mara: I loved the whole world. I loved where it took place and the time period in which it took place. I really loved the roots – the stuff that you don't see in the film. I felt like the whole script was very poetic. It felt like a folk song. Then, when I met David (Director David Lowery) and I saw "Pioneer," his short film, I had this feeling that he was going to make something special and I wanted to be a part of it.
How would you describe your character?
Mara: I think Ruth, in the parts that come before the film starts, (back story) had to kind of grow up fast and is sort of caught in between the nostalgia of wanting to go back to her old life and also being a mom and being protective. She's caught in between two love stories – the love story with Bob (Casey Affleck) and the love story with her daughter and she has to choose one, which is a very difficult choice to make.
Where did you shoot film and was it a pleasant experience?
Mara: We shot the film in Louisiana in August and it was 105 degrees every day. There's really not a whole lot to do there, but I just kind of loved how easy and simple it was and loved being there and would love to go back to shoot another movie. I don't think most people would say that but there's something about it that I loved.
Were you able to walk around without being recognized?
Mara: I can walk around anywhere. It doesn't happen very often that people recognize me, but it has been happening more often recently, but not really that much. It happens the most in New York. Like I said, hardly ever. Maybe people do recognize me but maybe I'm not very approachable.
This story takes place in a very rural area. Did you find it easy or difficult to immerse yourself in that world?
Mara: It's not really a whole different culture. I'm an American and grew up here. It's very different from having to play someone from a completely different country. That is truly a different culture. Even though the setting is very different from growing up in New York, it felt very familiar to me and it didn't feel like a totally different culture. We've grown up hearing similar accents and watching westerns and very similar stories to this one so it didn't feel that foreign to me.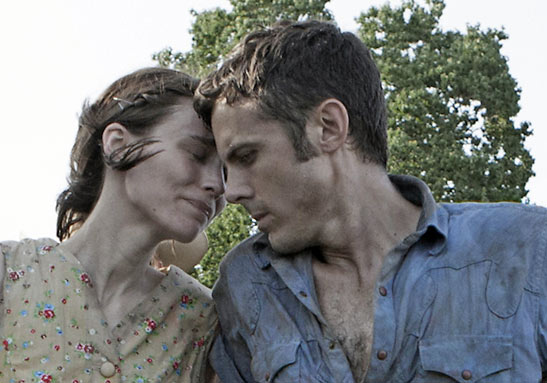 Ruth and Bob struggle with their past and what to do with their future.
Photo Courtesy of IFC Films.
We meet you and Casey's character as a very loving couple and while certainly not like Bonnie & Clyde, we see almost no traces of their outlaw pasts. Was that directorial?
Mara: It was how it was written. It's sort of a more realistic version of this kind of story. I don't think they consider themselves outlaws. They're just kind of kids who get in over their heads, but I don't think they're trying to be outlaws.
Is it advantage or disadvantage to work with the writer/director?
Mara: I've done it a few times. It's different because they have a different perspective on the script and sometimes it can be really helpful and sometimes it could also be a hindrance because maybe they're too close to it and don't know if something isn't working. It could go either way. Working with David is fantastic because he's not precious about anything and would have dropped anything if you gave him a good enough argument and would come up with something right on the spot. The way he wrote the script, like I said, was so poetic and very musical. I think a lot of the dialogue and monologues have kind of a musical quality and he wanted the film to feel like a folk song and I think that's definitely what the script read like. We made a lot of last minute changes so it obviously was great having the writer right there.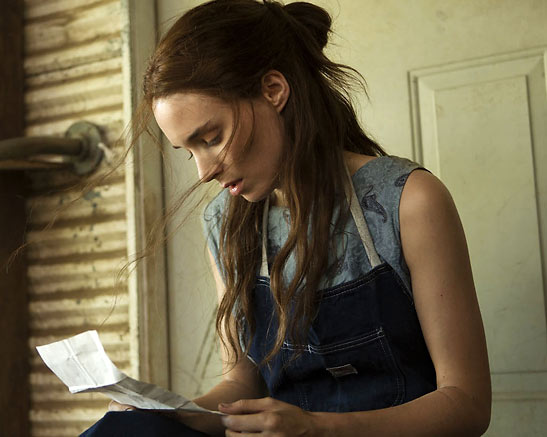 Ruth (Rooney Mara) reads a letter from Bob (Casey Affleck) outlining his plan for them to reunite. Photo Courtesy of IFC Films.
A lot of the scenes were dialogue heavy. Does that satisfy you as an actor?
Mara: It would but I feel like Ruth had the least amount of dialogue of any of the characters. We added stuff while we were shooting but I think Ruth is actually a pretty quiet character. I was always trying get a little more fire in there for her. I didn't want her to just be this sympathetic mother who is protective. I wanted her to be more rounded than that.
You and Casey's character did bad things. Why do you think they're sympathetic characters?
Mara: Casey (Bob) makes the point that he's never really hurt anyone. My character is the one who did something bad in the beginning and I don't think she did it with ill intentions. Like I said, they're just kids. I don't think they had any idea what it means to shoot someone or the power behind a gun. There's no ill will behind what they're doing. They're just get caught up. I think they're just kind of naïve. Bob actually goes to prison and he hadn't killed anyone ever.
What do you like about Casey as an actor?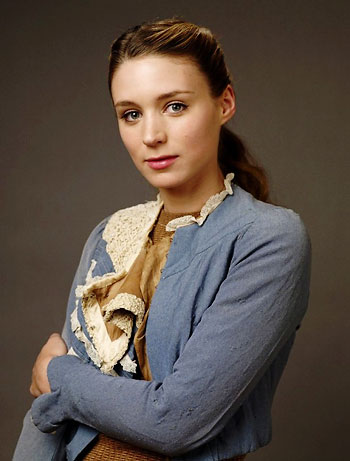 A very different look from the character she played in "The Girl with the Dragon Tattoo." Courtesy photo.
Mara: Casey as an actor? You know, I really didn't know him at all before this. He shot all of his stuff first and then I came to Shreveport and we shot our stuff together and then I shot my stuff alone and he went off. So, I think our first day shooting together we shot one of the opening scenes in the car. He has this long, beautiful monologue about our future. I had read the script so many times at that point and loved that monologue and when we did it together, I never imagined the way he was going to do it, which is very rare. Usually you can imagine how an actor is going to do something, especially if you've read it many times. It was so alive and in the moment and that's what it was like working with him. He's a fantastic actor.
When you're not working, what do you do with your time ?
Mara: I like to read a lot. I don't spend that much time not working, but I'm not working now and I haven't really been doing anything. I like to walk around different cities. I like to travel a lot. My charity takes up a lot of time.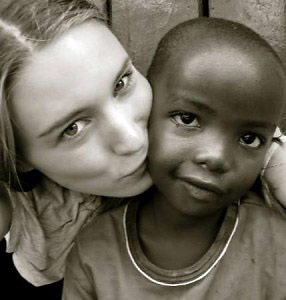 Rooney Mara with one of the children from the slums of East Africa. Courtesy photo.
What is the name of your charity?
Mara: It's called Uweza. It's sort of like the Boys & Girls Club of America. It's in Kibera in Kenya and is one of the largest slums in East Africa. We have a lot of enrichment after-school programs. (It also provides housing, food, and medical care for orphans.)
Did your family support your decision to become an actress?
Mara: Yes. Well, my older sister is an actress (Kate Mara) and she started acting before I did so they were use to it. They were very supportive of her and very supportive of me.