Interview with Top Chef Finalist Stefan Richter…
Frank Talk Outside the Kitchen About Food, Relationships, and Marriage
By Beverly Cohn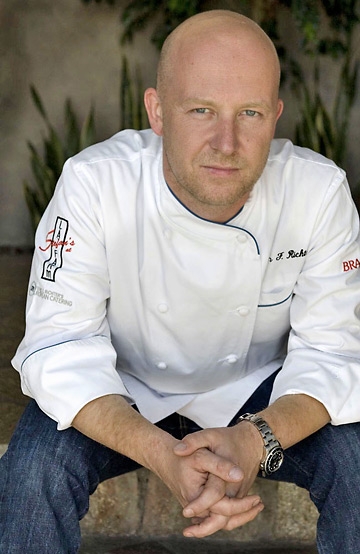 Celebrity Chef Stefan Richter. Courtesy Photo

xecutive Chef/owner Stefan Richter of Stefan's at L.A. Farm, was born in Finland to a Czech German father and a Finnish mother. He lived most of his youth in Germany where he began his formal training at the Hotel and Culinary School in Immenstadt and Bad Woerischofen, Germany. He received several awards as one of the outstanding young European chefs. Further training took him to Zurich, Switzerland and eventually he earned his Certified Master Chef diploma at Fachhochschule Würzburg-Schweinfurt in Germany.
As a young chef, Richter worked his way through kitchens in Germany, Bangkok, and Canada, finally traveling to the United States to serve as sous chef and garde manager (pantry supervisor) for the Ritz-Carlton in Dearborn, Michigan. Subsequently he was one of a team for the opening the Bellagio Hotel in Las Vegas where, as executive sous chef, he created, developed and executed menus for a $25 million banquet kitchen that catered high-profile events which included Wolfgang Puck's 50th birthday party.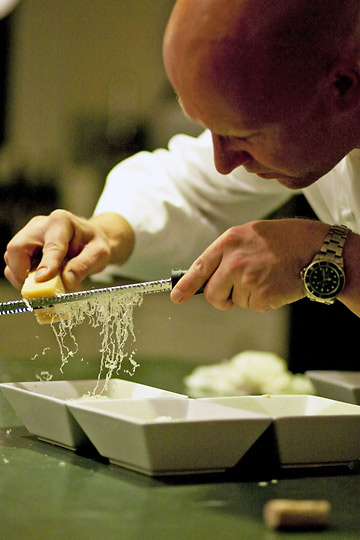 Chef Richter putting the finishing touches on a dish. Courtesy Photo
Richter was one of the runner-ups on "Top Chef" where he worked with "signature ingredients" including apples, oats, and eggs, creating dishes such as lamb chops with tabouli, hummus & yogurt; chicken paillard with grilled corn, mizuna, onion & grape tomatoes; and nectarine and strawberry tartlet with thyme, cream & lemon zest.
Following sampling a delightful array of dishes from his L.A. Farm tasting menu, your reporter sat down with this most lively, spirited chef for an interview that has been edited for print purposes.
Cohn: When did you start cooking?
Richter: When I was six or seven. My mom was a chef, as was most of my family, so I was caught up in the chef's world and spent years training in all areas of the kitchen. She was in the restaurant business in Finland and Germany and my father was an architect who inspired me with his work ethic.
Cohn: What were some of your favorite childhood foods and do you incorporate any of them in your cooking?
Richter: My mom cooked easy stuff for us such as really thick Finnish pea soup. She also loved to cook fish soup, salmon, spinach, and meat loaf. I offer some very basic dishes for lunch such as meat loaf and mashed potatoes with white truffles.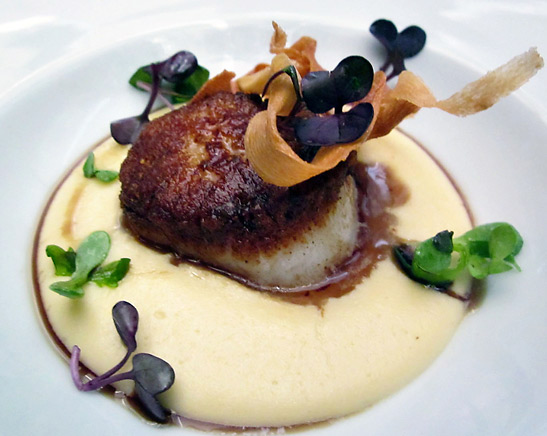 Delectable Diver Scallops consisting of corn puree, pumpkin seed oil, parsnips, micro greens, and champagne vinaigrette. Photo: Beverly Cohn
Cohn: How do you come up with your recipes?
Richter: You have to play. It's like marriage. You gotta' work on it. Seriously. I collaborate with Leo (Bongarra) who has been my Chef du Cuisine for seven years. He's been a friend of mine for nine years and I got him when he was untainted. He was very clean and sober and very virgin and there were no bad influences in him so I could train him to my standards and now he's adding a lot to my work. For example, I can't be in the kitchen right now because I'm doing this interview so he's taking care of everything and is supervising the 12 chefs we have in the kitchen. Anyway, he and I write the menus together and test a new dish by running a lunch special to see how it flies.
Cohn: Do you use organic products?
Richter: As much as possible I use organic produce, or at least what I believe it's organic. I can buy it from a vendor who tells me it's organic, but we don't know for sure that they're not spraying the fields. So, you have to trust your vendors. I go to the Santa Monica Farmer's Market on Wednesdays and Saturdays. I'm a Santa Monica child.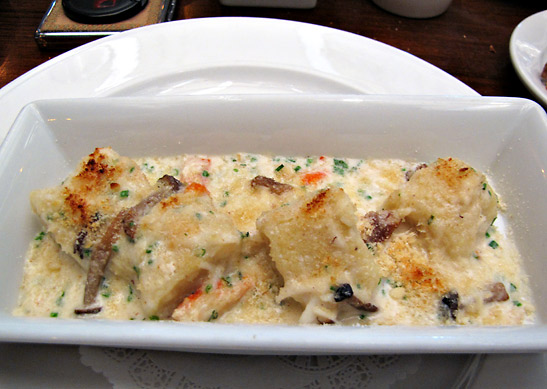 Mouth-watering Crab Gnocchi - Alaskan King Crab, homemade Gnocchi, béchamel, oyster mushrooms, Parmesan cheese, and breadcrumbs. Photo: Beverly Cohn
Cohn: Do you have an overall cooking philosophy?
Richter: Keep it simple. People want to eat what they know and what they like and the biggest seller here for lunch is the turkey burger and chicken potpie. I sell 30 to 40 a day. Do I put my own twist on these dishes? Absolutely.
Cohn: Do you have a Happy Hour?
Richter: We start Happy Hour at 4:30 and it goes to 6:30, Monday through Friday.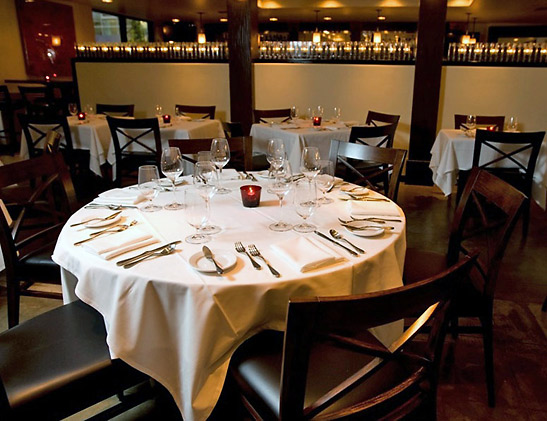 The cozy interior of Stefan's at L.A. Farm. Courtesy Photo
Cohn: What's your biggest challenge in running a restaurant?
Richter: My biggest challenge is people's expectations. Everybody is a food writer or a blogger and it's very hard to satisfy everyone. Sometimes in this economy it's hard to plan like if it's a Sunday night and you have 25 reservations, how many waiters do you schedule? Two, right? Maybe two bus boys and a bartender. But what if one night you have 90 reservations, service might not be as good as you would like, and people get freaked out about it and then write nasty things. Really? How bad could it be? If you order a medium rare steak for $22 bucks and it's medium, just eat it. It's not that big a deal.
Cohn: What do you think about all these food trucks?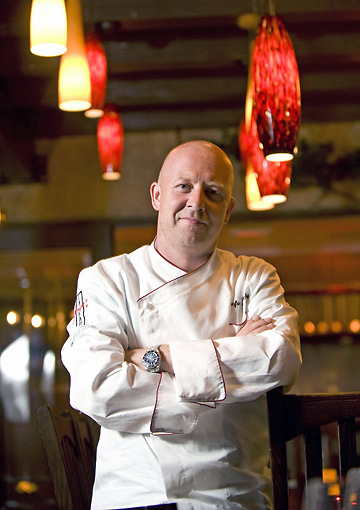 Richter makes it a point of greeting his guests and making them feel at home. Courtesy Photo
Richter: I wouldn't do it. I think it was great in the beginning because it was a cash business. People drove their food trucks around and they made a nice living. But, now there are 450 lunch trucks in a three-mile area so I don't think anyone is making that much money and I'm glad I didn't buy one.
Cohn: Do you think they're impacting on restaurant business?
Richter: I don't think so. Do you really want to have lunch standing on the corner of Third and Alameda eating taco? I wouldn't and 99% of people don't want to either.
Cohn: You got you training at some of the finest culinary schools in Europe. Where are the great European chefs coming from?
Richter: Ireland has advanced a lot. Thirty years ago you couldn't eat anything, but now some of the greatest chefs are coming out of Ireland.
Cohn: Are there any restaurants in Santa Monica that you particularly like when you eat out?
Richter: I don't go out much because it's hard for me to go out. It's like you're in the restaurant business and do you want to do the same thing when you're off. But, I do go to places like Gjelina's on Abbott Kinney. It's a very cute and well done and I love going there. I also love my In-and-Out Burger, and Gilbert's El Indio Restaurant on Pico, a Mexican joint that's been there forever. I go to Rae's for breakfast for their biscuits and sausages. I like to eat and it doesn't have to be fine dining. I'd rather go to a good taco joint instead of having a mediocre five-course meal.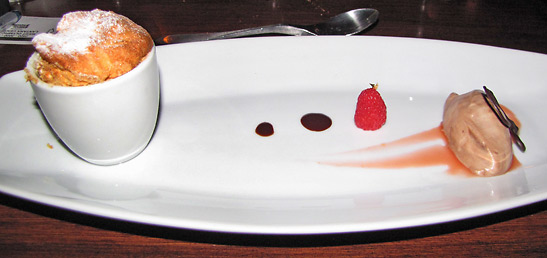 Orange Souffle with Chocolate Mousse - one of the many fabulous desserts.
Photo: Beverly Cohn
Cohn: You were a runner up on Top Chef. How did that affect your career?
Richter: I think being on television helped a lot. It was the best PR you could get. I now have two restaurants, a catering company, and three delis.
Cohn: How often to you go back to Finland?
Richter: I go back five times a year. I have a restaurant there and a 40-acre house on the water. I like to hunt and fish in the summer and I spend time on a little farm where I get to relax. On holiday, I like to surf and snorkel in Australia and ski in Switzerland.
Cohn: Earlier you said that coming up with recipes is like a marriage in that you have to work at it and play with the ingredients. Have you been married?
Richter: I've been married twice to the same chick.
Cohn: Is it difficult to maintain a relationship in your line of work?
Richter: I cook every day. I go to the restaurant at 7:00 in the morning and leave around 10:30 at night. And that's pretty much my life. I'm 39 soon and still single. You know how it is when you travel. You're just not home. As soon as someone asks for a drawer in my house, that's it for me because, this is Stefan's house and all the drawers are Stefan's. (Laughter)
Cohn: Do you think you'll ever want to have children or do you think that would be too demanding on your time?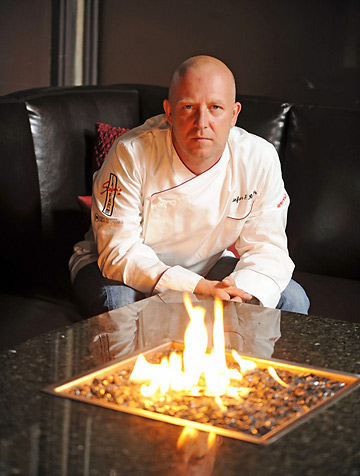 Relaxation for the master chef is on his personal "menu."Courtesy Photo
Richter: I would have with my last girlfriend, but my train is up and I think I'm done.
Cohn: What are you thought about men who have kids later in life?
Richter: I wouldn't want to be having kids when I'm 60. I have a hard enough time running myself and I'm only 39.
Cohn: What do you think the hardest challenge is in keeping a relationship together?
Richter: Keeping it interesting. Just imagine that you're locked up in a room with your best friend for three months and then think about marriage – being locked up with the same person for 40 years – that's a long time.
Cohn: What is the age range of women you date?
Richter: I like older women. Young men don't know how good women get with age. They're like fine wine. They get better with age.
Cohn: Before you go to sleep at night, do you think about the problems you faced that day?
Richter: I've learned something over the last three or four years and that is if I don't let it go after work, I'm going to drop dead. With my fire pit burning in the back yard, I unwind with a nice glass of wine or glass of scotch and I'm a happy camper.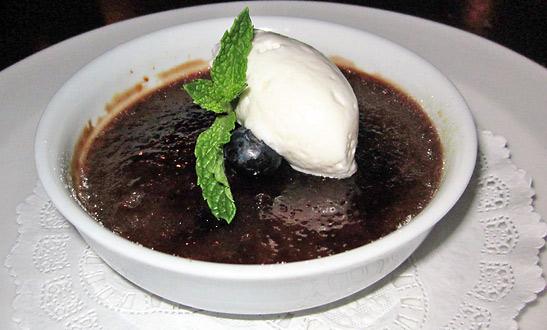 Creme Brulee - A decadently delicious way to end any meal. Photo: Beverly Cohn
Stefan's at L.A. Farm
3000 Olympic Blvd.
Santa Monica, CA 90404 310.449.4000