The Fruited Plains Of
Eastern Washington
Story and photos by John Blanchette

rains, fruits and vegetables thrive in Eastern Washington's Columbia Valley. It is the home to the apple industry, Rainier cherries, sweet Walla Walla onions (the official vegetable of the state) and 75 percent of the hops used in U.S. beer making. At one time it's biggest crop was wheat, but no longer. It is now the second largest producer of wine grapes in the United States, with more than 800 separate vineyards.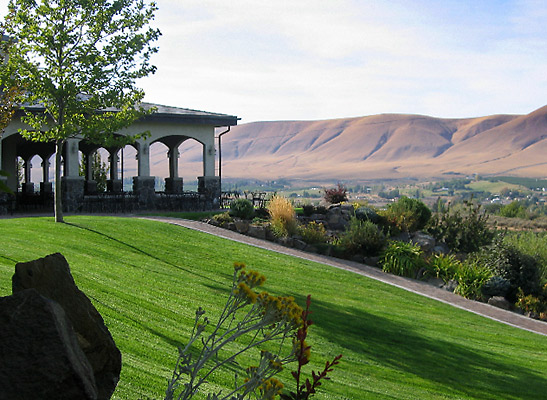 View from La Teraza Vineyard on Red Mountain
Nature has been kind to this vast, warm, dry and fertile plain. Catastrophic geological activity has provided a rich agricultural inheritance.

Typical farm scene in Eastern Washington
About 15 million years ago the area was volcanically active, covered in lava, which eventually cooled into basaltic bedrock. There are still active volcanoes that occasionally go off, including Mount St. Helens, Mt. Hood, Shasta and Rainier, adding new ash to the soil mix.
About 15,000 years ago, Ice Age glaciers moved rich soils and mineral rocks down through Canada and Montana, creating a huge ice dam near Missoula, on the eastern edge of Idaho.
Several times over 3,000 years the dam broke and 600 feet of water poured into Eastern Washington, carrying the Canadian and Western states contributions to the soils with them.
In just eight hours, they splashed against the Cascade Mountains guarding Seattle and spread back, creating the soft Palouse hills and fertile fields formed from released sand, silt, and minerals that layered in 6 feet of highly enriched topsoil. The flooding also created the Columbia River and a vast water system. In fact, the Indian word "Walla Walla" means land of many waters.
Sitting at latitude 46 degrees, the same as Bordeaux and Burgundy in France, the area averages more than 300 sunny days and just 8 inches of rain a year, a seven-month growing season, and warm days and cool desert evenings. About 30 grape varietals are planted, most famously syrah and cabernet sauvignon, and the whites of chardonnay, sauvignon blanc, viognier, and, my favorite for the region, riesling.
The soils are free of rot-producing diseases, so vines sit on their own stock without grafting.
The grapes might be thriving, but unfortunately, there is not enough help available for farmers to hand pick all their crops. More and more they are turning to machine harvesting. Last year the cherries dried on the trees and $3 million worth of asparagus was left in the ground as workers turned to the more lucrative jobs picking fruit.
Even so, in the orchards you see unclaimed pears, apples, peaches, walnuts, cherries and nectarines rotting under the trees, left on the ground as fertilizer.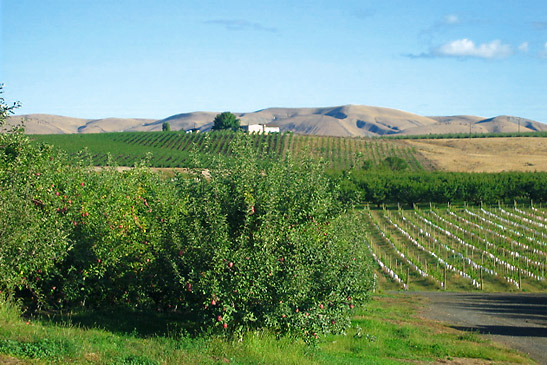 Fruit trees and grapevines proliferate in the rich soils of Eastern Washington
There are "u-pick" farms all across the agricultural belts of the Columbia River Valley, relying on the honesty of visitors and amateur hands to harvest the crop and drop money into unattended tills.
We started our journey in Seattle dining at Lola, inside the elegant Hotel Andra in the trendy Belltown neighborhood. Chef Tom Douglas won on the Food Network's "Iron Chef" show and his mastery of food was evident in the multi-course meal he prepared for us.
The wild boar and goat dishes were the best I've ever eaten. It was also here that I found my favorite Washington cabernet sauvignon, Dunham Cellars. Unfortunately, they know it and charge $75 a bottle.
This is also the winery that produces actor Kyle MacLachlan's label, Pursued by Bear.
Traveling southeast of Seattle the next day we passed through the Cascade Mountain range and in about three hours entered the Columbia Valley wine growing areas of Eastern Washington.
There are nine wine appellations (American Viticulture Areas) in Washington, six of which are found here, producing 90 percent of Washington's wine, and most of its hops, fruits and vegetables. The areas spread south near the Oregon border, actually spilling across into the neighboring state.
IF YOU GO
There are hundreds of vineyards open to the public throughout the Columbia Valley. Following are some that I particularly enjoyed over a week of exploration.
The first AVAs you encounter along Route 82 are Yakima Valley and Rattlesnake Hills. Most are small, family-run operations, with very little pretension, such as Agate Field, Cultura, Paradisos del Sol, Severino, Tefft, Bonair and Steppe.
The town of Prosser has some exceptional wineries including Mercer Estates, Snoqualmie Vineyards, Desert Wind, which features food prepared by the area's top chef, Frank Magana, Olsen Estates, Milbrandt (my favorite Riesling) and Thurston Wolfe.
For a change of pace, try the local beer, Snoqualmie Pale Ale, which has an outlet in town. Nice and hoppy.
Don't miss Chukar Cherries gourmet shop and the world's best chocolate-covered cherries. This is a dangerous stop for any chocoholic.
We stayed at Cherrywood Bed, Breakfast and Barn, a working farm where accommodations included upscale teepees, retro "canned ham" trailers and traditional country inn rooms in the main house.
The owner is a great chef and uses farm-fresh ingredients in her cooking. Be sure to rent a horse and ride the trails leading through the vineyards and orchards to local tasting rooms.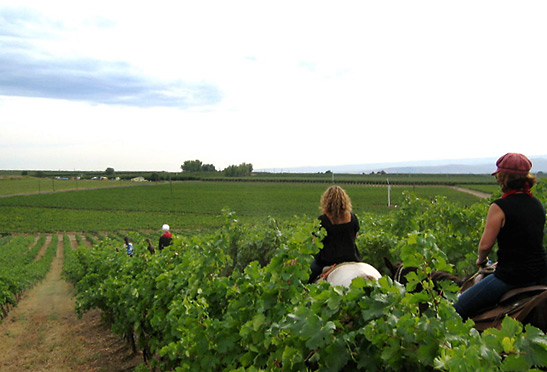 Riding horseback through the vineyards
Gasperetti's Gourmet Restaurant is a local Italian fixture in Yakima and has "the best onion rings in the world." Walla Walla's of course.
Washington's tiniest AVA, Red Mountain, consists of a mineral rich hill of soils dropped at the tail end of the Yakima Valley during the ice age floods. It is here where Quilceda Creek purchases the grapes from Klipsun Vineyards for its wine. It is the only winery in the world to earn 100 points three years in a row from Robert Parker's Wine Advocate ($80 a bottle). I tasted the grapes three days before harvest. My guess was another 100.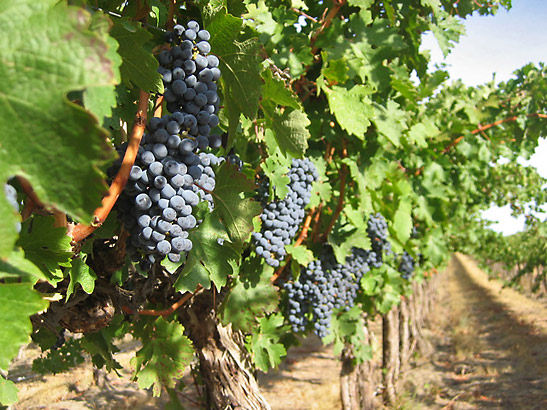 Grapes from Red Mountain awarded 100 points by Robert Parker
three years in a row.
The Tri-Cities wine producing areas of Kennewick, Pasco and Richland lie beside the Columbia River and offer serene views to accompany the fine restaurants and great vineyards resting on its banks. Recommended stops are the Red Lion Hotel, Taverna Tagaris for Greek dinning and wine pairing, Bookwalter Wine Bistro features live music and some big reds, Terra Blanca, Hedges Family Estate (try the Port) and Col Solare provide long views and spectacular wines from the top of Red Mountain.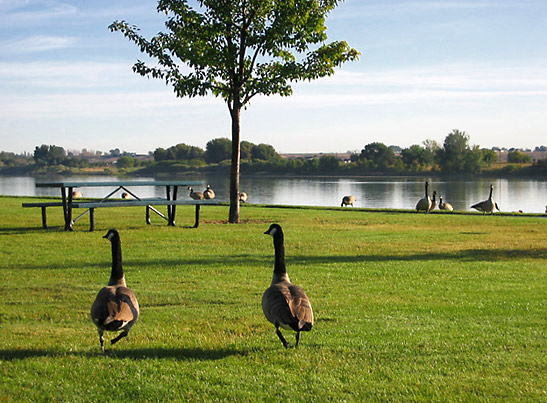 Canadian Geese enjoy the Columbia River Valley
Walla Walla is a University town with beautiful Victorian homes. We stayed at the 1898 Queen Anne-style A. K. Dice Guest House. The city relishes its cultured sensibility and educated palate. There are a number of fine restaurants, including 26 Brix, Luscious by Nature, Whitehouse and the Fat Duck Inn, and don't miss Salumiere Cesario for some free tastes of the greatest sausages and cheeses in the world. The City College is also home to an Enology and Viticulture program.
Some of the best white wines are produced in Walla Walla by Chad Johnson's Dusted Valley Vintners and by Sapolil Cellars. The finest red at Dunham Cellars at the airport.
For travel brochures, housing and restaurant information and lists of events and festivals, contact Washington State Tourism or 800-544-1800.
Related Articles:
Olympia, Washington; My Own Private Seattle; Glacier Peak, North Cascades; Lost in the North Cascades; Yountville, Napa Valley