The Treasures of Madrid
Story and photos by John Blanchette

adrid, Spain – This was my first visit to Spain, but I felt I'd been preparing for this day all my life. As we descended on Iberia Airlines into Madrid airport at 7 a.m., I woke from years of dreams about this land.
The sun was also rising as I thought of Hemmingway, and the country he wrote about and loved so much.
I thought of Cervantes' "Don Quixote," the poet Federico Garcia Lorca, artists El Greco, Goya, Velazquez, Miro, Picasso and Dali, musicians Segovia and Pablo Casals; even the Gypsy Kings, Flamenco dancing and tapas, the wonderful appetizers that are so renowned in Madrid.
And I also thought of the murderous dictator Franco, who collaborated with the Nazis, allowed the blitzkrieg bombing of his own people and repressed the artistic and social development of the country for 36 years, until his death in 1975. Thankfully, Spain has now taken its place as one of the leading economies in Europe.
Madrid lies upon a high baking plain surrounded by burnt out desert in the very heart of Spain. It is not uncommon for summer temperatures to rise well above 100 degrees. Europe's highest capital at 2,200 feet, it is a green beacon in this arid terrain, in fact the second greenest capital in the world, next to Brasilia. It is full of parks, forests, tree-shaded lanes, fountains, pools and lakes that cool it during the hot summer months.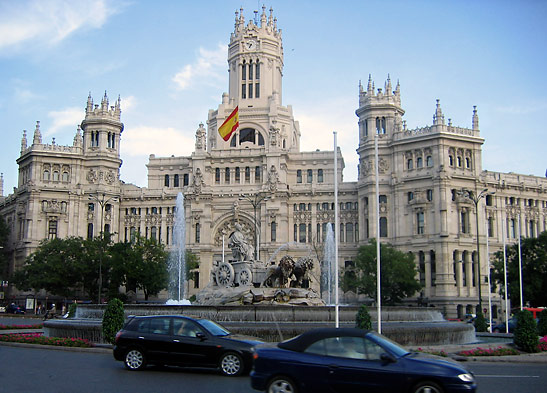 In the Plaza de Cibeles, a fountain dedicated to the goddess of nature protects the Palacio de Communicaciones (main post office), presumably from rain, sleet, snow and dark of night
Like Rome, all roads lead to Madrid, the political, cultural and social capital of the country. About the size of Los Angeles, it is a sprawling city with close to four million inhabitants. The surrounding communities bring the population to about six million. Segovia and Toledo are less than an hour away by car and in one and a half hours you could be skiing in the Navacerrada mountain range.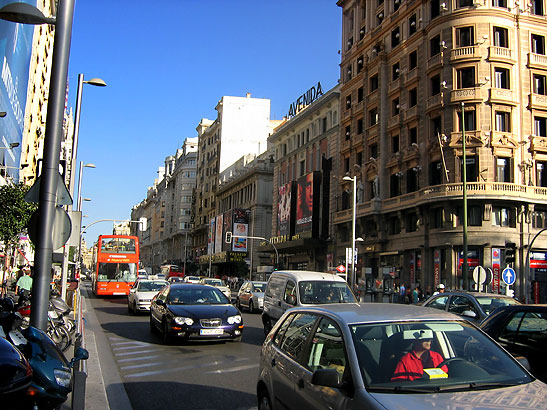 Madrid's main thoroughfare, the Gran Via, is popular for shopping and clubs
Unfortunately, as in most large cities in Spain, the fringes are the prey of unconscionable developers who are raising brick and concrete apartment structures with no redeeming architectural value. And these hideous developments are stretching their ugly, bony fingers across the beautiful face of Spain.
To understand life in Spain you have to familiarize yourself with the social nature of the dining regimen. The Spanish eat constantly into the wee hours of the night. Similar to the Hobbit diet, the day often begins with two breakfasts, the first coffee and toast and the second, mid morning, is often a slice of Tortilla de Patatas; a potato, onion and egg frittata, accompanied by wine or beer.
About 1 p.m. businesses begin to shut down for three hours and the tapas bars open. Tapas are a wide variety of small snacks that originated over a hundred years ago when bartenders began covering drinks with saucers (tapas) to keep out the flies. They began putting cheese, olives, nuts and bits of meat on the plate to accompany the drink. The practice has progressed to a whole creative gastronomy of hot and cold appetizers, costing from one to two euros. Following tapas, the main meal of the day, "la comida," begins about 2 p.m. and may include a nap.
Around 4 p.m. business resumes and continues till 8 p.m. The cafes and tearooms open at 5:30 for snacks and pastries. Beginning about 7 p.m. bars are again serving tapas with sherry, wine or beer. Spaniards go out to diner beginning about 10 p.m. Americans will find very few restaurants open before 8:30 p.m. and certainly no customers, except fellow travelers who have not adapted to the local customs.
The Spanish party late into the night. It is not uncommon to see whole families, including children and grandparents, eating and drinking in the city's thousands of tapas bars and cafes well past midnight.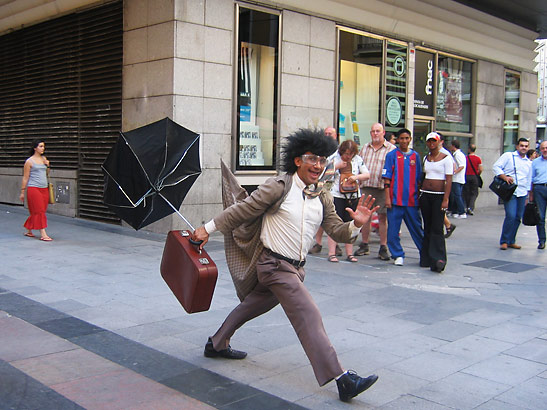 Street entertainers are everywhere at all times of the day and night
No visit to Madrid is complete without attending the museums, which hold some of the greatest art of Western Civilization. When I walked into the Prado it was like opening my college art history book. The first painting I spotted was Fra Angelico's Annunciation, right next to some Botticelli's. There was Bosch's "Garden of Earthly Delights," Durer self portraits, whole rooms of Goya's, El Greco's, Miro's, Valazquez's and Raphael's. They were so accessible they seemed vulnerable to harm. You can walk up within inches of unprotected masterpieces, neither cordoned off nor sealed from close inspection and possible mischief.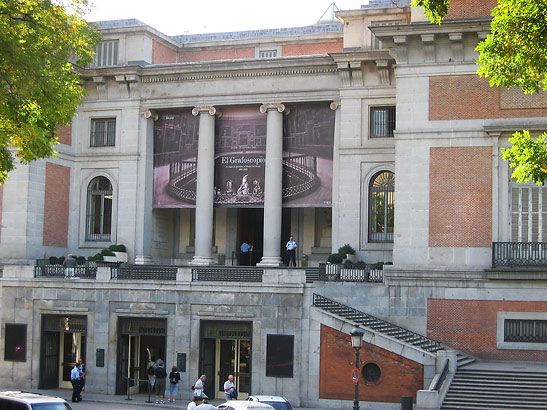 Entrance to the Prado Museum, which houses some of the greatest treasures of European civilization
Nearby are the Museum Reina Sophia, which specializes in modern art and houses Picasso's huge and magnificent Guernica, and the Thyssen-Bornemisza Museum, one of the most important privately assembled art collections in the world.
Travel Tips
Always carry some Euros. A surprising number of shops don't honor credit cards or traveler's checks, because of the exorbitant fees, and most won't accept American dollars or checks. Confer with your bank regarding Spanish ATMs, which may require a special code but often deliver the best exchange rates.
Also as a general rule, don't fly into Miami from Madrid during hurricane season or you may find yourself sitting in the airport for 28 hours waiting for the next flight out. Yes, I know from experience.
The charming Old Madrid section of the city is best traversed on foot and can be navigated in less than an hour, but there is also a hop on, hop off, double decker bus service, Madrid-Vision. For 10 euros you can travel for 24 hours through its barrios and past the city's great monuments. Madrid cards are 1-3 day tourist cards that include admission to 40 museums, buses, the Madrid-Vision, and discounts for shows, shops and restaurants (28-55 euros). Although the city has taken great strides against crime, watch out for the Gypsies and pickpockets at the Sunday flea market.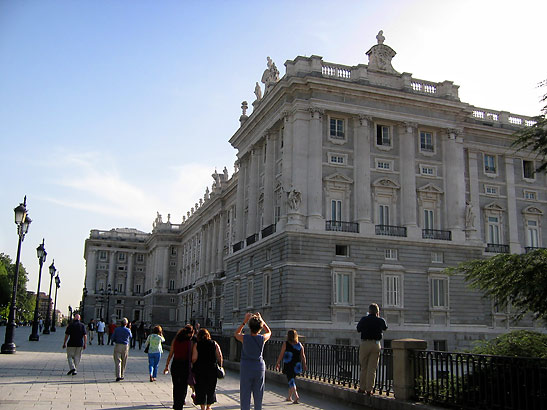 Madrid's vast and luxuriously decorated royal palace (Palacio Real) is no longer the home of King Juan Carlos 1, but many state functions are still held here
The city has thousands of tapas bars, cafes and excellent restaurants preparing traditional Castilian cuisine (Casa Santa Cruz is one of the most charming) roast suckling pig (Casa Botin, a Hemingway hangout) and even Spanish/Asian fusion at Intercontinental Castellana Hotel, washed down with pitchers of sangria or excellent Spanish wines.
One of the best tapas bars I visited was Cervantes, a very popular mid-day stop for locals. Look for Panos and Company, Spain's answer to Subway, with inexpensive and great tasting hard-crusted sandwiches. Have a late night drink at Chicote, 12 Gran Via, a favorite watering hole for Frank Sinatra, Eva Gardner and of course, Hemmingway, who seemed to manage a drink at nearly every bar in town.
Look for the Museo del Jamon, a great deli with everything porcine, and the El Corte Ingles, the city's largest department store, sells everything from olive oil to Spanish leather, at great prices.
Madrid nightlife often goes into the early morning. Hemmingway observed that "nobody goes to bed in Madrid until they have killed the night." For information on clubs and shows consult 'En Madrid, What's On' magazine and don't miss Flamenco dancing at Casa Patas or Tablas.
There are a wide range of housing options in Madrid, from five-star hotels (I stayed at the beautifully restored Villa de la Reina Hotel in the heart of Madrid) to inexpensive pensiones. Accommodations are almost always spotless; cleanliness is a point of national pride.
The Spanish Tourist Office (323) 658-7188 or in Madrid publishes a number of free pamphlets and maps with information on events, guided tours, and places to stay and dine.
Related Articles:
Memories of Madrid; Madrid and the Art of Armor; Madrid's Tapas; Valencia, Spain; Driving Ourselves Crazy in Spain; Toledo; Consuegra's Rose of Saffron Festival; The Land of Caballeros