A Bavarian Odyssey

t wasn't my German heritage that stimulated my desire to travel to Munich, nor my Alpine expertise to see Innsbruck or love of everything Mozart to see Salzburg. My admiration of the art produced in those regions and the renowned art museums were the initial inspiration for our journey. Along the way we would be sure to experience delicious food, beer and wine and learn something of the culture, history and scenery of some of the most beautiful regions in Europe.
My wife Anne and I have traveled in Europe enough to know that the going can be a challenge for someone in a wheelchair. With cobblestones, inaccessible transportation and abrupt street corners, many journeys we have taken proved to be an arduous experience that made the trouble of traveling barely worthwhile. Early spring is also a chancy time to visit and we anxiously kept track of weather patterns before we left, adding more clothes and rain gear to stave off the unpredictable elements.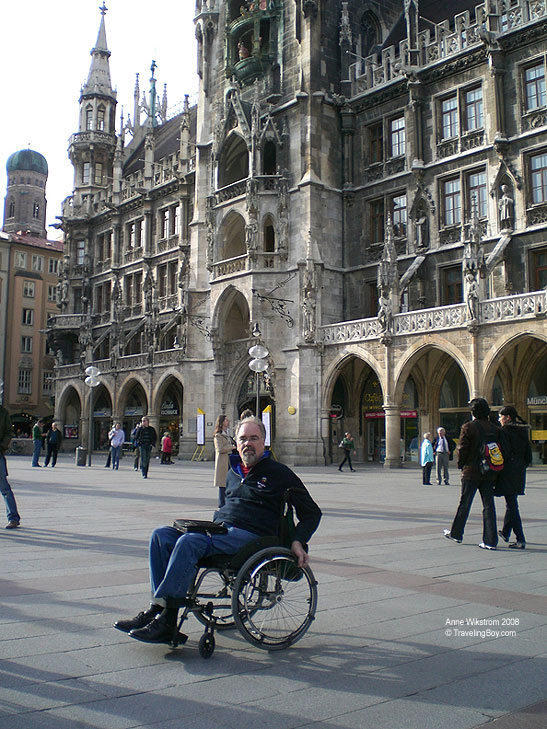 Marienplatz in Munich
I'm a C5-6 quad. Roughly, that means I can push myself fine on level ground or inside but it doesn't take much of an incline to slow me down. Anne has pushed, lifted, dressed and otherwise made all this happen with unending patience and good humor. Our guiding principle is "Go with the flow" and we usually find our groove after a day or 2. My chair collapses and I usually take wheelie bars in case I need take the wheels off temporarily for a tight squeeze. This time we also brought along a "Comfort Carrier", www.broadenedhorizons.com/ it's a straightjacket-like affair that offers 6 points of handles and made getting on and off the airplane a snap.
We first flew to Zurich and picked up a 2-door hatchback from Hertz that had plenty of room for our bags and my chair. Our smartest purchase was a GPS system that was an absolute dream come true in locating our destination and keeping us on the right track. Since we'd be flying back home from Zurich we reserved the last 2 days to explore here.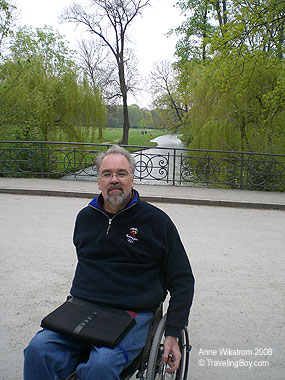 English Garden, Munich
The Swiss countryside on the way to Munich is the rural pastoral we are familiar with through "Sound of Music" and "Heidi" and is evoked with yodeling and lederhosen. For our several day stay in Munich we had booked an apartment through Vacation Rental by Owner, www.vrbo.com. We've used their service before and were pleased with the locations and people we encountered. This time Josef and Gabriele would make us feel at home with a fastidiously clean space not 3 blocks from the nearest subway stop.

It's nice to have the quieter feel of an outlying neighborhood to start and end the day at and since the subway is so accessible and convenient we didn't need our car at all. We took some time to stock our cupboards and Anne began her collection of different tubes of specialty mustard. She had used up the ones she got last year in Vienna and had vowed to bring back a few extra. The different sausages, cheeses and breads were fabulous and I started tasting my first real German beers with delight.
Gabriele had put out apple strudel for her guests in the morning and we lucked out with the weather but encountered our first confusion at the subway stop. We couldn't figure out how the electronic ticket kiosk worked so took the elevator to the platform to seek assistance. There was no one apparently managing the station so we just got on and decided to buy our tickets at the central station when we transferred to a different line. There is a stiff fine if you're caught without a ticket but we ended up not bothering until we took an above ground tram. Konigsplatz is the museum quarter and is also the site of the book burning of the Third Reich. No such animosity exists now and the grounds of the former parade grounds have a grimly classical solemnity.
Livelier is the park that borders the Alte Pinokoteka, the Neue and Modern Pinokotekas with lounging students, football players and picnicking families. My study of art history gave me a hint of the treasures within Alte Pinokoteka but I was still bowled over by the depth of the collection and amazed at the architectural details of the galleries. Masterpieces by Rubens and Rembrandt, Durer and Bruegel, even an exquisite Madonna and Child by Leonardo delighted my eyes. It seemed a bit of a shame to spend so much time inside on such a beautiful day but I was on a mission and planned on seeing the Neue Pinokoteka. Here we did encounter some steep ramps but I probably could've gotten around by doubling back to the lift if needed. The collection here leans heavily on the German realist painters and I particularly enjoyed seeing key works by Lovis Corinth and Caspar David Friedrich as well as the painters of the Romantic School.
We would save the Modern Pinokoteka for another day and started heading towards the old town center of Marienplatz and dinner at the famous Hofbrauhaus. Munich is quite level and the bicycle lanes make crossing streets in a chair fairly easy, even when crossing over the tram tracks. Marienplatz is much like other large European plazas we've enjoyed with ornate details on the Old Town Hall and the decorative Glockenspiel adding a special dimension. Tourists and locals intersect and souvenir kiosks and overpriced cafes line the perimeter. We snap requisite photos and explore side streets and get our bearings.
The worst of the cobblestones are in front of the Hofbrauhaus but we soon forget about that minor inconvenience and with gusto grab a table by the band and literally soak up the atmosphere with the house brew and a heaping plate of pork and cabbage. It's April 20th and I wonder how many patrons are aware that this is Hitler's birthday and that he plotted his coup at one of these tables and set the world on fire. Later we would visit the Staademuseum where a special exhibition detailed the rise of National Socialism with banners, uniforms and swastika-laden paraphernalia. Other comprehensive exhibits here include an amazing collection of musical instruments and a floor of all manner of puppets.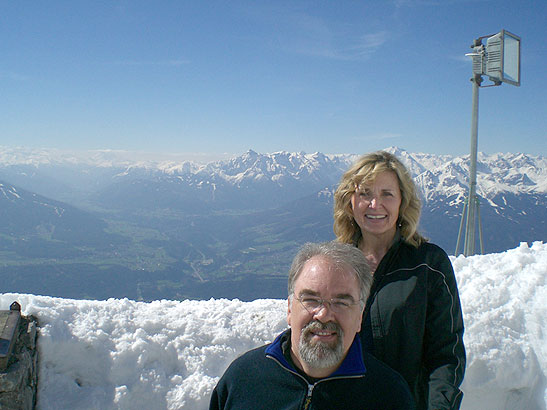 Brom & Anne above Innsbruck
The main cathedral, Frauenkirche, has an accessible ramp but none of the others we visited were readily accessible. The nearby English Gardens were accessible though and the hard packed trails provided a couple hours of peaceful tranquility amid the bustle of the city. Other sites near Marienplatz that should not be missed is the Victualienmarkt, with dozens of vegetable, meat, cheese, flower and bakery stalls surrounding a large beer garden with a tradition maypole. Our favorite dining spot was Volkmeier, near Marienplatz that was highly recommended and didn't disappoint. We arrived a little early to avoid cigarette smokers and enjoyed a sensational meal without the rush and noise.
Our last day consisted of visits to more museums of art and an excursion to Nymphenburg Palace. The palace is well maintained and will soon be much more accessible than it is currently. We were able to tour the grounds, the adjoining Natural History Museum and the astounding porcelain collection.
Salzburg is barely an hour away by car and in retrospect we would have been just as well off staying in Munich and taken day trips but it was great to be more relaxed and have 3 full days to explore Mozart's hometown. The Renaissance Hotel is not close to old town but did have an accessible room with a large bathroom. It was near to the bus station and we quickly learned to buy 2 all day Salzburg passes. These will give us unlimited bus service and free admission to many attractions.
The fortress Hohensalzberg dominates the skyline above Salzburg and though the street leading to the funicular landing is a climb, once aboard, the two-minute ascent deposits one at a tremendous viewpoint. Most of the fortress is inaccessible but we had a memorable meal in the outdoor café with an outstanding panoramic view of the river valley below. An equally impressive view can be had at the other end of old town on a terrace above the Modern Art Museum.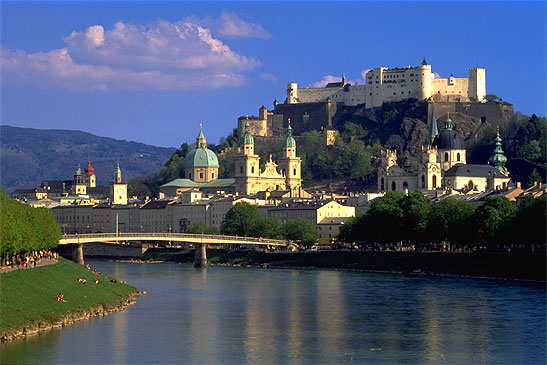 Salzburg. Photo Credit: Courtesy Salzburg Tourism
Our Salzburg card gained us entry into the opulent Royal Residence that has recently been restored to its former glory and to the surprisingly delightful Hellbrunn Trick Fountains. This summer retreat for the royal family has a sensational series of ingenious mechanical contraptions that are all powered by the streams running through the grounds. We were able to catch the last tour of the day and marveled at the whimsical characters that danced, the stone serpents that sprayed water and a grotto that gave an object lesson to young royals. A spurt of water would elevate a crown that would rise and fall, thus demonstrating how power can wax or wane depending on the whims of fate.
The weather decided to take a turn for the worst and we sought indoor attractions. The Spiegel Brewery is continuing to expand its grounds and though the tour of the operation was not accessible, we were able to visit the museum and had a terrific meal in their restaurant. We easily could have spent a few more days seeing the sights but our itinerary required us to depart early the next day for Innsbruck.
Some of the most magnificent glacial scenery I've ever seen appears all around us as we approach Innsbruck and I catch sight of a sign directing us to the Swarovski Crystal Factory in Wattens. Dazzling displays in a creative series of pavilions demonstrate the artistic capabilities of light, color and sound and we spend several hours (and quite a few Euros) in the exhibits and factory store.
Innsbruck is only a few kilometers further and soon we are ensconced in the downtown Hilton with an outstanding view of the Alpine horizon and within easy walking distance of the old town. The streets are fairly level and the promenade along the Wipptal River is terrific with colorful building facades and gingerbread flourishes among the architectural embellishments. Our main interest is to take the cable car to the nearby mountaintop but it's late and we'll wait until early morning when the crowds will be lighter and the weather better. Our hotel recommends a nearby Italian restaurant and we suspend our agreement to simply order one entrée when eating out and splitting it along with a salad. We both bring leftovers back to our room and I will enjoy cold risotto for tomorrow's breakfast.
The unusual terminal for the cable car was designed by Zaha Hadid and is evocative of snowdrifts in its structure. We gradually ascended to an intermediate level that gave a hint to the spectacular view further up. Those with a fear of heights might pass on the next leg of the ascent, as the precipitous climb is nearly vertical. The panorama of the entire Alpine Range is a worthy reward for a mild case of acrophobia and we are amazed at those who nonchalantly hop of the lift, strap on skis and schuss straight down the slope.
When finally we descend there are large groups of men congregating in traditional Tyrolean costumes with brass bands, muskets and paraphernalia from their particular regions. We never did discover the reason but it made for quite a spectacle to see groups of men in lederhosen marching around town in lockstep to the strains of brass bands. After lounging in the city's delightful park and sipping beers in the historic square we shop for picnic essentials and set our GPS for Liechtenstein and drive towards the headquarters of the International Association of Mouth and Foot Painting Artists, the main sponsor of my artwork. This illustrious group is over 50 years old and provides a livelihood to 400+ member artists around the world through the sale of greeting cards, calendars and other products.
We have enjoyed many wonderful experiences at the conventions that are regularly scheduled in capitals around the globe. It is a pleasure to spend time with our friends and to tour Vaduz, the capital of Liechtenstein. This fairy tale land is surrounded by majestic scenery and dominated by the royal castle above town. No tours in the residence but the brand new art museum and stamp museum have treasures galore. We were taken to a far off cliff face for lunch where we could see Liechtenstein, Austria and Germany all at the same time.
We stayed overnight and the custom of low, hard beds in many of the hotels is somewhat surprising. We were prepared and had an inflatable pad for my hip but it was still an unpleasant night's sleep and a difficult transfer for Anne.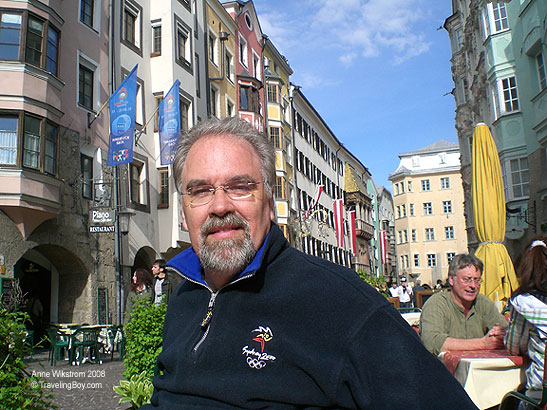 Our last stop was Zurich where we managed well enough in a spartan hotel with few amenities. The price was higher than anywhere else so we stayed 2 nights was able to get a taste of the place. I'm sure we missed some terrific attractions and were unable to access either the Chinese or Botanical Gardens easily. The art museum is truly outstanding and the comprehensive collections were a delight from start to finish. Masterpieces by Fuseli and Hodler and other noted Swiss artists share space with schools from all periods and countries. I had never seen a full-scale version of Rodin's "Gates of Hell" before but just outside the main entrance it looms. We spent some terrific time in the large park south of town and would've taken a ferry around the lake but heavy weather came and we headed back with groceries in a downpour.
It can be hazardous crossing over the many rail tracks for the city's mostly accessible transportation system and we struggled with cobblestones here worse than our other stops. The city is beautiful though and I hope to return to sample the other cultural attractions.
Typical Swiss efficiency meets us at the airport the next day and we're pleased to get a few perks reserved for the disabled. It has been an amazing journey with my beloved and we are deepened by our experience. Though my chair posed special problems at times we were rarely disappointed and met some wonderful people who helped to make the trip a joy.
Visit Brom at www.bromwikstrom.com.