Lift a Fork in Puerto Vallarta
By Richard Carroll
Photography: Halina Kubalski

long the gorgeous sweep of coastline in the heart of Puerto Vallarta, where upscale haciendas cling to the cliffs by their colorful tiles, enchanting five-star hotels are interspersed with a splendid collection of notable restaurants that long have been haunted by gourmands in search of creative tables. Some of the finest chefs both in Mexico and worldwide have answered the call of Vallarta and brought their skills to this verdant slice of tropical paradise overlooking a broad sweep of Banderas Bay whose waters teem with an incredible medley of seafaring creatures waiting to be brought to the table.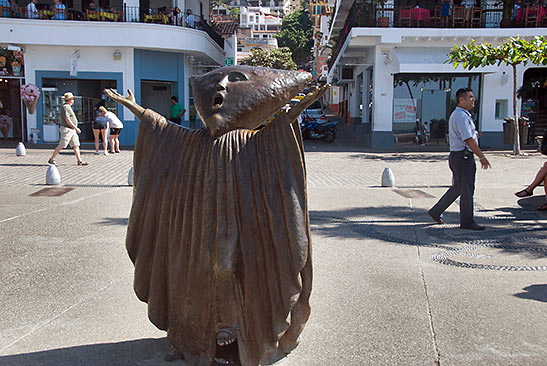 Puerto Vallarta malecon welcoming
The city, a diamond on the map, hugs the shore of the Mexican Riviera, 290 miles south of Mazatlan. With cobbled streets and a rambling, sculpture-laden malecon, Vallarta is among the premium dining centers in all Mexico. Featuring a diverse assortment of some 300 restaurants, the city is highlighted during the annual, Festival Gourmet International Vallarta, a prestigious 10-day dining fête taking place each November. National and international chefs flock to the festival during which selected restaurants host a guest Master Chef, as well as Winemakers' dinners, cooking classes, and ongoing celebrations for the palate.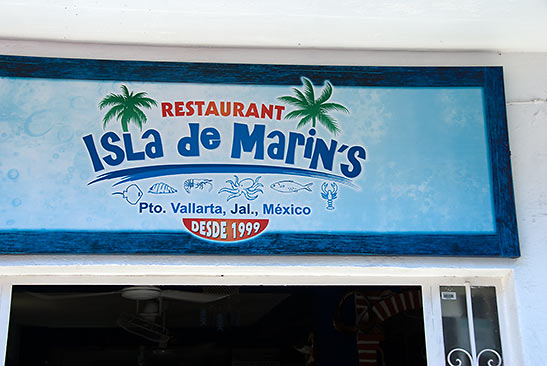 La Isla de Marin's is a favorite with the Puerto Vallarta residents

La Isla de Marin's, a mom and pop, restaurant, unknown to most Vallarta visitors, is ranked by locals as serving among the best seafood in the city.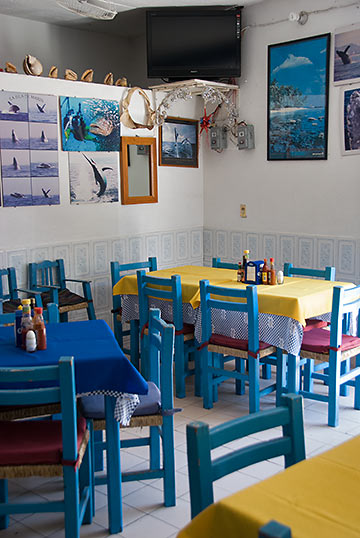 La Isla de Marin's interior
Resident, Gary Thompson, owner of the Galeria Pacifico art gallery, who offers insightful guided ArtWalks and was honored by the city for 36-years of ongoing city support said, "Vallarta, for me, is one of the finest dining destinations anywhere." Thompson recommends La Isla de Marin's, a small mom and pop room on Matamoros, a few blocks up the hill from the malecon. "It's rare to find a tourist there, but Marin's offers, in my opinion, the best seafood in the city, which is strictly local and fresh to the table."
The small room, in business since 1999 and open noon to 7 p.m. daily, has an open kitchen, eight tables, and ceiling fans. The air is scented with the delightful bouquet of their garlic shrimp, which is offered along with a simmering seafood soup in a light savory broth, a fresh and bright herb-infused ceviche, and depending upon the season and the skill of the fishermen, octopus, lobster, and the catch of the day.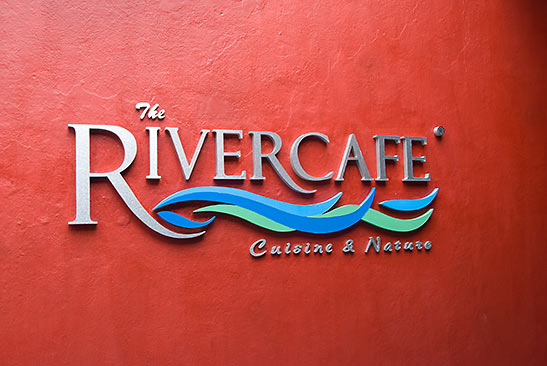 The River Cafe is a great selection for breakfast
Recognized by Vallartan's as a pleasurable choice for breakfast, the legendary al fresco River Café, in a gorgeous setting overlooking River Cuale, is filled with vibrant energy and flavors. Family-run for some 20-years, guests are never rushed from the table, but are well looked after by servers who have worked here from the opening. The cuisine is international integrated with classic Mexican dishes, the menu changing every three months. A harp player performs from 9 a.m. to 11:30 a.m., and at times, possibly drawn by the melodic harp, large iguanas will shuffle through the restaurant. The owners explain, "They, the iguanas, love the attention." Open 8:30 a.m. to 11:30 p.m. with Happy Hour from noon to 6 p.m.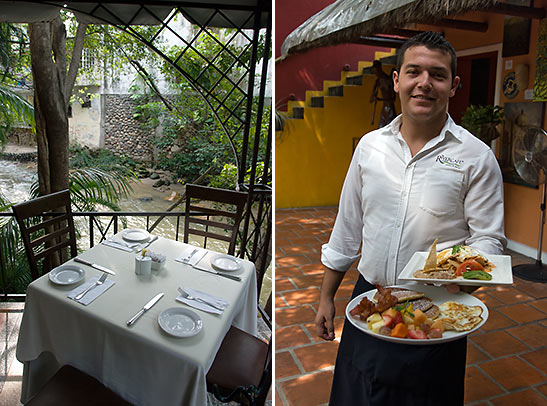 Left: The River Cafe offers live music, an art gallery, and award-winning cuisine. Right: A server with breakfast at the ready. Many of the River Cafe employees have been with the restaurant from the opening day, some 20-years ago.
Not far from River Café, on a petite island in the middle of River Cuale, Le Bistro Jazz Cafe offers delicious dishes in a stylish open-air setting. Soft jazz playing in the background as the last rays of sunlight fade from the sky, creates a mood that is the essence of romance and marriage proposals. Le Bistro offers tableside guacamole with roasted jalapenos and a touch of fresh lime juice, while Sopa de Lima, a lime soup, ala the Yucatan with small squares of chicken topped with a blend of peppers, works nicely with the Peruvian Ceviche created with marinated white fish, Peruvian peppers, corn and sweet potatoes. Open 9 a.m. to midnight, closed Sundays and throughout the summer months.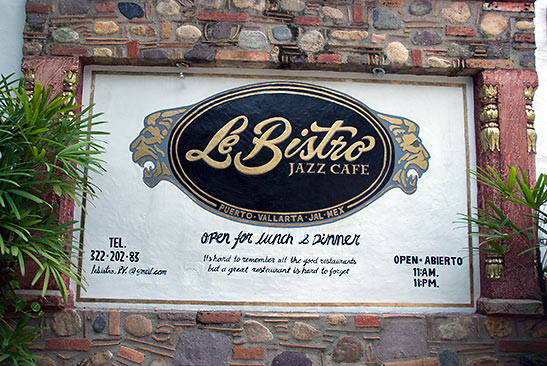 Le Bistro Jazz Cafe overlooking River Cuale in the heart of Puerto Vallarta, is a splendidly designed restaurant serving classic Mexican dishes with a touch of Mexico City and Latin America influences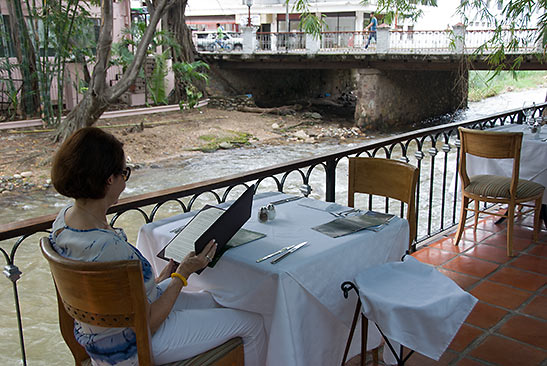 Le Bistro Jazz Cafe is the essence of romance when the sun drops below the horizon and evening lights appear along with soft music and fine cuisine.
For those in the hunt for a margarita that will grow hair on their head, Pipis, a local favorite, is the place. Since 1986 Pipis has been serving margaritas made with Cuervo 1800 Reposado Tequila and a side of Gran Marnier in large glassware. A clearly appropriate sign reads, "Don't Drink The Water Drink The Margaritas." The shrimp and chicken fajitas are a colorful and high-spirited specialty from Northern Mexican cuisine. They are lightly seasoned in the kitchen, prepared at the grill, and flamed at the table. Well-behaved dogs on a leash that identify with mariachi music are allowed. Hours, 11 a.m. to 11 p.m.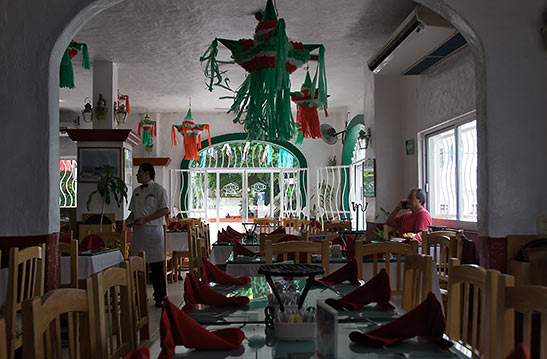 Pipis, dating to 1986, is another favorite with the Puerto Vallarta residents, noted for traditional Mexican cuisine and large margaritas.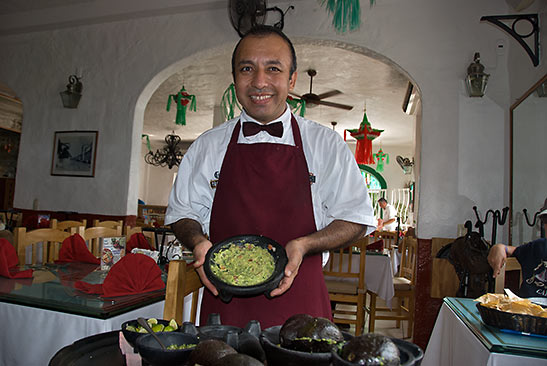 Pipis, a local favorite serves classic Nothern Maxican cuisine
Moving upscale, Café des Artistes, opened in December 1990, was recently awarded "Best Restaurant in Mexico." Owned by Chef Thierry Blouet, this restaurant, wall-to-wall, is the essence of artistic elegance from the menu language and the fusion of French and Mexican cuisine, to the stunning New Age, French, and Moroccan ambience.

Upscale Cafe des Artistes has been awarded "Best Restaurant in Mexico" and others have noted that the restaurant ranks among the best in Latin America.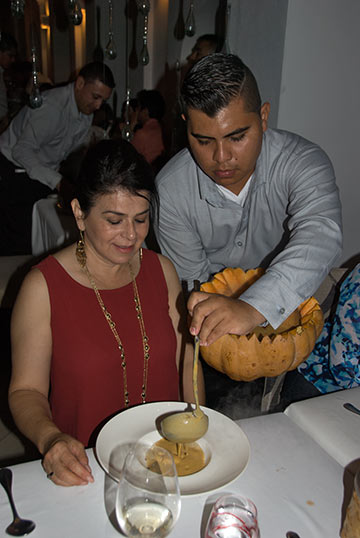 Cafe des Artistes owned by Chef Thierry Blouet, creates a fusion of French and Mexican cuisine, and a selection of 500 wine labels. For visitors it is recommended to make reservations before arrival to Vallarta.
Signature dishes include the traditional prawn and pumpkin cream soup, on the menu for 25 years, along with Pescado Zarandeado, a charcoal grill specialty served along Mexico's West Coast, featuring the catch of the day prepared with an enchilada corita, grilled avocado, a drizzle of ajillo (the delectable house garlic sauce), chunks of crab, and a pineapple sigh. For early arrivals, a selection of 500 wine labels await at the Pyote lounge bar along with live music. Dress is formal casual, no drop-ins allowed, and reservations are best made prior to a Vallarta visit. Hours, 6 p.m. to 11 p.m., closed Sundays.
Fred Ruiz, another internationally recognized chef who has cooked for Presidents Nixon, Ford, and Reagan and a list of celebrities including Frank Sinatra, is the Executive Chef at the attractive, five-star CasaMagna Marriott, in the Marina Vallarta complex. Ruiz has created intriguing menus for the four resort restaurants each with different specialties. La Estancia offers one of the city's most elaborate breakfast buffets, while the dinner menu embraces the traditional regions of Mexico with Puebla-style mole. Open for breakfast and dinner.

The five-star CasaMagna Marriott's La Estancia restaurant embraces the traditional regions of Mexico with an international flair. Executive Chef, Fred Ruiz, has cooked for Presidents Nixon, Ford, and Reagan, and a list of celebrities including
Frank Sinatra.
Up a flight of stairs, romance drifts through the night air at the Vista Grill high above Zona Romantica, where a maze of sparkling city lights bordered by the Bay appears like a large master painting. Designed with a modern Mexican jazz club ambience, Vista has been awarded the city's only non-hotel, AAA Four Diamonds award.
The extensive, award-winning menu includes well-liked offerings such as Grilled Portobello with goat cheese, apple slices, segments of onions, grilled tomatoes, pineapple, and beets. Other entrees are Oaxacan Yellow Corn Tamale, and a pear salad poached in tequila, orange, and cinnamon, with a pear punch vinaigrette, and a sprinkling of peanuts and goat cheese. Hours, 5:30 p.m. to 11:30 p.m. with live music.
Options to add to your culinary wish list, among a host of others, are La Palapa Restaurant & Beach Club on bustling Muertos Beach, and Trio Restaurant Bar Café. La Palapa, opened in 1957 and still family-owned, is the oldest beach restaurant in Puerto Vallarta, and the place for a spicy lunch date for classic Mexican plates, along with the best people-watching this side of Disneyland. Hours, 8:30 a.m. to 11:30 p.m., live music 8 p.m. to 11 p.m. Fashionable Trio, which has a huge following, features a changing menu of fresh local ingredients, and offers continental/Mediterranean haute cuisine shaped by chef-owners Bernhard Guth and Ulf Henriksson, who have been honored with a long list of awards including a 5-Star Diamond Award. Lunch hours, noon to 4 p.m., dinner, 6 p.m. to 11:30 p.m.
Gain marvelous insight into the city's cuisine with a visit to the Sunday Farmers' Market in Lazaro Cardenas Park and Basilio Badillo. Open from 9:30 a.m. to 2 p.m., the market gives visitors an opportunity to meet the growers, possibly a chef or two, and plenty of Vallartan's "in the know," who will rattle off their own list of preferred dining locations.
When You Go
Alaska Airlines, serving eight Mexico destinations, inaugurated service to Puerto Vallarta in 1988 and now offers non-stop service from Orange County, California's, John Wayne Airport to Puerto Vallarta; www.alaskair.com.
La Isla de Marin's, 869 Matamoros; telephone, 322-222-7537
River Café Restaurant-Bar, Isla Rio Cuale, El Centro; telephone, 322-223-0788
Le Bistro Jazz Café, Isla Rio Cuale 16-A; telephone, 322-222-0283
Pipis, Guadalupe Sanchez 807, Colonia Centro; telephone, 322-223-2767.
Café des Artistes, Guadalupe Sanchez 740, Colonia Centro; telephone 322-222-3228; see also: www.thierryblouet.com
CasaMagna Marriott Puerto Vallarta, Marina Vallarta; telephone, 322-226-0017; 322-226-0000
Vista Grill, Pulpito 377, Col Alta Vista; telephone, 322-222-3570
La Palapa Restaurant & Beach Club, Pulpito 103, Col. Emiliano Zapata; telephone, 322-222-5225
Trio Restaurant Bar Café, Guerrero 264, El Centro; telephone, 322-222-2196
Related Articles:
Rainy Season Bargains In Sunny Puerto Vallarta; Hollywood's Most Famous Couple in Puerto Vallarta; Las Alamandas Awaits; A Unique Sensory Encounter in Riviera Maya; Inside Cozumel: A Different World