Santa Barbara Scrumptious
By Richard Carroll
Photos: Halina Kubalski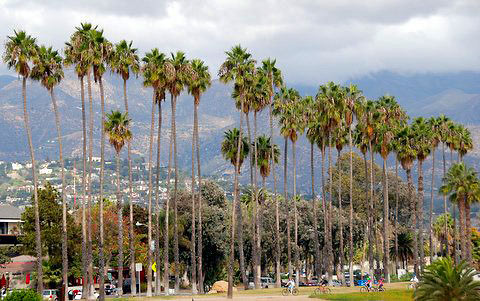 Santa Barbara. Cyclist's enjoying the city

anta Barbara, just an hour or two north of Los Angeles, is an island unto itself. Attracting both the beach bum crowd – suntanned surfers, the witty homeless with street-wise talent, folks in search of a fresh beginning – and long-time residents with deep-pocket affluence, this coastal city encourages easy intermingling of the two since both are clinging to dreams of good times ahead. Santa Barbara is the setting where they blend together in an elegant and earthy style of California living.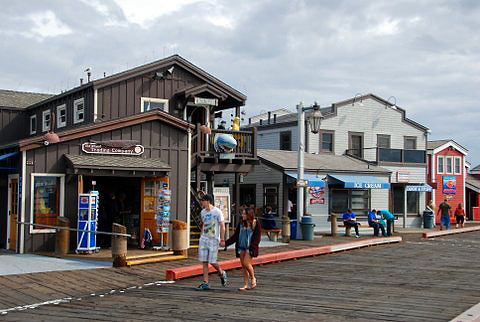 The popular Santa Barbara Pier.
Anchoring the city is the prestigious University of California, Santa Barbara, a noted party school with its own beach, which provides a continual infusion of high energy and passion, and a perfect counter-point to the port wine, candle-lit dinner crowd driving pampered show-room cars that would be a nice down payment on a starter home.
Smiling hard-working students labor in the restaurants and boutiques, and are seen jogging or cycling along the attractive ocean path. They energetically thrust the city up a hefty notch with their optimistic demeanor that always seems to proclaim that life is splendid and Santa Barbara is the place to be.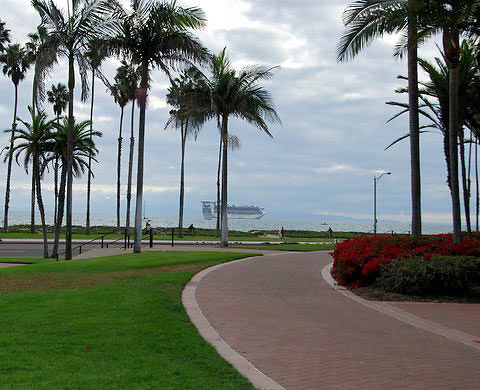 Santa Barbara coast
The city is an intriguing showcase of gorgeous Old World Mission architecture where red tile roofs rule and California history lives. Montecito, partially within Santa Barbara's city limits, was once a home base for President Reagan and Michael Jackson, and is where president to be, John Kennedy and Jackie spent part of their honeymoon.
A host of other international celebrities have found their way to Santa Barbara, including Oprah. Perceptive to the joys of the city, she is enjoying a lavish 42-acre estate, and a city noted for fine dining, exclusive shopping, an organic-style Farmer's Market, elite art galleries, a large cluster of busy resident artists, and a booming wine scene with a bevy of local wine aficionados with refined taste buds.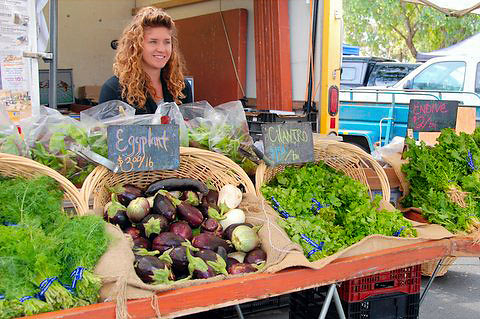 The Santa Barbara Farmers's Market is among the best along this part
of California offering organic vegetables and fruit.
The county's wine regions embody everything that is wonderful about the area, like putting on a comfy pair of slippers and a favorite robe, and enjoying the bouquet of a fruity Zinfandel. Cleverly, Santa Barbara in accord with the county wineries have designed a noted downtown Urban Wine Trail, which is the essence of convenience for wine enthusiasts and for those who wish to taste and learn about the county's offerings. The Wine Trail, located within blocks of downtown and the beach, connects a whopping 23 tasting rooms.
The spirit of America can be felt in the vital Santa Barbara County wine country, in the fabled tradition of winemaking, the enduring energy of zealous winemakers, and the spiritual quest of tasting room sommeliers to enhance the pleasure of visitors by increasing their appreciation of the significant choices to be made before a cork is pulled at the dinner table.
With appellations, wineries, and vineyards reaching from the Santa Maria, Los Alamos, and Santa Ynez Valleys, to the Santa Rita Hills, Happy and Ballard Canyons, and Los Olivos, there are more than 200 wineries, and 50 different wine grape varietals in Santa Barbara county, the top three being Chardonnay, Pinot Noir, and Syrah.
The celebrated family-owned Fess Parker Winery & Vineyard on Foxen Canyon Road in Los Olivos, dating to 1988, is noted for their 2012 Ashley's, Chardonnay; 2012, Pinot Nior, Bien Nacido Vineyard, and the 2012, Viognier, Rodney's Vineyard, amongst other vintages. Their wines show a strong sense of place with the maritime influence from the Pacific Ocean combined with determined sunshine.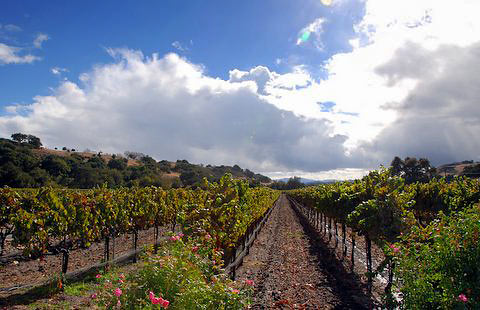 The award-winning family-owned Fess Parker Winery in Los Olivios.
Parker wines have been served in the White House and were poured exclusively at the opening of Ronald Regan's Presidential Library. Following in his father's footsteps, son, Eli Parker, who overlooks the winery as its Chief executive Officer, was honored with Winemaker of the Year in 1996 and 2006.
The late Fess Parker, who was tall and lean and handsome, with a long list of film and television credits, was best known for his portrayal of Davy Crockett in the Disney television series, and Daniel Boone in a television mini-series, and is listed as a Disney Legend. Married 50-years, Fess had an enduring vision of family unity, and a top priority to leave something for the generations to come.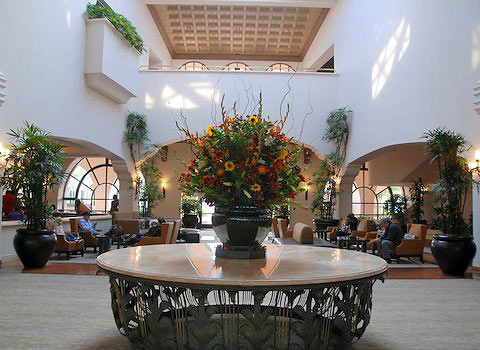 The interior of the family-owned Fess Parker Hilton Resort, a half-mile
from downtown, located on one of California's most attractive coastlines.
The family-oriented 24-acre Fess Parker Hilton Resort, a half-mile from downtown, located on one of California's most attractive coastlines, reflects Fess Parker's life-long beliefs. Opened in 1987, the 360-guest room, non-pretentious, non-smoking property, welcomes guests and pets with the friendliest staff this side of Disneyland. Three key restaurants and an ocean-view bar, fitness center and spa, wine tasting, and complimentary airport and Amtrak shuttle service are a bonus.
For those who wish to explore the county's wine trails, a Hertz Rental Car Desk is located in the lobby. Guests can also hop on the Downtown Waterfront Shuttles or ride the red Trolley Car for a narrated, 90-minute tour of the city. Before departing the hotel lift a glass to Fess: it's a long-standing, feel-good tradition.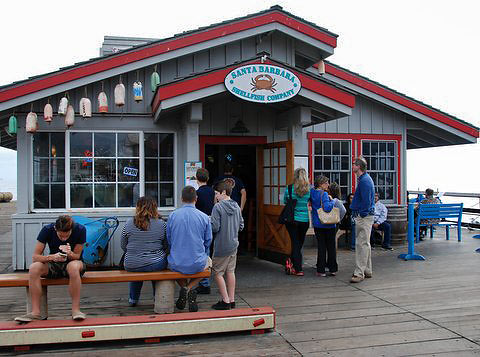 The Santa Barbara Shell Fish Company restaurant is among the most
popular in Santa Barbara. Located on the pier, the fish is fresh, and the room
has won a number of awards. Visitors often overlook this casual restaurant.
When You Go
For reservations:
Fess Parker Hilton Resort: 888-370-0998
Visit Santa Barbara, The American Riviera
Related Articles:
Ventura – "The Real California" On The Central Coast; California's San Luis Obispo County; Oxnard: Southern California's Hidden Gem; California Coast: From San Diego to Pismo Beach; Winter Escape to Redondo Beach; California's Central Coast: A Tale of Three Cities