Great Fun and Food in Avila Beach
Story and photographs by Greg Aragon

f I close my eyes I can almost see the old wooden pier standing in the sea and hear the rocks rolling in the waves outside my window. I can almost feel the refreshing ocean breeze filter through my beach-front room. And I can almost taste all the wonderful food I had during my recent getaway to Avila Beach.
It all began recently when a friend and I rented a car and drove about three hours north of Los Angeles to the charming little beachside town, where we checked into Avila Lighthouse Suites and set up camp for a couple nights.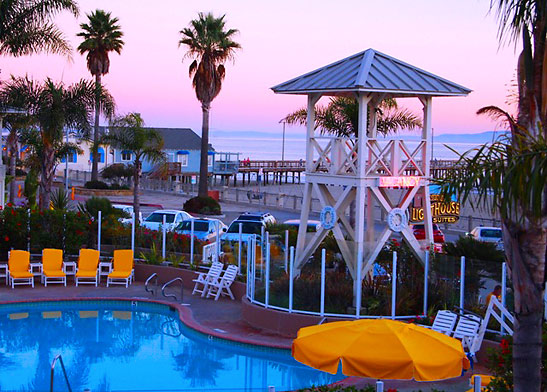 Avila Lighthouse Suites is a bright and cheerful boutique hotel resembling a classic Californian watercolor painting
Located across the street from the beach, Avila Lighthouse Suites is a bright and cheerful boutique hotel that looks like a classic Californian watercolor painting. The hotel's exterior is highlighted by an iconic wooden tower, sitting above an outdoor heated pool and spa, a small putting green and life-size chess board in a spacious plaza.
Inside the 54-room boutique hotel, the rooms are modern and comfortable. Our suite boasted a bedroom with two queen beds, a large flat screen TV, and a fireplace; a living room with sofa bed, chair, office desk and another fireplace; a full sized kitchen, with large refrigerator and all the amenities.
The room also came with free wireless Internet and a large private balcony overlooking the pool and the Avila Boardwalk and beach. From the balcony we watched boats sail past the pier, people relaxing in the sand, and all the action on the boardwalk. The lanai was also a great place to unwind at night with a bottle of wine.
Once we settled into our room, we explored the area. Our first stop was Creekside Apple Farm, where we met farmer/owner Ed Evenson and Donna Peterson. We began our visit by sampling a few of the farm's latest apple varietals and sipping some of their famous unpasteurized apple cider. We then hopped in an off-road golf cart with Ed and his Jack Russell dog named Penny and toured the 15-acre farm.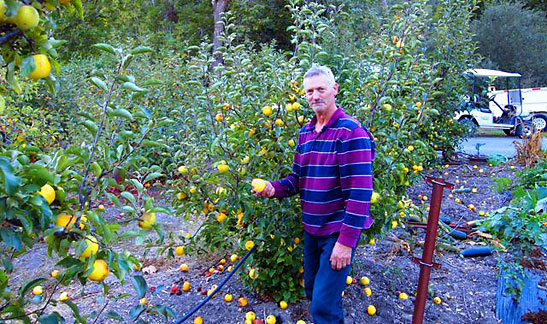 Owner Ed Evenson shows off his magical, 15-acre Creekside Apple Farm
Along the way we cut through thick, lush orchards, tasting varieties such as Gala, Jona-Gold, Winesap, Golden Delicious and Fuji's, Arkansas Black, Granny Smith, Gold Rush and Pink Ladies. All Creekside apples are sustainably grown, tree ripened and never stored.
Ed says his apples are unique because of the micro-climate the farm is situated in, two miles from the ocean, in a canyon with steep hills and natural heat retention. Apple season runs through mid-December. Besides apples, he also grows persimmons, pears, squash and grapes for wine, which he also produces on the property.
Before saying goodbye to Ed, we drove to a secluded hilltop, overlooking vineyards, where he showed us his romantic and cozy two-bedroom cottage that he rents out to people in-the-know.
From Creekside, we drove a quarter mile to Gardens of Avila Restaurant, where we met Chef Robert Trestor and enjoyed an incredible dinner. Located in a garden setting at Sycamore Mineral Springs Spa & Resort, the restaurant serves California Coastal wine-country cuisine and showcases the bounty of local and organic farms, ranches and culinary artisans in the Central Coast area region.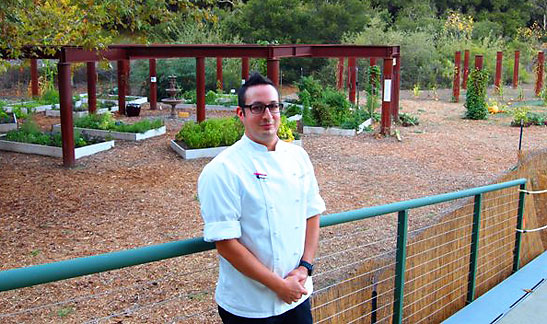 Chef Robert Trestor grows herbs and spices for his daily creations at Gardens of Avila Restaurant
Our dining experience began with a tour of the chef's personal garden, where he grows herbs and spices for his daily creations. We then sat down to a cup of unique hot tea with verbena and tomato, followed by a bowl of roasted corn soup, with smoked jalapeno, bacon and brioche croutons; and Morro Bay oysters, fresh tomato and garden radish.
For the main course my friend had an incredibly tender prime sirloin cap, with braised greens, crushed potatoes, bone marrow crust and bordelaise. I devoured pan roasted sea scallops, brown butter roasted squash, bacon, and apple glaze.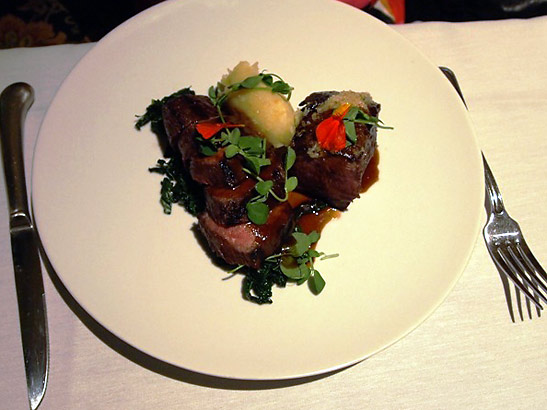 The Gardens of Avila Restaurant serves tasty California Coastal wine-country cuisine
After dinner we headed back to Lighthouse Suites and soaked in the Jacuzzi. In the morning I worked out at the fitness center and then enjoyed the hotel's free and bountiful continental breakfast. We then drove a couple miles up the coast to the historic Port San Luis Pier.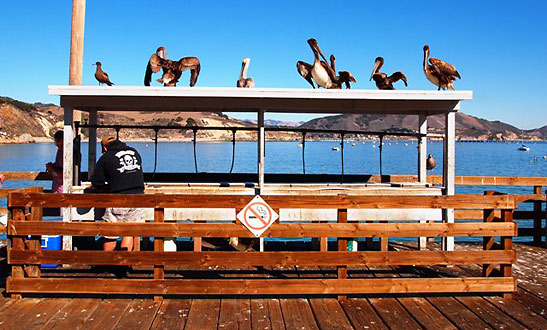 Harford Pier was originally built in 1878
Also known as Harford Pier, the structure was originally built in 1878 by John Harford and is one of the last piers around that the public can still drive their cars on. While strolling down the 1,320-ft-long dock, we watched sea lions relax on the wooden piles below and fisherman and large pelicans look for fish from atop. We concluded our visit with a great lunch of super-fresh ceviche and fish and chips at Pete's Pierside Cafe & Fish Market.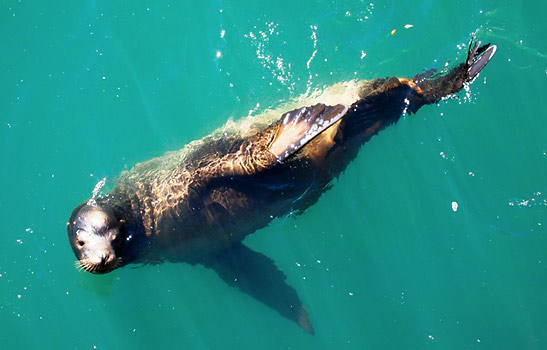 Sea lions play beside historic Harford Pier
After lunch we took a bus to Port of San Luis Lighthouse. Also known as the San Luis Opisbo Light Station, this is the last Prairie Victorian model lighthouse left on the West Coast and is on the National Register of Historic Places.
From the old lighthouse we drove back to the modern Lighthouse Suites, where I changed and practiced my game on an awesome outdoor basketball court, located next to the hotel and across the street from the ocean. My friend then joined me and we explored town.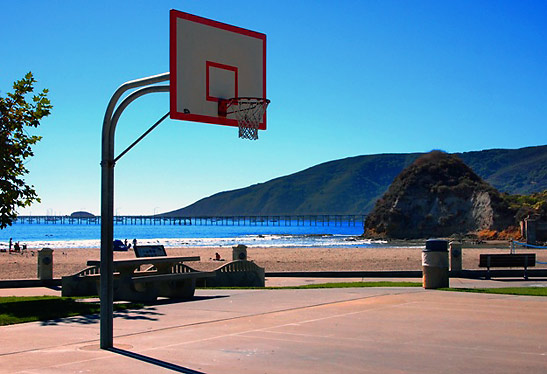 There is nothing like basketball by the beach
Located on the Central Coast, equal distance between Los Angeles and San Francisco, Avila Beach is surrounded by gentle, sloping hills, three piers and beautiful beaches. It also boasts tons of small-town charm and a perfect microclimate, making it a great region for wine.
In fact, during our stay we discovered Alapay Cellars (alapaycellars.com), a hip and fun wine tasting bar and wine shop, where we had a tasting of local wine, while sitting in a quaint shop only steps from the beach.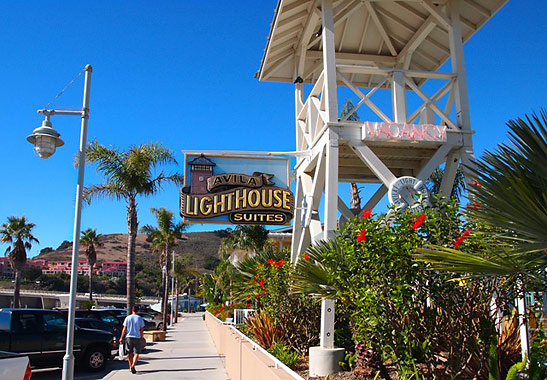 Avila Lighthouse Suites is a great place to stay while visiting Avila Beach
For more information on Avila Lighthouse Suites, call 800-372-8452 or visit: www.avilalighthousesuites.com. For general info on Avila Beach, visit: www.visitavilabeach.com.
Related Articles:
Fairmont Miramar Hotel, Santa Monica; Central Coast California; 4 Seasons Hotel, Westlake Village; Laguna Beach; The Grand del Mar; Ojai, California; Orange County Oceanfront, San Luis Obispo