Escape to Catalina Island
Story and photographs by Greg Aragon

atalina is not just an island paradise off the Los Angeles coast; it's a very close island paradise, which makes it a perfect day or weekend getaway. In fact, at only 24 miles across the sea from Long Beach, the place can be reached by boat in one hour.
With this in mind, a friend and I recently escaped to the island for a memorable summer Getaway.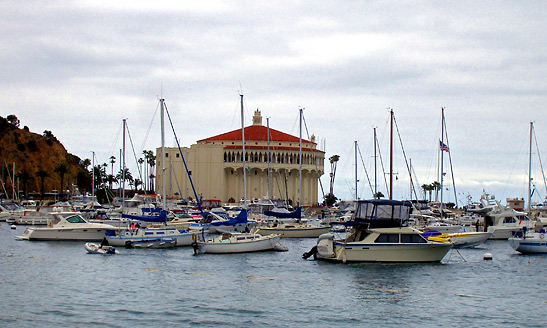 Catalina Island is an island paradise, only 24 miles off the coast of Long Beach, California.
Our journey began in downtown Long Beach, where we picked up tickets from Catalina Express and boarded one of the company's sleek, catamaran-styled vessels for an hour journey across the Catalina Channel.
Featuring comfortable indoor and outdoor seating, lots of big windows and a full bar and snack shop, the boat makes for a fun trip. Highlights of the crossing include views of the legendary Queen Mary, the giant, white geodesic Carnival Cruise ship dome (former home to Howard Hughes' "Spruce Goose" wooden airplane), and schools of playful dolphins that usually follow the boat into Catalina Harbor.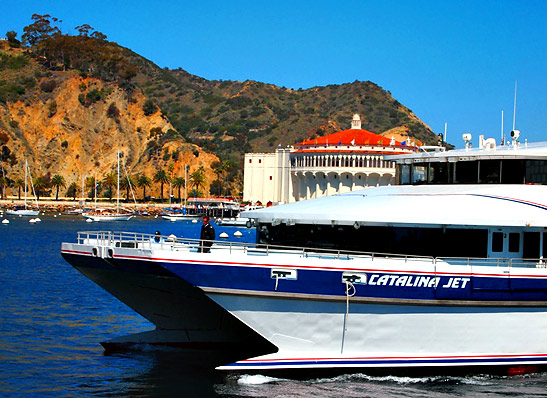 Catalina Express offers island trips in sleek, comfortable, catamaran-styled vessels
When we reached the city of Avalon, the captain anchored beside hundreds of colorful boats and yachts, and schools of bright orange Garibaldi – the California state fish. From here we walked about 10 minutes along the water's edge, through town, to our room at the Aurora Hotel & Spa.
Located a block from the beach, Aurora combines sleek and modern décor with a cozy Catalina bed and breakfast feel. Our spacious suite featured a large Jacuzzi tub and shower, a comfy king bed, lots of couch seating, flat screen TV, small fridge, free high-speed internet and a free continental breakfast.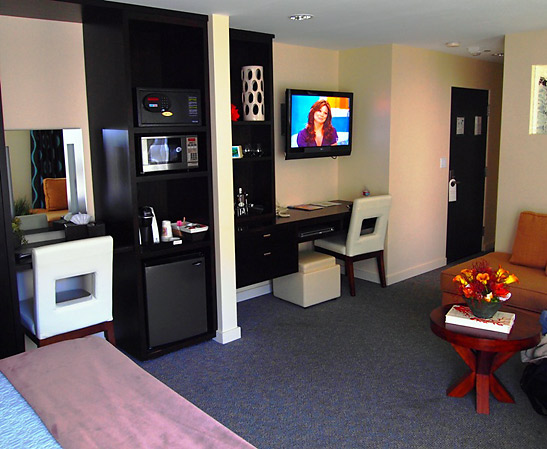 Aurora Hotel & Spa combines sleek and modern décor with a cozy Catalina bed and breakfast feel
Once acquainted with our room, we walked up a flight of stairs to the rooftop of Aurora, where a groovy outdoor lounge area awaits guests. Since the hotel sits atop a hill, and we were on the 3rd story, we had a magical, bird's eye view of the island and ocean.
After relaxing at the hotel, we walked a few minutes to Descanso Beach Club for lunch. Set on the beach, the club serves casual fare and signature cocktails, with incredible ocean-front views. For our lunch we enjoyed a plate of shrimp, Caesar salad, chicken sandwiches and beer, while watching sunbathers and scuba divers a few yards away.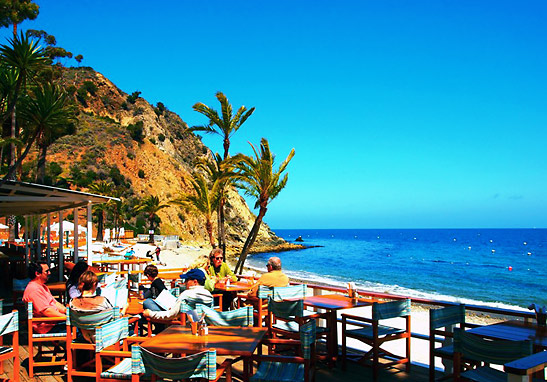 Set on the beach, Descanso Beach Club serves casual fare and signature cocktails, with incredible ocean-front views
We also had a great view of the historic Casino Building, which 50 years ago used to bring hundreds of people to island each week to see big bands such as Benny Goodman, Stan Kenton, Woody Herman, Gene Autry and other greats play on one of the biggest wooden dance floors the world had yet seen.
After lunch we strolled along the boardwalk to Catalina Sea Spa, which is located on a small side street off the main drag. Along the way we passed the old wooden pier, charming island shops and eateries, and we waved at passengers in the ubiquitous and colorful golf carts that crisscross Avalon.
At Catalina Sea Spa, we met owner Michelle Bray, who told us about her company, which offers full service spa treatments in the heart of island paradise, and is the only spa to offer Ashiatsu, a unique form of Japanese barefoot massage. Spa services also include hot stone, Thai, Swedish, pregnancy, and Lomi-Lomi, a relaxing Hawaiian massage. For treatments, we had two rejuvenating Swedish rubs.
My massage was so soothing, I found myself napping on the beach afterwards. For those who want to take island relaxation to the next level, I highly recommend a visit to Catalina Sea Spa.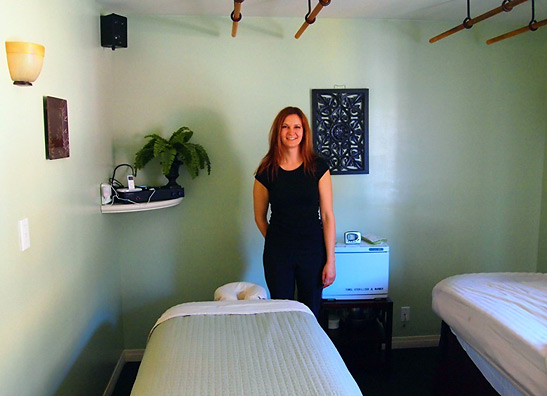 Catalina Sea Spa offers soothing massages on an island paradise
For dinner, we discovered Steve's Steakhouse. A local favorite featuring steaks, seafood and lamb, Steve's is located on the 2nd floor of an oceanfront building, with beautiful panoramic harbor views. Our meal began with Oysters Rockefeller, with fresh and hot with spinach, cheese and spices; jumbo shrimp cocktail with spicy sauce and lemon; and Caesar salad. While eating, we met owner Steve Bray, who helped us choose a main course. I went with a big juicy T-bone steak, with rice pilaf and veggies, and my friend had a succulent local swordfish with mashed potatoes.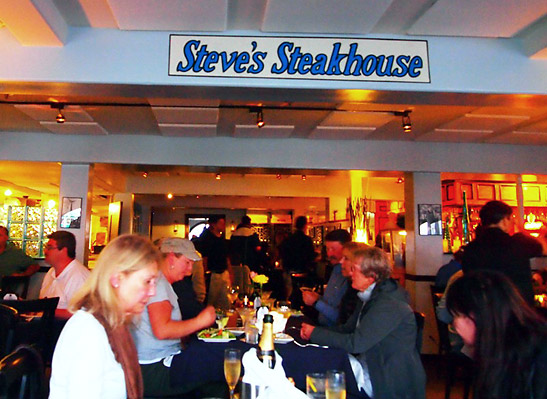 A local Catalina favorite featuring steaks, seafood and lamb, Steve's Steakhouse boasts great food with beautiful panoramic harbor views
After dinner, we walked along Avalon's wooden pier, watching seals and fish swim in the clear water and the sun go down behind the casino building. We concluded the evening with a couple Maui Mai Tai's at Luau Larry's bar.
In the morning we experienced a thrilling two-hour ride with Zip Line Eco-Tour. This new island attraction propelled us down five separate zip lines dropping from 500 ft to 60 ft above sea level, with one run that is 1,100 lineal-ft-long all on its own. Along the way, we traveled nearly three quarters of a mile above an untamed canyon floor at speeds pushing 45mph.
After the zip-line adventure, I walked to the sandy beach, spread out my towel and relaxed like a baby seal on the deck of a swaying boat in a serene harbor.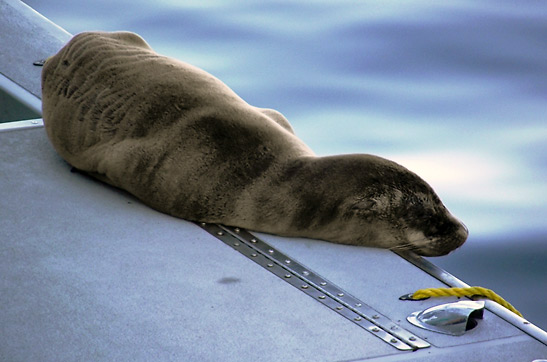 Catalina Island can have one relaxing like a baby seal in a serene harbor
For more information on visiting Catalina Island, visit: www.CatalinaChamber.com.
Related Articles:
Pismo Beach, Catalina Island, Laguna Beach, Orange County Oceanfront, San Luis Obispo, Central California Coast, Hotel del Coronado, San Diego