Waterfalls, Volcanoes, Resorts and Winter on the Big Island
Story and photos by Greg Aragon

t's not every day one hikes through a giant lava tube or cuts through a lush rainforest in a raging downpour to stand at the precipice of a thunderous waterfall. And it's not often one stays in a room overlooking volcanic rocks, giant manta rays and dolphin either. But then, Hawaii's Big Island is not an everyday excursion.
A friend and I recently escaped to the island, trading the December chill of Southern California for warm tropical breezes. Our getaway began at Kona International Airport, where we deplaned on the tarmac, walked through the little facility and picked up our rent-a-car in about 10 minutes! From here, we drove 15 minutes past sprawling fields of black lava, lining beautiful coastline, to the Sheraton Keauhou Bay Resort & Spa in Kona.
Set atop an ancient lava flow cascading into the Pacific, the 521-room Sheraton is resembles a giant, modern, Mayan pyramid with restaurants, shops, a spa, numerous activities, and well appointed guest rooms with gorgeous landscape outside each window. And since it was Christmas-time, the place was decked in holiday trees, lights and ornaments throughout.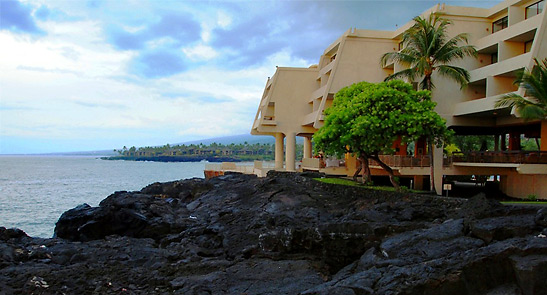 Set atop an ancient lava flow cascading into the Pacific, the Sheraton Keauhou Bay Resort & Spa in Kona resembles a giant, modern, Mayan pyramid
Our room overlooked black volcanic rock and the ocean a few feet beyond. From our balcony we could see boats and kayakers drift by and hear the crash of waves. Each night beginning at 7pm, with the help of powerful hotel lights, we could see giant manta rays swim offshore.
Once cozy at the Sheraton, we explored the island, Hawaii's largest and youngest landmass. Our first stop was 90 miles south to Volcano National Park, home of the Kilauea and Mauna Loa volcanoes. Kilauea is the earth's most active volcano and has been erupting practically non-stop for the past 20 years. And at more than 33,000 feet, Mauna Loa is the world's tallest mountain when measured from the ocean floor.
We began at Kilauea Overlook, where we saw volcanic steam rising through fissures and giant clouds of gas erupt from the Summit Caldera. Our next stop was Thurston Lava Tube.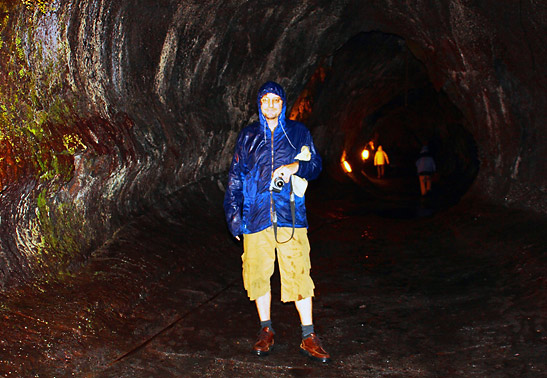 The Thurston Lava Tube was formed 500 years ago by a river of lava
Formed 500 years ago by a river of lava, this wondrous cave is about 100 yards long and tall enough to walk through. It is lit by electric lights, so I could see the puddles on the floor, the colorful minerals shining on the walls, and water dripping through the ceiling cracks.
Emerging from the cave we continued south around the island to the charming town of Hilo. Lined with historic buildings facing a crescent-shaped bay, Hilo is a throwback to the old days of Hawaii. Instead of resorts, the town has small shops and cafes and colorful locales strolling about. The town began as a fishing village, then became a sugar hub, and then the seat of county government. In 1946 and 1960 it was nearly swallowed by a tsunami.

Lined with historic buildings facing a crescent-shaped bay, Hilo is a throwback to the old days of Hawaii
From Hilo we drove to Akaka Falls State Park, located in a rainforest along the northeastern Hamakua Coast. Here, with buckets of rain pouring on us, we descended a staircase into a lost jungle and hiked through thick orchids, bamboo groves and draping ferns.
Following a footpath into the rainforest, we came to100-ft Kahuna Falls and then encountered the massive and thunderous Akaka Falls, which plummets 442-feet into a stream-eroded gorge.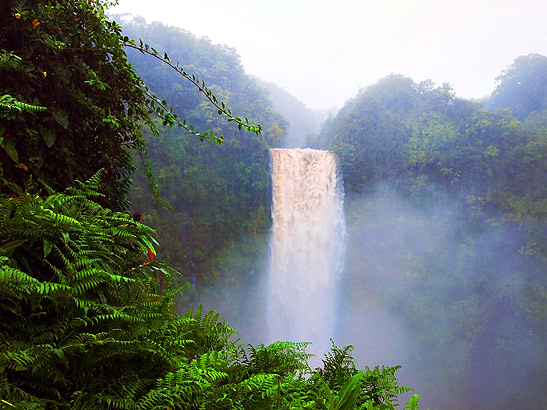 Akaka Waterfall plummets 450 ft into a stream-eroded gorge
From the falls we finished our southern loop of the island and headed back to the Kona area, where we discovered Hapuna State Beach. Here we body-surfed and worked on our tropical tan, before heading to yet another another Hawaiian wonder – the Hilton Waikoloa Village.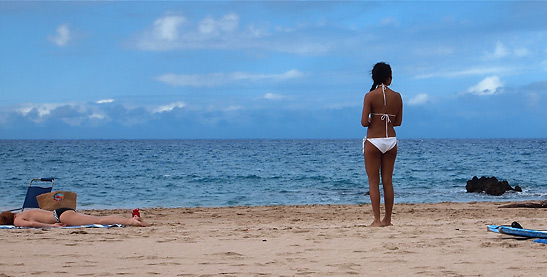 Hawaiian Beaches offer great views
A destination all its own, this magical 1,240-room resort is nestled on 62 oceanfront acres, teeming with breathtaking tropical gardens, stunning artwork, pools and waterfalls, restaurants and shops and everything else to keep an entire family occupied for a week without leaving the property.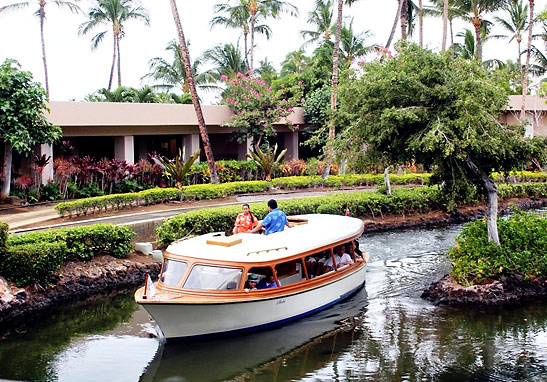 The Hilton Waikoloa Village has trams and boats to take guests to their rooms
Our 6th-floor room was located in the Lagoon Tower. To get there we caught a tram near the colorful parrots in the lobby. We would have taken the boat, but it wasn't running yet. The short ride was beautifully lined with resort shops on one side and a canal with tiny islands and bird-filled trees on the other.
Once in the room, we opened the curtains and were flabbergasted at the beauty before us. A hundred yards out was a volcanic beach, with waves crashing on white and black rocks. The view also included the resort pool and lawn, a salt water lagoon for snorkeling, a rope bridge, and a lagoon full of shiny grey and white dolphins, swimming in an interactive hotel exhibit called Dolphin Encounter.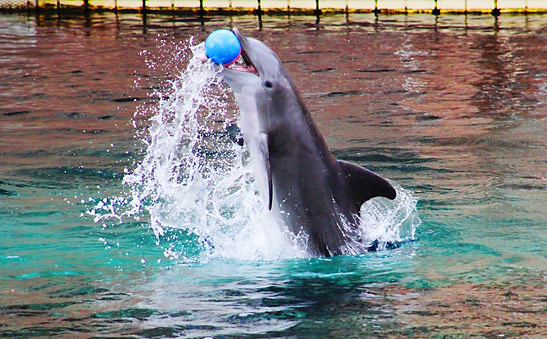 Waikoloa Village also features a lagoon full of shiny grey and white dolphins, swimming in an interactive exhibit
After unpacking, we donned swimming gear and went exploring in the 80-degree weather. We started at the Kohala River Pool – a system of four pools interconnected by waterslides. Here we swam, played beneath a waterfall, soaked in the Jacuzzi and sipped margaritas.
For dinner we discovered the Hilton's romantic Kamuela Provision Company (KPC), winner of the Wine Spectator Award of Excellence for 2005 and 2006. A sophisticated steak and seafood restaurant, the place looks over the water and offers memorable views of the Hawaiian sunset. Our meal was highlighted by lobster tempura, Jumbo Shrimp, Kalbi beef ribs, local beer, cheese cake, and the sun falling into the Pacific.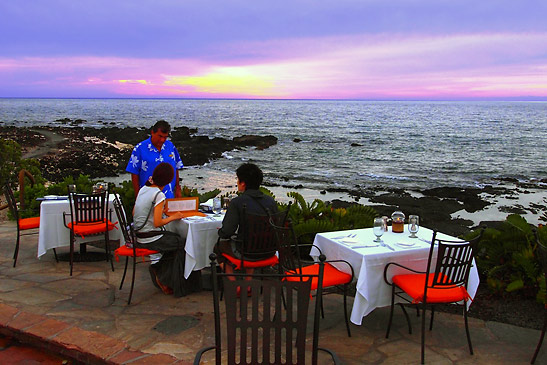 Waikoloa's Kamuela Provision Company offers seaside sunset dining
Other resort highlights include full-service spa, 2 championship golf courses, 8 tennis courts, a wedding chapel, $7 million in art speckled about the grounds and 20,000 sq-ft of retail shopping.
For more info on staying at Hilton Waikoloa Village, visit www.hiltonwaikoloavillage.com. For more information on staying at Sheraton Keauhou Bay Resort & Spa, visit www.sheratonkeauhou.com. For more info on the Big Island, visit: www.bigisland.org.
Related Articles:
Lahaina On Foot, Upcountry Maui, Hana Highway, Kaunakakai, Molokai, The Garden Island of Kaua'i, Kona Village Resort, The North Shore of Oahu, Tahiti and Her Islands