Grand Colonial Hotel in La Jolla
Story and photos by Greg Aragon

ome hotels have great location or luxury, while others have impressive history or gourmet cuisine. And some, such as the Grand Colonial in La Jolla, have all of the above – and more.
A friend and I recently escaped to the 100-yr-old Grand Colonial for a memorable seaside getaway. Our adventure began when we checked into a beautiful 4th floor junior suite overlooking the Pacific Ocean and hotel pool. The room oozed with classic design and elegance. It was like a night at a governor's mansion back in the 1930s or 40s, but with all of the modern luxuries of a AAA Four Diamond Award recipient.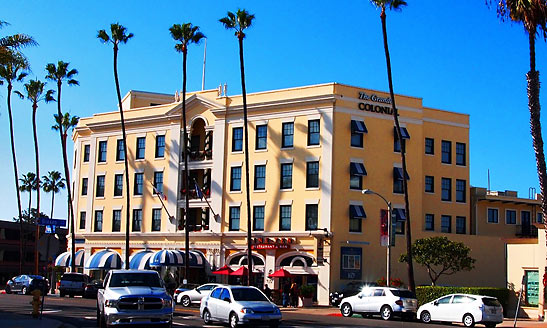 The Grand Colonial boasts 100 years of classic elegance and charm
The large comfortable suite came with a king bed, with goose down comforters; HD TV; walk-in closet; Keurig coffee maker; and an office work station with desk and Wi-Fi. And besides the super comfy Kashwére bathrobes, the room was highlighted by huge old-fashioned windows that opened wide to magnificent views of La Jolla's beach and rocky coves full of lazy seals.
Once acquainted with the suite, we explored the 93-room boutique hotel and grounds. Opened in 1913 as La Jolla's first hotel, the Grand Colonial started as an apartment / hotel. It soon added a pharmacy run by the father of legendary actor Gregory Peck, who grew up in La Jolla. In the coming years, the hotel would host notable celebrities such as Charlton Heston, Groucho Marx, Jane Wyatt, Eve Arden, Pat O'Brien and David Niven.

Rooms at the Grand Colonial feature spectacular ocean views
Throughout its 100 years, the five-story hotel has seen numerous upgrades and owners, but has always kept its signature Colonial revival-style architecture and its prominent corner location, one block above the ocean.
After touring the property, we walked to La Jolla Beach and discovered the Children's Pool, where scores of adorable harbor seals were lounging on the sand inside a beautiful cove. This place was recently named by TripAdvisor as one of the "Top 10 Wonderfully Unique Beaches" in the world.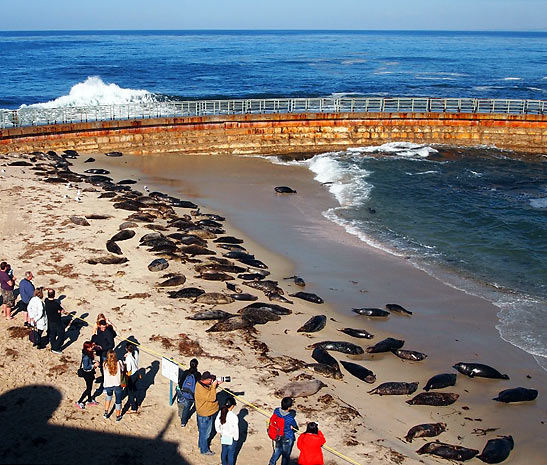 Both people and seals love secluded La Jolla beaches
After some pictures with the seals, we strolled along the coast to the La Jolla Underwater Park, a 6,000-acre tideland area of rocky reefs, kelp beds, sand flats, and submarine canyons. The park is naturally a popular destination for colorful fish, snorkelers, scuba divers and kayakers.
Back at the hotel, we relaxed at the circular pool, which is located in the hotel's charming, 1920s era courtyard. This secluded area transported me back to a different time.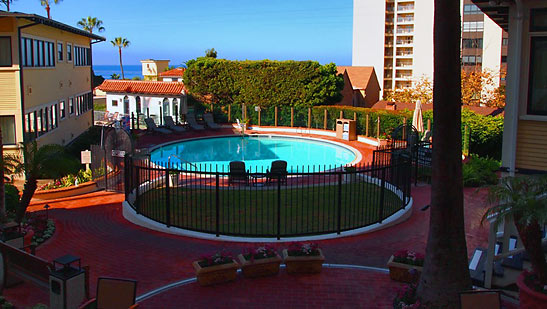 The hotel's quaint courtyard is a throwback to a different era
We then changed for a classy dinner at Grand Colonial's NINE-TEN Restaurant.
Located next to the lobby, NINE-TEN is led by award-winning Chef Jason Knibb (who competed on Iron Chef America) and Pastry Chef Rachel King. The eatery's "evolving California cuisine" is highlighted by dishes like house-smoked salmon and artisanal cheeses, as well as exciting seafood selections arriving daily from Hawaii, the North Pacific and Atlantic Ocean.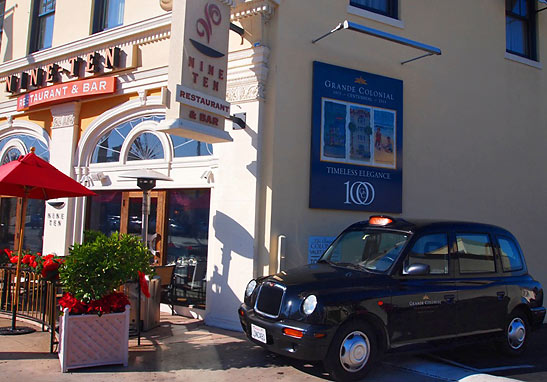 The hotel's NINE-TEN restaurant serves "evolving California cuisine," highlighted by fresh surf and turf
Our meal began with two tasty appetizers: Hamachi Sashimi, with marinated baby shiitake mushrooms and scallion vinaigrette; and Jamaican Jerk Pork Belly, with baby carrots, swiss chard, plantains, black-eyed peas, spicy jellies & sweet potato purée.
For the main course I enjoyed Maine sea scallops, with matsutake mushrooms, celery root, roasted quince, roasted apple & mace puree, and mushroom dashi emulsion. My friend devoured Red Wine Braised Prime Beef Short Ribs, with baby carrots, turnips, spring onions, daikon, potatoes, gochujang mustard seeds, scallion & radish salad and beef consommé.
After dinner we strolled through the charming Village of La Jolla, which offers designer shops, spa services, galleries and upscale eateries. Retailers on Prospect Street and Girard Avenue – known as the Rodeo Drive of San Diego – range from Armani to Ralph Lauren, Brooks Brothers and Tommy Bahama. We concluded the evening with a stroll along La Jolla's cliff-lined beach.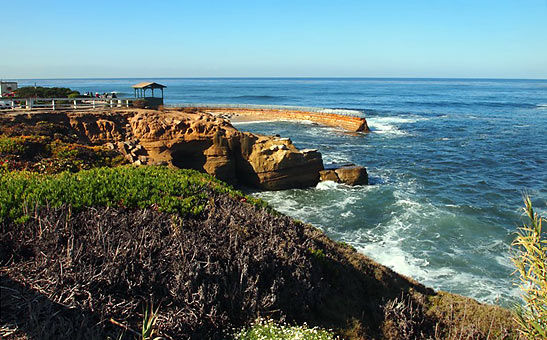 La Jolla is replete with gorgeous secluded beaches, lined with towering cliffs
The Grande Colonial Hotel also offers 5,000 sq-ft of indoor and outdoor event space, in-room spa treatments, concierge-arranged ocean activities; airport shuttles and more. The hotel is located at 910 Prospect Street, La Jolla, CA 92037. For more information and reservations, call (888) 828-5498 or visit www.thegrandecolonial.com.
Related Articles:
Passport to San Diego; The Bahia Resort Hotel, San Diego; Hotel del Coronado; Transit Through San Diego; Laguna Beach; The Grand del Mar; Orange County Oceanfront, San Luis Obispo