Electric, Eclectic Fun and Food
In Long Beach
Story and photographs by Greg Aragon

ong Beach is known for its world-class Aquarium of the Pacific and the legendary Queen Mary ocean liner. But as I recently learned, the water-front city is also an eclectic paradise, full of incredible restaurants, great hotels, and a myriad of awesome activities.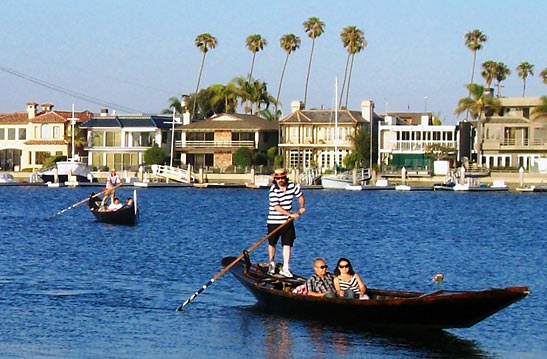 Long Beach is a water-front paradise full of great restaurants, hotels and activities.
My summer getaway to the city began at the luxurious Renaissance Long Beach Hotel, located in the heart of the entertainment district in downtown. Here I checked into a gorgeous 10th-floor suite with a wall of windows overlooking the Queen Mary and Carnival Cruise Ship Dome, the historic 1926 Breakers Hotel, and the Pacific Ocean. With chic, casually elegant rooms and great location, the hotel made a perfect launching pad for my visit.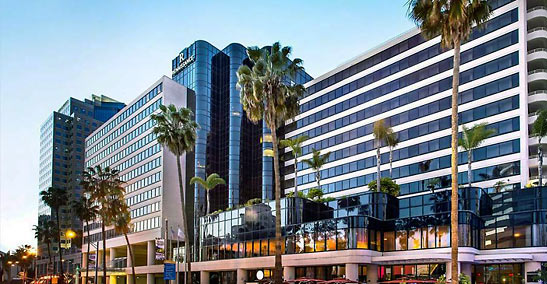 The Renaissance Long Beach Hotel makes a perfect home base while visiting the city.
Once acquainted with the 374-room hotel, I began my Long Beach tour with an incredible Shrimp Po'Boy sandwich and a spicy Bloody Mary at the nearby Attic on Broadway. Featuring New Orleans-styled Southern food in an historic Long Beach house, The Attic's eclectic menu serves favorites such as Mac 'n Cheetos with bacon; bacon-wrapped jalapenos stuffed with crab and cream cheese; chicken and okra gumbo; fried green tomatoes; barbecued St. Louis pork ribs; and a host of Bloody Mary's with garnishes such as pickled eggs, beef ribs, and hamburger sliders hanging off the rim.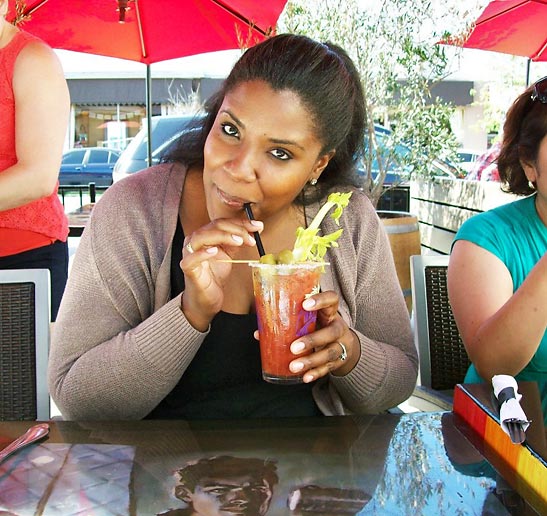 The Attic on Broadway has tasty Southern food and a fun Bloody Bar
After lunch, we embarked on an electric bike adventure down the boardwalk with Pedego Electric Bikes. Featuring a fleet of cool, pedal-assisted bicycles, the company offers visitors a unique way to explore Long Beach. With a powerful, yet compact electric motor, the bikes are perfect for people of all ages and physical abilities.
Our trek began near Shoreline Village and took us about 8 miles down the beautiful winding bike path along the shore. It was a great ride. Whenever I felt a little winded I pulled back on the throttle and the electric motor took over. And as an added benefit, I was sporting the best bike in the fleet. With wood paneling wrapped around its chassis, the bike was a tribute to the classic Woodie surf wagon of the 1960s.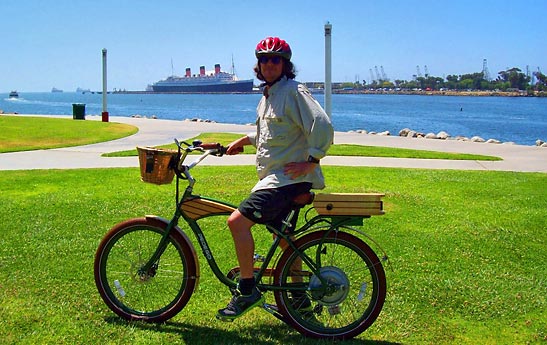 Pedego Electric Bikes offers an exciting way to see Long Beach
Back at the Renaissance Hotel, I soaked in the Jacuzzi and relaxed before my next adventure – a voyage through the canals of Long Beach's legendary Naples Island. Led by the Gondola Getaway company, the journey brings old world charm and thousand-year-old tradition to the city, as passengers cruise on authentic Italian gondolas through serene canals, under bridges, and past multi-million dollar mansions. It's no wonder Gondola Getaway has been featured in Westways Magazine, on CNN, and now in Greg's Getaway.
Along our cruise, we sipped wine, nibbled on snacks and were treated to an Italian song by our gondolier. And as dusk approached on the warm summer night, we were rewarded with an amazing sunset that reflected off the water and bounced through the canals.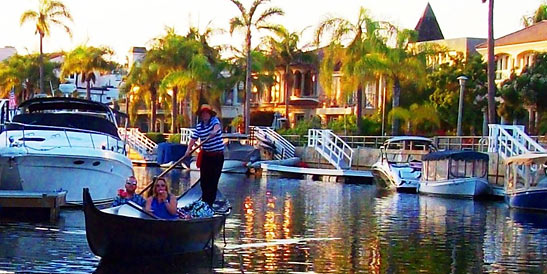 Gondola Getaway takes passengers on authentic Italian gondolas through Long Beach's serene canals
After our gondola ride we drove to The Boat House on the Bay for a wonderful seafood dinner. Located on Long Beach's Alamitos Bay, the restaurant serves an array of fresh seafood, sushi, sashimi and oysters, as well as organic steaks, salads and pastas. My Boat House dinner included a half-dozen fresh oysters on the half shell, a tasty jumbo shrimp cocktail with horseradish sauce, and an exciting Sashimi Roll, with tuna, yellowtail, salmon, crab and avocado, tempura fried with spicy mayo, eel and ponzu sauce.
In the morning I discovered 4th Street, also known as "Retro Row." Stretching about 3 blocks, this colorful district is home to more than 40 independent merchants, including numerous thrift shops; vintage clothing, furniture, books, antiques and art stores; skateboard and surf shops; as well as locally owned restaurants, coffee shops and wine bars. Adding to the retro vibe of the street is the restored 1920's Art Theatre, which hosts a mix of first-run and art films, live concerts, comedy and other unique events.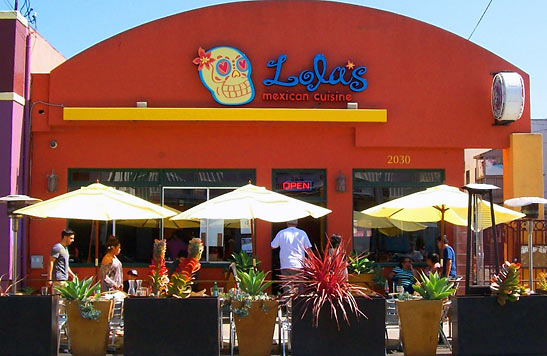 Lola's Mexican Cuisine serves up fresh seafood and potent Margarita's
While in the neighborhood I enjoyed lunch on the patio at Lola's Mexican Cuisine. This delectable meal included a cold Corona beer and Ceviche Verde de Camaron, with lime-marinated Mexican gulf shrimp, mixed with chopped green tomatillos, cilantro, green onions, and habanero and jalapenos peppers.
From here it was back to the Renaissance Hotel to rest and then off to the world-famous Queen Mary for a behind-the-scenes tour. Led by an expert historian, the excursion discussed the glory days of Queen Mary's tenure on the high seas. Our guide talked about her groundbreaking construction, her time as a troopship during WWII and her days as the world's most luxurious and technologically advanced ocean liner. We even visited the exact cabin that Sir Winston Churchill stayed in.


No trip to Long Beach is complete without a visit to the Queen Mary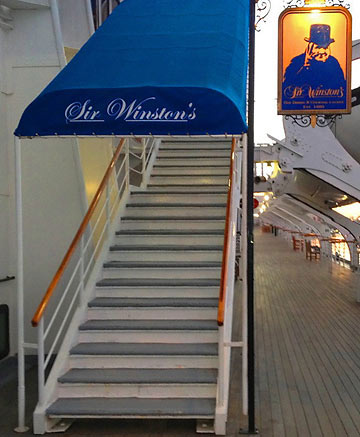 Sir Winstons's boasts gourmet cuisine, incredible
seaside views and historic elegance
After the tour I enjoyed a memorable dinner at Sir Winston's Restaurant & Lounge, the Queen Mary's signature five-star restaurant. Named after Winston Churchill, the restaurant boasts incredible seaside views and a mystic and historic elegance that must be experienced to truly understand.
My meal at Sir Winston's began with lobster ravioli, with sambuca rosa sauce, chive, concasse, and parmigiano reggiano, followed by a succulent plate of grilled shrimp, with warm lobster and crab salad, baby carrots, roasted potatoes, and blood orange syrup. While dining, I listened to waves splash against the ship's hull and I thought of the all the history that went on inside this magical ocean liner.
For more information on visiting Long Beach, visit www.visitlongbeach.com. For more information on staying at the Renaissance Long Beach Hotel and for current summer specials, visit www.renaissance-hotels.marriott.com/renaissance-long-beach-hotel.
Related Articles:
Searching for Blue Whales at Long Beach; The Queen Mary; Top 10 Things to Do at Catalina Island; Escape to Catalina Island; Laguna Beach "State-Cation"; Winter Escape to Redondo Beach