Soaking Up San Diego's
North Park and More
Story and photographs by Greg Aragon

he year was 1946. The war had just ended, Hollywood was in its Golden Age, and the Lafayette Hotel and Swim Club opened along California Highway 80 in North San Diego.
Built in a grand colonial style with large, white welcoming pillars, pitched roof, brick façade and shuttered windows, the historic hotel was an instant hit and soon became a vacation retreat for celebrities such as Bob Hope, Bing Crosby, Ava Gardner, and Olympic swimmer/ actor Johnny Weissmuller, who also designed the hotel's famous pool.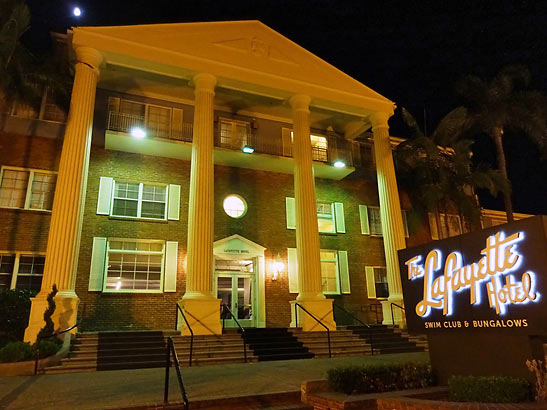 The Lafayette welcomed Hollywood stars such as Bob Hope, Bing Crosby,
Ava Gardner
I recently discovered the Lafayette along with the Catamaran Spa at the Catamaran Resort, the Waypoint Public restaurant, and a few other San Diego treasures on a getaway I won't soon forget.
The adventure began recently when a friend and I checked into a 2nd floor room at the Lafayette and explored the property. It originally featured 24 shops, 4 restaurants, a nightclub, and 250 guest rooms, along with the Weissmuller pool. Today, the hotel has 131 rooms, a gourmet restaurant called Hope 46, an historic steakhouse lounge called the Red Fox Room, a comedy improv club, and the renown pool, which has been luring guests since the 40s.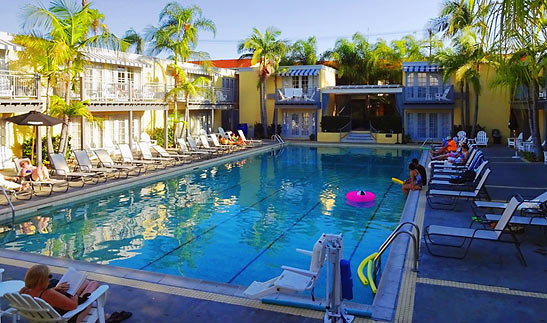 The Lafayette is classic swim club from the 1940's
After touring the property, I drove a few miles across town to the Mission Bay area of San Diego for a rejuvenating massage at the Catamaran Spa. Located inside the luxurious Catamaran Resort, on the shores of Mission Bay, the spa offers a complete menu of massages, body wraps, Vichy showers, hydrotherapy treatments, facials, and rituals.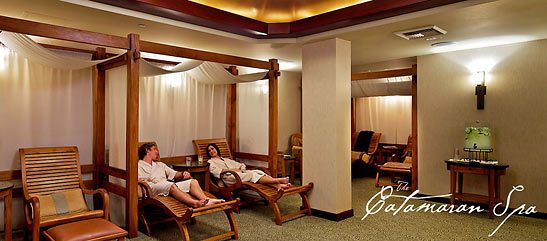 The Catamaran Spa is located on the shores of Mission Bay
For my treatment, I was brought back to life with a 45 minute therapeutic, deep tissue rub down. When the massage was over I floated into the outdoor whirlpool and took in the breathtaking views of Mission Bay, which was full of boats, paddle boarders, and people enjoying the sandy beach.
Back at the hotel, I met my friend for happy hour at the Red Fox Steakhouse and Bar, located at the east wing of the Lafayette. Literally shipped in pieces from England for actress Marion Davies, the entire restaurant was reassembled in 1926 and features wooden paneling and a fireplace with a finely carved mantel dating from 1642.
After a drink at the Red Fox we took a lovely walk through San Diego's North Park, to Waypoint Public, a cool, new restaurant known for fine craft beer and food pairings. Located on an ideal North Park corner, with open walls and a rustic, wooden brewery feel, the pub showcases 100 craft beers from around the globe, plus a custom 30-tap system featuring West Coast craft brews. There is also an eclectic seasonal menu with dishes such as Po' Boy Tacos with Fried Oysters, Carlsbad Black Mussels & Slow Cooked Pork Belly, and The Waypoint Public Burger topped with pulled pork and a fried egg.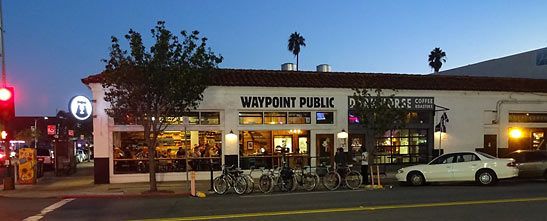 Waypoint Public is known for fine craft beer and food pairings
Our Waypoint meal began with succulent lobster rolls and a refreshing and tasty Summer Strawberry Salad, with local vine-ripened strawberries , feta cheese, red onions in a strawberry vinaigrette. We washed this down with local San Diego ale.
For the main course my friend had IPA beer battered fish and chips and I had an incredible Portobello stuffed meatloaf with whipped potatoes, balsamic glazed haricot verts and mushroom demi-glace. For dessert we shared a memorable vanilla bean crème brulee.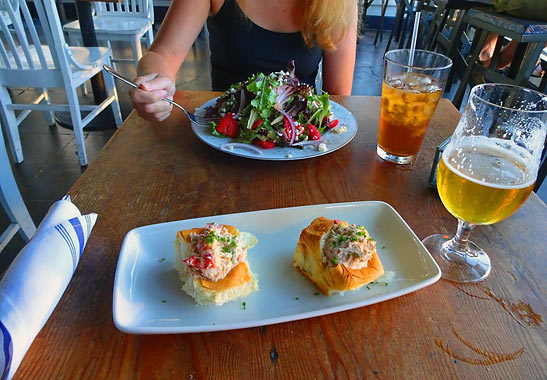 Beer battered fish n chips and lobster rolls go great with San Diego beer
On the walk back to the hotel, we strolled past numerous eclectic night spots in San Diego's fun North Park area. And down one semi-residential street, we discovered a giant, old water tower, with a crowded soccer field directly beneath it.

Back at the hotel, we relaxed on rocking chairs in the bright and whimsical lobby, which is decorated with colorful umbrellas hanging upside down on the ceiling, along with old furniture, paintings and pictures of the Lafayette's heyday in 1940s. Next to the lobby is the poll courtyard, which is lined with two levels of hotel rooms on each side. This area reminds me of Bourbon Street in New Orleans, but instead of the street, there is the Johnny Weissmuller poll, with room patios and balconies overlooking. Judging from pictures on the walls, this was the party place to be in 40s and 50s.

North Park is full of eclectic surprises, like an old
water tower above a soccer field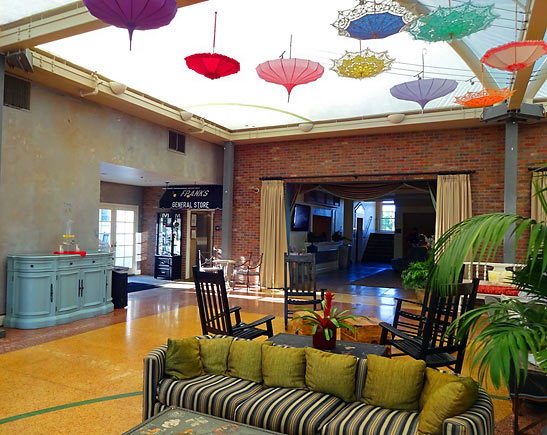 The Lafayette lobby is fun and whimsical
The Lafayette Hotel and Swim Club is located at 2223 El Cajon Boulevard, San Diego, 92104. For more information and reservations, call 619.296.2101 or visit: www.lafayettehotelsd.com/
Related Articles:
Bahia Resort Hotel in San Diego; Paradise Point Resort & Spa; Boutique Hotels in San Diego; Hilton San Diego Resort; Passport to San Diego; By Train to San Diego; Warner Springs Ranch, San Diego