Historic Charm Meets Modern Luxury At
Fairmont Miramar Hotel And Bungalows
Story and photographs by Greg Aragon

awoke to a brisk sea breeze dancing on my face and the aroma of freshly brewed espresso tickling my nose. I got out of bed, put on my fluffy bathrobe and stepped on the balcony, where I breathed in an incredible view of Pacific Ocean to my left and lush pool gardens below. It was a wonderful escape to the Fairmont Miramar Hotel & Bungalows in Santa Monica.
The getaway began when a friend and I pulled down a secluded, hedge-lined driveway across the street from the Santa Monica Pier. We then parked beneath a giant, 100-yr-old fig tree and stepped into pure seaside luxury.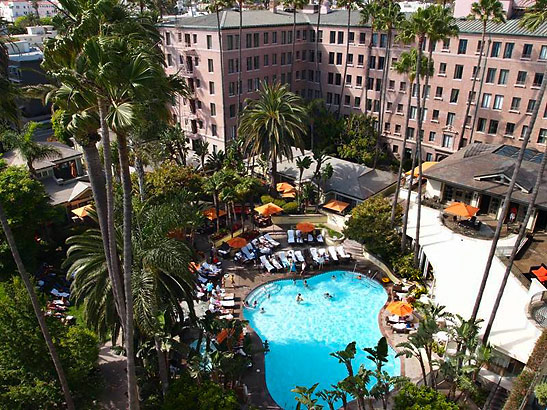 The Miramar Hotel & Bungalows offer secluded seaside luxury, sprinkled with historic Hollywood charm
Our first stop was a classy 8th floor guest room in the Ocean Tower. Overlooking the pool and beach, the room featured a comfy king bed, 42" LCD Flat screen TV, office desk with Internet, espresso machine, mini-bar, radio with iPod dock, a charming old-styled bathroom, and the aforementioned balcony, where we got a bird's eye view of the historic pier and beach.
Once acquainted with the room, we headed to the pool area for a swim and some rays. While sipping iced tea and relaxing on a cozy recliner beneath swaying palm trees, I read about the 300-room Miramar's fabled history.
Built as a private mansion by John P. Jones, a former U.S. Senator and founder of Santa Monica, The Fairmont Miramar Hotel has been a happening hideaway for Hollywood hipsters and guests in-the-know since 1921.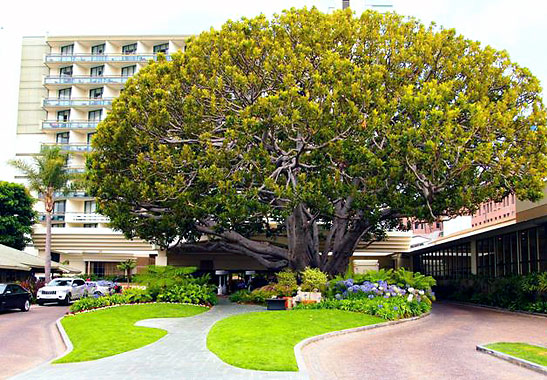 The hotel's iconic 80-ft tall, 100-year-old Fig tree
is the second largest of its kind in California
In 1924 the six-story Palisades Wing was built to provide apartments for extended-stay guests, such as actress Greta Garbo. In the 1930s, private bungalows were constructed and celebrities such as Jean Harlow, Marilyn Monroe, Eleanor Roosevelt and Charles Lindbergh became regulars. Today, the Palisades Wing is still around, and the 32 poolside bungalows have been restored to former grandeur.
Another hotel landmark still standing is the humungous, 80-ft-tall fig tree that welcomes guests at the main entry. Planted more than 100 years ago, the tree is the second largest of its kind in California. The tree is so beloved that the hotel's signature eatery was named FIG Restaurant.
Headed by Chef Ray Garcia, FIG offers fresh, local and organically grown ingredients straight from Santa Monica Farmer's Market. FIG features an intimate private dining room for romantics, and a communal table and pewter bar for more casual dining.
The hotel also boasts the Lobby Lounge, where we had dinner. Overlooking a Koi fishpond and waterfall, the restaurant spills from the lobby to an outside patio, providing a memorable summer dinner experience.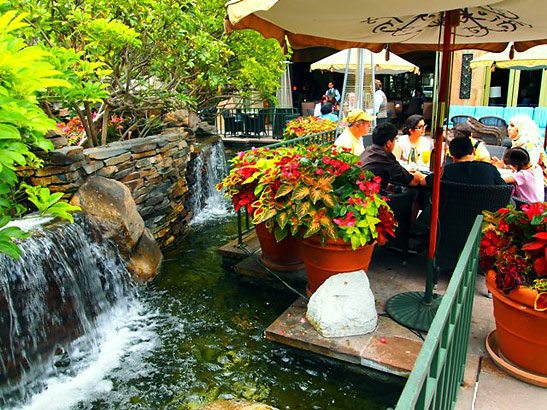 Overlooking Koi ponds and waterfalls, the Lobby Lounge provides a memorable summer dinner experience.
Our meal began with tasty-sweet Mojitos, and a couple delicious fish tacos with avocado, mango and cabbage that were suggested to us by restaurant manager Sarah Leitner. Sarah, who works at both FIG and the Lobby Lounge, thoroughly knows her food and wine and is very charming and professional. She even helped us plan out the rest of our meal.
This included homemade roasted tomato basil soup; followed by scrumptious shrimp scampi with white wine sauce and roasted garlic for me; tender bistro steak, with Hungarian sweet peppers for my friend; and of course, a couple more Mojitos for both of us.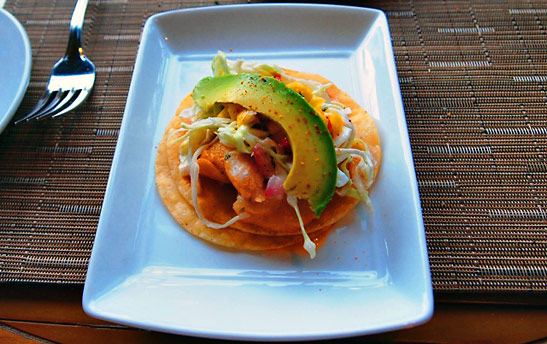 Tasty California fish tacos highlight an exciting eclectic Lobby Lounge menu
After dinner, we walked a couple blocks to Santa Monica's 3rd Street Promenade, a European-styled walkway with hundreds of shops, restaurants and bars. To get there we walked along Ocean Ave and gazed at Santa Monica Pier, with its huge, colorfully-lit Ferris wheel, twinkling and twirling in the night. In the morning, I worked out in the hotel gym and walked across the street to the beach for a morning stroll.
The Miramar also boasts a barber shop, and Exhale, a full-service spa with massage and therapy services and fitness programs, mind and body classes, yoga, steam room, sauna, lockers and showers.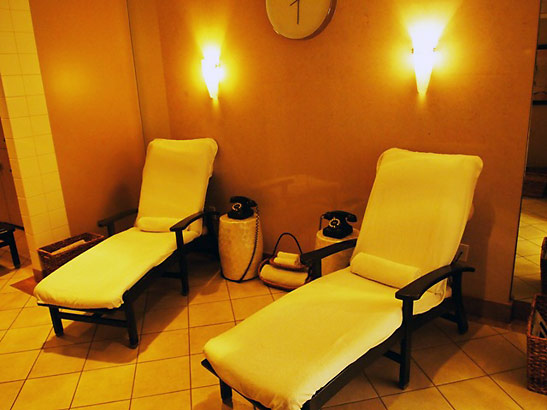 The Miramar also feautres a full-service spa with massage and therapy services
and fitness programs
For package people, the hotel has got that covered too. One such is the "Under the Santa Monica Sun Package." This exciting offer includes a trendy Fiat convertible so guests can drive along the coast to Malibu's picturesque wine country, where they will enjoy wine tasting for two at Malibu Wines, and a gourmet picnic prepared by Fig's Executive Chef, Ray Garcia. Upon return prepare your palate for a dinner for two at FIG Restaurant.


For a limited time hotels guests can cruise around town for free in a brand new BMW
The package includes: overnight accommodations for two, welcome amenity, one day Fiat convertible rental, picnic for two prepared by FIG Restaurant, dinner for two at FIG. Prices start at $659.00 and is based on availability.
Another cool hotel offering is free BMW rentals for guests. That's right, for a limited time, hotel guests can cruise around town in a brand new BMW 6 Series coupe or convertible – for free!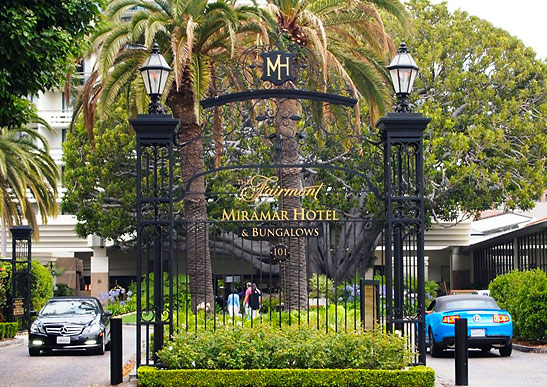 The Miramar is secluded, yet in the center of Santa Monica action
The Fairmont Miramar Hotel & Bungalows are located at 101 Wilshire Blvd., Santa Monica 90401. For more info and reservations, call (310) 576-7777 or visit www.fairmont.com/santamonica.
Related Articles:
4 Seasons Hotel, Westlake Village; Laguna Beach; The Grand del Mar; Ojai, California; Catalina Island Escape; Orange County Oceanfront, San Luis Obispo, Hotel del Coronado