Fall Fun, Luxury and Delicacy In Santa Monica
Story and photographs by Greg Aragon

f I had to create a list of my top 10 favorite Southern California beach cities Santa Monica would definitely be on it. This eclectic gem is hard to overrate. With incredible restaurants and spas, wonderful hotels, an historic pier and lots of white sand, it is no wonder the city is famous around the globe.
Another reason I like it is because I can drive there in about an hour from my house and feel like I'm in a far away paradise.
A friend and I began a recent weekend getaway to the city at the luxurious Shore Hotel, a modern boutique hideaway, located across the street from the ocean. Boasting great amenities and a perfect location, the property sits on one of the hippest streets in Los Angeles and is walking distance to everything a visitor could want.

The Shore Hotel is a modern boutique hideaway,
located across the street from the ocean
After checking into the 164-room hotel, we made our way to a chic, 2nd floor suite, which was highlighted by a balcony overlooking the resort pool, the ocean and Santa Monica Pier. The room also boasted a large flat screen TV, wireless Internet, big king bed, with 100% pure Egyptian cotton sheets, and a very unique glass enclosed shower that allows bathers to watch TV or look outside while getting clean.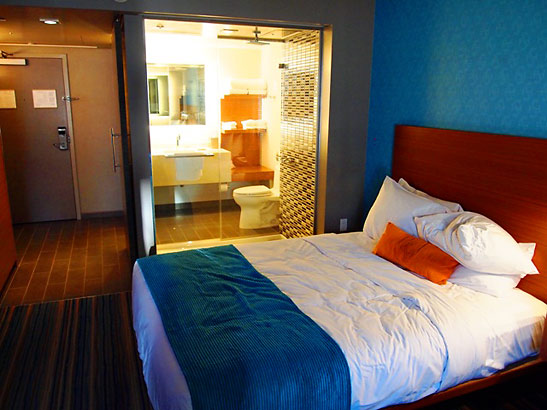 Rooms at Shore are chic, sustainable and unique
Like all Shore rooms, ours featured lighting, temperature and other controls that are automatically adjusted as visitors leave and enter the room, using the room key, which doubles as a personally programmed RFID (radio frequency identification).
Beyond the rooms, the hotel boasts a heated pool and Jacuzzi in a beautiful open air atrium, with plants, trees, fire and water features – all of which face the pier and busy Ocean Blvd. Next to this Zen Garden is the hotel's signature restaurant Blue Plate Taco, where we enjoyed a tasty outdoor dining experience.
Offering still more ocean views, Blue Plate Taco is a healthy, authentic update to the classic taco stand and gets its inspiration from the fresh, coastal cuisine found in seaside towns throughout Mexico. The food is created in a large open kitchen and is highlighted by an exciting variety of tacos, ceviches, grilled seafood and meats, salads, soups and inventive salsas.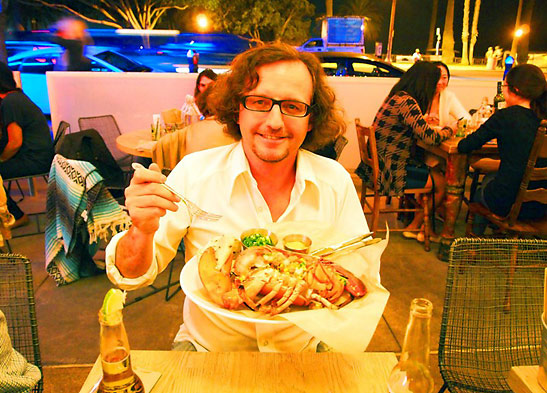 The Lobster dinner at Blue Plate Taco is mucho tender and delicious
Our meal began on the patio, with Mexican beers, fresh guacamole and chips. We then shared a tasty beet salad, while watching the giant, lighted Ferris wheel at the Santa Monica Pier spin in the night. For the main course we devoured Blue Plate's special lobster dinner.
Beautifully presented on a large, colorful plate, the lobster arrived in a shell, with corn salsa, creamy garlic sauce and homemade flour tortillas. The lobster meat was abundant, "mucho" tender and cooked perfectly. After the shellfish, we toasted dinner with a couple shots of premium tequila from the restaurant's bar.
The next morning I joined a friend for breakfast at The Ivy. Located steps from Shore Hotel, The Ivy serves up classic American, Italian and regional dishes in a romantic atmosphere, with patio and terrace dining. For breakfast I had coffee and a delicious plate of Juevos Rancheros, with eggs, corn tortillas, black beans and salsa.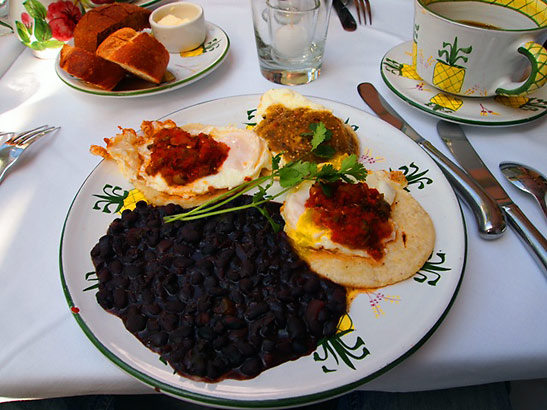 Located steps from Shore Hotel, The Ivy serves up classic dishes,
such as Juevos Rancheros
After breakfast I discovered Tikkun Holistic Spa. Located a few blocks from the hotel, Tikkun Spa is a wellness sanctuary designed to heal and rejuvenate the mind and body. It boasts 6,500 sq-ft of health-enhancing of co-ed far-infrared heat therapy rooms, each lined with different minerals with health giving properties.
My visit began with a memorable Tikkun Signature Full Body Treatment. Unlike any spa treatment I've had, this exotic journey started in a private room, with a relaxing soak in a stone tub. This was followed by a unique Korean Body Scrub. Performed by a skilled masseuse with a pair of traditional Korean scrubbing mitts, this procedure invigorated and exfoliated my body from head to toe. During the scrub, I felt like a sports car getting a fine detailing.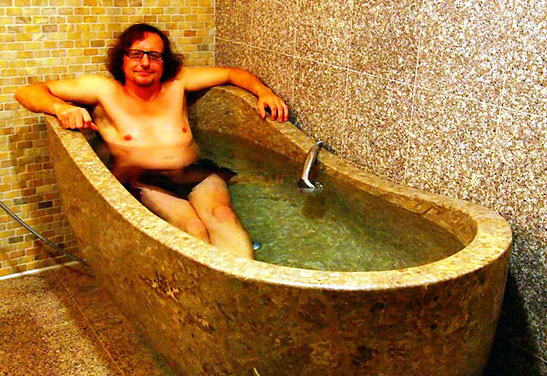 The Signature Full Body Treatment at Tikkun Spa is a memorable, exotic journey
The treatment ended with an awesome, 15-minute hot oil rub and a soothing warm milk rinse that turned my body a silky-smooth, moisturized temple.
After the Korean Body Scrub, I tried a series of soothing rooms, including the far-infrared heated jade room, a clay room, a Himalayan salt cave, a green tea Jacuzzi, a eucalyptus steam room, and an ice room. Other treatments include therapeutic massage, body wraps, acupuncture, skin-care services such as hydrafacials with diamond microdermabrasion, and waxing.
From Tikkun, I met a friend for dinner at Sushi Roku on Ocean Blvd. Using fresh fish from around the globe, Sushi Roku is a pioneer of contemporary sushi and a "must-dine" restaurant in Santa Monica.
Our meal began with a tasty seaweed salad with cucumber sunomono, along with a bowl of miso soup. Next we tried a delicious tuna flight, with three styles of Nigiri sushi, served with fresh wasabi root and homemade soy sauce. We then sample seared albacore sashimi with crispy onions and garlic ponzu, followed by one of my new favorites: Toro sashimi, which is tuna belly. We then devoured a Katana Roll, with spicy tuna, shrimp tempura and yellowtail tuna.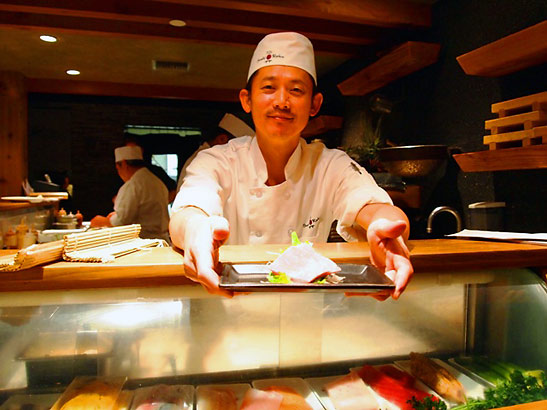 Sushi Roku is a pioneer of contemporary sushi and a "must-dine" restaurant
in Santa Monica
We concluded dinner with mackerel sashimi and the Roku Signature Style Sushi in which the master sushi chef created for us on the spot a scrumptious 8-piece fish sample plate.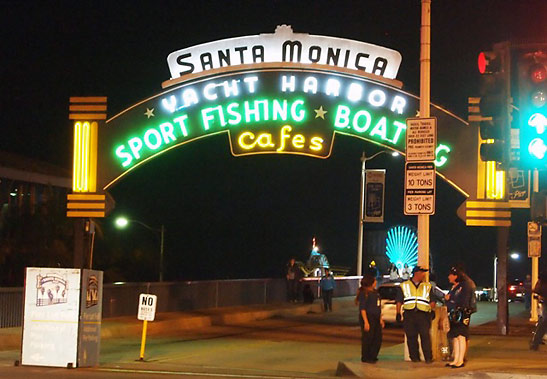 Santa Monica is an eclectic gem of a beach city
Tikkun Spa is located at 1460 4th Street, Santa Monica, 90401. For more information, call (310) 319-1111 or visit www.tikkunspa.com. Sushi Roku is located at 1401 Ocean Ave., Santa Monica, 90401. For more information call (310) 458-4771 or visit: www.innovativedining.com/restaurants/sushiroku.
The Shore Hotel is located at 1515 Ocean Avenue, Santa Monica, 90401. For more information, visit: www.shorehotel.com or call 310.458.1515. For more information on Blue Plate Taco, call 310.458.2985 or visit the hotel website.
Related Articles:
Fairmont Miramar Hotel, Santa Monica; 4 Seasons Hotel, Westlake Village; Laguna Beach; The Grand del Mar; Ojai, California; Orange County Oceanfront, San Luis Obispo, Hotel del Coronado