Sammy's Woodfired Pizza & Grill Comes to Los Angeles
Story and photos by Mary McGrath

'm always excited to hear about new arrivals to any dining scene, and when I got wind of one of San Diego's finest coming to El Segundo, I was anxious to give it ago.
I wasn't familiar with Sammy's Woodfired Pizza & Grill, already with 17 locations throughout California and Nevada, but I'm a big fan now.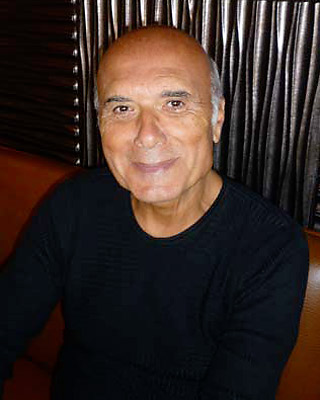 Owner Sami Ladeki is known in the industry as an "idea man" conceptualizing something and then bringing it to fruition. His company, La Jolla based Ladeki Restaurant Group, was founded in 1989, and includes winners like a pizza chain, a noodle bar and a variety of upscale eateries as well. In meeting him, I was struck by his style, panache and sense of purpose.
Ladeki is an elegant man, and his worldly finesse permeates the wide range of items on the menu. Inside, you'll find a variety of woodfired pizzas, salads, entrees, tapas, desserts, and everything in between. A big hooray for those items that are organic and gluten-free.
This is a fun place, full of activity and conviviality. It's family friendly, yet the food is interesting enough to appease discriminating diners as well. There's a nice global fusion to the food with enough twists and turns to keep my two dining companions and me endlessly enthused.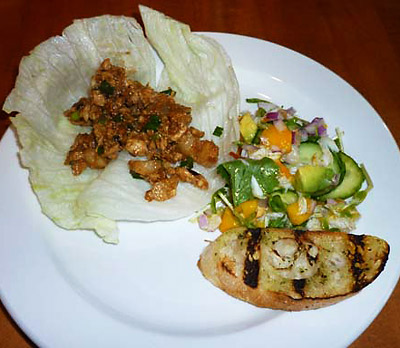 Chicken Lettuce Cups and Polynesian Crab Stack
Our starters included their Polynesian Crab Stack ($13) easily enough for three people to share, with its cylindrical rainbow of mango, pea shoots, crab, organic cucumber, tomato, red onion, avocado, and peanuts, all laced with a spicy ginger lime dressing. Voila!
We also enjoyed their Chicken Lettuce Cups ($10) mixed with a medley of scallions, water chestnuts, and a black bean hoisin sauce. I liked these lettuce cups even better than the ones served at PF Changs, a nearby popular Chinese restaurant chain. Both tapas were delightful, and certainly curbed our appetites until the main courses arrived.
Salmon lover that I am, I was very impressed with their Oak Roasted Salmon Filet ($15), coupled with a frisee salad, cucumber, edamame and ponzu sauce. I was feeling oh-so-healthy with each bite, and the presentation was a visual treat as well.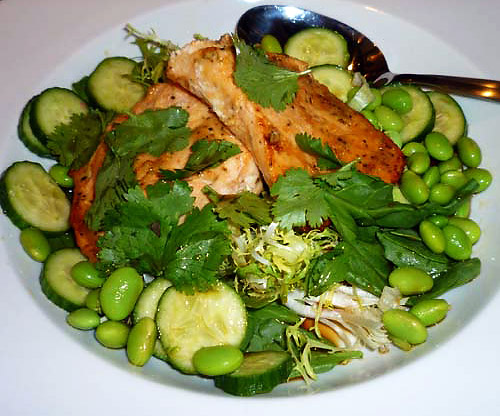 Oak Roasted Salmon Filet
My pal ordered their one of their Neapolitan pizzas. The Tuscan ($12), which came with prosciutto, artichoke, kalamata olives, fresh mozzarella, homemade tomato sauce and topped with organic arugula and extra virgin olive oil. Again, this was a very healthy menu item, and went over well at our table.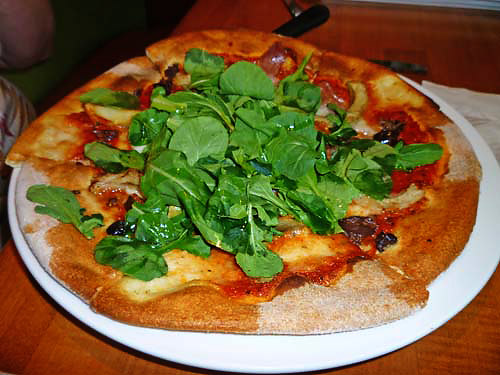 Tuscan Pizza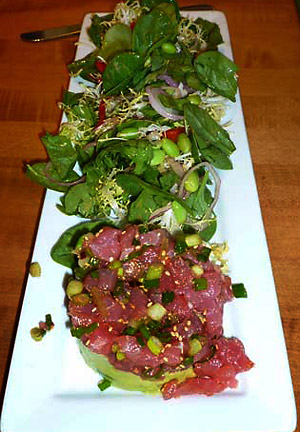 Another winner was the Ahi Tartare & Avocado, ($15) with organic frisee, organic spinach, red onion, edamame, roasted red bell pepper and ginger dressing. I didn't sample it, but I did put it on my list to try the next time I visit.
For dessert, we received a huge hive of pink cotton candy ($4.50), dusted with chocolate. It took me way back to my grammar school days. Kids will love it!
Other items that looked promising:
Crispy Hawaiian Ono Tacos Creamy tomato-cilantro dressing, lime, guacamole, salsa, flour or corn tortillas ($10)
Thai Steak Watercress, romaine, tomato, organic cucumber, mint, Thai basil, crispy shallots, peanuts, Chili-Lime dressing ($11)
Tabouli & Quinoa Organic cucumber, parsley, mint, red onion, tomato, carrot, lemon juice, evoo, romaine ($10)
Mongolian Shredded Duck Quesadilla Spicy Asian guacamole ($11)
Grilled Lamb Chops Marinated in fresh organic herbs, with roasted fingerling potatoes, green beans sautéed with mushroom & roasted garlic ($18)
Wok'd Shrimp Lo Mein Roasted garlic, organic spinach, wild mushrooms ($15)
8 oz. Grilled London Broil Marinated in fresh organic herbs, with roasted fingerling potatoes, sautéed green beans, mushroom, roasted garlic ($15)
Apple Empanadas Hot, crisp apple filled turnovers sprinkled with cinnamon & sugar, served with caramel sauce ($7.5) - With vanilla ice cream (+$2)
With such a varied menu, it's no wonder the accolades surrounding this chain are commendable. Take a look:
World's Top Restaurants-Zagat Survey
Top 5 Most Popular San Diego Restaurants-Zagat Survey
Gold Medallion Award, Best in Class (Pizza)-California Restaurant Association
Best Pizza-San Diego Magazine
I like this place. Almost everything on the menu is under $15, and this economy, that's a winning combination. Couple this with the free parking and adjacency to Borders and Whole Foods, and you can see that this place is destined for success.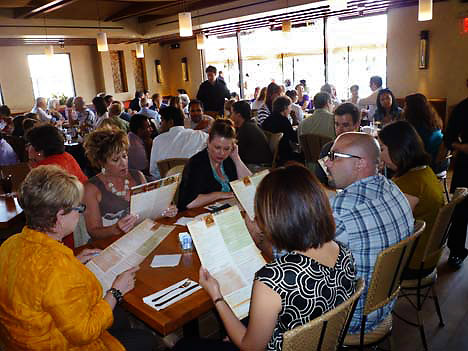 Inside the restaurant

Sammy's Woodfired Pizza & Grill
780 South Sepulveda Blvd. (Near Borders at Plaza El Segundo)
El Segundo, CA. 90245
(310) 335-9999
www.sammyspizza.com
Related Articles:
Los Angeles: Eating Off the Beaten Track; Feasting on Bugs and Grubs