inters in Seattle can be a hellacious ordeal. You come home from work on a cold, dark, rainy day, and then stare out your window to an even colder, darker, rainier night. Great. As your mind submerges into the cold waters of the reality that you are stuck in this room again, for like the 90th evening in a row, your windpipe tightens. You feel your throat take a large involuntary gulp, and your eyes widen on their own as you realize you are going nowhere tonight, yet again, as usual. Glancing over at your TV, you wonder where exactly it is you will escape to this particular evening. Believe me, there is nowhere else to go.

For the last two winters, I have found a TV show in which I can take a great deal of comfort in watching others suffer even more miserably than myself on a nightly basis. This treat to my weary eyes was found on the amazing Discovery Channel series "Deadliest Catch," a show that chronicles the lives of crab fisherman in the Bering Sea. Day and night, these fish slayers toil in the frigid, wet, super nasty conditions in one of the most dangerous stretches of water in the world, a place where things are so overwhelmingly difficult and surreal, one deckhand described it this way: "Time doesn't exist out here. Time is a grey line."

Perfect. That's my kind of show entirely on a bleak winter's night here in Seattle. Many, many nights the last couple of Dark Seasons were spent obsessively staring into the TV this way, like that freaky kid on the Twilight Zone movie, waiting for just such another line to be uttered by some desolate soul that had stumbled onto a Bering Sea crab boat by way of the Unknown Workings of Fate.

It made me feel much better somehow to know that some group of wayfarers on this wicked earth were suffering even more than those of us living in voluntary submission to the oppression that is a coastal Northwest winter.
Fuuuudge.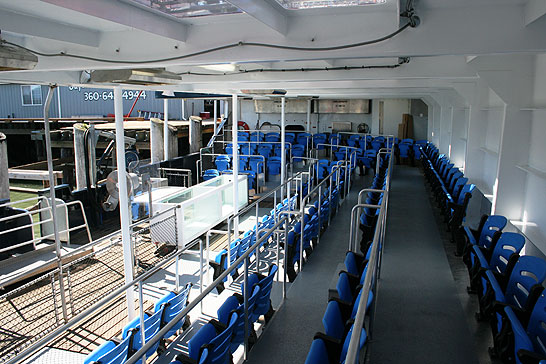 Stadium seating and catch tank.. Photo credit: 56degreesnorth

Imagine my excitement then, when last month I got an invitation to tour the Aleutian Ballad, a boat featured prominently on the show, and a legend in its own right. First of all, just to tour a crab boat from this show for me is an incomprehensible treat. But, even among crab boats, this is not just any boat. This is the first boat in documented history to capture a rogue wave on video, and this amazing moment came on none other than the first season of Deadliest Catch. When I think back to any visual image I have of things I've seen on TV related to the high seas, that rogue wave captured on video is seared in my memory at the very top of the list. My mind can replay it almost perfectly.
The Aleutian Ballad, built in the mid-eighties, is no stranger to this kind of species of spectacular incident. In 1991, a day that has become known as Black Sunday throughout the Alaskan fishing industry brought a devastating storm to the Bering Sea, pushing up waves of over 60 feet. At the time, the ship was known as the Shannon Marie, and its captain, Vance Jones, became so concerned with the danger of the worsening conditions that he ordered all of his crew into survival suits, and called for them to abandon ship. All of the crew were eventually rescued unharmed by another boat. Two days later when seas became calm again, the Shannon Marie was found intact, floating sedately in placid waters. An engineer was flown to her by helicopter, and piloted the boat back to Dutch Harbor, the vessel not much worse for the experience.
So then, walking down the gangway of Shilshole Marina in the Ballard area of Seattle, I was nearly coming unglued with excitement. Here I was, about to be boarding on this very boat, and eventually, unbeknownst to me, I would be standing on the very spot on the bridge where the rogue wave video had been shot. Unbelievable.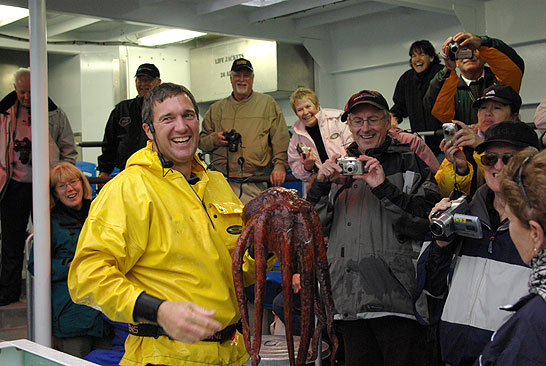 An octopus awaits its introduction to a waiting delegation of greeters.
Photo credit: 56degreesnorth


My excellent tour of the ship was given by its current captain, Dave Lethin, who with 35 years of fishing experience, has fished the Bering Sea since 1992. An Oregon State University graduate, he explained that had his heart set on fishing since he was a small boy, and never wanted to do anything else. His enthusiasm was heartfelt and contagious. The $2.5 million conversion of the Aleutian Ballad from full time fishing vessel to tour boat started with his desire to share his excitement for fishing and the ocean with the world. The popularity of the Deadliest Catch series gave him exactly that opportunity.
"I want people to experience exactly what we experience, and to become totally engaged in something they'll never see again," he says.
Concerning the retrofit, Dave smiles, "This is the happiest boat in the world. She's pretty, and she knows she's never going back out to get beat up again."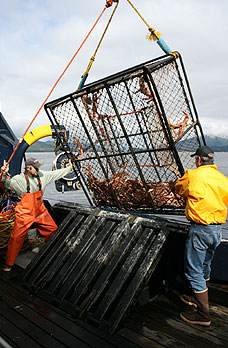 Hauling up a crab pot.

Photo credit: 56degreesnorth
The tour takes place in Ketchikan, Alaska, and lasts about 3 ½ hours, covering several miles of inland waterway. The Aleutian Ballad has been fitted with enough stadium-style seating to accommodate 104 passengers, which offer close-up views of the work happening on-deck and great views of the scenery passing along outside the boat.
The evening before the tour, the crew sets a long line, crab pots, and a shrimp pot, and then hauls them up onto the deck right before your very eyes, as you sit watching from above. These 700 pound cumbersome contraptions reveal all manner of creatures from the deep: King crab, dogfish, octopus, box crab, rock fish, spot prawns, skate, snow crab, rat fish, or grey cod, just to name a few.
As Dave explains, "On this boat, passengers get a feel for the fascination we get to experience every time we pull up a crab pot."
The procured sea life is then placed into a massive glass tank in front of you, and believe it or not, your participation with the beasties is actually encouraged: If you want a picture of you with the octopus or rat fish that ended up in that tank, just ask, one of the crew will almost certainly be happy to hand it over to you, provided the creature is relatively safe to handle. Wild. The catch is then turned back into the ocean to relay their fantastic above-water experiences to their waiting pals below.
You can also expect to see all kinds of amazing regional sights on the other side of the rail: Native Indian fishermen hauling up thousands of salmon in their seine nets, bald eagles along the shorelines, and porpoises swimming nearby the boat. Humpback and grey whales are often sighted, and killer whale pods have been seen as thick as 40 strong.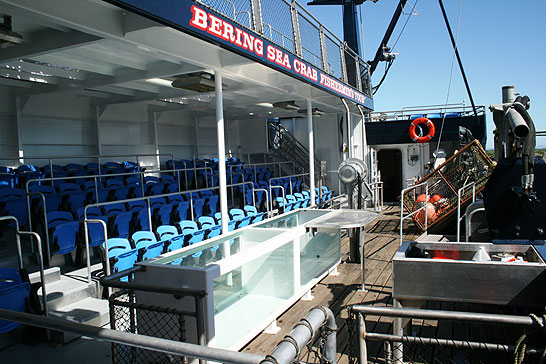 The iconic Aleutian Ballad seating and deck. Photo credit: 56degreesnorth

The deckhands are all Bering Sea veterans, and in addition to their duties of hauling up fish and crab on the deck for you, they also make it a point to share their personal experiences and fishing stories from their many years spent on the high seas. If you like, you can also have a look around much of the rest of the ship, and there is even some bridge time available after the tour is over. You too can stand in the very spot the cameraman was shooting when the rogue wave swept over the vessel in 2005. I did, it was raaaaaad.
I can tell you from personal experience that when you talk to Dave and his crew about fishing it is clear that they are somewhere else. They are standing right in front of you talking, sure, but it's not so much that they're explaining the technicalities of boats and netting and such… they sort of look off into the distance and relay to you a tale that is being whispered into their ear at that very moment, spoken by their own memories and experiences. As you absorb the impact of their words, you suddenly find yourself a part of that narrative, and the feeling is unforgettable.
You become lost in that ocean somewhere, hauling up the mysteries of the deep.
For more information:
www.56degreesnorth.com