Travelís Triumph over Terrorism
Story by Masada Siegel

fter a three-month adventure seeking beauty in the world, many thoughts race through your mind, especially when you have quit your job, run out of money, and have no clue what comes next. However, a philosophical discussion on the meaning of life with a perfect stranger is not one of them.
A tall man stood behind me in line at passport control in the Sydney airport. He started to chat with me, wondering where I was going. Grinning, I explained I was returning home after wandering around Australia and New Zealand solo. He was heading to Wales.
Grant was part of an elite Australian special-forces team. Somehow we got into a deep and meaningful conversation, while killing time walking in the airport. It was August 2004.
"Everything happens for a reason", Grant said with confidence.
"How can you be so sure?" I replied.
"I know it. I have seen it every day of my life. It's just how the world works."
"Do you really believe that?" I wondered. "How do know that things happen for a reason? Maybe things happen and we give them reason, and not the other way round."
I recalled every last detail of how I spent September 11, 2001. I was working for CNN as a field producer on Lou Dobb's show, Moneyline. My job started a few weeks prior and I was thrilled as financial news was perfect, as it's generally low drama. I distinctly remember a conversation with my father at the end of August 2001.
I said, "I can do this, the markets go up and down, there is no blood and guts in these news stories."
Weeks later, September 11 happened in front of my eyes and I can't think let alone write about it without having tears in my eyes.
In a state of shock, I watched smoke pour out of the enormous gash in one of the World Trade Centers. Soon after, the building started to fall, as I watched, my brain was screaming, "There are people in that building and you are watching them die and there is nothing you can do." I have never felt such anguish and helplessness.
With these thoughts racing through my mind, I asked, "Where were you on Sept 11?"
Grant spoke solemnly, "I'll never forget Sept 11. My mother died in my arms at the hospital and then my brother and I heard the news."
I was shocked. As I watched my city fall apart, his world was also breaking into pieces thousands of miles away. Soon after, Grant was one of the Australian servicemen who went to fight the war in Afghanistan.
I covered terrorism and the September 11th story for two years. It got to me. My usual happy-go-lucky cheerful disposition disappeared. Covering funerals and sad stories daily left a deep imprint on me. I needed change. I wanted to see the beauty in the world, the happy, the positive.
I didn't want to see the world through ashes and smoke so I read books by every optimistic self-help guru I could lay my hands on, and of course picked up books by the Dalai Lama. However, the book that made the most sense to me was the Australia & New Zealand guidebook. So I put my math skills to good use, reached into my savings account, and soon after found myself with my backpack in a Victorian style hostel in Auckland, New Zealand.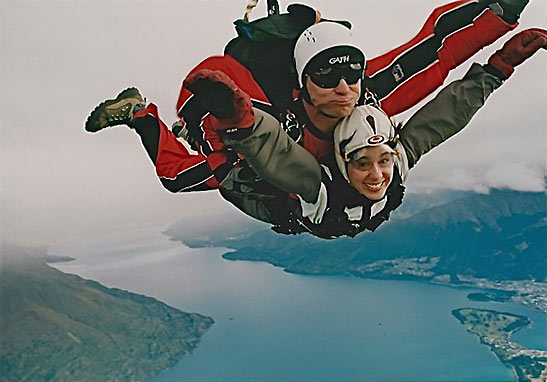 Down under was the perfect place to find a new worldview; to fill my head with beautiful images to counter the horrible ones, I hitched rides from perfectly lovely strangers, drank pure water from ancient glaciers that I hiked and dared myself to do anything and everything interesting including scaring myself to death skydiving in New Zealand with my new travel friend Dave Ellis.
I admit, the night before I was scheduled to jump, I prayed for it to rain, while tossing and turning. I wished I could back out of my commitment without looking like I was terrified. But yes, I was afraid of heights and I was scared out of my mind. But no, my sense of adventure got the best of me, as it usually does.
Dave and I became the best of friends after jumping out of a perfectly good airplane 12,000 feet above the earth in Queenstown, New Zealand. Later in the trip he invited me to come explore Perth, Australia, after I had toured the East Coast of Australia.
It was a great suggestion- a five-hour plus cross-country flight from Brisbane squished in between two larger than life rugby players brought me to my destination. Traveling without a plan, but with cash in hand left me open to see where the world would take me.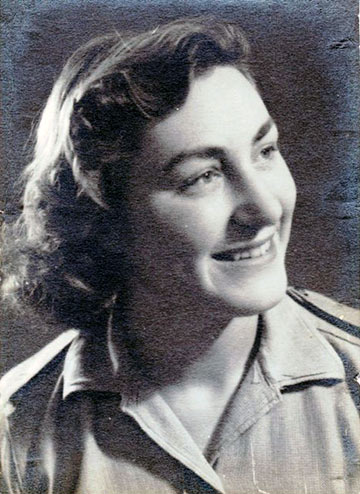 In Perth, one night I was invited to Dave's parents house for dinner. His British grandmother, Bette Ellis, told me about her life and how she had met her husband in Jerusalem in 1946. Leonard was in the British military. They traveled the world together. She was an adventurous lady filled with energy, and as a youngster an avid dancer.
Her world was forever changed on Feb. 28, 1967 when she was nearly killed in a terrorist bomb attack in Aden, Yemen. A bomb exploded near her at the cocktail party. The two women speaking with Bette were killed. She survived and was left as a paraplegic, paralyzed from the waist down.
The Ellis family was torn apart. Her youngest son, David, was sent to England to be looked after by Bette's sister. Her husband, Leonard suffered from extreme guilt because he had left Bette at the party as he was called away to work. They eventually divorced, and she became a single parent to three children. Leonard went on to have three nervous breakdowns and died aged 62 from cancer.
In the most unlikely place on the planet I would have imagined, I had come face to face with terrorism plus forty years later and the effects it had on a family. Once again my heart was ripped to shreds over how one act, one moment in time, can shatter and splinter a person and a family forever.
The story stuck with me, and I emailed Dave's father, Alex Ellis to interview him. He wrote, "Thanks for the interest in Mum's story. Yes, the impacts may go on for years and in many cases are difficult to cope with whereas the public interest tends to be more about the event and the immediate impacts. In many ways, there are almost forgotten victims of such attacks. Mum was a very strong person and led a very active life considering the extent of her injuries. Her story is certainly one of strength and hope but there is no doubt that many other victims have not fared as well."
He continued, "Coincidentally, Mum passed away and the date is very easy for us to remember as it was 11 Sept."
Teary-eyed, I was shocked, I can't help but wonder about the timing. So while fourteen years have passed since Sept 11, 2001, for many, it is as if it happened yesterday, and for even more people, the scars of terrorism will be there for generations.
I don't know if I believe that things happen for a reason, but I do know that giving them reason is all most people can accomplish.
Perhaps the next time you travel, be open to the world. Because even in learning of others gut-wrenching heartaches you can find wisdom. Bette Ellis was a woman with a staunch will to live, and her family, a role model of love, who made the best of a tragic situation. On your journeys around the planet, if you are truly lucky, you might make life-long friends like the Ellis family, who will restore your vision of the world, and show that good always triumphs over evil.
Masada Siegel is an award winning journalist and photographer. Follow her @masadasiegel and check out her website www.masadasiegel.com
Related Arrticle:
Turning Hatred into Harmony