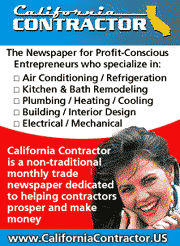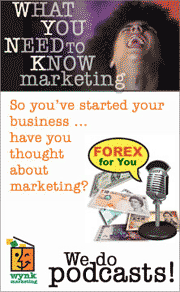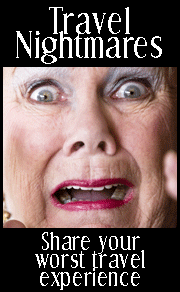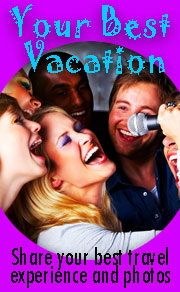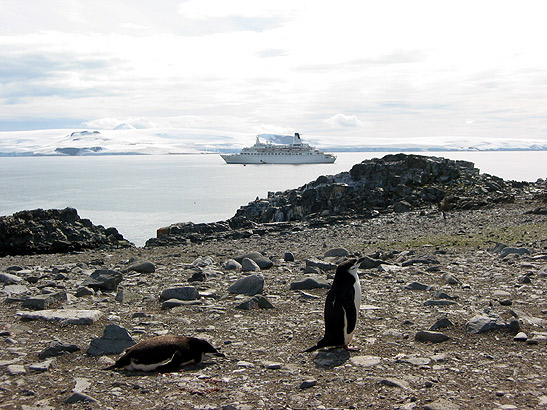 Voyages of Discovery's mv Discovery goes to some of the world's most exotic out-of-the-way locations. Photo by Deb Roskamp
Value at Sea
Three Vessels That Fit the Bill
by Ringo Boitano
Travel Editor

k, let's face it. We're still in a recession. People are working longer and harder and often times for not as much money. People are forgoing daily trips to Starbucks and extravagant meals out. BUT what we are not willing to give up is our vacations. The American vacation is a sacred institution, and right now we need it more than ever. There was a period in time when the cruise experience meant white dinner jackets, skeet shooting and seemingly endless buffets. It was an experience that many felt only spoke to those with deep pockets and discretionary income. Cruises still offer those luxurious components. Well, maybe not the skeet shooting. But today, the cruise also means something else never more timely: VALUE. I recently experienced three very different cruise vessels that fit the bill for both: WORLD-CLASS CRUISE EXPERIENCES and VALUE.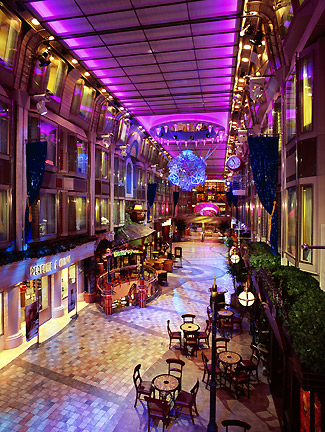 Royal Caribbean's Mariner of the Seas' Royal Promenade runs nearly the entire length of the ship.
Courtesy: RCCL
Royal Carribean - Mariner of the Seas
The recently repositioned Royal Caribbean Mariner of the Seas has the distinction of being the largest ship ever to offer cruise vacations from the West Coast. At 1,020 feet long and 142,000 gross registered tons it is too big to even make it through the Panama Canal. Quite simply, this floating monster of a pleasure palace is a destination unto itself. Amenities include a rock climbing wall, nine- hole miniature golf course, adults-only Solarium, fitness center, 16 bars and themed lounges and seven restaurants, Casino Royale casino, Broadway- style productions, and an ice-skating rink with performances by a cast of international skaters on the level of Circ du Soleil. I must confess I was quite curious, and perhaps a little apprehensive, upon reading about the vessel's Royal Promenade; a boulevard of shops, restaurants, bars and lounges that run nearly the length of the ship. After all, who wants to sit inside when the Pacific Ocean is right out your door? To my surprise, I spent virtually all of my time sitting at sidewalk tables at the Promenade's wine bar and the Anglo-Irish pub, people watching. Did I mention that there's also a Ben and Jerry's on the promenade? The theatre and ice skating rink are well situated so that patrons spill out onto the walkway. There's even a parade each night.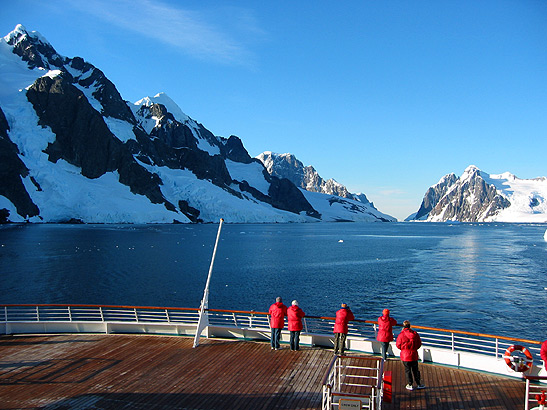 The best view in the house. Passengers ponder Kodak Alley aboard the mv Discovery. Photo by Deb Roskamp
MV Discovery
The 650-passenger mv Discoveryoffers all the creature comforts and amenities of an upscale cruise experience yet, due to her mid-size, goes to some of the world's most exotic out-of-the-way ports usually restricted for larger vessels. A visit to Murmansk, the largest city north of the Arctic Circle, anyone? For fans of Slumdog Millionaire, there's even a departure from Mumbai. On my mv Discovery cruise from Ushuaia to the white continent of Antarctica, I found myself surrounded by a passionate clientele of repeat cruisers, who were as excited about their time on the vessel as the destinations. Forget limbo and hairy chest contests, this is an intimate and sophisticated cruise experience. Easily the most popular onboard event is the lecturers, conducted by a collection of scientists, naturalists and historians, who offer insight into the culture, history, flora and fauna of the destinations. It is not unusual for the events to be packed. The ship's amenity of three restaurants, five elegant lounges, library, health club and spa, and two swimming pools only compliments the experience. After a zodiac landing and trek on Antarctica, followed by a spa experience and massage, and then an elegant multi- course meal, I began to wonder what I have ever done to deserve this VIP treatment.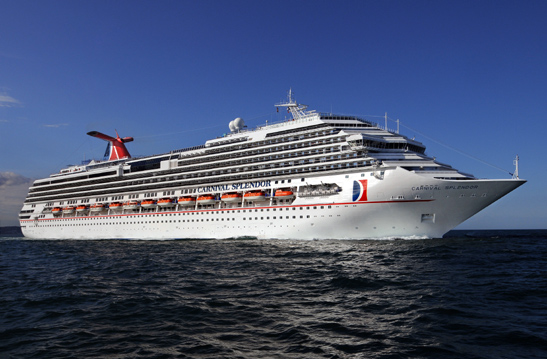 The Splendor is the largest Carnival ship to offer cruise vacations from the West Coast. Courtesy: Carnival
Carnival Splendor
I love Carnival. For decades it has been a favorite cruise line of mine. Carnival has also always screamed value, with an inclusivity that speaks to a wide demographic of ages and income. The new 3,006-passenger Carnival Splendor represents an entirely new class of vessel for the line. Like the above mentioned Royal Caribbean Mariner of the Sea, the 113,300-ton Splendor is also too large for the Panama Canal, and now constitutes the largest Carnival vessel to operate in the West Coast. Everything is bigger and better. New additions include a sliding sky dome over the mid-ship pool which features a massive LED screen displaying movies, concerts, sports and other programming. Seeing passengers snuggled under blankets on lounge chairs at night, with the stars overhead, watching a movie was a first for me.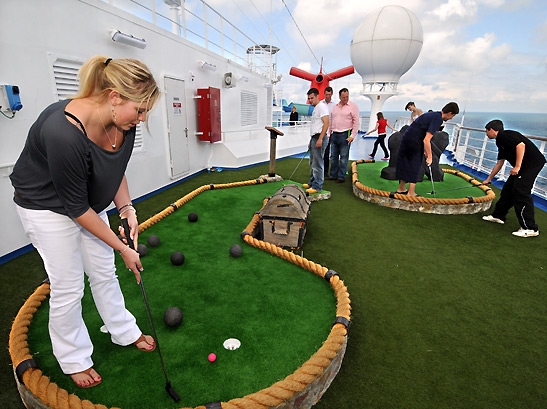 Miniature golf is one of the many amenities offered on the Mariner of the Sea. Courtesy: Carnival
Another innovation is the largest health and wellness center in the fleet: The two-level 21,000-square-foot "Cloud 9 Spa" featuring a thalassotherapy pool, 17 private treatment rooms, and elaborate thermal suite. Adjacent to the facility are 68 spa staterooms and suites, another first. Truth be told, the food in the Carnival main dining is also my favorite on all cruise lines. The menu is fixed (and often unwaveringly), and the chefs have the dishes down to a science. The new lido food court is endless, with serving stations devoted to dishes from India and Mongolia, plus sushi, deli sandwiches, hamburgers, hot dogs, pizza, bbq, with seemingly never a wait. For a touch of elegance there are also as series of world-class super clubs. The Carnival Splendor is now offering cruises for the Port of Los Angeles to the Mexican Riviera. Now has never been a better time to book a cruise vacations.

I love Ringo's piece on historic hotels. I once stayed at the Laurentian in Montreal - is it still around, is it historic? And then there was the Heups in Bismark.
It is interesting that two of your entries are in CANADA.
Brent, Seattle, WA

It's no mystery that you are great at what you do.
Sandee, Seattle, WA
* * * *
The Mystery on the Oasis pics are very funny!
Ramon, Kansas City, MO
* * * *
Ha ha ha ha ha...love your "schtick" Ringo!!
Dolly, Las Vegas, NV

Hello the travelling Boitano's hope you enjoy. Best wishes.
Elsa Magdalena Berno-Boitano, Laussane, Switzerland

My Irish roots understand terrible beauty. So do my human roots. The concept has such a ring of truth to it, doesn't it? Great article, Ringo. I hope to get to Ireland eventually, and thanks for blazing the trail!
Sandeee Bleu, Seattle, WA
* * * *
No wonder I've been hearing all these wonderful stories about Ireland. I used to think that it was just for Irish Americans seeking their ancestral roots but your article seems to call out to the non-Irish like me. Fascinating and intriguing.
Peter Paul, Pasadena, CA

Thanks for this great post wow... it's very wonderful.
Key Logger, New York
* * * *
Lets not forget that the Marriot Harbor Beach is within walking distance to the world famous Elbo Room - Fort Lauderdale's oldest bar.
Jeff, Fort Lauderdale, FL
* * * *
Jeff–
Thanks for taking the time for the message and reminder. Indeed, I had a quick drink at the Elbo Room. My trip to Ft. Lauderdale would not have been complete without a visit to this historic institution.I have been reading about it for years, and was not disappointed. It felt like a real local's hangout.
- Ringo

Ringo,
I thoroughly enjoyed your article about Dick and Liz. I remember seeing that article back in the heyday of Life Magazine.
To remember the "behind-the-scenes" stories like that makes you genuine fan of the 60's. The famous couple's turbulent relationship was just a precursor of today's headline-grabbing media stars like Britney Spears and her colleagues. Life was simpler then. The paparazzis still had some sense of decency. You "coulda" been a good paparazzi. I say "coulda" because you kept this to yourself all these many years.
Looking forward to other media trivia you can remember.
Peter Paul, South Pasadena, CA

Hey, Ringo –
Enjoyed your article on Antarctica --- cool photos, too. One thing, you mentioned that Ushuaia in Argentina is considered the most southern city in the world. I read that Chile lays claim to that distinction, with Punta Arenas, the southernmost city in the world.
Mick, Greenbay, WI
* * * *
Mick –
Now that football season is over --- I've often wondered what you Packer fans did in the off season ---- it's great that you took the time to visit TravelingBoy. Great question, unlike my older brother, I adore all lamb products, and Patagonian Lamb --- cooked in a restricted area at the restaurant in an opened wood-fueled fire pit --- is amazing. The chef actually uses an ax to carve it. Frankly, I found it superior to Norwegian fjord lamb, Irish Burren lamb and even those much esteemed creatures down in New Zealand. The crab in Ushuaia is the other thing to eat. Wait a sec, you asked about Punta Arenas vs. Ushuaia as the furthermost city in the world. Well, they both have little disclaimers re populations --- you know, what's a city, which one is a town, ect – so better let Chile and Argentina brass it out. They seem to be able to argue about any subject.
- Ringo


Three Musical Pilgrimages: Mozart, Grieg and Hendrix

Johann Chrysostom Wolfgang Amadeus Mozart (1756 - 1791) could read and compose music, plus play the violin and piano, when he was five years old. Born into a musical family in Salzburg, Austria (then the Holy Roman Empire), he had a unique ability for imitating music, which first became evident when he recited a musical piece by simply observing his father conducting a lesson to his older sister. This led to a childhood on the road, where the young prodigy performed before many of the royal courts of Europe.


Treasures of Ireland: The Irish Goodbye (Dispatch #20)

The Palladian Traveler brings to a close his 20-part series on the Emerald Isle from an upscale restaurant in downtown Dublin where he files his final dispatch and then quietly slips away.


Two "MUST SEE" Truly Spectacular Places in Europe. Here's Why.

The Han Grotto and Culzean Castle. As the name of my Traveling Boy feature is "Travel With a Difference," it's important to me to always bring you offbeat and unusual tourist places around the world you may not know about. These two fit that category to a T, and they're absolutely worth a visit. One's in Scotland and one's in Belgium. Culzean (pronounced CULLANE) Castle is located near Maybole, Carrick, on the Ayrshire coast of Scotland.


Highway 49 Revisited: Exploring California's Gold Country

In the 1840s, the population of California was only 14,000, but by 1850 more than 100,000 settlers and adventurers had arrived from all over the world – and they came for one reason: gold. James Marshall had discovered the first gold nugget at Sutter's Mill in El Dorado County, creating the largest gold rush in history.


Lake Charles' Family-Size Low-Key Mardi Gras

The Southwest Louisiana Mardi Gras in Lake Charles, the second largest in Louisiana, does not need parents there to avert their children's eyes. This is family entertainment and children are very much part of it. The main office of the Lake Charles CVB has costumes from last year's Mardi Gras but it also has figures to fascinate little ones from country boys fishing for their dinner to alligators who have already fed and are rubbing their stomachs.


Puerto Vallarta: Magic and Mayhem on the Malecon

So I heard that you could spend from dawn to dusk on the Malecon in Puerto Vallarta, Mexico and never get bored and I thought, "Okay, I'm up for that challenge." Well, maybe not the dawn part – I'm not a morning person – so I had no problem leaving those early hours to the joggers and those seeking an early start to catch their red snapper for dinner.
---
© TravelingBoy.com. All Rights Reserved. 2015.
This site is designed and maintained by WYNK Marketing. Send all technical issues to: support@wynkmarketing.com