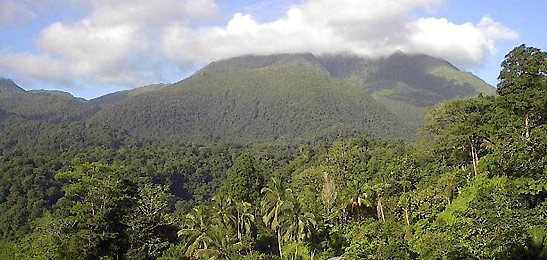 Destination Dominica
Exploring the Nature Island of the Caribbean
By Ringo Boitano


here it was in bold print: "Dominica is the only island Columbus would recognize if he returned today." I'm not sure how the author managed to land that quotation, but even from the deck of my arriving vessel, I could see that this tiny island nation of 70,000 was definitely an untouched paradise found. Located in the Eastern Caribbean, Dominica (pronounced Doe-mi-Nee-kah) is blessed with dynamic rainforests, undeveloped beaches, pristine rivers, cascading waterfalls, small coastal villages and the highest mountain on any of the Caribbean's Islands. It's also on the moviegoers map as well now that Walt Disney Pictures shot the last two installments of "Pirates of the Caribbean" on the island. Now back to this Columbus guy.
A Bit of History
Located between Guadeloupe to its north and Martinique to its south, few places on earth exude the beauty of Dominica. The youngest volcanic island of the Lesser Antilles, it first emerged from the sea 26 million years ago. At the time of Columbus' arrival in November of 1493, Dominica was a stronghold of the Caribs – who are today the last indigenous people of the Caribbean. Throughout it's history, Dominica's fertile land has attracted settlers and colonizers, and has been the subject of battles, primarily between the Caribs, the French and the British. In 1660 the British and French agreed to leave the Caribs in undisturbed possession, but French settlers continued arriving, bringing enslaved Africans with them. The Africans intermarried with the Caribs, which accounts for the island's Afro-Caribbean ethnicity. Full independence was achieved in Dominica on November 3, 1978. Its languages are English and Creole. The official currency is the EC dollar, but the U.S. dollar is widely accepted.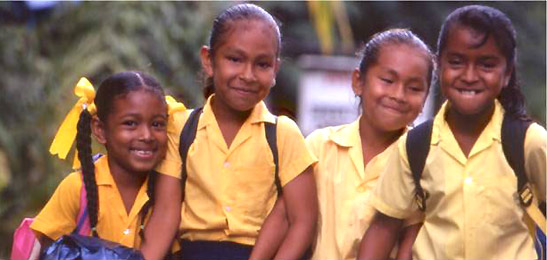 The Carib Territory
Situated high in the mountains, The Carib Territory is a must-see destination in the northeast part of the country. It is also where some of the most spectacular vistas of the island can be found. With a population of 3,500, most of the villagers live in huts that have changed little over the centuries. Unfairly categorized by the first arriving Europeans as cannibals, these are a gentle and shy people. Children would hide behind structures when my small group arrived by van. Young men, who were carving coconuts, offered us fresh coconut milk to drink. Today, income is derived primarily from crafts, fishing and farming. It's a great place to purchase gifts or souvenirs to help the local economy.
Roseau
Dominica is literally a nation with one traffic light, and that one traffic light is in the capital city of Roseau. This is where your adventure will begin and end. Tourism is the nation's leading source of income and the locals are friendly and glad to help. Remember, though, this is a true third-world nation and poverty is evidently on display in the city. Watch your step when stroll, for there might be a knee-deep pothole on the sidewalk. Roseau is a good place to make your home base while exploring the island. It's also the best place to arrange a tour. Just ask the folks at your hotel and they will recommend one. It's safe and easy, too, to just approach one of the tour drivers on the street. Tell them what you want and the amount of time you have, and off you go. Make sure, though, you negotiate your price before departure. It's fun and carefree way to explore the island's endless attractions, and every one of your tours will be customized to fite your needs and interests.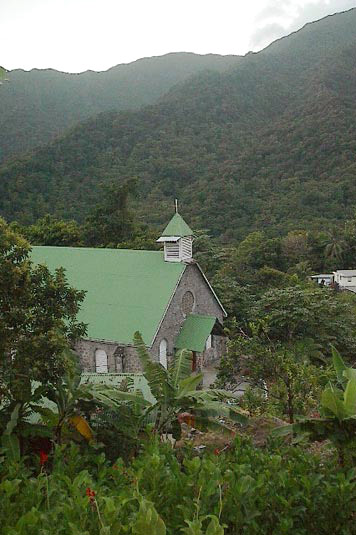 Hitting the Road
Dominica is a fantasy island of rainforest greenery, nestling alongside rugged mountain peaks. Lush fern groves are overflowing with orchids, birds of paradise and fragrant ginger lilies. Banana, breadfruit and guava trees line the roadside. This is home for several endemic species like the brightly plumed Sisserou Parrot, depicted in Dominica's code of arms. No matter what you do, you can't go wrong.
A Few Tips
Boiling Lake
This hot springs lake is the second largest in the world. Be warned, though, a full-day rigorous hike with a guide is needed to visit this once-in-a-lifetime sight.
Dominica Aerial Tramway
A 4,600-foot-long Rainforest Aerial Tram will take you on a spectacular one-hour journey over the magnificent rainforest, where you can glide through the rainforest.
Emerald Pool
Located near the Carib Territory, there is no better way to cool off than a swim in this tropical pool, complete with waterfall.
Jaco Flats
A two-hour hike that involves wading through a river and walking down cliff steps built by escaped slaves.
Trafalgar Falls
(Morne Trois Pitons National Park): Two spectacular waterfalls, Mother and Father, flow into a pool. On a hot day, this is where you will find all the locals.
Valley of Desolation
(Morne Trois Pitons National Park): A moss and lichen covered valley littered with brightly colored hot springs, boiling mud and mini-geysers.
Fort Shirley
This English colonial fort is among the ruins found at the Cabrits Historical and Marine Park, which preserves remnants of the island's tumultuous history.
Roseau Museum
This museum highlights the island's cultural and natural history.
Activities
Hiking, mountain biking and kayaking offer intimate ways to experience Dominica that you don't get to see by van or car. Dominica is also categorized among the best diving locations in the Caribbean. Still relatively undiscovered, this leads to uncrowded dive sites and dive boats. The entire island is a photographer's dream.
What to Eat
Nowhere in the Caribbean will you find such a culinary assortment. The country's cuisine is an intriguing blend of African, Carib, French and Asian influences.
BULJOW: A genuine Creole dish of salt fish with pepper, chives, tomatoes, boiled bananas and coconut.
CRAPAUD (or mountain chicken): A large frog, either fried or stewed in a sauce.
FLYING FISH (or volan): A Creole breakfast of fried fish served with fried bread.
FRESH FISH: Blue marlin, dolphin (or mahi-mahi), grouper, kingfish, snapper and .
FRUIT: Barbadine, passion fruit, carambola, tamarind, guava, soursop, gooseberry, paw paw, cherry, seamoss, sugar cane, sorrel, banana, coconut, grapefruit, limes, tangerine, mandarin, mangoe, pineapple and watermelon.
SAN COCHE: Codfish boiled in coconut milk, served with dumpling and boiled green bananas.
VEGETABLES: Yams, dasheen and tannia, root tubers that are filling staple foods.
Complement your meal with a cold Kubuli, Dominica's local beer.
Where to Stay
Roseau Valley Hotel is situated deep in the greenery of Dominica's spectacular Roseau Valley. Located just two-miles inland east of Roseau, this is the ideal spot to enjoy the island's fresh mountain breezes and lush vegetation. Guests can choose from deluxe rooms with private balconies. Amenities include free Wi-Fi and VIP privileges at local natural spa. Roseau Valley Hotel is within hiking distance of many of the most scenic spots in Dominica, including the Fresh Water Lake, Trafalgar Falls, the Volcanic Hot Springs and Boiling Lake. Call (767) 449 8176 or visit their website.
For further information about travel to Dominica, visit www.dominica.dm.