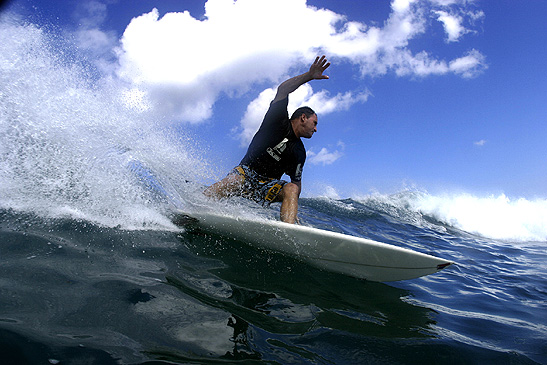 No, not me. That's Hans Hedemann himself, riding a big one at Turtle Bay Resort.
How to Catch a Wave
Surfing Lessons in the Land of Aloha
by Ringo Boitano

had become one with the wave. To be honest, I couldn't quite believe I had even made it up. But here I was, a rookie surfer, riding the 20 ft. crest of a monster wave with the Hawaiian sun at my back. Some of my companions at the surf school waved and shouted in encouragement, others just laid on their boards, watching in awe. But I was not to be distracted; I was committed to riding this baby to the end. As I headed towards the shore, little heads peered out the water. On closer inspections, I could see they were jagged rocks. This I was not ready for. Should I force a fall or take my chances through the rocks? With the adrenaline pumping, I guess I had no choice.
A deafening crash consumed my world. I jolted up in bed. The room steward at the Turtle Bay Resort had dropped a plate outside my room on the hallway floor. I glanced at my alarm clock. 5:05 A.M. I had a few more hours before I was to begin my first surfing lesson at the Hans Hedemann Surf School on the North Shore of Oahu. I wondered if I could go back to sleep.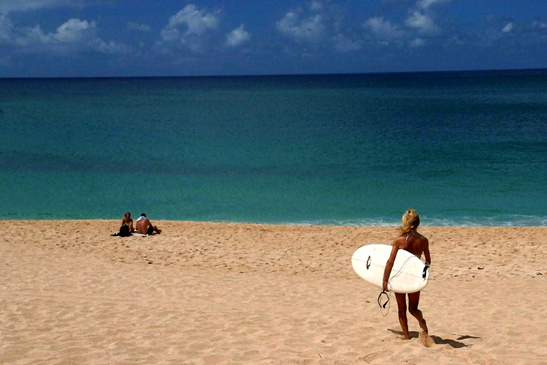 A surfer surveys the scene at Waimea Bay. Photo by Deb Roskamp

Back Story
Surfing has long been a central part of ancient Polynesian culture. When Tahitians migrated to Hawai'i, they brought with them the paipo (belly) board, which allowed them a quick way to get ashore with their daily catch. The art of wave riding upright on long boards was perfected in Hawai'i and is considered the true birthplace of surfing. Hawaiian royalty were the most skilled surfers in the villages with the best beaches reserved for them alone. The rest of the villagers were not allowed on the same beaches, but could gain prestige among the populace by their own mastery of wave riding.
The first account of surfing was written by English Lieutenant James King in 1779 after observing locals on the Kona Coast of the Big Island of Hawai'i. "On first seeing this very dangerous diversion I did not conceive it possible but that some of them must be dashed to mummy against the sharp rock."
The sport of surfing was popularized by Olympic swimmer Duke Kahanamoku in the 1920s, whose statue rests on Waikiki's waterfront. Today Hawai'i is regarded as the surfing capital of the world.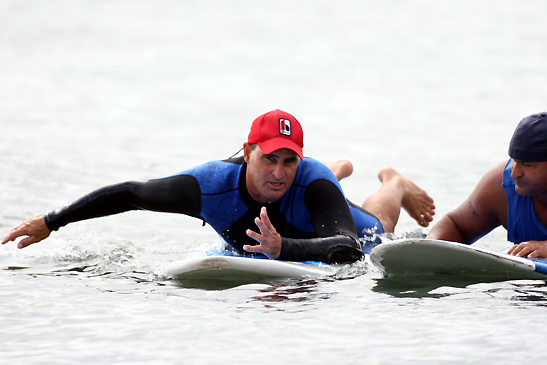 Han's giving pointers at his school
Hans Hedemann Surf School
When the clock struck seven, the monkey-wrench tightening in my gut reminded me that I was to meet Hans Hedemann and staff in an hour at his office located right at the hotel. Why was I so nervous? Yesterday, doing a survey of the North Shore's various surf beaches --- Sunset Beach, Banzai Pipeline, Waimea--- it all looked so, well, easy.
Handshakes were exchanged between the seven rookie surfers and surf school staff. Hans, a charmastic man who seems to make a personal connection with each participant, immediately put everyone at ease. Born and raised in the Hawaiian Islands, Hans spent 17 years on the pro surfing tour circuit, winning many distinguished competitions, including the first person to win back to back ASP World events. Interestingly, his reason for starting the schools (he has another on Waikiki) is that his initial introduction to surfing as a boy was an unsuccessful and negative experience. At the end of his years on the pro tour he realized the importance of proper surf instruction. In 1997, he launched the schools to also enrich the authentic Hawaiian surfing experience. Beginner, intermediate and advanced surfers of all ages are welcome to attend his schools.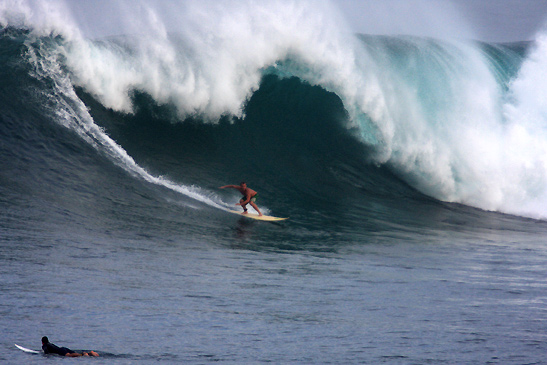 Bobby Davison rides the wave that he fell in love with.
Surfing USA
The group was led down to the beach where we were instructed on proper water safety, and then given drills on the techniques that we would later use.
Before I knew it, we were in the water. Surfing begins with climbing on your board and paddling out to waves on the horizon. Our instructors would maneuver us so that we were facing the shore. Then, when the big one comes, give us a push, matching the wave's speed. Once the wave starts to carry you and the board, you jump to your feet and ride down the face of the wave, staying just ahead of the breaking part "white water" in a place referred to as "the pocket."
I was textbook prepared, but quickly learned that the surfer expressions, "cutback," "tube riding" and "hanging ten" were not destined to be part of my own personal experience that day.
My goal: simply to stand up on my board and ride a wave.
Countless times Hans and his assistant, Bobby Davison, would patiently push me out to the pocket, and countless times I would fall. They were both relaxed and encouraging, diligently critiquing my moves and giving me pointers.
In between waves, I asked Bobby, a native of Vermont, what made him settle in Oahu? "I was visiting the North Shore," he replied. "And I fell in love with a wave." Such is the passion of the surfer in their quest to find the perfect wave, making surfing a major component to today's travel industry.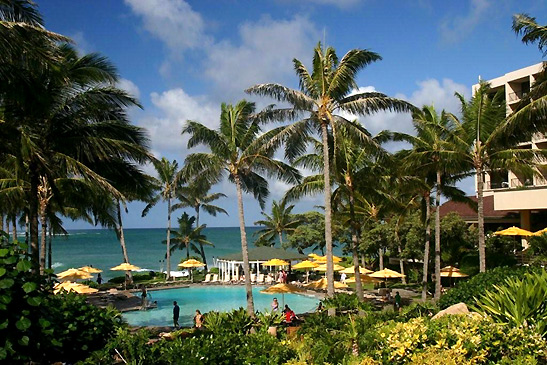 The stunning setting of Turtle Bay Resort. Photo by Deb Roskamp
Did I ever make it up? Well, yes. I did make it up once. It was probably only for five seconds, but the memory of that sensation that will stay with me for an eternity. I really had, at least momentarily, become one with the wave. Perhaps it was love at first sight.