An Urban Paradise:
Anantara's Riverside Bangkok
PART 1
Story by Ruth J. Katz

fter a leisurely, but jam-packed and educational train sojourn in Singapore and Thailand – a vacation I had been looking forward to – I alighted in Bangkok and wanted nothing more than to settle down by the sea and relax, indulge in a spa treatment or three, and enjoy some of that legendary, mouth-watering Thai cuisine. What I needed was a decompression fillip to my on-the-go vacation! The problem was, I didn't feel like undertaking any additional travel to get to the sea or a tropical resort... and certainly didn't want to tax myself with a 350-mile jaunt to a resort in Chiang Mai or a 500-mile trek to Phuket and the sea. I wanted to stay put.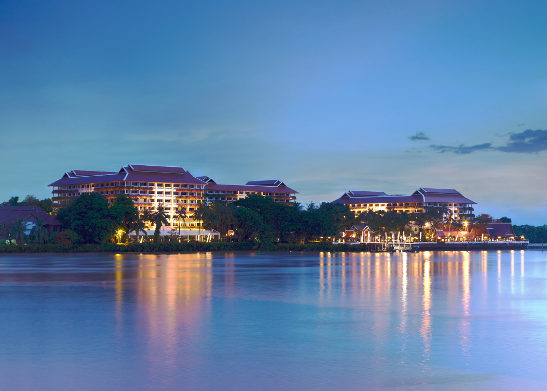 Photo Courtesy Anantara
The answer to my prayers was Anantara's Riverside Hotel. With four Anantara hotels in Bangkok this was not merely the easiest choice, but moreover, the perfect choice: I got the feeling of being at an oasis in the tropics, but still had the benefits of an urban environment – a metropolitan jungle, if you will.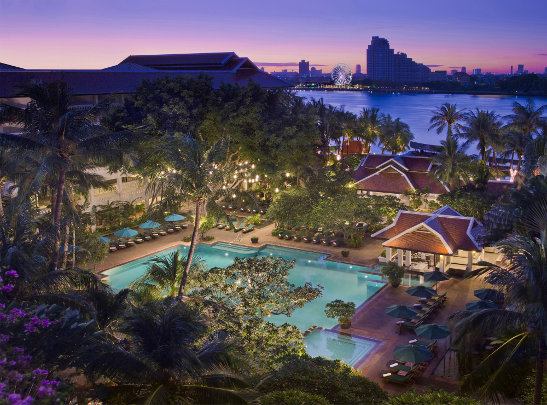 Photo Courtesy Anantara
I felt as if I were at a seaside resort, when, in fact, Anantara Riverside, as its name suggests, is on the Chao Phraya River, on the west bank. And while Anantara can boast some three dozen resorts in the most far-flung ports of call – Viet Nam, the Maldives, Cambodia, Sri Lanka, Mozambique, among other destinations – I was blissfully content to stay here.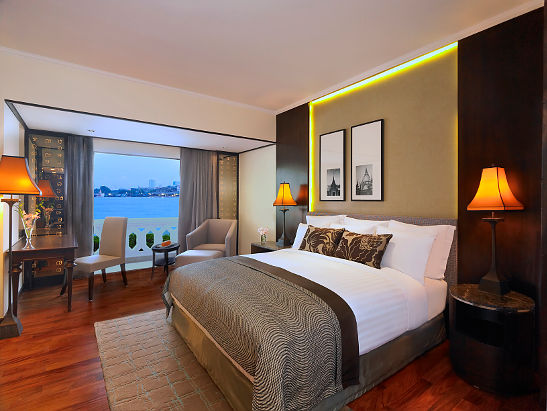 Photo Courtesy Anantara
And as it turned out, I could not have selected more wisely. The resort is large (11 acres), over 400 rooms (mine had a lovely river view, which was refreshingly misty in the morning – rates for a river view deluxe room start at $180, plus taxes) with many out buildings, all surrounded by lush foliage – the expected banyan, bothi, and samanea saman greenery, and a rainforest's worth of riotous color, exploding in bougainvillea, orange jessamine, wild water plum, and orchids, all dotting the vast grounds.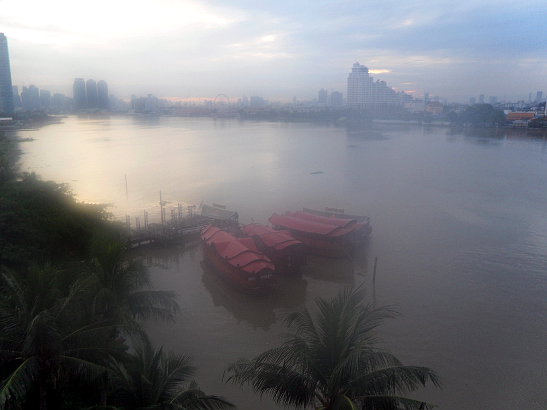 Photo Courtesy Ruth J. Katz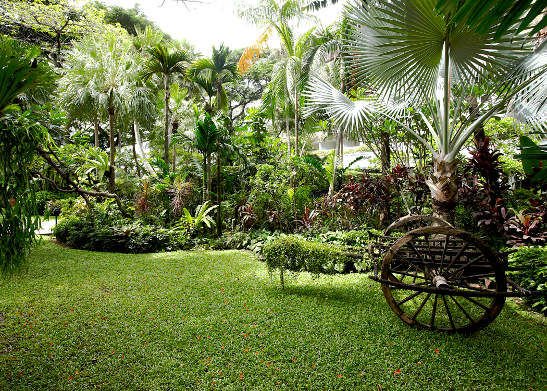 Photo Courtesy Anantara
While I wasn't about to swim in the river, there is a wonderfully capacious pool (one of the largest outdoor pools in Bangkok) and plenty of umbrellas and chaises longues for whiling away a languorous afternoon. It is truly a tropical waterfront retreat, but city-side.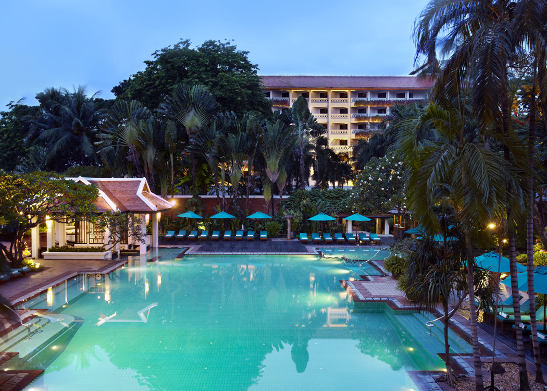 Photo Courtesy Anantara
To that end, I started my stay at Anantara Riverside with an indulgent afternoon at the Anantara Spa, a short walk from the main building. With nine different treatment rooms, and a lovely central airy courtyard, the spa is so inviting, you may want to spend a whole day there (inviting steam room and lovely relaxation areas seduce).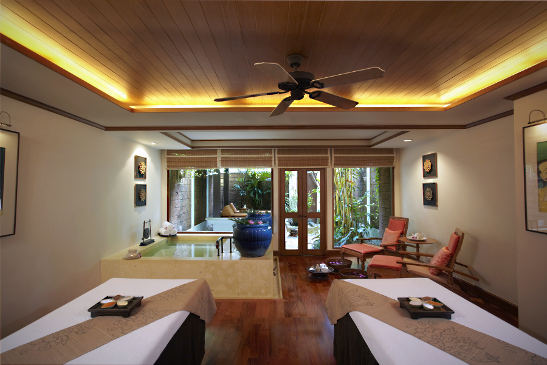 Photo Courtesy Anantara
The Signature Rice Treatment includes a thorough cleansing with a scrub that is rich in antioxidants and vitamins. The full body massage incorporates a specialty, blended, rice-bran oil; pressure point and stretching techniques; and heated rice compresses to release tension, pain, stress, and with luck, some toxins; an ideal way to start my city vacation. There are other wonderfully aromatic oils for other treatments – have a sniff: The Indonesian floral oil comprises rosemary, frankincense, and nutmeg oils along with plant extracts of willow bark, witch hazel, and chamomile, and is ideal for destressing.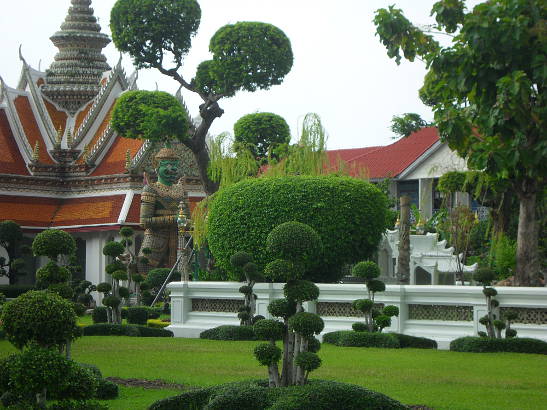 Photo Courtesy Ruth J. Katz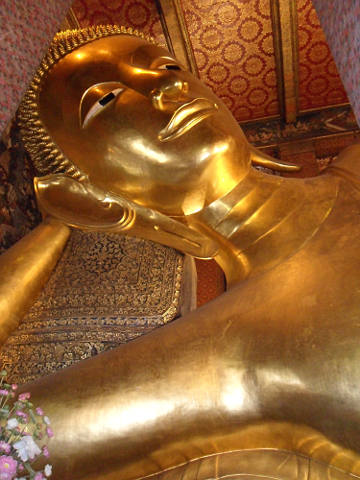 Photo Courtesy Ruth J. Katz
I spent my first afternoon giving myself a leisurely taste of Thailand, with a little exploration on my own. I hired a motor boat (there are some native long-tail boats on the river, and it is, in essence, like hiring a taxi for maybe 350 baht, about $10, to go up the river) to the Wat Arun Temple. (For the record there are probably upwards of 30,000 working Buddhist temples in Thailand... you are not going to see them all!) Wat Arun, along with Wat Pho with its massive, reclining Buddha and Wat Phra Kaew (which is very near the Grand Palace, which you will likely visit together) are the three main temple sights you will not want to miss, and all are relatively close to the hotel. Wat Arun, or Temple of the Dawn, dates from the 17th century, but its signature spires are from the nineteenth century. You can easily spend a half-day meandering among the verdant grounds and beautifully pruned trees, the sanctuaries, spires, and golden statues.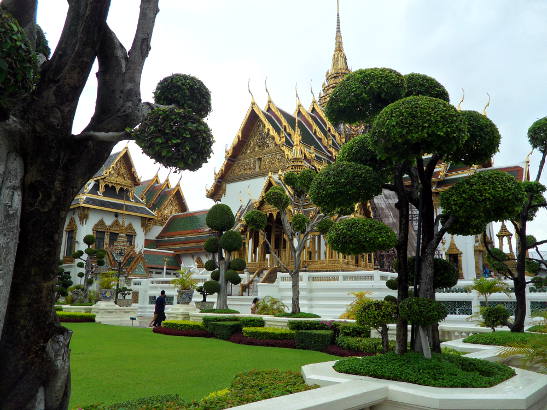 Photo Courtesy Ruth J. Katz
That night I had a wonderful treat, back on the river, when I took one of the resort's signature Manohra dinner river cruises.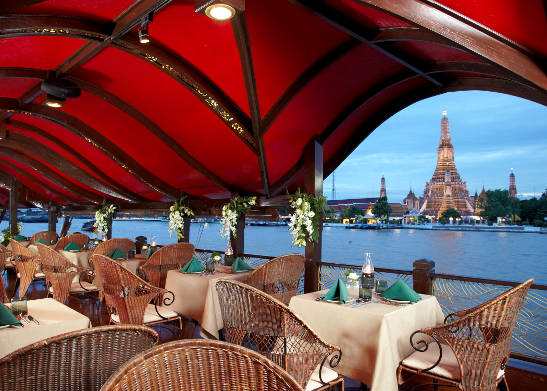 Photo Courtesy Anantara
I cannot recommend it highly enough – it's a chance to see the city at night, all lit up, gleaming, with golden temple spires brilliantly aglow, and the landmark Asiatique-Sky Ferris Wheel a beacon in the navy blue sky.

Photo Courtesy Anantara
The dinner cruise is about two hours, and as balmy breezes caress your cheeks, the delectable cuisine will whet your palate. Dishes are local favorites, prepared under the watchful whisk of the resort's chefs. Menus offer anywhere from seven to 11 different tasty dishes and might include: Massaman Nong Kai, a slowly-cooked, free-range chicken flavored with massaman curry, and accompanied by sweet potatoes and shallots; Tom Yam Kung, tiger prawns accented with Thai herbs and fresh, tangy lime juice; and Kao Niew Mamaung, mango sticky rice. The presentation is charming, often utilizing local greenery, shells, and the like, all very seductive, guaranteed to sate your taste buds.
If the gastronomy on the dinner cruise has tickled your curiosity, then register for the resort's Spice Spoons cooking classes.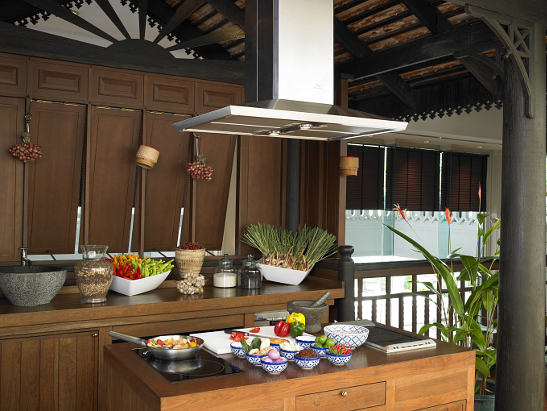 Photo Courtesy Anantara
The class is a rich and interactive immersion in Thailand's epicurean fare, just drenched in flavor – salty, sweet, spicy, and pungent. Start the class with a colorful trip to one of the local markets, traveling by a long-tail boat or a chugging tuk-tuk. Prepare several dishes which you can then savor at mealtime, with your fellow students. Some dishes you might make include Tod Man Pla, Thai fish cakes; Tom Kha Gai, coconut chicken soup; and Mamuong Pla Krob, crispy fish with spicy mango salad. You will also learn how to make substitutions that will work at home, if you don't have all the proper ingredients or cooking equipment.
See Part 2 of Ms. Katz's journey in Bangkok here.
Related Articles:
Eight-Circuit Thailand; I Followed My Heart to the Land of Smiles; A Taste of Adventure in Vietnam; A Survivor's Paradise: Caramoan, Philippines; Ha Long Bay in Vietnam: A True Surrealistic Watercolor