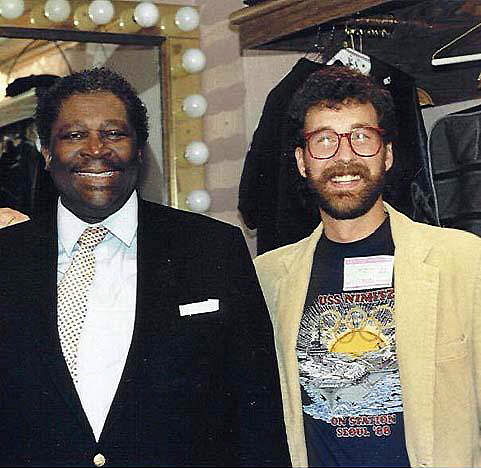 With the "King of the Blues" backstage at the Greek Theater,
Los Angeles CA.
Photo: Joe Reiling
The Blues is Like a Family
By T.E. Mattox


he first time you meet the 'King of the Blues,' it's like greeting an old friend. He immediately puts you at ease with his welcoming smile, gripping your hand and saying, 'have a seat, have a seat.' I had been listening to his music most of my life and idolized him just like he was a member of my own family. So what better way to begin a conversation than, "I've heard it said the Blues is like a family."
"Another thing, it's kinda' like a tonic, it's good for whatever ails you. (laughter) Whatever you've got that troubles you, there is a part of blues music that soothes whatever that ill may be."
And if anyone should know, Riley B. King would. Known the world over as simply B.B. King, this man has been the "King of the Blues" for the better part of six decades. As an Ambassador and Elder Statesman of his genre, he is very aware of how some perceive his role as a Bluesman and especially how his actions can impact and influence others. And he is all too willing to share his experiences with those who follow in his footsteps.
"Yes, not only just because I'm a blues singer or blues musician, but I do feel there is responsibility that I should always share, if you will. Because I personally feel that if I show young people that I can play music without drugs, that I can play music without many of the things that some people think you have to have to get the feeling, if I can prove to them, which I have been doing for quite some time, that I don't use anything other than my fingers and my head…" As he begins to laugh, he adds, "Whatever is left in it!"
'Quite some time' is an understatement of monumental proportions. You would probably need to travel to the ends of the earth to find someone who hasn't heard or been affected by B.B.'s blues. So if you think the phrase, 'reach out and touch someone' is just about your phone service, better think again.
"$12 dollars a night!! Oh Boy, I started seeing stars."
- B.B. King
"I believe it was Louis Armstrong who said, 'Music is a universal language and everybody understands it.' So that part I believe is true. Another part, when you try to play music to make people that are there, enjoy it. Whether it's on the radio or whether it's in the audience or whether it's on records, however you do it, they're the ones that are there and they're the ones you want to please. If you do that, every time you try to play, I believe personally, that you're going to hit 90% of the people."
On this particular night and this particular show in Los Angeles, I would estimate the average to be a great deal higher. The man is relentless when it comes to touring and performing and has been since those early days in and around the epicenter of the Blues; Memphis, Tennessee.
"Memphis to me, then and still is, the home of the Blues as far as I'm concerned. I know Chicago have taken over and all that, but Memphis to me is the home of the Blues! And it STILL is. It is trying to reclaim what it lost at one time, because Beale Street was known for the 'college of blues.' Muddy Waters and a lot of guys who left Mississippi, same as I did, instead of stopping in Memphis went on to Chicago. I stopped in Memphis."
A geographic magnet for early delta players, Memphis was always the first stop. And as most blues enthusiasts know, B.B. even got his name from the city. That's where Riley B. King became 'The Beale Street Blues Boy.'
"Hardly anybody that played the blues, didn't stop in Memphis at one time or the other. Even after that time, even today the British rock and Blues musicians have came through Memphis. I'm just happy, in America we have a music that is called Blues and we can share it with the world."
B.B. King began sharing his music with the world with the help of Sonny Boy Williamson II (aka Rice Miller.)
"When I first came to Memphis I'd been listening to a guy, before I left Mississippi, called Sonny Boy Williamson. I use to hear Sonny Boy and a group called the King Biscuit boys (King Biscuit Time on KFFA radio) because they advertised for a flour company called King Biscuit Flour. So it seemed to me like I knew them. Isn't it funny that you watch TV or listen to radio and there are certain performers or announcers that you come to feel like you really know them, like your next door neighbor? (See opening paragraph) That's the way it was with me with Sonny Boy. So when I went to Memphis I had a chance to meet him! Well, you know, it's sort of funny I felt he outta' know me too, 'cause I knew him so well. (laughing) Anyway I asked Sonny Boy if he'd let me go on his show and I had to audition for him. And he said, 'Yea, you can do that number you played for me.' So I went on his show that day and as fate would have it, he had two dates for that night. He had two places to play; one place where he played regularly for a lady called Miss Annie at the 16th Street Grill. He didn't get that much for it because it was kind of like a home base. If you ain't got no place to play, come on over here, always. But that night he had another place they were gonna' pay him maybe, oh, four or five times of what he would have made that one night. So he called Miss Annie and he said, 'Did you hear that boy on the radio today? She said yes. He said, 'Well I'm going to send him down in my place tonight and I will be back tomorrow night.' So she said fine. And he looked at me and said, 'Boy, and you better play too, when you get there! Sonny Boy was one of those big, tall guys, one of those guys, like I don't want to tangle with him."
"I went to her place that night and my job was to play for the people that wasn't gambling. At that time West Memphis was like a little Las Vegas and her place was a little gambling establishment. The men, most of the men would gamble, a lot of the ladies did not. The front part of the little café, they served food, had a jukebox and everybody would dance. So if you had live music, like which I was, they didn't have to put no money in the jukebox and if you played and had a good beat, everybody would be dancin' and going on. And that would keep the people in the back, because they didn't have to worry about who they brought with them. In other words, my job was to keep them there.
So that night, the first time in my life, I made $12 dollars, man! $12 dollars. I didn't know there was that much money in the world….for one night?? When I'd been on the plantation workin,' I was making $22.50 a week. And what made me want to start to play, some Saturday evenings go to another little town where my church members couldn't hear me, (laughing) I sit on the corner and sing. Sometimes on a Saturday evening I'd make $23 or $24 dollars which was more than I'd make all week, but here this one night I'm making $12 dollars, can't believe it. So the lady said to me, 'if you can get a job on the radio like Sonny Boy have' she said, 'then I'll let you work in his place, every night. I'll give you six nights a week with one night off and $12 dollars a night AND room and board.'
"Oh Boy, I started seeing stars. All kind of money jumping in my pocket, oh Lord, looky here, what has happened to Riley B. King?
Memphis radio was about to become the next rung on B.B.'s ladder.
"Well, I learned then that there was a newly bought radio station by two young men. One was named Bert Ferguson, the other was John Pepper, and they had just bought a Country - Western station, from what I understand, at that time, was about 25 or 50 watts. A small radio station and they had turned it into an all black operated station. And it was just starting to roll. It was the first station of that kind in North America. So that day I went over there and I saw this black guy sitting up in the window and I watched this guy and when the red light went off, I banged on this picture window. So he came up to the window and opened the door and says, 'what can I do for you young fellow?' I say, 'I want to make a record and I want to go on the radio.' (laughing) And I'm wet, man. It had been rainin' and I'd walked about two or three miles, with my guitar on my back. You got a way, turn your guitar, turn the face with the strings to your back to let the wind and the rain hit the other parts so it don't harm it, see?
So, he looked at me and I'm wet as a rat, man. So, he called Mr Ferguson, one of the owners and says, 'we got this boy out here and he wants to make a record and go on the radio, he said. I told him we don't make records but maybe we can do something about the radio.' And Mr. Ferguson, even today a real shrewd guy, he's one of the nicest men I ever met. He looked at me and he said, 'Come on in, son and maybe we can do something.'
And that VERY day, they put me on the radio with a product that was competitive to Sonny Boy, the guy that first put me on the radio. He advertised for a tonic called, 'Hadacol.' That very day they was just putting in the process, a new tonic that they was gonna' advertise. This new product was called 'Pepticon.'
So now he said, maybe we can use him, let me hear you. I started to playing, man. Whatever it was I played, they said, 'Oh yeah, this is great.' Me and my acoustic guitar, I didn't have an electric guitar at the time. Well, as fate would have it, they said, 'we've got to have a jingle for it.' So I started rattling my little brains trying to figure out what we're gonna' do. And I came with something that went like this, (slapping time and breaking into song…) 'Pepticon sure is good, Pepticon sure is good, you can get it anywhere…in your neighborhood.' They said that's it, that's it. (laughing)
So I went on by myself doing ten minutes a day. I did that for about a month, ten minutes a day then I started to be very popular. Then they gave me fifteen minutes a day. Then I hired a trio and that was the first beginning of the BB King group. And about a month or so later, one of the disc jockeys left, so Mr. Ferguson said, 'B, you're very popular, how'd you like to be a disc jockey?' I said, 'Yes…Yeah, Yeah, Yeah!!!' (laughing)
So they started training me to be a disc jockey and finally one day Mr. Ferguson came in, looked at me and said, 'B' he said, 'you know something?' I said, 'What is it, Mr. Ferguson?' He said, 'You're gonna' be very popular, you're gonna be a good disc jockey, but you'll never learn to TALK!' (laughing) So now, whenever I screw up a word, I smile and say, 'You were right, Mr. Ferguson.' (laughing)
When BB King first started touring, his path was littered with jukes, dance halls, rowdy crowds, and assorted wildness. Playing in those old converted barns, roadhouses, and bars back in the day always had a price. The cost could range from your rent money or your instruments, to the more personal affronts involving your girl or your next breath.
"Well, the club I'm thinking about wasn't so rowdy, but I did thank God I got out of there alive. This place was in Twist, Arkansas. This is where my guitar got the name, where I named my guitar 'Lucille.' This place we used to play quite often and it used to get quite cold there, in Twist. They used to take what looked like a big garbage pail and set it in the middle of the floor, half fill it with kerosene, light that fuel and that's what we used for heat in winter."
I'm thinking where's the Fire Marshall and OSHA when you really need them?
"People would usually dance around it and never disturb it. But this one night, two guys start to fight and one of them knocked the other over on this container. When he did, it spilled on the floor. Now, when it spilled it looked like a river of fire, so everybody started running for the front door, including B.B. King!
But when I got on the outside, I'd realized then I left my guitar and went back for it. When I did, the building was a wooden building and it started to collapse around me. I almost lost my life trying to save it. The next morning we found that these two guys were fighting about a lady that worked in the nightclub. I never did meet her, but I learned that her name was Lucille. And I named my guitar Lucille, to remind me to never do a thing like that again. But that was the one place that I was so happy that I did get out alive."
Although B.B never refers to himself as the "King of the Blues," everyone else on the planet does. But when he speaks of his life and the music he loves there remains little doubt, royalty is in our midst.
"Blues to me, I think of it like beauty, beauty lies in the eyes of the beholder. Blues to me is life. As we've lived it in the past, as we're living it today and as I believe, we'll live it tomorrow. Because it has to do with people, places and things, and is good for whatever ails you.
Thank you, Mr. King. I'm feeling better already.
"By the way, I want to say one thing more in terms of that tonic. We used to sell tons of it. And it took me years to find out why so many of the older people bought it, especially church members. About four or five years ago somebody sent me a bottle of it. They don't sell it anymore, but somebody sent me a bottle that they kept. And I found out it was 12 percent alcohol." (laughing)
I guess now we know why you were so POPULAR.
(still laughing) "I guess you're right!"