Ben Powell Digs Deep
By T.E. Mattox

en Powell is anything but your typical bluesman. The native Californian is an ardent vegetarian and at one time aspired to breathe the 'big air' of a professional skateboarder. His world changed during his formative years when the Powell family packed up and moved overseas. Ben was instantly exposed to an international array of diversity and culture that afforded not only an education, but an education with global perspective. Powell would end up seeing more of the world before finishing high school than most of us experience in a lifetime. So it shouldn't come as any surprise that exploration would be a recurring theme or 'key' to his highway.
Powell's musical journey began on the saxophone; he also kept time behind the drum kit and eventually picked up the harmonica, but it would literally take a broken ankle to finally put a guitar in his hands. His fascination with music, specifically blues music, and those who play it continues to lead him down the path of discovery. Jimi Hendrix, Bob Dylan and Hot Tuna initially, and those names led him to McKinley Morganfield and Chester Burnett which in-turn led to the Rev. Gary Davis, Son House and Jelly Roll Morton…well, you get the idea.
Powell's obsession with digging deeper now includes his own instrumentation. Using an old school style resonator guitar and multiple finger-picks he's fluent in a variety of musical genres with a full songbook loaded with sound, emotion and depth. Ben's proficiency and skill set have not gone unnoticed. A San Luis Obisbo Company has now hired Powell to rep for their National Reso-phonic Guitars as an artist/dealer. Nice work if you can get it.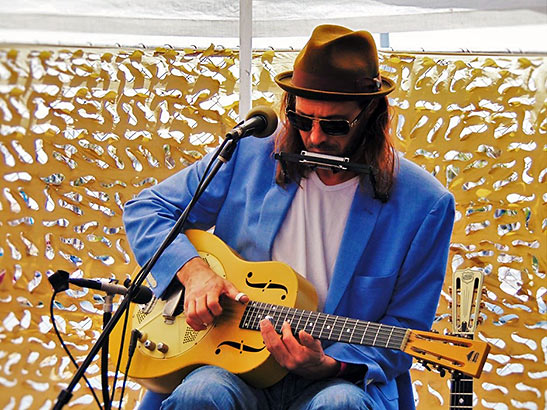 Ben Powell at the Gator By the Bay Festival in San Diego. Photo: Yachiyo Mattox
Powell is constantly performing but we caught up with him briefly over lunch on a bright sunny day on the coast near Cardiff. Naturally, our conversation started with his music. "I describe it as acoustic music primarily," he says. "I've never really had an electric guitar. It's roots music drawing from blues and old time music from the '20s and '30s. I like the swing stuff and straight ahead country blues. That's what I've listened to forever and for awhile I tried to play that. But now I'm not, I'm just trying to play my own music, but it's definitely influenced by that."
Did you grow up around music? "No one in my family plays music," Ben says. "My grandparents on my dad's side appreciated and talked about music, classical, jazz and swing from the war era." He grins, "Which ended up later being some of my favorite stuff. My dad had a small record collection that I sifted through as a kid and got inspired by. Music was something that was interesting to me early on… as early as I can remember."
What were some of your earliest recordings you acquired? "The first three records I bought were, Motley Crew 'Shout At the Devil,' Prince, 'Purple Rain' and Michael Jackson's 'Thriller.' And two days later I went back and got the Police 'Synchronicity' and Men at Work, 'Business As Usual.' So that was my collection for about a year, because I blew all my money on that. I used to collect cans from around the neighborhood; I've been working since I was ten, literally. I got my first official job selling Pepsi's at Fresno State football games."
So, Central California was home? "A little town called Clovis, California where my mom was teacher. So, that was my stomping grounds, I was born in Los Angeles but we moved out of there when I was young because my dad wanted to go to college at Fresno State. From there music was big in my life; all the neighborhood kids were into listening to music, more into the pop stuff and an older kid turned me on to Iron Maiden. He took a minute to explain it to me, he said, 'Listen, sometimes they'll come out of the box with a guitar solo, in pop music they don't do that, it's a formula. And I really understood that. Probably around the fourth grade I picked up my first instrument, saxophone. I started playing saxophone in fourth grade band, and played that all through high school then switched in high school from sax to drums."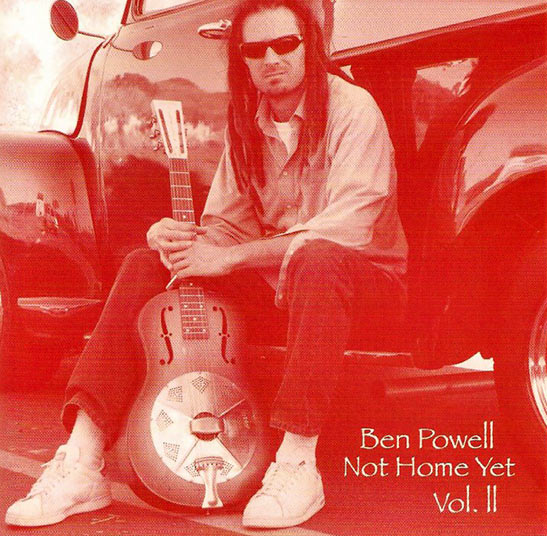 Your horizons got a little bit bigger about that time? "My mom was a teacher and she got a gig with the Department of Defense. So we moved to Germany in 1985 to a tiny little Air Force Base and that was a trip. That changed my life obviously, in many ways. Living in a little 'gasthaus' for four months and finding out the place was 900 years old. It had been in the same family for 600 years. It was interesting coming from California where nothing is over 100 years old. That was really interesting growing up in Europe and having that experience. The military experience as well as the European experience, you get both. In the summer kids get the opportunity to work, stay out of trouble and get something to do and get a little money. So I worked at the supply warehouse, I worked on the flight line; I worked at the MWR (Morale, Welfare and Recreation) and the gym. Working with all military dudes, you know? And I had a great time doing that."
Bet that gave you a healthier respect for our military and their families, didn't it? "Very much, very much… my father was in the Marines in Viet Nam and both my grandpa's were WWII vets so I've always had that in my family, anyway. But to live (on a military installation) and to be walking along and all of a sudden you hear the Star-Spangled Banner and you have to stop. Most people don't know what that means. Or to hear Taps played every night at 10 O'clock. That's interesting and stays with you."
* * * * * * * * * * * * * * *
"I walked into the room and heard this music and it's Son House and
I was just blown away. One of those moments and I'd never heard anything like this.
Boom…how can you not fall in love with that music?"
– Ben Powell on his blues epiphany
* * * * * * * * * * * * * * *
Living overseas must have had a big cultural impact on you? "It was a total culture shock for me, in multiple ways. The first being the military and that's different, obviously. The second was Europe; I live in Germany all of a sudden… coming from Clovis, California." (laughing) "And the third was the culture of the military people; they're from all over the country. I got exposed to American cultures, Southern cultures, Northeastern culture and things you don't get in Southern California. Hanging out with kids from Texas, and Georgia, eating foods and hearing them talk and seeing how their family runs. It was so different from what I was used to."
When did your road intersect with your musical direction? "In about '93 when I moved here (San Diego) from high school, I was a skateboarder, and I move here for that reason, skateboarding. And this is a Mecca for skateboarding. And it was either San Diego or San Francisco. I liked the weather down here better and you could skate more days out of the week and I moved here. I lived in Solana Beach in a little old, gutted beach house that didn't have hot water or anything. (laughing) Beach Rustic! Now, it would be a million dollars, back then it was free. I got a gig in a pottery shop in Del Mar and I was interested in music and I was writing songs. More of the poetry style in writing words really, but I knew I wanted them to be songs. But I didn't have a band and I wasn't playing an instrument at the time and skateboarding was done, I had broken my ankle. My friend brought me over an electric guitar and no amplifier, and I started playing guitar and learning a couple of notes from Hendrix. And I thought how neat is this? I got a little acoustic guitar and started playing and I got really serious about it. I was into music so much then and learning so much about folk music and blues."
Powell performs an original composition.
Photo: Yachiyo Mattox
"And how I got into blues, I was working one day at my pottery shop and it was a perfect blues backdrop. Migrant workers and me… a total Spanish saturation, kinda' cool. This guy put on Son House and I walked into the room and heard this music and 'what's this?' Ah, it's Son House and I was just blown away. One of those moments and I'd never heard anything like this. I was listening to Hendrix and Hot Tuna, Clapton and all that, but this was just a whole other thing. I went home and researched who he was and found out that Jorma Kaukonen was covering Gary Davis songs and Jelly Roll Morton and boom, how can you not fall in love with that music? And country blues, that was it."
"When I heard those guys I went to school, I went to college. I bought everything I could find, read everything I could find, every liner note, every book. I really, really studied the music and fell in love with like fifteen guys, the core guys; Blind Blake, Blind Boy Fuller, Fred McDowell, Lemon Jefferson, Tommy Johnson and of course, Robert Johnson. And who did Robert Johnson listen to? Son House. And who did he listen to? Charlie Patton. I like to take it all the way back and who did they listen to? So I started with Hendrix and ended up with Charlie Patton."
How many CD's now? "I'm almost done with my seventh CD. My last three CD's have all been originals, my first two were all originals and then I did two blues CD's when I was trying to learn how to play the blues."
Rise Up Singing was nominated for Best Blues Album at the San Diego Music Awards, that must have felt good? "It did, it did. I got an email saying I was nominated and I was super-stoked. The coolest thing about it is that they knew who I was. Because I didn't know who they were, who are these people and where do you send your CD? I didn't know these things and somehow they got my CD and they liked it, so I was super-stoked. Because in this business not a lot comes to you, you have to hustle and get turned down, literally a hundred times before you get one. The rejection rate is phenomenal… if you love rejection; this is the business for you. (laughing)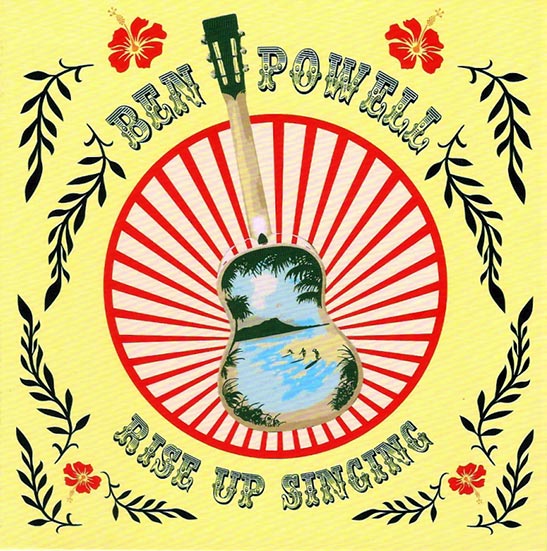 That album was recorded with a host of your friends at Nathan James' Sacred Cat studios. "Yeah, I've done my last two albums with Nathan. Oh man, I could talk about him for an hour. He was one of the first blues dudes that I met. A friend of mine said, 'Hey man, you gotta' come with me to see this guy playing Blind Blake right down the street at the Roadhouse, Oh my God, I walked over and I saw him playing and I was instantly blown away by the fact he was playing this music so good, so perfect. He was just playing this old Martin he had, the cheapest Martin they make and he made it sound like a million dollars. I was absolutely blown away by his proficiency, his authenticity; I was just blown away… blown away. We became fast friends ever since. He made me a tape of Bo Carter (Armenter Chatmon) and I made him Jelly Roll Morton. And as far as working with him, he's my favorite bass player, first of all. The bass is my favorite instrument, but I don't play it."
Wait..wait… How does that work? Nathan is known more for his guitar than playing a standup bass and you say your favorite instrument is a bass but you don't play it? Talk about inner conflict… (laughing) "I'm a walking contradiction, full of conflict indeed, yes!" He laughs. "But Nathan just hops on the bass and plays exactly what I want; if I could play… that would be it. No communication, just boom and his band is just wonderful, Marty (Dodson) and Troy (Sandow) and he introduced me to Jonny (Viau) who's a great musician and a super cool dude." (Weird sidenote: Ben Powell, Jonny Viau, Son House and Johann Sebastian Bach all share the same birth date) "Making that record was a ball because I got to have other people on it; normally I'm a one-man type of deal. I made my first four records by myself and working with Nathan is a thrill and I can bounce ideas off of him and it's just solid and I love it. I hope I can keep doing that with him but I know he's getting busy because everybody is working with him. I'll have to book him in advance!" (laughing)
The CD New World Blues? "It's all original songs on that with Carl Sonny Leyland, thanks to Nathan. Some of my songs… I'm not in the South and I'm not a sharecropper, I'm out here and living in this world and I've heard from many of my favorite artists that it's a good idea to learn a style of music, like blues. But once you get your own thing going, it's important to contribute, to put back, not just take. Anybody can get up there and just play a rock and roll song; it doesn't matter… if it sounds good, feels good and people can dance to it. Who cares where it came from or what it's about? But if you're singing reggae or singing blues, there's a specific reason that music exists. And it's not because of my culture, so I have to walk this line, respecting where it's from and understanding that I don't own it, I don't own its course and I don't own its history. But I'm not faking it and I'm not doing this because it's making me a bunch of money. Because people ask me why did you choose blues? I didn't choose it and it's corny and hokey to say it, but it kinda' chose me! It's continuing to do that, it wasn't a plan. I'm not gonna' go and make a bunch of money being a blues singer."
"I've always liked that idea of every time you write a song, record a song and put it out there you're contributing... adding to the soup. With that in mind, I've tried to write about things that are happening in the world. I don't want to sing about how bad my girl treats me; first of all it's not that interesting, secondly there's a lot more important stuff going on. New World Blues was an effort in that."
Did you listen to a lot of Pete Seeger and Woody Guthrie? "Absolutely, they definitely went through my filter, no doubt about it. Through Bob Dylan, finding Bob Dylan and who did he listen to? That's what I do. My favorite guys and I find out who they liked, you know? Turns out, I end up liking them too."
Ben Powell plays constantly throughout Southern California, just check out his website for the latest opportunity. But whether you like the early blues from iconic bluesmen in the vein of Blind Willie Johnson or Fred McDowell or just original songs with substance and a social conscience, you too, will enjoy an evening with Ben Powell.
Related Articles:
The 2015 Blues Music Awards; San Diego's Mr. Natural: Billy Watson; Nathan James: Southern California Roots Run Delta Deep; 'Iceman' Albert Collins; The Blues Are Alive and Well in Southern California