Story Telling with Blue Largo
By T.E. Mattox

t's been twelve years since the last Blue Largo album and that's a reality not lost on guitarist Eric Lieberman and vocalist Alicia Aragon. So when they released their new CD in September, the most obvious question seemed to be, what took so long? Short answer… back in 2006 Lieberman was diagnosed with a rare neurological condition known as Focal Dystonia. Refusing to play the 'victim' role and with wife Alicia by his side, Lieberman spent the last eight and a half years retraining muscle movements by practicing or playing an average of five hours a day. Determination and dedication paid off and the new CD, 'Sing Your Own Song' is their collaborative result.
Seven of the fourteen tracks are originals written by Lieberman who says he never really thought of himself as a songwriter. He simply "wanted this record to sound like Alicia and me in 2015." The project was further enhanced by more than a dozen of their friends, who just happen to be some of the best musicians in Southern California. Lieberman is the first to admit, it made the entire production "more meaningful and personally rewarding than anything we could have imagined."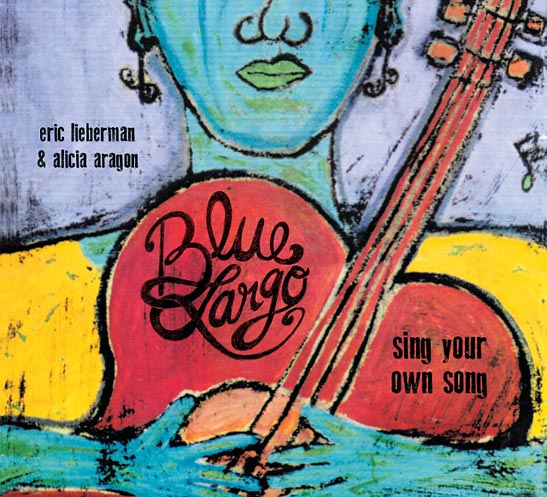 The latest from Blue Largo
Music came early for the guitarist, "I saw the Beatles on the Ed Sullivan show in 1964." Lieberman says, "Guess I was eight years old. The day after the Beatles were on Ed Sullivan every teenage kid in America all of a sudden had to have an electric guitar and a rock band in their garage. I guess I was one of those kids."
Who or what was your first blues experience? "When I was about 15 years old John Mayall was playing at the Monmouth College gym, near my house. That's the same venue where I first saw Springsteen and the band Steel Mill. And I went to see John Mayall, not because I thought he was a blues guy, but they were playing him a lot on WNEW the progressive underground rock radio station out of New York City at the time. So we go to the show and we get into the auditorium and I see all these old black guys in suits and ties with trumpets and saxophones and it was B.B.'s band and this was about the same time that B.B. was crossing over from the chitlin circuit to play for college audiences… white audiences. Around the time, The Thrill is Gone came out, arguably B.B. at one of his heights. And I'm embarrassed to say this, I didn't get it.
When I moved to San Diego in 1978 and I met a guy name Bob Komaski playing in a local bar band. I didn't know that he was blues-oriented, this guy was very passionate and I loved the way he played and I started talking to him. And he talked to me about how much of his playing was based in blues. I used to sit in with Bobby's band once or twice a week for one or two songs and he told me, 'Eric, if you want to really want to get good man, you gotta' start playing on a more regular basis with other guys. You're not going to get good just sitting in with us for two songs once a week. So I answered this ad in the classifieds for a guitar player skilled in 1950's blues and jazz to complete a trio and I spoke to this harmonica player named Mark Bukich and he started telling me they were really into playing stuff by Muddy Waters and Little Walter and Sonny Boy Williamson and Billy Boy Arnold and I'm thinking, 'Man I've never heard of any of these guys but they sure got some crazy names.' But Mark explained to me how the guitar and harmonica interacted so seamlessly in Chicago blues and the main examples of that would be Louis Myers playing with Little Walter or Robert Junior Lockwood playing with Sonny Boy Williamson.
* * * * * * * * * * * * * * *
"I think that the music that I've been so steeped in, so studied in and the only music that I've ever dedicated myself to and in learning how to play has been blues."
– Eric Lieberman
* * * * * * * * * * * * * * *
"One night, Mark picked me up, I was living in Pacific Beach and he picked me up in his 1970's blue Ford Econoline van and this was in the days of the cassette players, right? And he goes 'Hey, Eric have you ever heard T-Bone Walker?' He put on a T-Bone Walker tape of the double LP of the complete Imperial Recordings and for the first time, man. I didn't just hear something, but I felt something that I hadn't heard in blues up until that point."
What was your first breakthrough in Southern California? "About 1980, the blues band in San Diego at that time… and there weren't 20 or 30 blues bands like there are today, the premier blues band by far was a band called the King Biscuit Blues Band led by the harmonica player, Ken Schoppmeyer and his partner, a guitar player Paul Cowie who I loved and love to this day. He's an amazing, soulful and passionate guitar player that can play B.B., Freddie, Albert and Mike Bloomfield better than anybody. I used to say, man, 'Every chick wanted to be Paul's girlfriend and every guy wanted to be Paul.' Anyway, Ken Schoppmeyer saw me playing and asked me to join King Biscuit which was a great thrill for me. In fact, I was going to move to Los Angeles at the time, I had just graduated from law school and I was going to move to L.A. and practice law. When Ken asked me to join King Biscuit, to me back then it was like being asked to join the Rolling Stones and I stayed in San Diego for that. I played in King Biscuit for four and a half years. King Biscuit is really where I think, I came into my own."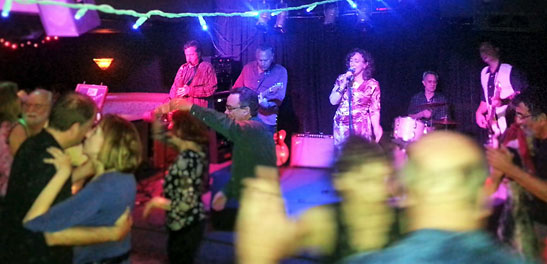 Blue Largo fills the dance floor. Photo: Yachiyo Mattox
What happened after you left King Biscuit? "I was roommates with a little drummer girl named Cindy Elder. She was the drummer for the original Rhumboogies and I had a bass player that played upright bass, named Dan Vasquez that looked like Tyrone Power, he looked like a movie star from the '40s, right? He played great, he played acoustic bass, and he drove a 1950's Oldsmobile Rocket 88 and I remember we were having a conversation about drugs one time and he said, 'If somebody could prove to him that Louis Jordan did cocaine, then he would do it.' He judged everything in his life by guys like Louis Jordan or Wynonie Harris. (laughing) Dan Vasquez was a great guy and he sang really cool, too… and I got Jonny Viau to play horn with us. And we had a singer named Charlene Grant. And then we went through a couple of different rhythm sections. This was about '87 or '88. I might not have played in a band for about a year after King Biscuit; I might have just jammed around a little. I was playing as a sideman at this time with Jonny and this guy, Blonde Bruce. Blonde Bruce used to play every Sunday afternoon at this biker bar in Pacific Beach called Jose Murphy's. There'd be about 50 vintage Harley's lined up outside with the beautiful two-tone paint? I used to like playing the gig just to look at the vintage bikes. Anyway, there was a guy named, Earl Thomas who had just moved to San Diego from Humboldt and I guess he saw me play at Jose Murphy's with Blonde Bruce and I'm not sure if he approached me that day or not, but somehow he knew that I had my own little group called the Rhumboogies. We were playing on an off night, like a Wednesday at the Mandolin Wind in Hillcrest where King Biscuit used to play. The first time I remember meeting Earl he came to my gig at the Mandolin Wind and he sat in with us and he said he was looking to join a blues band. And I said, 'your timing's pretty great because we're looking for singers right now. I said I've got this weekly gig at Winston's in Ocean Beach every Tuesday night and I'm going to be auditioning a couple of singers on Tuesday, why don't you come down and sing a couple with us? And that Tuesday night our two auditionee's were Earl Thomas and Candye Kane. They both became a lot more famous than me!!!" (laughing) "Something is not right here!" (laughing)
"Candye Kane, I'd known she was kind of friend of mine because she was married to Tom Yearsley from the Paladins and I was close friends with Dave Gonzales and the Paladins. Candye was great, but she was into singing country at the time and she also had a persona. You gotta' remember this was 1987, '88 and her dress was a little like Madonna's with a big cross and I don't know, man. And Earl comes in and he's got this 1960's style Rat Pack era suit on and I remember Thomas Yearsley says to me, 'Eric, I gotta' be honest with you, man. It's a no-brainer, hiring this guy Earl is like having Sam Cooke in your band.' So we hired Earl and the band really gelled after that, behind Earl. It was really the King Biscuit Blues band where I think I came into my own as a guitar player, as a bandleader; for sure it was the Rhumboogies."
Your struggle with Focal Dystonia really took a toll on you. In your liner notes for the new album, 'Sing Your Own Song,' you talk about your struggle with the disease and actually said it was 'good for you.' Can you please clarify that just a little? "My whole life I was insecure about the way I played," Eric says. "And I always wished I sounded like Anson Funderburgh or Kid Ramos or even guys that were younger than me like Nathan James or Robbie Eason. When I saw some of those old Rhumboogies video tapes after dealing with dystonia for the past seven years, I go 'Wow, I wish I could just play like me again.' In that respect my dystonia was a great gift because it made me just realize the gift of being able to play, even if you don't sound like this guy or that guy, 'cause I didn't even have that for seven or eight years, man."

Acoustic set with Nathan James, Lieberman and Aragon. Photo: Yachiyo Mattox
Let's talk about the creation of Blue Largo… "The derivation of our name Blue Largo has nothing to do with Key Largo or Blue Lagoon or any of that. It comes from a very obscure Bill Doggett song called Blue Largo and on our very first CD, Jonny Viau and I recorded Honky Tonk which is Bill Doggett's song. It's got one of the most classic, all time rhythm and blues guitar solos by Billy Butler. So, I'm a huge Bill Doggett and especially, Billy Butler fan.
Was it easier to find a vocalist this time around? "Whenever I needed a singer, I knew that Alicia who had been my girlfriend since 1982, I knew Alicia could sing. Ever since I've known her she would learn these songs from Dinah Washington records or Sarah Vaughan or Billie Holiday records, these standards. They're hard… they're hard for me to play, man. But she was always just happy to be a shower singer…
Alicia suddenly appears; her ears must have been burning… "Believe it or not, I'm extremely shy," she smiles. "My parents always sang and I would sing with them, but I was always extremely shy. I used to dream about being a back-up singer, because I grew up in the Motown era and I visualized myself as being a great back-up singer. But Eric asked me many times to play, and I still have stage fright but I wanted to accept the challenge and not have the regret of not doing it. It's been a wonderful experience. Up until that time… I love to garden and that's where I would do all my… performances. (laughing) I'd sing to the flowers. So that's how I started and of course, Eric has always tried to encourage me. It's been good for us as a married couple and a lot of joy. I still have some of that little girl in me that isn't quite sure…" Eric jumps in, "And what do I tell you to do?" Alicia says, 'You always tell me to take it down in the alley.' They both laugh and simultaneously say, "Way down in the alley."
If you could, describe Blue Largo's music. "Its vintage blues, jump blues, swing jazz. I feel like the words never do justice. I reference certain artists, Billie Holiday, Dinah Washington, T-Bone Walker and Louis Jordan… with this new record the big thing for me is to be true to the era. People ask me, 'Eric, what do you like better, blues or jazz?' I say the better question is, 'what do I like better…the music before 1965 or music after 1965?' Back in the era in the '40s or the '50s it was more of a melting pot. You might have Billie Holiday playing at a club for one week and then Muddy Waters band come and play that same club the next week, with very much of a similar audience. It was really the music what they called at that time the 'race' charts. When you'd go into a fried fish joint in Louisiana or in Chicago in the 1940's and the '50s you'd have Miles Davis, the Nat King Cole Trio, Louis Jordan, Little Walter and Sonny Boy… they'd all be on the juke box. So to me it's that palette. On our first two records I wouldn't play anything like Magic Sam or Buddy Guy or anything that used a solid body guitar because I wanted to keep it pre-1955 sounding. I was very conscious and still am, I think an album has a theme and a concept and runs through. Like a book and each song is a chapter and one chapter has to relate to the other. On our new record, now the term I like to use to describe it is 'original vintage rhythm and blues.' I like the fact that original and vintage are antonyms, opposites. People think well, 'how can it be vintage and original? Original means it's new.' Of the seven original songs, I wanted them to sound like they just came out of me. A kid from suburban, middle-class, Jewish-Italian New Jersey that grew up in the 1970's and the way I feel and the way I think in my life experiences and I want them to sound like they were written in 2015, which they were."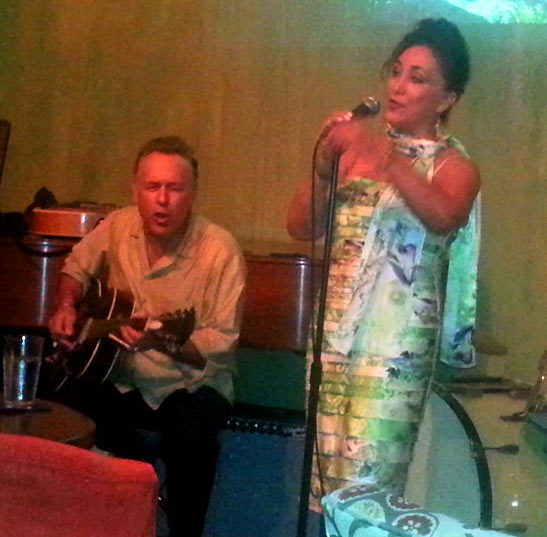 Eric and Alicia sing their own song. Photo: Yachiyo Mattox
"For the first time in my life I have enough confidence in myself as a player that I don't have to worry about people saying, 'Oh man, they sound too modern, that guys not a real, pure blues guy.' I didn't try to make them sound like they were written by somebody in an era or time and place that I didn't grow up in. That's why I'm using a Hammond organ, which all my blues friends will disown me. That whole organ-piano thing I got from the E Street Band which is the best organ-piano sounding band I've ever heard and is what I grew up with. A friend of mine in Florida who grew up next door to me in New Jersey and first turned me on to Springsteen and Steel Mill in 1970 sent me an email the other day. I had sent him a copy of the song 'Tears of Joy' and he goes, 'Eric, the organ sounds eerily like Danny Federici,' which is what I was thinking! For the first time in Blue Largo I'm playing a Stratocaster on as many songs as I'm playing an arch top guitar. You know Nathan (James), Alicia and I do 'Sittin' on Top of the World' which is a full-on country blues thing. I wouldn't even have done that on our first two records, even though I love that stuff and it's super, it's like 1930's Mississippi Sheiks, it didn't fit into that urban, swing band thing, the Louis Jordan thing. People say they here a little bit of the Wailers in 'Tears of Joy.' To me Bob Marley and the Wailers and Jamaican music in general, have been a huge influence to me. Up until recently, I would have been embarrassed… 'Oh no, man! The guys putting reggae in his blues; that's not pure, that's not authentic, that's not genuine.' Now I take that as a compliment. I wanted this record to sound like Alicia and me in 2015.
I think that the music that I've been so steeped in, so studied in and the only music that I've ever dedicated myself to and in learning how to play has been blues. I think after 35 years of it, it's so inside of me that writing these songs fortunately came out with an old school, vintage, rhythm and blues sounding vibe."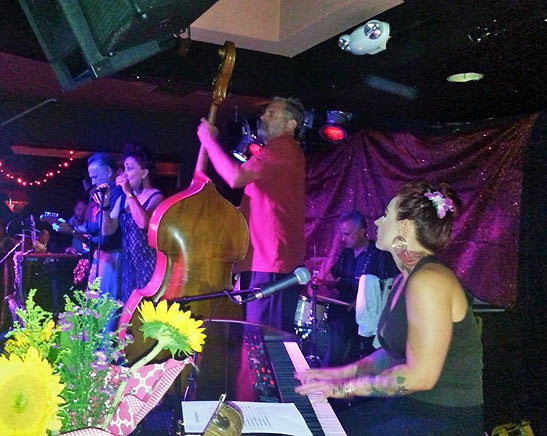 Blue Largo in full band mode. Photo: Yachiyo Mattox
The CD was recorded at Sacred Cat Studios with Nathan James and he also plays on the record… "Nathan was unbelievable man. His patience and his attention to detail… is mind-blowing. The things that he hears, it's a gift he was born with. And one last thing, our band has done an amazing job playing on this record. We pretty much recorded these songs after playing them just a few times. And I think it has to do with the fact that we've all been playing together for almost 30 years. There's an intuitive feel about that that is irreplaceable and priceless."
Alicia smiles and adds, "Telling the stories… and the connection we feel in sharing our stories…"
Eric nods, "The most important line on the whole record is in the song 'Tears of Joy.' It says 'there's no denyin' you saw me cryin' but in my darkest hour of despair, there's a light just around the bend.' And that's my philosophy about life in general and I think its Alicia's too."
Related Articles:
BB King; Ode to Little Walter; John Mayall; On the Road with Buddy Guy; Phil Gates Plays it Forward; The Blues Are Alive and Well in Southern California; Nathan James: Southern California Roots Run Delta Deep