Dennis Jones:
Between Rock... and a Blues Place
By T.E. Mattox

obert Frost once wrote, 'Poetry is a way of taking life by the throat.' If Frosty Bob were alive to today, I'm sure he'd agree that bluesman Dennis Jones should have that quote tattooed across his forehead. Drop in any of Jones' three CD's and his hyperactive Blues guitar instantly leaves you winded. And with seemingly no expiration date on his poetic license, Jones demonstrates he can stop time 'I Want it Yesterday,' defy gravity 'I'm Falling Up' and numb the senses 'Slap me in the face until I can't see' with every song he writes. As an additional safety precaution, venues should probably post Dennis Jones Band disclaimers outside live shows that read…the Electrified Blues experienced tonight may cause whiplash-like bruising, neck stiffness and loss of communicative skills. Delayed side effects include, disorientation, blurred vision, restless leg syndrome followed by severe sweating, light headedness, and a bitchin' euphoria.
It seems Dennis Jones knew early that he wanted to play music. He just took a while to decide what kind of music.
"I was a rock and roller as a kid, and playing some R&B mixed up with Rock and Roll. I went back and discovered where these rock and roll licks were coming from. As you dig deeper you go back to Son House and Robert Johnson and people like that."
Was it the guitar from the start?
"I wanted to be a drummer but my parents wouldn't go for the noise. So I went for the guitar and a year and a half later I had a Marshall stack in the living room….so I think they were scratching their heads going, 'we should have gotten the drums!'
"I love blues and if I had only one style of music I could listen to, it would truly be the blues. But I've been influenced by so many things.
--- Dennis Jones
Growing up in Baltimore, Dennis has fond memories of the diverse local music scene. One legendary Maryland landmark came up, the eclectic and intimate venue called '8x10.'
"I've seen some great, great bands…. Gary 'Mudbone' Cooper and all those guys from Parliament Funkadelic came out of Baltimore; all those great players came out of there."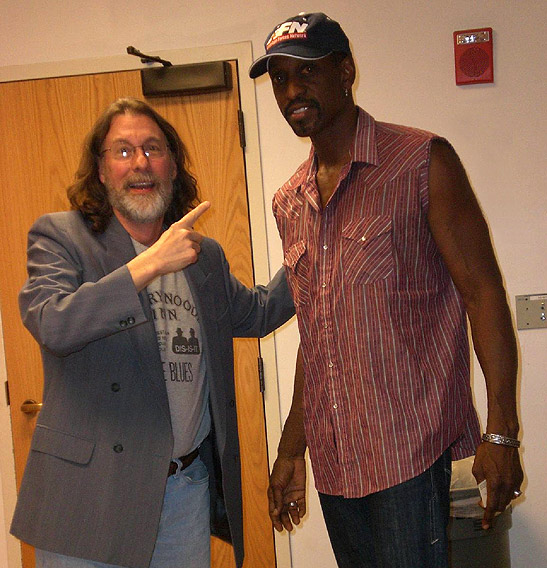 Dennis Jones ponders new security measures. Photo: Y. Mattox
The more you listen to Jones' music, the more you realize he's not just a guitarist that rocks the blues. When tugging at his strings of influence I discovered two distinctive traits. First, he's uncommonly focused on his craft, but more importantly he seems to relish mining the infinite diversity of his musical mentors. So if you're willing to open the latest Dennis Jones Variety Pack, he's more than willing to step outside the traditional and pin your ears back.
"People who write about music and the artists that perform it sometimes have a nasty habit of 'pigeon-holing' a musician. What I mean by that is, making a general overall comparison to another artist or group without explaining the nuances or detail behind their conclusions."
Guilty, your honor! But in my defense, the Dennis Jones Band is a kickass, three-piece collective that can singe the tiny hairs off your eyebrows with searing solos, hammer-driven percussion and thudding bass lines. In summation; after every Dennis Jones performance, when you leave the premises there's absolutely no question …you'll have been rocked hard and bent blue!
That being said, comparisons with previous generations and other contemporary's are inevitable. And honestly, if you must be lumped-in with other legendary power trios, how distressing can it be when you're mentioned in the same breath as Cream, Stevie Ray Vaughan's Double Trouble and the Jimi Hendrix Experience…especially Hendrix! So with tongue firmly planted in grinning cheeks, I asked Dennis if he thought it was the bands three-piece format.
"It's the three-piece; it's the tonality of my voice," he grins, "my attitude, I guess. I don't really know, but I could be compared to a lot of people. At first, I was kind of…aaarrrhhhh, you know? Then I thought to myself, you know what…Hendrix was one of the greatest guitar players in the world…so shut up."
Have I mentioned I really like this guy? As we talked about other players and musicians, Dennis began provided insight on why he was so drawn to them.
"When people hear me play…I don't really try to copy any of those guys. First of all they have their thing, and I always wanted to develop my own style…just my own thing. What really influenced me from all those people, especially Page and Hendrix, they're great songwriters. I mean I love songs. I don't care if I have to play songs with no lead guitar for the rest of my life; it's REALLY about the songs. So many people put their energy into doing a great solo without…" he pauses a beat. "It's like a great race care driver without a car, you know? You've got to have the whole, complete thing, for me to come and see you, buy your shirts and CD's. To me it's a combination of all those things. Songwriting is the most important thing out there to me."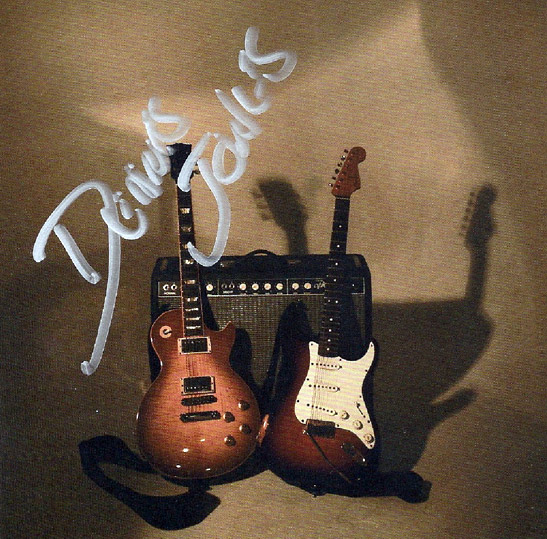 Photo from the CD 'Pleasure and Pain'
His music and especially the DJB live shows reflect a tremendous amount of different styles and intensities. So, LAST CALL…Anybody else you'd like to mention or pay homage to before moving on?
"I love Jeff Beck on a lot of his stuff. Some of the things he does…" Dennis shakes his head, "he's just a master of what ever he does. Even to this day he's unbelievable. Just unbelievable! I guess some of the early Fleetwood Mac, before they became a pop band. I wasn't really a big Clapton fan, because at the time when Jimi was alive, not many other players existed to me. He was just so far ahead of everybody else."
You've absorbed so much over the years, when you write music and especially when you play live, it seems to come out that same way…a combination plate of blues, mixed with rock and roll, a little R & B…
"…Motown, Country…its all Americana to me. I love blues and if I had only one style of music I could listen to, it would truly be the blues. But I've been influenced by so many things. I love American Roots music. I love Rockabilly, Brian Setzer. On the way here I was listening to some Dwight Yoakum. I love his first three albums, his songwriting…that's what I'm talking about, songwriting. Lucinda Williams, great lyrics. I love things that touch me inside, not just the visual. They've got to deliver something."
Let's go back a few years, when you first got to Los Angeles and talk a little about one of your earlier bands: Blackhead.
"It was a cross between Funkadelic, Aerosmith and Zeppelin and all original material. I had a singer that was wild. It was just a bunch of brothers playing alternative (music) that was not expected for us to do. The bass players' grooves were just unstoppable. Amazing. And my rock guitar on top of a soul voice; the guy had a voice like Luther Vandross singing Rock and Roll if you can imagine that, it was a strange combination but it worked."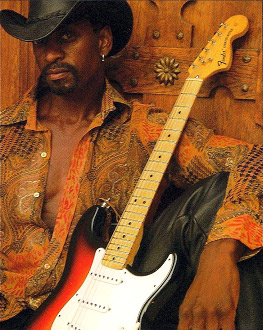 Photo from the CD 'Falling Up'
Was it about that time when you began leaning more toward blues?
Dennis smiles, "I was going to play blues. After breaking up Blackhead I decided to put together a blues band. I had a trio for awhile, then added a keyboard player and added sax players. I had all kinds of combinations, but always went back to the trio, because that's what I did as a kid. I always go back to the Power Trio.
A Miles Davis comment that always stuck in my head, 'it's what you don't hear, that silence between the notes.' If you can imagine sometimes, it's the best thing. Sometimes things are too cluttered."
Wait…a bluesman quoting Miles? Showing respect and an appreciation in the wisdom of jazz elders? Are you seeing why I like this guy?
"I've had a couple of reviews on my latest CD. 'There are too many spaces here; he should've had a B3 player.' You listen to somebody like the White Stripes, with just a drummer and a guitar. It's only what you're used to. If you hear a guy on piano and singing, are you going to say, 'Oh, he should have an orchestra behind him?'
There's nothing missing. It depends on where you're coming from and how pure you are in your head when you hear somebody. Not just about, 'hey I just heard a band with five pieces, but they sure could use a keyboard player because I said so.'" (laughing)
Tell us a little about your process when you write music.
"I write a lot of my songs on bass, which is strange for a guitar player. That's why a lot of songs have a certain groove to it. There are certain songs that have a really, heavy bass groove and that's basically what I wrote. I write some songs on acoustic, some songs on an electric guitar. If one thing I hit the wall with, I'll just go to the next thing. It always seems to fill itself out."
Your latest CD is called 'Pleasure and Pain.'
"It's really about songwriting. I had some older songs that I redid. I had some music for ten years and could never think of lyrics, and all of a sudden. Boom, I write the lyrics out, like in one day. It's weird, when I get into a songwriting mode; I push my friends away, people around me I just kind of go and get in this mode where it flows. And when it comes I take advantage of it. To me its something, I don't want to get too deep for anybody, but to me it's a very spiritual thing. I'm a very spiritual person. Not necessarily religious, but spirituality to me is all the things you feel. Like us, talking right now is no accident. There are no accidents ever in the world to me. Everything to me has a rhyme and reason. If it's bad, years later you go, 'Wow, I learned a heck of a lesson, and I'll NEVER do that again.' And that's the way I live my life. When bad things happen, I feel like everybody else does, but I always look at why that happened and what did I just learn from that?
Kind of explains the song, 'Kill The Pain!'
"Kill the Pain is actually an older song. I did it with my band now; we rerecorded it and put a whole different inflection on it. I become a better player, a better singer and just felt that everything was ready for me to do that song over again. A lot of reviewers out there now…it's such a gut-bucket kind of blues song, that's the one they all latch on to. They love the solo in it; I get to play my Les Paul on that one. It's a different vibe than the Strat songs; it's got that Texas kind of groove to it."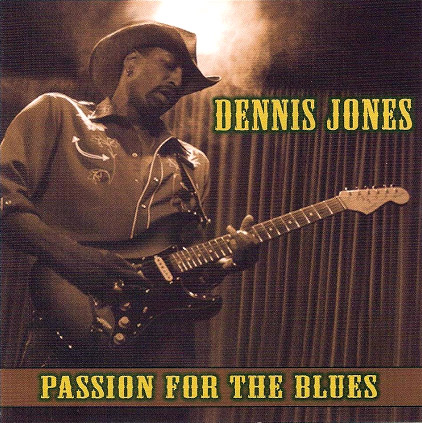 Photo from the 2nd Dennis Jones CD
I've notice a laundry list of folks you always thank on your CD covers, one name in particular jumped out at me; Guitar Shorty.
"Guitar Shorty is a friend of mine. He's a great person who's been putting out records since before I was born and he's just had a rough way of going. I hope he doesn't mind me saying this, but I think he's been taken advantage of for a long, long time. The last three albums he's done on Alligator Records, especially the new one, I think it's one of the best ones he's done so far. He keeps getting better and better…Amazing!"
It seems to me, I remember reading or hearing Shorty had a connection or 'six degrees of Kevin Bacon' thing concerning Jimi Hendrix?
"Shorty was married to Jimi's half-sister. Actually when Jimi was younger, he (Shorty) would show Jimi stuff on guitar. I think Jimi was into him and Albert Collins a lot. Jimi would follow those guys around. The thing about Hendrix that some people don't know was that he had a photographic memory. When he saw something or heard it, he never forgot it. That's why his rolodex of vocabulary was so amazing. He never forgot things he learned to play. He'd do it one time and it was forever in his brain. So he absorbed all that stuff. He played everyday, all the time. It was no accident he became that good."
I couldn't think of a more perfect narrative than that to describe… Dennis Jones! '…he's absorbed all that stuff, plays all the time and it's no accident he's that good.' The Dennis Jones Band is currently touring California and through the Southwest. To see if they're headed your way, check Dennis Jones' website. But whatever you do, don't miss an opportunity to see him live, just remember to protect your jugular at all times.